This post was sponsored by One Degree Organic Foods. I only work with brands whose products and missions I truly believe in. Thanks for supporting my blog!
Ahhh, the first week after the end of final exams. It's a very blissful time. Late mornings, lazy days, lots of time in the kitchen, more time relaxing, walks around the lake. Life is good.
This Banana Chocolate Chip Vegan French Toast Casserole recipe came out of my love of relaxing mornings and decadent breakfasts that I can now enjoy without my 7:30 a.m. wakeup call for class. Are you ready for the recipe? Let's go, friend.
Part of this new relaxing routine that is most exciting is really being able to sit down and enjoy my breakfast with a matcha latte for a good 30 to 45 minutes. It might be a waste of time for some, but starting off the morning calmly sets my mood for the rest of the day.
In a perfect world, I would eat my breakfast while journaling and meditating and envisioning positivity, but I haven't gotten there yet. Maybe one day.
I would really love to have a morning routine. I see these wellness & beauty bloggers making their way gracefully through twice-daily routines complete with organic face masks, apple cider vinegar, gratitude journals, and coconut oil hair masks. The most I do is a shot of apple cider vinegar in the morning and brushing my teeth at night. Is that enough of a routine?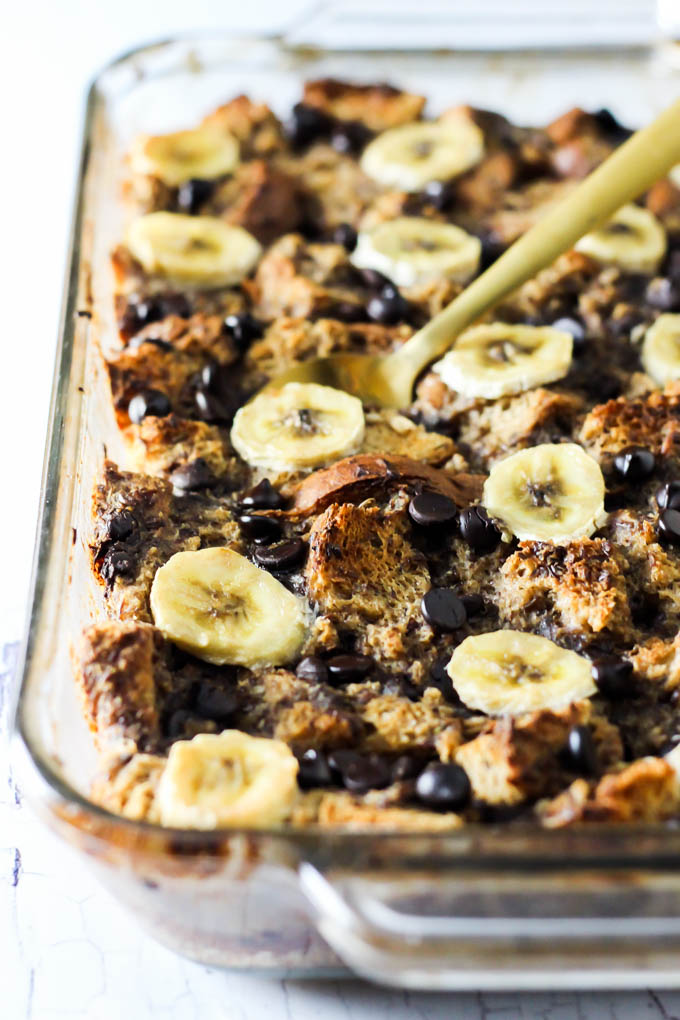 One of my goals for 2017 is to create morning and nighttime routines that are both rejuvenating and realistic. (P.S. how is it already 2017?!?!) It's not realistic for me to take a 45-minute bubble bath every day, or use a $50 face cream twice a day. I know me and you ain't got time or money for that.
It is realistic for me to set aside 30 minutes in the morning to enjoy my breakfast and a matcha latte. Or to spend 5 minutes brushing my hair and washing my face at night. Yeah, that I can do.
Do you have morning/nighttime routines? Let me know in the comments, because I'd love to get some inspiration!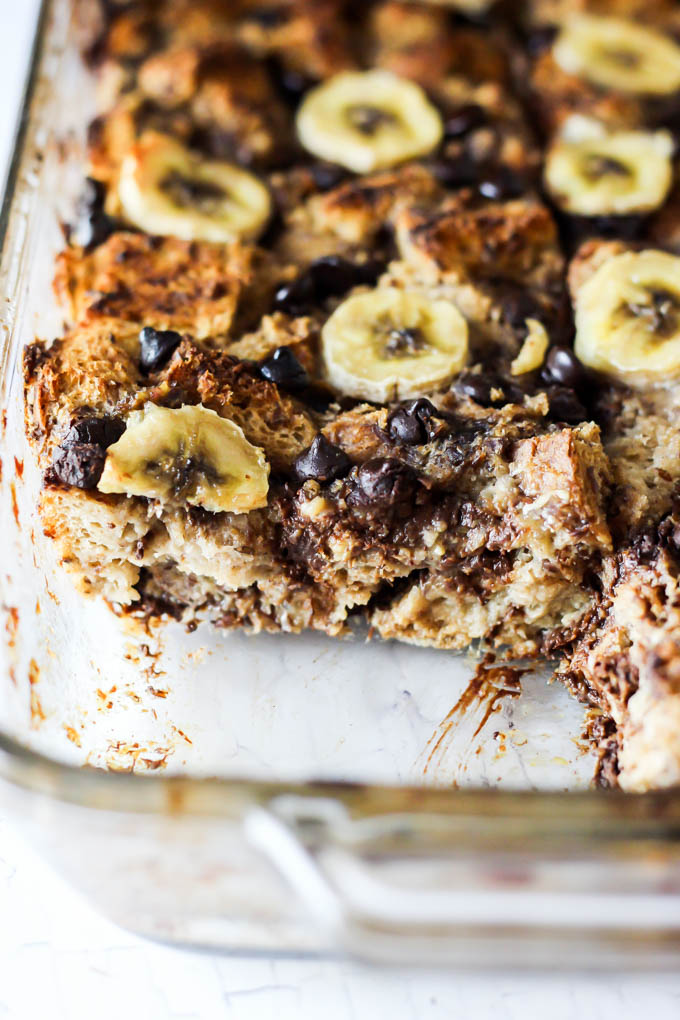 Sitting down to eat breakfast is one of my favorite parts of the day. It's a time for me to think about what I want to accomplish that day and how my day is going to look. Although I can get overwhelmed every day sometimes, I've made a conscious effort to be calm and enjoy my breakfast bite by bite.
My breakfasts are mostly bowls of warm oatmeal, sometimes avocado toast, and smoothie bowls in the warmer months. I've really been trying to switch things up a bit, but I'm kind of out of ideas. Maybe I should bake a batch of muffins at the beginning of the week or prep a bunch of chia puddings, but let's face it – most of the time, I'm pretty lazy. I know you feel me on that.
Lately I've been making avocado toast or peanut butter toast more often than not because I have an obscene amount of One Degree Organics bread in my freezer. Absolutely no complaints, especially when their breads are sprouted and made with ingredients like lentils, flax and sunflower seeds! I'm also obsessed with their organic sprouted flours and cereals (brown rice cacao crips 4 the win!).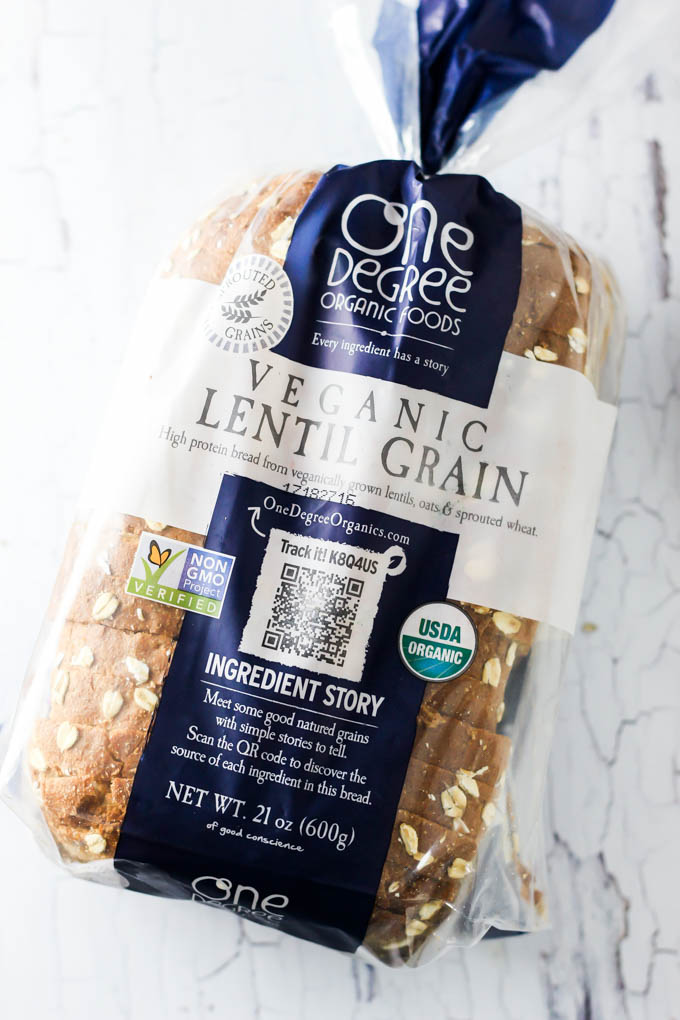 Their breads are great on their own, made into sandwiches, or soaked in delicious banana-y chocolate chip goodness in this vegan french toast casserole! Need a healthier holiday breakfast that tastes like dessert? This is for YOU.
This casserole is super easy to prep the night before with simple ingredients that are easy to find: One Degree Organics bread, flax meal, non-dairy milk, bananas and, of course, chocolate chips. What more can you ask for in a decadent breakfast?
It's a definite crowd-pleaser that's not only good for holiday breakfasts, but also weekday breakfasts. You can make it at the beginning of the week, freeze extras, and gobble up the rest throughout the week. You get to have your french toast casserole and eat it too!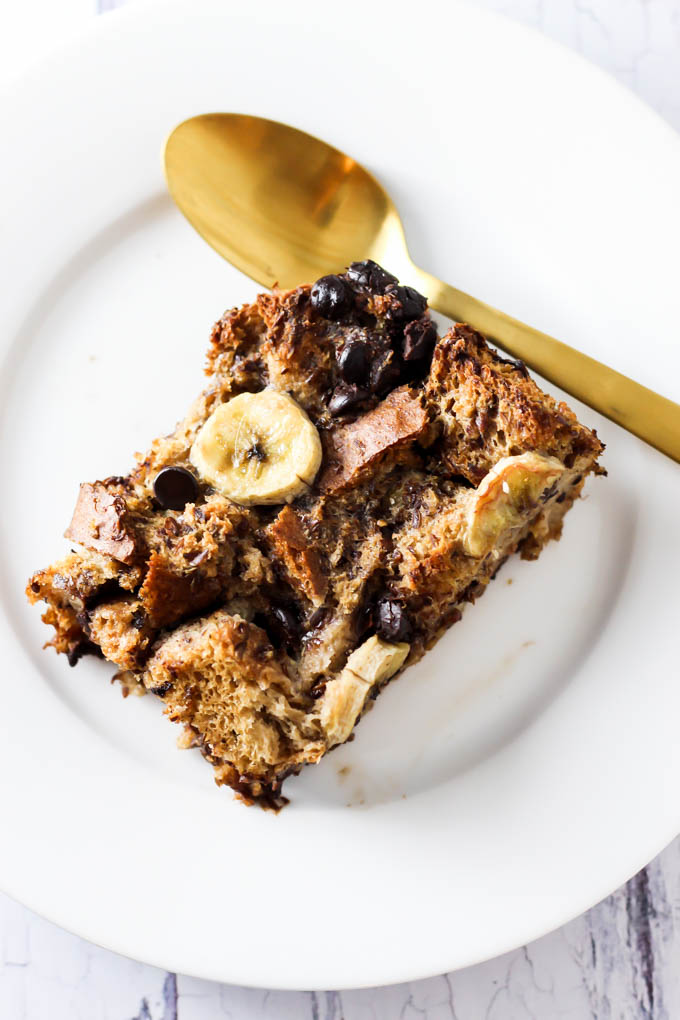 I don't think anyone at your holiday breakfast table will be able to turn down a big chunk of this vegan french toast casserole. Oh, and it's totally kid-friendly! What kid can say no to chocolate chips?
If you get to try this amazing, decadent breakfast recipe, let me know in the comments below! I'd love to see this casserole in action on your table: take a pic, post it on Instagram with the hashtag #emilieeats, and tag me @emilieeats.
I can't wait for you all to try this amazingness!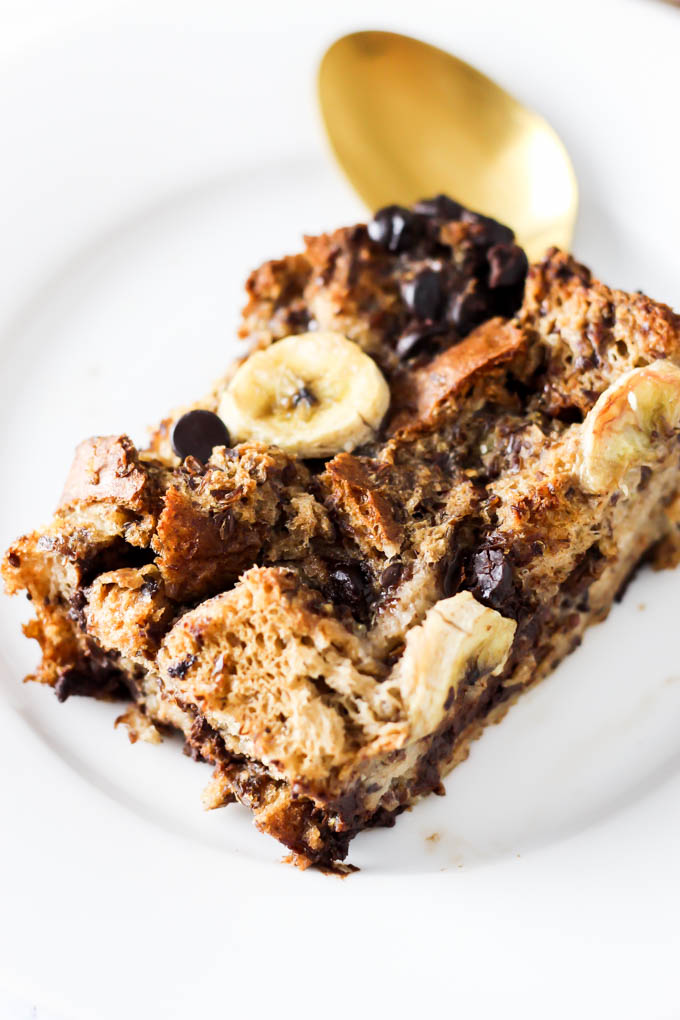 Print
How to make:
Banana Chocolate Chip Vegan French Toast Casserole
This Banana Chocolate Chip Vegan French Toast Casserole is the most delicious way to start any morning! Serve it as a healthier crowd-pleasing breakfast.
Ingredients
12

slices One Degree Organic Foods Lentil Grain Bread (or other One Degree bread)

3

medium bananas, mashed (about

1 1/4 cups

), plus 1 banana for topping

1 1/2 cups

almond milk or other non-dairy milk

1 cup

canned coconut milk (light or full-fat)

1/2 cup

flax meal

1 tablespoon

tapioca starch or cornstarch

2 teaspoons

vanilla extract

1 teaspoon

cinnamon

3/4 cup

chocolate chips, plus more for topping
Instructions
Cut the bread into 1/2-inch cubes. In a large 9×13 baking dish, add bread.
In a large bowl, add mashed bananas, almond milk, coconut milk, flax meal, tapioca starch, vanilla, and cinnamon. Stir to combine. Set aside for 5 minutes to thicken. Add chocolate chips; stir.
Pour the liquid ingredients over the bread. Toss the bread around until all cubes are evenly coated. Press down gently to pack the bread in the pan.
Cover the pan with foil and place it in the fridge overnight, at least 6 hours.
Preheat the oven to 375F.
Remove foil; bake for 45 minutes, until the top is slightly browned and crispy. Let cool for 5-10 minutes before serving.
Thanks to One Degree Organic Foods for sponsoring this post! I love working with brands whose products I really love and would honestly recommend. Thank you for supporting this blog that I love oh-so-much so I can bring you delicious recipes!