You'd never guess there are vegetables hiding in this strawberry chia pudding! Steamed beets add a boost of color and nutrients!
Beet Strawberry Chia Pudding
This recipe really makes my heart BEET fast. Okay, sorry, had to do it…
After tasting this strawberry chia pudding, you would never believe there are steamed beets in it! I love sneaking in veggies where I can as a way to add more fiber and nutrients to my meals, and it's a major plus when they also add a boost of color! I mean, who doesn't want their breakfast to be hot pink?
While I think it's amazing to add vegetables wherever you can in your meals, it's also important to include the foods that give you energy. Energy = calories. Which veggies don't always have much of. You need heartier foods like beans, oats, grains, nuts, seeds and fruit, to give you energy. Balance is the name of the game! You will always feel better for having included a mix of carbs, fat and protein in your meals.
So while this strawberry chia pudding does sneak in those beautiful beets, it's also packed with health fats and protein from the chia seeds and carbs from the strawberries. So you get a nourishing, easy breakfast that will also keep you feeling fueled for your morning!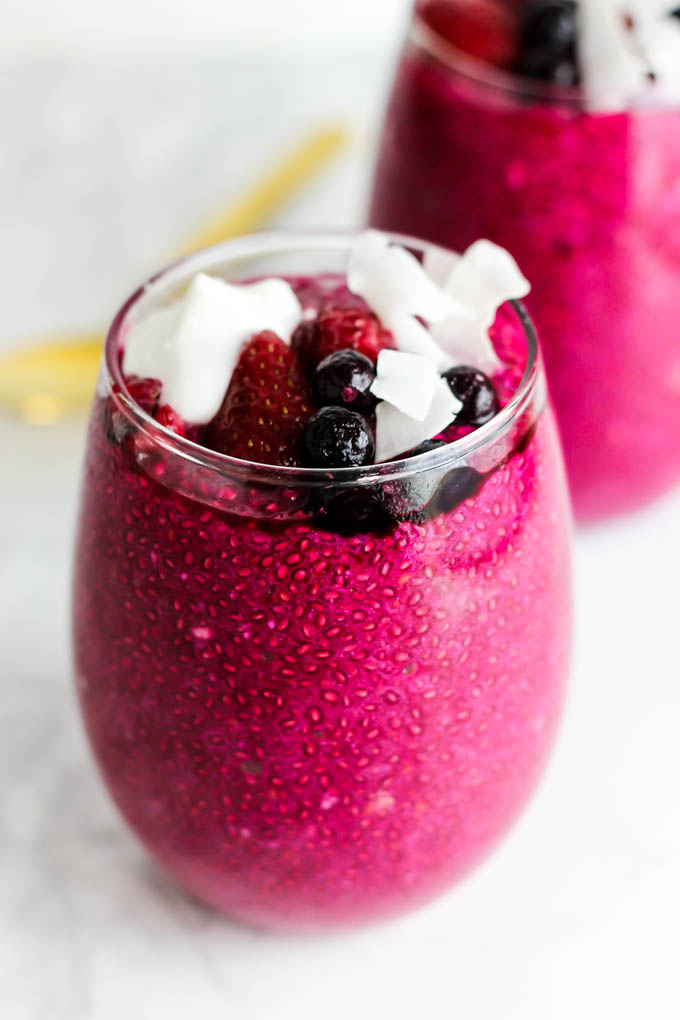 Ingredients for Beet Strawberry Chia Pudding
You just need FIVE ingredients for this easy chia pudding! It comes together in minutes and just needs to sit in the fridge overnight, making it the easiest meal prep recipe of all time! It makes a great breakfast, snack, or fruity dessert! And honestly, not having to cook breakfast never gets old. 🙌
Here's everything you'll need to make it:
Chia seeds. Chia pudding is a great choice for a nourishing breakfast thanks to all the benefits of chia seeds! They're packed with fiber, healthy fats, and plenty of minerals.
Non-dairy milk. You can use any variety of plant-based milk you like!
Strawberries. Either fresh or frozen work, so use what you've got!
Beets. We're using steamed beets in this recipe. You'll hardly notice them, apart from the vibrant pop of color!
Vanilla extract. Just a touch really amps up the flavor of this strawberry chia pudding and makes it taste like strawberries and cream!
Optional: A drizzle of maple syrup adds a bit of sweetness to this strawberry chia pudding to really take it over the top. You can also get creative by adding fun toppings! I love fresh berries, buts, seeds, coconut flakes and granola.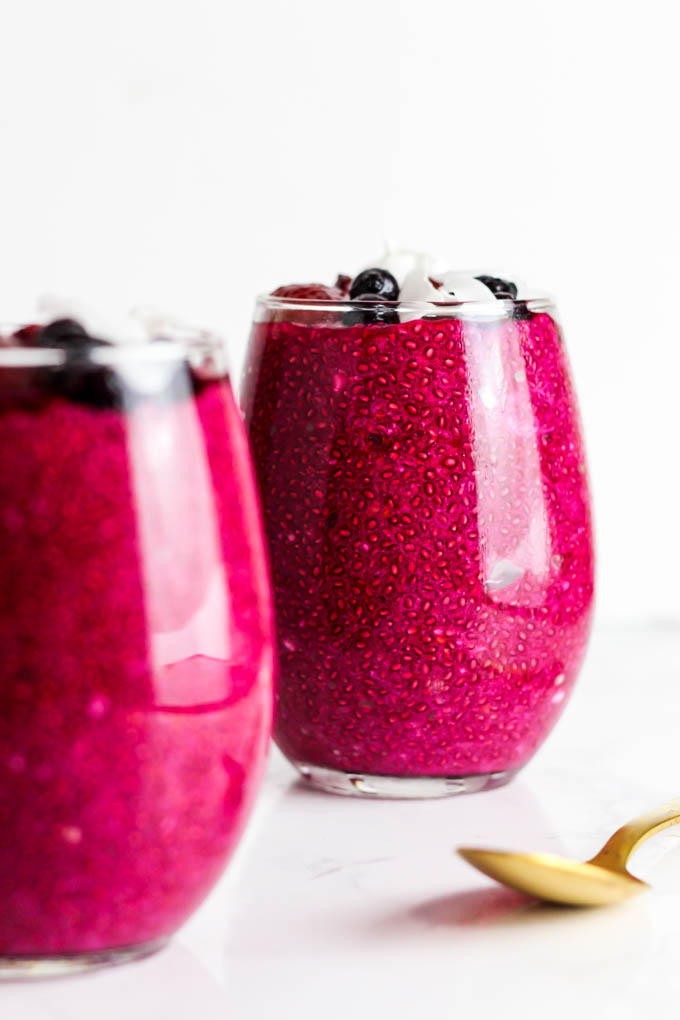 How to Steam Beets
Before adding your beets into this strawberry chia pudding, we need to steam them first! Steamed beets are easy to make and they also hold up well in the fridge, so you could always make extra to use in other meal throughout the week!
To steam the beats, you'll start by scrubbing your beets well, then adding them to a steamer basket and allowing them to steam over boiling water for about 30 minutes, or until they're fork tender. Once the beets are cooked, you'll allow them to cool slightly, then remove the skin and dice them up!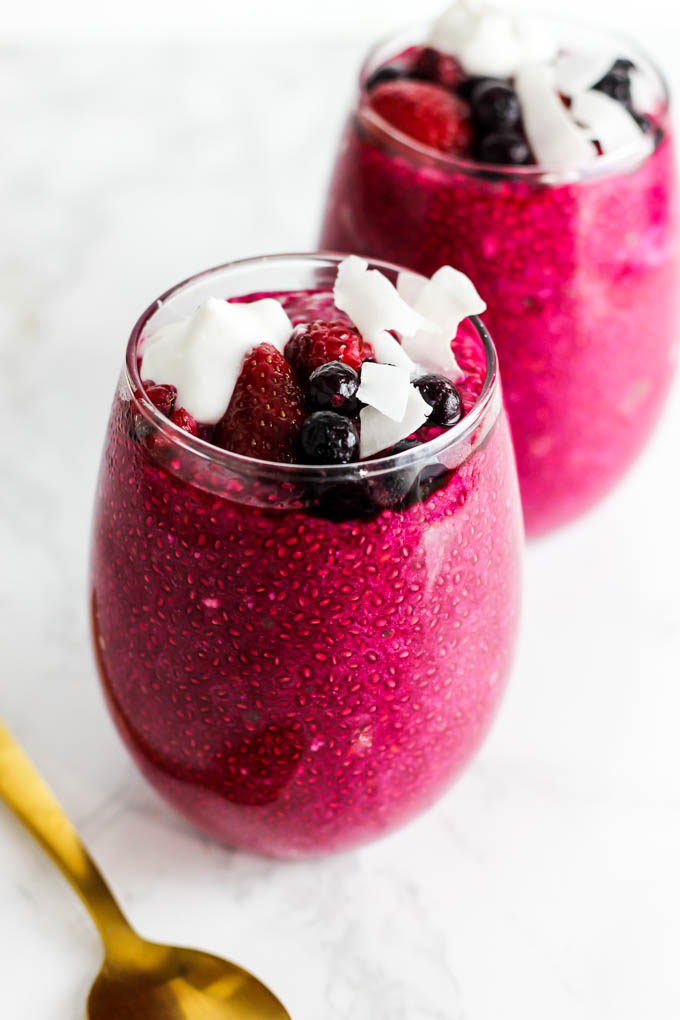 How to Make Chia Pudding
There aren't many recipes that are easier to make than chia seed pudding. It will last in the fridge all week, meaning you've got an easy breakfast or snack ready to go whenever you want it! Make a double batch for the easiest vegan meal prep recipe.
To make this beet strawberry chia pudding, you'll start by adding your non-dairy milk, strawberries, steamed beets and vanilla to a blender or food processor and blend it up until it's smooth. Then, add the mixture to a bowl with your chia seeds and stir it up until everything is well incorporated.
It will need to sit in the fridge for at least 4-5 hours, but I like to let it sit overnight so it's ready for me in the morning! Once it's ready, top it off with maple syrup, fresh berries, coconut flakes or anything else you'd like! I highly recommend adding a crunchy topping to add balance to the texture!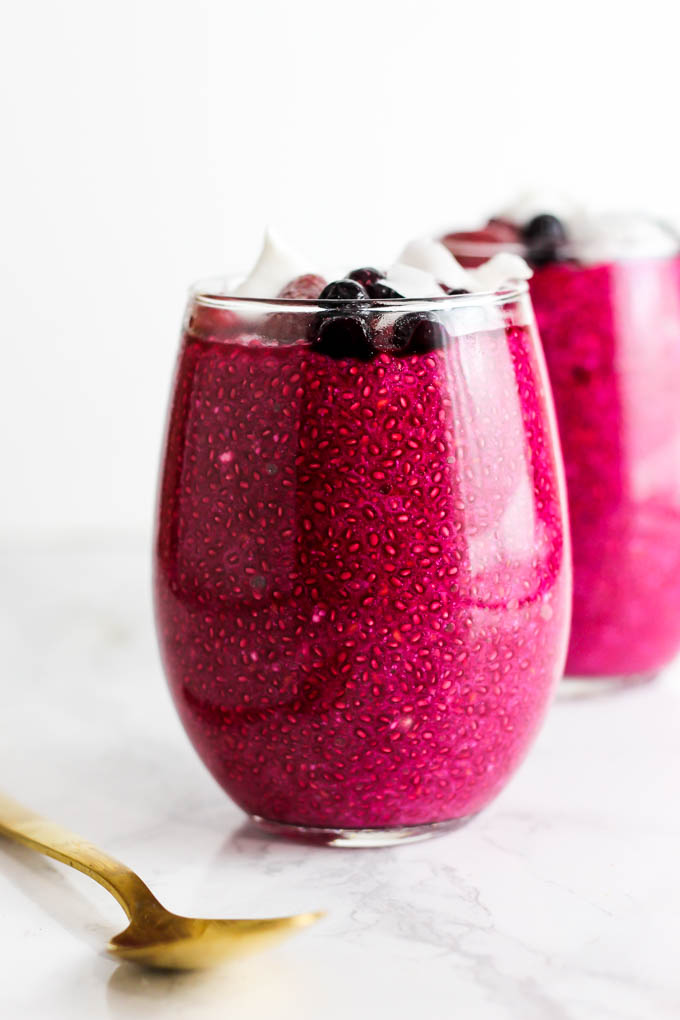 More Vegan Chia Pudding Recipes
I've really been on a chia pudding kick lately, and I don't plan on stopping any time soon. I hope you're chill with it. I'm brimming with ideas – think all of your favorite cake flavors, in a cup of chia pudding.
If you're also on a chia pudding kick, then you're in luck because I have plenty of vegan chia pudding recipes on the blog!
Print
How to make:
Beet Strawberry Chia Pudding
You'd never guess there are vegetables hiding in this strawberry chia pudding! Steamed beets add a boost of color and nutrients!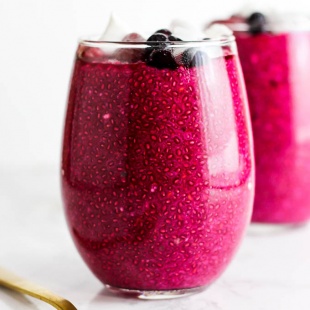 Ingredients
1/2 cup

chia seeds

2 1/4 cups

non-dairy milk*

1/2 cup

strawberries (fresh or frozen)

1/2 cup

beets, cubed and steamed

1 teaspoon

vanilla extract

1/2

–

1

tablespoon maple syrup (optional)
Optional toppings: berries, nuts/seeds, coconut flakes, granola
Instructions
In a medium bowl, add chia seeds.
In a blender or food processor, add non-dairy milk, strawberries, beets, and vanilla. Blend until completely smooth.
Slowly pour the liquid mixture into the bowl with the chia seeds while stirring. Stir until throughly mixed.
Place in the fridge and let it sit overnight, or at least 4-5 hours.
When ready to eat, stir in maple syrup; top with desired toppings such as strawberries, flaxseeds, coconut, or granola.