This recipe really makes my heart BEET fast. Okay, sorry, had to do it…
I totally meant to post this in time for Valentine's Day. I mean, just look at that color! But while I was taking a week-long break from blogging and social media, the last thing I wanted to do was take pictures for the blog. Just being real with you guys.
Now I'm back to cooking/photographing/writing/creating/social media-ing and better than ever! Which means this beet strawberry chia pudding can finally come to life on the blog. Beautiful hot pink sweet healthy goodness!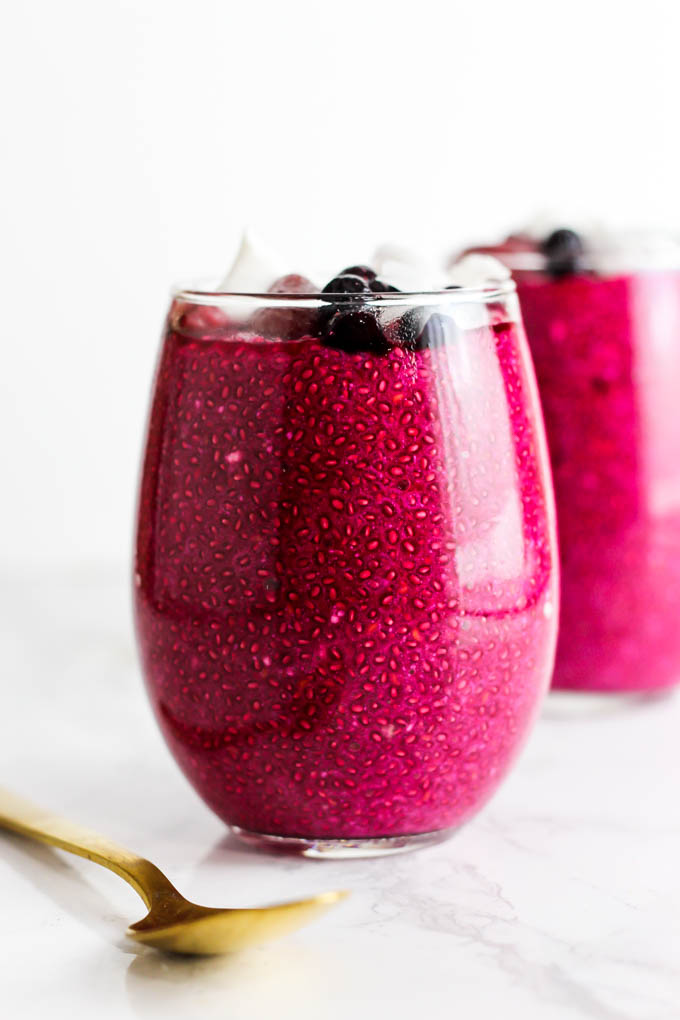 Something that is super trendy right now on Instagram is putting vegetables into everything. I'm not talking about just a handful of spinach in your morning smoothie. I'm talking cauliflower, zucchini, and kale in your smoothie, zucchini and carrots in your oatmeal, butternut squash in your muffins, and leafy greens sautéed with everything.
Obviously I am over-the-moon excited about alllllll the vegetables, but as Alexis from Hummusapien and I were texting about this the other day, we touched on the fact that some people may take this a bit too far. Just eating vegetables all day cannot sustain you in the slightest if you've restricted everything else to basically nothing.
There's this whole "fruit-free" thing going around as well, and I am just not a fan. There are many people on Instagram who are declaring carbs and sugar (from fruit) the enemy – it feels like we're back in the early 2000s.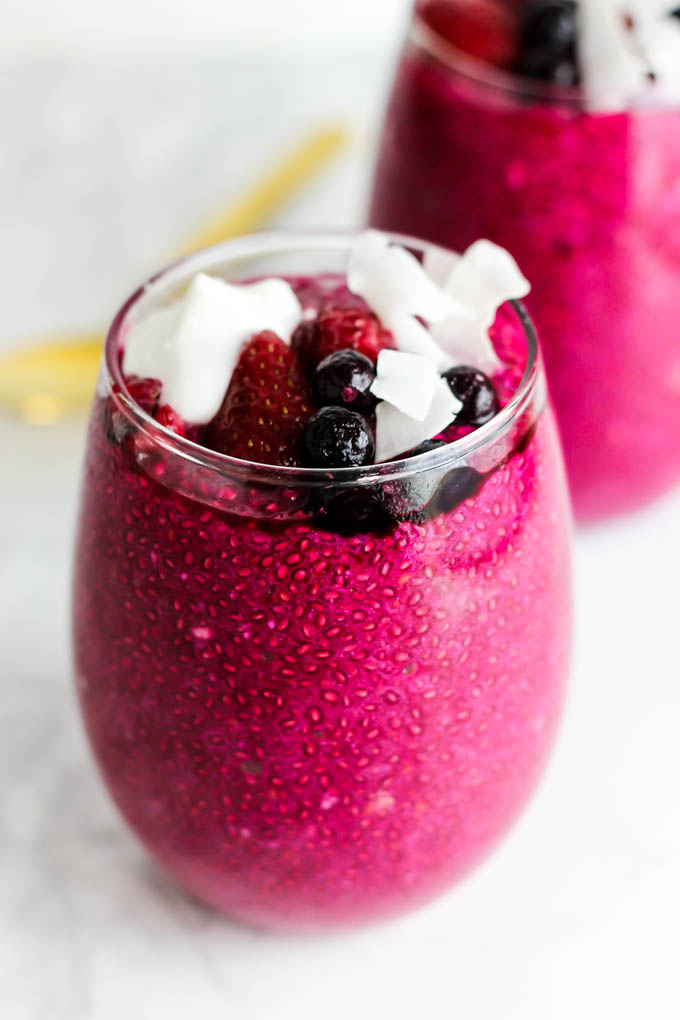 While I think it's amazing to add vegetables wherever you can in your meals (I do it!), it's also important to include the foods that give you energy. Energy = calories. Which veggies don't have much of. You need hearty foods like beans, oats, grains, nuts, and yes, even fruit, to give you energy. So what that these all have carbs? I thought we were over the low-carb thing?!
If you're eating an all-veggie smoothie (pureed cold soup, as Alexis called it), chances are you probably aren't getting a lot of vibrant energy from your food. And *news flash* your body can't just run off of protein powder + vegetable smoothies.
Why is it SO hard for us to just enjoy a balance of foods? Why can't we love carbs and fats and proteins all the same? Just because I love avocados doesn't mean I have to swear off fruit and oatmeal forever. <– That sounds like hell.
Lettuce just enjoy all da plants and apples and potatoes and cashews and broccoli and lentils and sometimes brownies all the same. I'm not playing favorites with my macronutrients (although I'm a true carbs girl).
I'm all about putting veggies in everything imaginable, but we've got to have some body to it, too. Enter this super satisfying strawberry chia pudding with carbs, fat, and protein, plus some hidden vegetables – everything you need.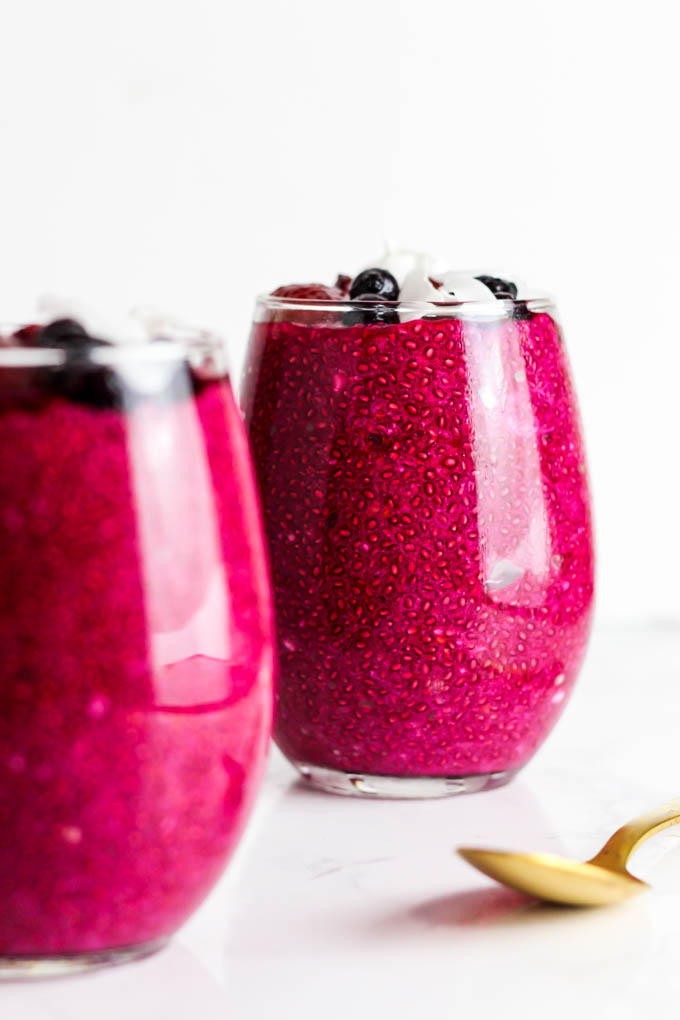 You just need FIVE ingredients for this easy chia pudding that makes a great breakfast, snack, or fruity dessert! Start with some chia seeds, add some strawberry-beet-almond-milk mixture, and let it sit. Not cooking breakfast never gets old. 🙌
I've really been on a chia pudding kick lately (see: here, here, and here), and I don't plan on stopping any time soon. I hope you're chill with it. I'm brimming with ideas – think all of your favorite cake flavors, in a cup of chia pudding. Ooh, what if we did a chia pudding week?!
Now I'm getting too excited about chia pudding. Can you blame me? Just look at this beauty. 👇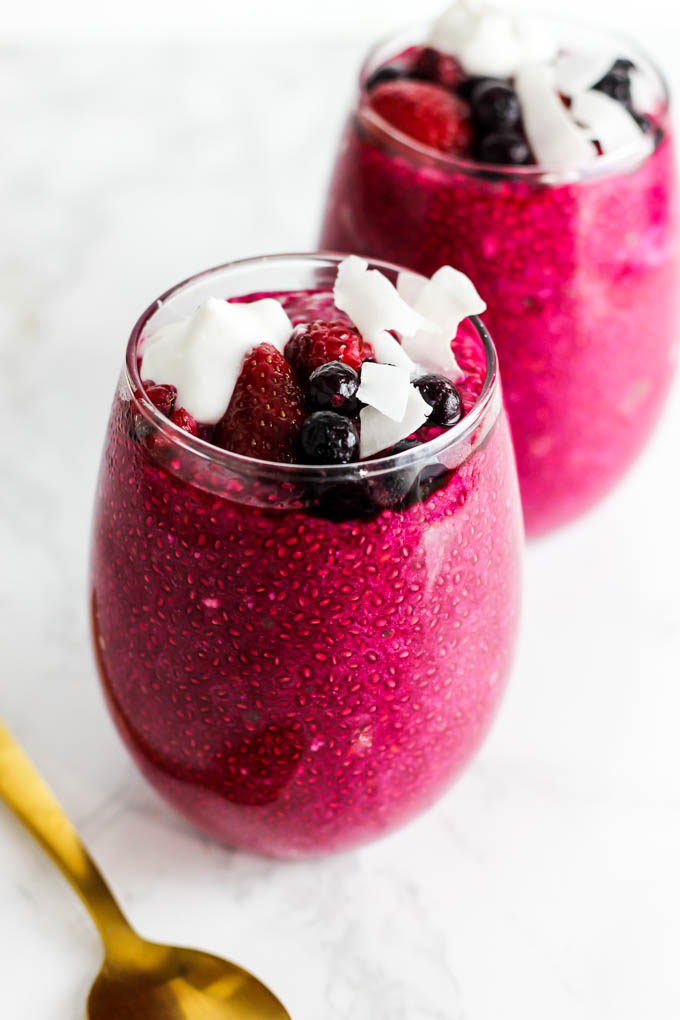 I'm going to sleep early tonight just so I can wake up and have one of these cups for breakfast. I'm just a girl in love with her food, and I'm not ashamed of it.
Love chia pudding? Let me know your favorite flavor in the comments! I'd love to hear what you guys make in your own kitchens – it gives me lots of inspo.
Post a pic on Instagram if you make this recipe and tag @emilieeats with the hashtag #emilieeats. Can't wait to see!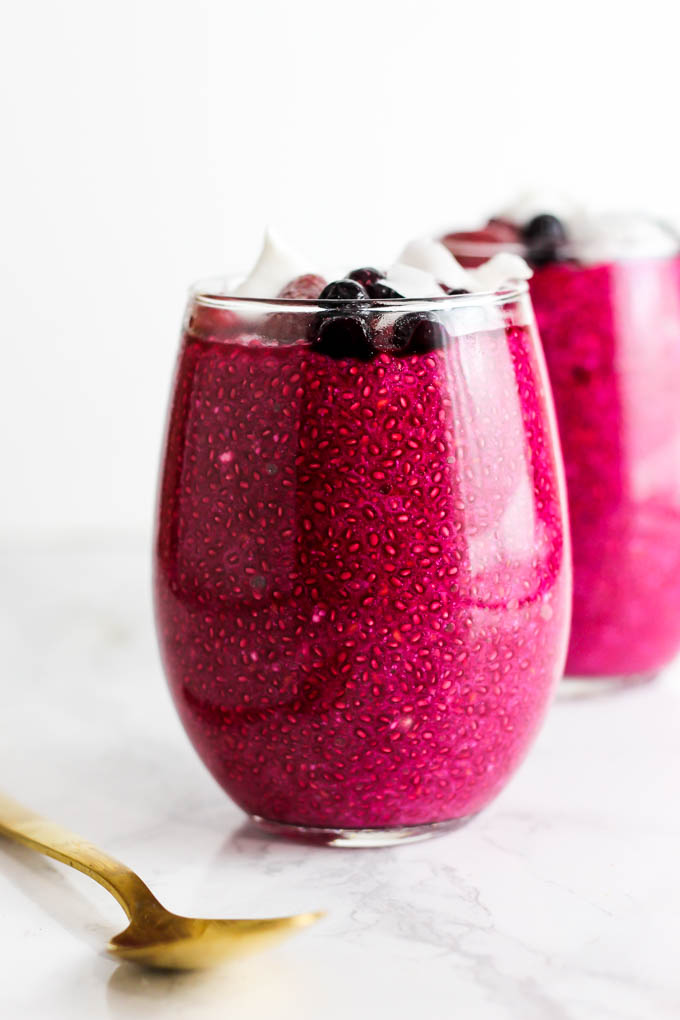 Print
How to make:
Beet Strawberry Chia Pudding
You'd never guess there are vegetables hiding in this pretty pink Beet Strawberry Chia Pudding! A satisfying breakfast or snack that's vegan & gluten-free.
Ingredients
1/2 cup

chia seeds

2 1/4 cups

non-dairy milk*

1/2 cup

strawberries (fresh or frozen)

1/2 cup

beets, cubed and steamed

1 teaspoon

vanilla extract

1/2

–

1

tablespoon maple syrup (optional)
Optional toppings: berries, nuts/seeds, coconut flakes, granola
Instructions
In a medium bowl, add chia seeds.
In a blender or food processor, add non-dairy milk, strawberries, beets, and vanilla. Blend until completely smooth.
Slowly pour the liquid mixture into the bowl with the chia seeds while stirring. Stir until throughly mixed.
Place in the fridge and let it sit overnight, or at least 4-5 hours.
When ready to eat, stir in maple syrup; top with desired toppings such as strawberries, flaxseeds, coconut, or granola.
---
Liked this chia pudding recipe? You'll love these other delicious recipes!
Peanut Butter Cup Chia Seed Pudding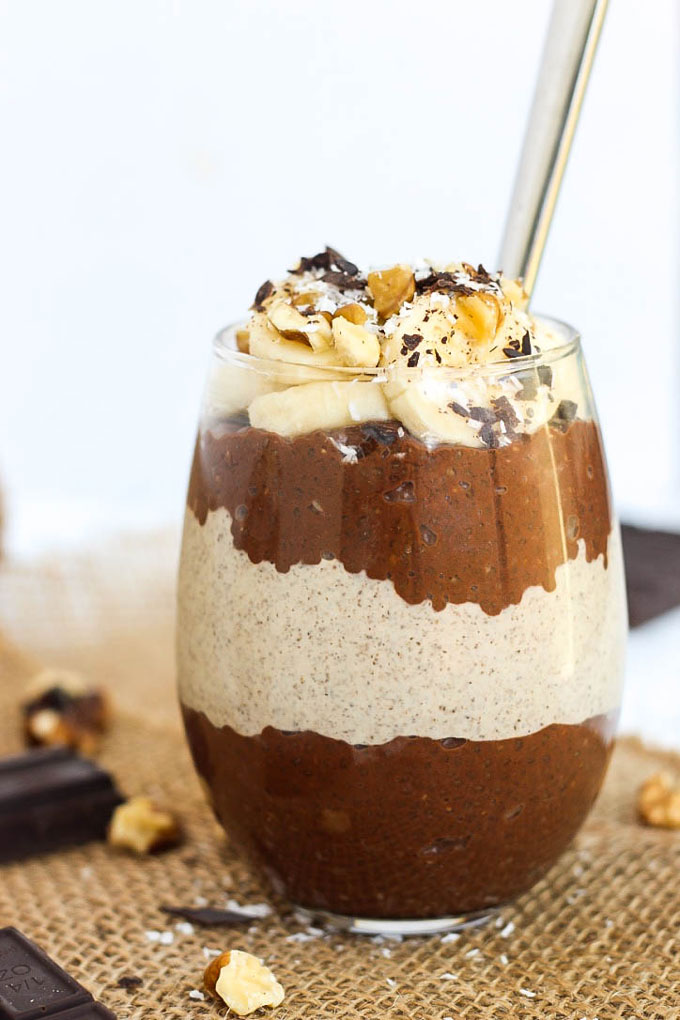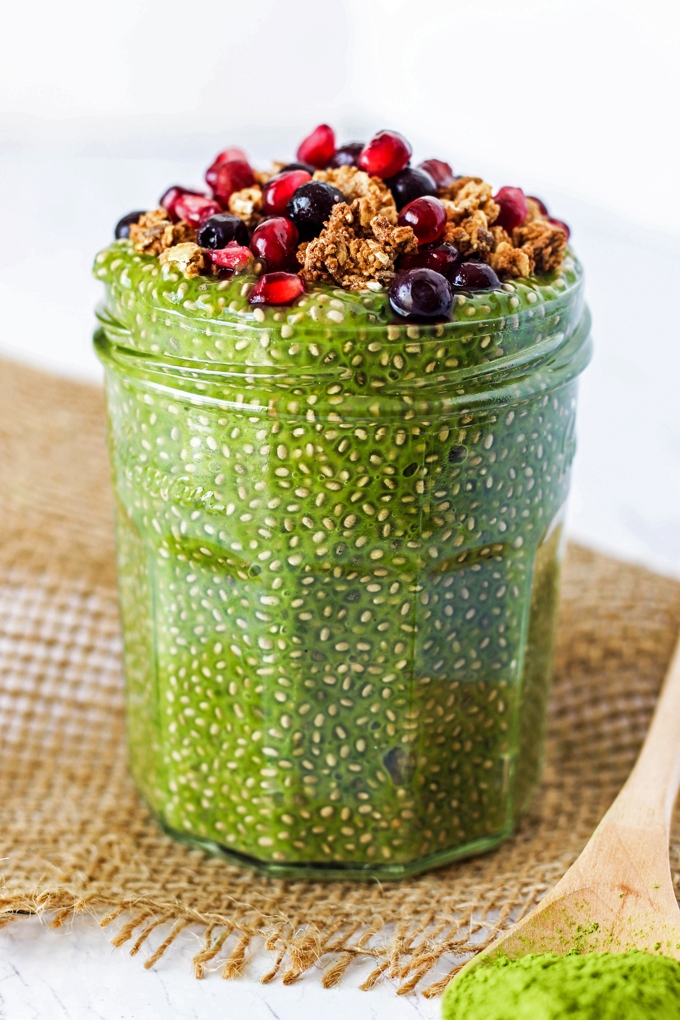 Key Lime Pie Chia Pudding Parfaits