Let it be known that I, Emilie, have finally tried my first acai bowl, and I, Emilie, will be happily slurping down acai bowls for the rest of my life. Especially when they involve blueberries and fruity green tea and all the toppings your heart desires.
It's about time I got around to trying an acai bowl! Unfortunately, we don't have that many trendy cafes in Louisiana where they serve cold-pressed juices, superfood bowls, and kombucha on tap. Sigh, a girl can only dream, right? Luckily, I'm headed to Chicago this summer to visit my friend Addie (aka the Chickpea in the City) to eat my weight in acai bowls and vegan pizza!!!
Until then, I'm happy I have this acai bowl to spice up my smoothie bowl game. As you can probably tell from my Instagram, I'm a smoothie bowl fanatic. I love making mine super thick – kind of like soft serve ice cream – and sprinkling dousing with yummy toppings like oats, almonds, and hemp seeds. If you haven't eaten your smoothie out of a bowl yet, are you even in 2016?
I bought some unsweetened acai packets at Whole Foods and blended one up with my normal smoothie ingredients, and boy oh boy is it good. Not only is acai a superfood, it's super delicious and makes your smoothie creamy as can be. Can you ask for anything else?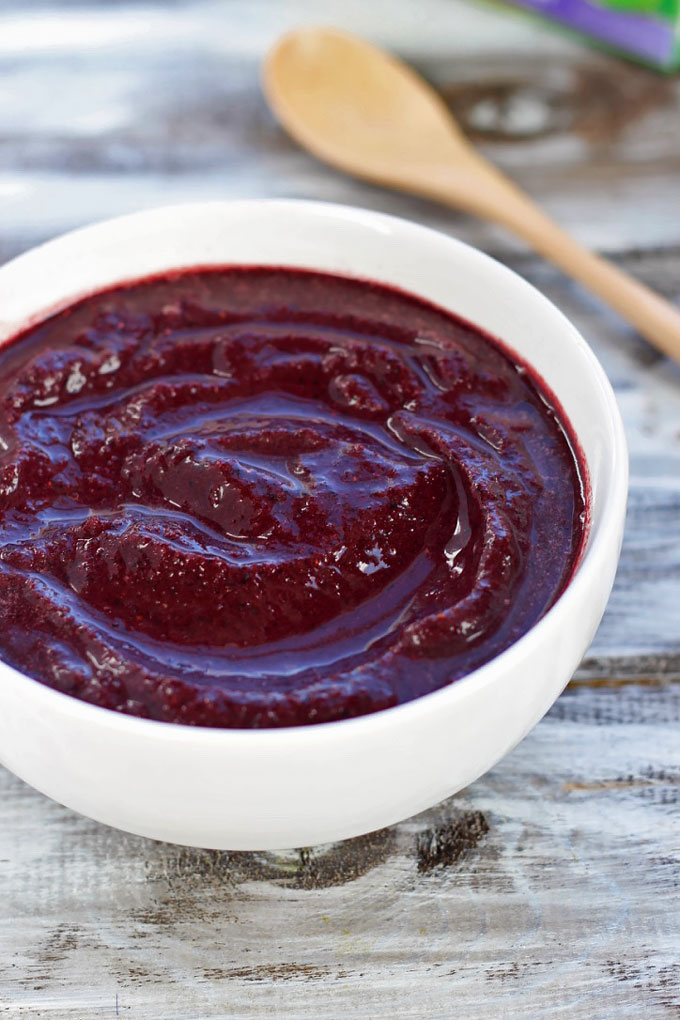 I'd like to tell you that every morning I sit down and leisurely eat my smoothie bowl while I catch up on blogs and current events and have a fine ole' morning, but then I'd be lying. Sometimes I make a pretty bowl and pour it into a cup because I'm late, or run out the door with some microwave oatmeal in a tupperware container. You know, life.
Anyone who knows me knows how much tea I drink. It's A LOT. A green tea in the morning and an herbal tea at night, but usually a few more cups throughout the day. But since I'm sometimes rushing to eat breakfast, get ready, make my tea, and head to class, I had a genius idea – put the green tea IN my smoothie and kill two birds with one stone.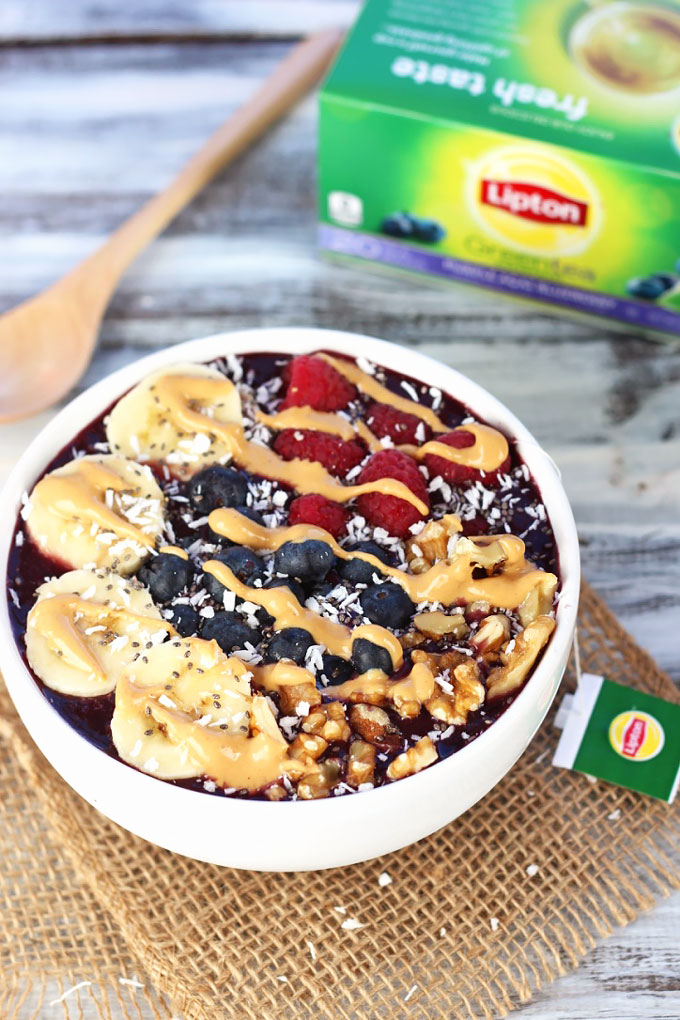 I've been drinking Lipton Tea since I was little – my grandmaw would make a huge container of iced tea, and I'd gulp it all down when I visited (maybe that's where I got my tea obsession from). When I saw that Lipton Tea came out with some seriously delicious and unique new flavors, I had to try some! I have a tradition of buying a new box of tea every time I go shopping (oops), so I picked up some Lipton on my last trip. I mean, you can't break tradition, right? 😉
There's so many different flavor options to choose from! The brand new black and herbal teas and improved green teas refresh your daily (or for me, hourly) tea time with bold and stimulating flavors, such as Enticing Chai, Pure Green, Orange Passionfruit Jasmine and Peach Mango. How good do those sound?! You can check out all the delicious flavors they have to offer on Lipton's website.
As soon as I saw the Purple Acai Blueberry Green Tea, I knew I had to use it in this recipe! I have to have my green tea in the morning, and Lipton has so many flavor varieties so my morning tea routine will never get boring. The improved green teas have a light, fresh taste, bright clearer color and delightful aroma. You just feel so refreshed after drinking a cup! Luckily, you can find Lipton's Green Teas at grocery stores nationwide. I see a green tea acai bowl in your near future…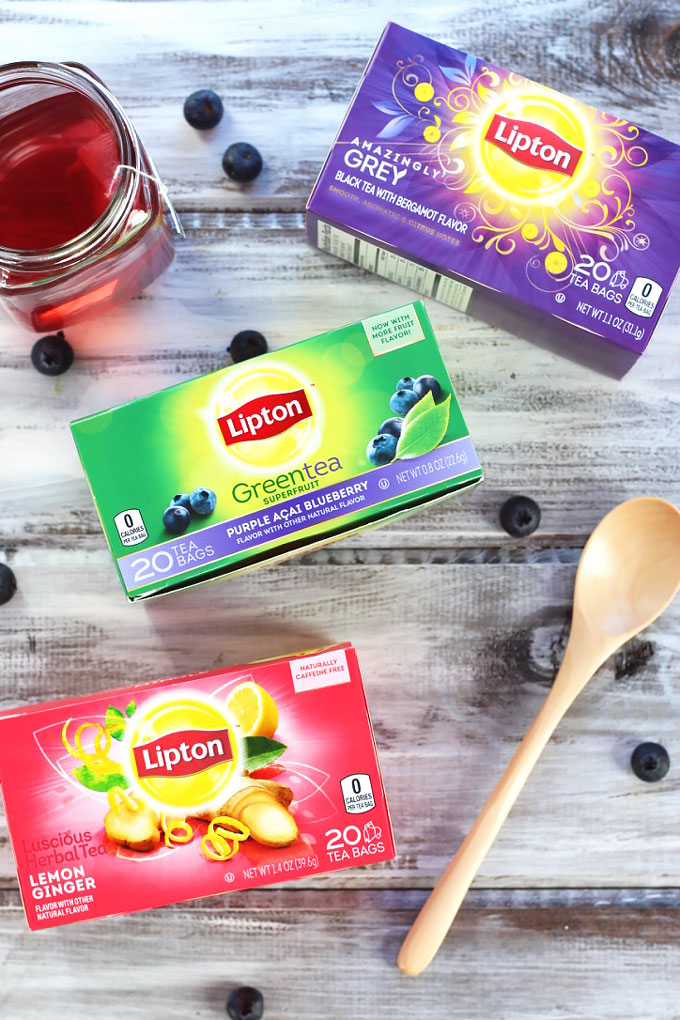 You could even enjoy this acai bowl for lunch or a snack, but I personally love to start my day with a hugh jass smoothie bowl. I usually throw in a scoop of protein powder, and you could even add some spinach if you're feeling frisky.
If you try this acai bowl, let me know by snapping a pic and posting in on Instagram! I promise you cannot go wrong with this bowl. You really can't go wrong with anything in bowls, especially when it involves acai and berries and green tea and toppings. <3
Happy Friday, friends!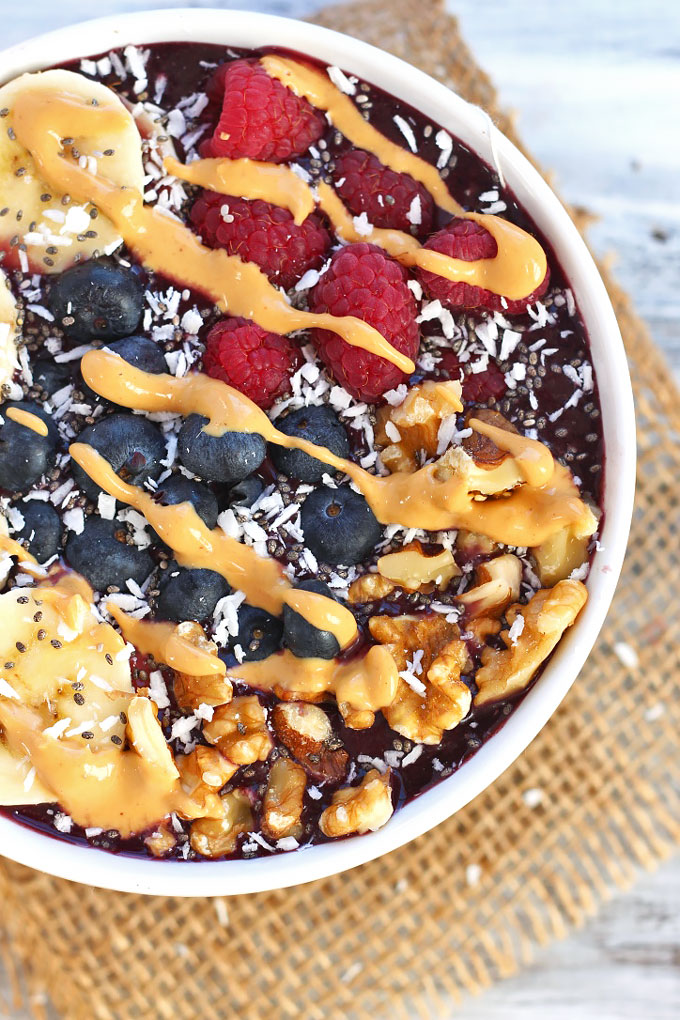 Have you ever tried an acai bowl? Are you a tea or coffee person?
Print
How to make:
Blueberry Green Tea Acai Bowl
Get some extra caffeine in your breakfast with this Blueberry Green Tea Acai Bowl! It's fruity & creamy, and the green tea gives it extra delicious flavor.
Ingredients
1

banana, frozen

1

unsweetened acai smoothie packet (I used Sambazon)

1 cup

blueberries, frozen

1 cup

Lipton Purple Acai Blueberry Green Tea, brewed and chilled*

1

scoop vanilla protein powder (optional)
Toppings: blueberries, nuts, granola, peanut butter, hemp seeds
Instructions
In a blender or food processor, place all ingredients (besides toppings). Blend until completely smooth.
Pour into one or two bowls, and top with desired toppings.
Dig in and enjoy!
Notes
I like to brew my tea the night before and keep it in the fridge so I can just grab it in the morning for my bowl. You can also make a large batch of tea and keep it in a carton in the fridge.
I was selected for this opportunity as a member of Clever Girls and the content and opinions expressed here are all my own.