These Chickpea Burgers are healthy, tasty and perfect for summer! Top with grilled pineapple & BBQ sauce for an epic Hawaiian veggie burger.
Hawaiian Inspired Chickpea Burgers
Okay I am seriously dreaming about being on a beach right now. Between these Hawaiian BBQ Tofu Bowls, this Mango Lime Smoothie Bowl, and this Tropical Coconut Oatmeal, I guess I'm just going to try to eat my way there instead. Not quite successful, but definitely delicious.
I've been trying to live in the moment, slow down and enjoy exactly where I'm at right now. But I gotta say, sometimes Hawaii just sounds so good. But for now, I'm going to spend plenty of time soaking up sun in my own backyard and appreciate every second of this summer.
Speaking of embracing the moment, what's better than that moment when you first bite into a hearty chickpea burger on a toasty bun? I know one thing: biting into a hearty chickpea burger that's also TOPPED WITH GRILLED PINEAPPLE. Yup. We're not just making a delicious chickpea veggie burger recipe, but we're topping it with a fat, juicy slice of pineapple and making it a Hawaiian Inspired Chickpea Burger. Nothing is better than that. So let's live it up!! Paradise, here we come!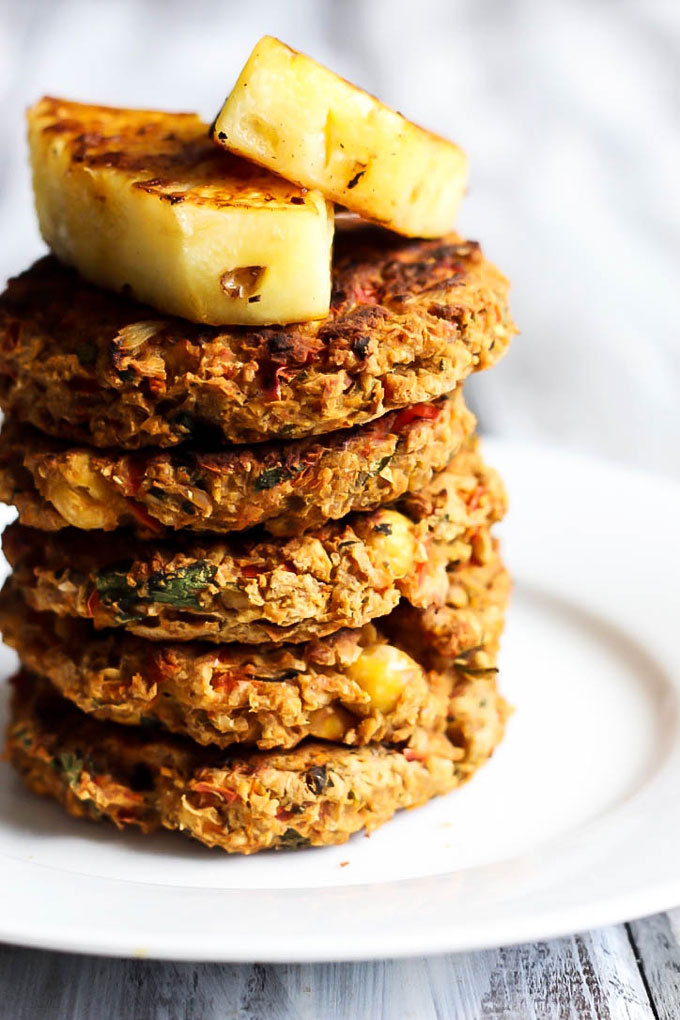 Ingredients for Hawaiian Inspired Chickpea Burgers
The best part about this chickpea veggie burger recipe is that it uses ingredients that you probably already have at home. Next time you're at the store, grab some pineapple and a bag of buns and you've got yourself a ticket to Hawaiian veggie burger paradise! Here's everything you're going to need:
Flax meal. If you have whole flax seeds, then you can make your own by grinding the seeds in a blender. The flax meal gets mixed with 5 tablespoons water to act as a binding agent for our chickpea burgers.
Oil. Any neutral oil will work, and you could also use a cooking spray.
Veggies. This chickpea burger recipe includes yellow onion, red bell pepper, carrots, jalapeno and garlic.
Chickpeas. You certainly can't make chickpea burgers without chickpeas! I'm using canned, but you can also cook up a batch of dried chickpeas.
Cilantro. I know a lot of people don't like cilantro (and think it tastes like soap?!), so if that's you, you could also use parsley instead.
Lemon juice. To add some of brightness to our chickpea veggie burgers.
Spices. You'll need salt, paprika, cumin, black pepper and cayenne if you want to kick it up a notch.
Oat flour. Not only does this keep our chickpea burgers gluten-free, but it also adds a bit more protein and fiber.
Pineapple. These are Hawaiian Veggie burgers, so grab some of that sweet and sour goodness! We're grilling it up and topping our chickpea burgers with it.
Buns. Grab your favorite!
The toppings are where it's at 🙌🏼. The pineapple adds so much to this Hawaiian veggie burger, but there's so much more you can add! Go for the gold and add a drizzle of barbecue sauce and a big ol' slice of avocado. You won't regret it!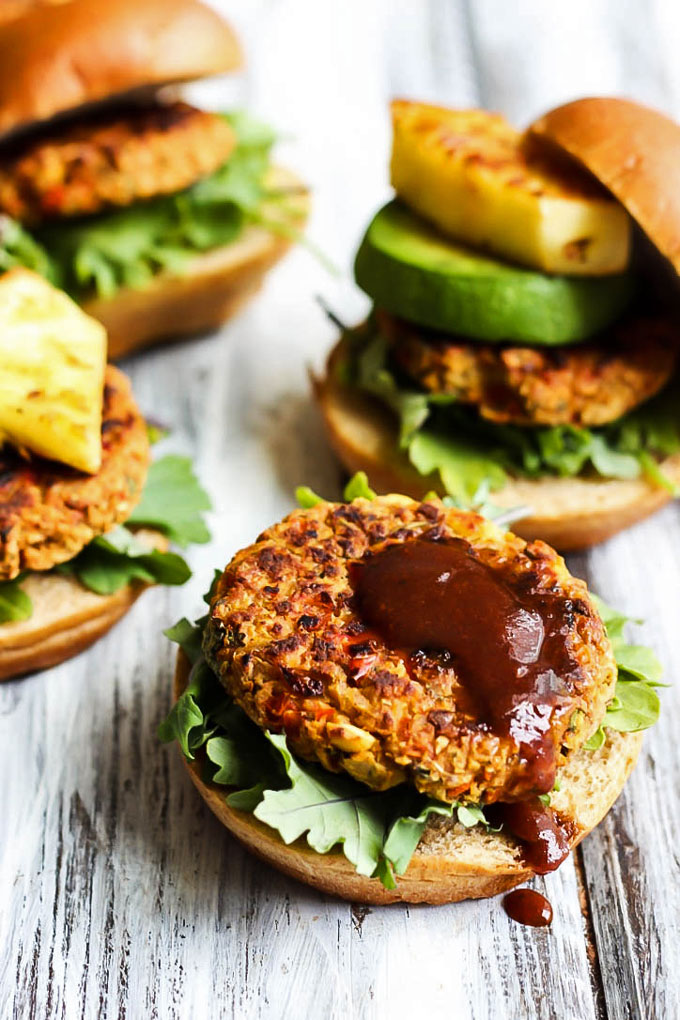 How to Make Chickpea Burgers
Now it's no secret that the easiest way to have veggie burger night is to pull a pre-made veggie burger out of the freezer, heat it up and pop it on your bun. But I promise you these are a close second. And spoiler alert! You can in fact freeze them so that next time you're craving chickpea burgers, you can have one just as easily as one you'd get out of a box!
You'll want to start by making your flax egg and giving it time to sit so that it has a chance to gelatinize. This step is so important because it's going to hold your chickpea veggie burger together. While that sits, add your veggies to a skillet and sautee for about 5 minutes until they start to soften.
Let the veggies cool slightly, then add them to a food processor along with chickpeas, cilantro, lemon juice and all of your spices and pulse just to chop everything up, but don't go so far that it starts to make a paste. Once everything is starting to come together, add your oat flower and pulse to combine. Next the flax egg goes in, then give it another few pulses.
Finally, all that's left to do is bake your chickpea burgers! Pop them on a baking sheet and then let them go for 40 minutes, flipping halfway through. Meanwhile grill up your pineapple, chop your toppings and get ready to enjoy some delicious Hawaiian veggie burgers!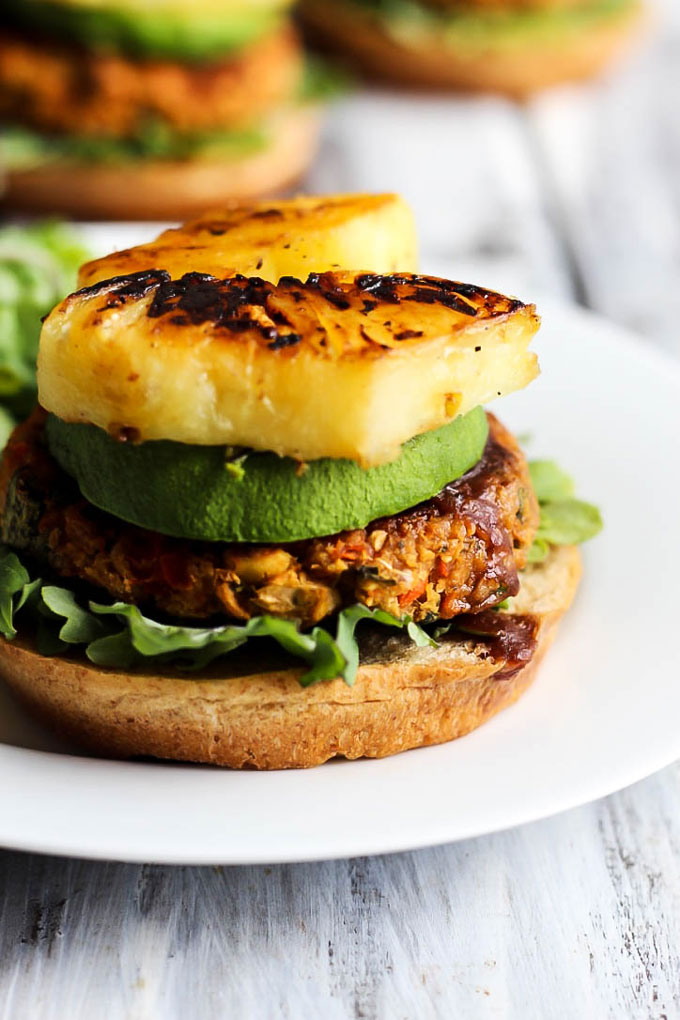 How to Store Chickpea Veggie Burgers
I love making these chickpea burgers and storing the extra patties so I can have easy dinners for busy nights! If you plan to eat them within 5 days, then pack them up into an air tight container and store in the fridge. To reheat just pop them in a skillet for a few minutes on each side.
This recipe is super easy to double, so you can easily make extras to keep in your freezer! Who needs boxed pre-made veggie burgers when you can have your own homemade chickpea burgers just as easily! Simply pack the chickpea veggie burgers into a container with a square of parchment paper between each patty, which will prevent them from freezing into one massive chickpea burger brick. That way you can just grab one or two when you need them. Defrost them in the fridge and then fry up in a skillet!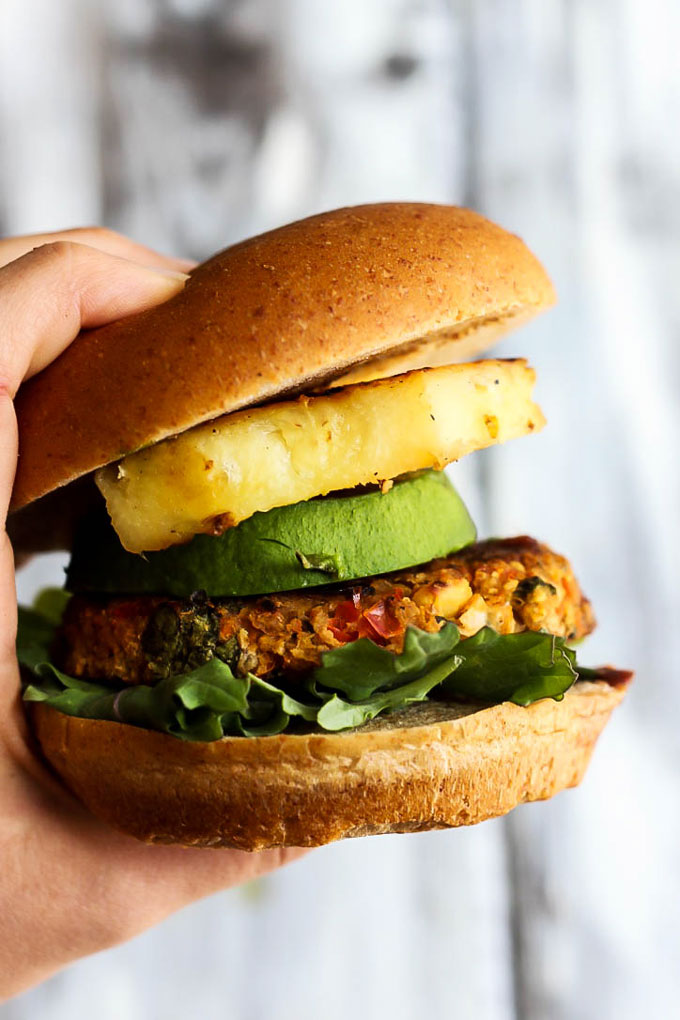 More Veggie Burger Recipes
These would be great for your end-of-the-summer cookouts, but I'll honestly be enjoying them all year round. If you're looking for more veggie burger recipes, then check out these ones!
Print
How to make:
Hawaiian Chickpea Burgers
These Chickpea Burgers are healthy, tasty and perfect for summer! Top with grilled pineapple & BBQ sauce for an epic Hawaiian veggie burger.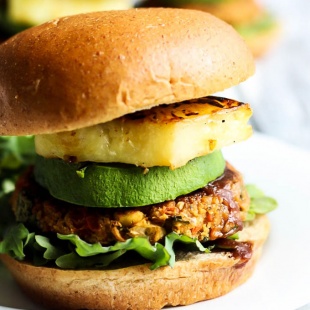 Ingredients
2 tablespoons

flax meal +

5 tablespoons

water
Coconut oil or cooking spray

1

yellow onion, roughly chopped

1

red bell pepper, roughly chopped

1

medium carrot, roughly chopped

1

jalapeño, seeds removed, finely chopped

2 teaspoons

garlic, minced

2

15-ounce can chickpeas, drained and rinsed

1/4 cup

cilantro

1 tablespoon

lemon juice

1 teaspoon

salt

1 teaspoon

paprika

½ teaspoon

cumin

½ teaspoon

pepper

⅛ teaspoon

ground cayenne pepper (optional)

3/4 cup

oat flour (ground-up rolled oats)

8

thick slices of fresh pineapple

12

whole-wheat or gluten-free hamburger buns
Optional toppings: avocado, greens, BBQ sauce, red onion
Instructions
Preheat oven to 375F; lightly grease a baking sheet. In a small bowl, add flax meal and water. Set aside.
In a skillet over medium heat, warm oil or cooking spray. Add onion, bell pepper, carrot and jalapeño.* Cook for 5-7 minutes, until vegetables begin to soften. Add the garlic; cook for 1 minute.
To a food processor add the vegetables, chickpeas, cilantro, lemon juice, salt, paprika, cumin, pepper, and cayenne. Pulse until everything is chopped, but don't form a paste. Add the oat flour; pulse until combined. Stir in the reserved flax meal.
Form 12 patties and place onto the baking sheet. Bake for 20 minutes, flip the burgers, then bake for 20 more minutes.
While the burgers are baking, grill the pineapple slices in the same skillet over medium heat until lightly charred on each side.
To make the burgers, add a patty to a bun and top with a pineapple slice and desired toppings.
Notes
*You don't have to sauté the vegetables, but I feel it brings out their flavors more. If you don't want to sauté them, simply throw them in the food processor raw.