Oh yeah, this is happening. LOADED sweet potato nachos complete with black beans, sweet corn, beloved avocado, vegan cheese sauce (!!!), and some salsa, in just 30 minutes.💃🏼
Happy Friday, friends. Let's do this.
I remember making a version of these sweet potato nachos over a year ago and posting a picture on Instagram – way before I had a blog, before I was vegan, and before I knew anything about Instagram photography.
If you'd like a good laugh, go check out some of my awkward, dimly lit vintage Instagram pics.
No matter how ugly the picture was, I remember the nachos being BOMB. I mean, if you're starting with sweet potatoes, it's pretty much a guaranteed win.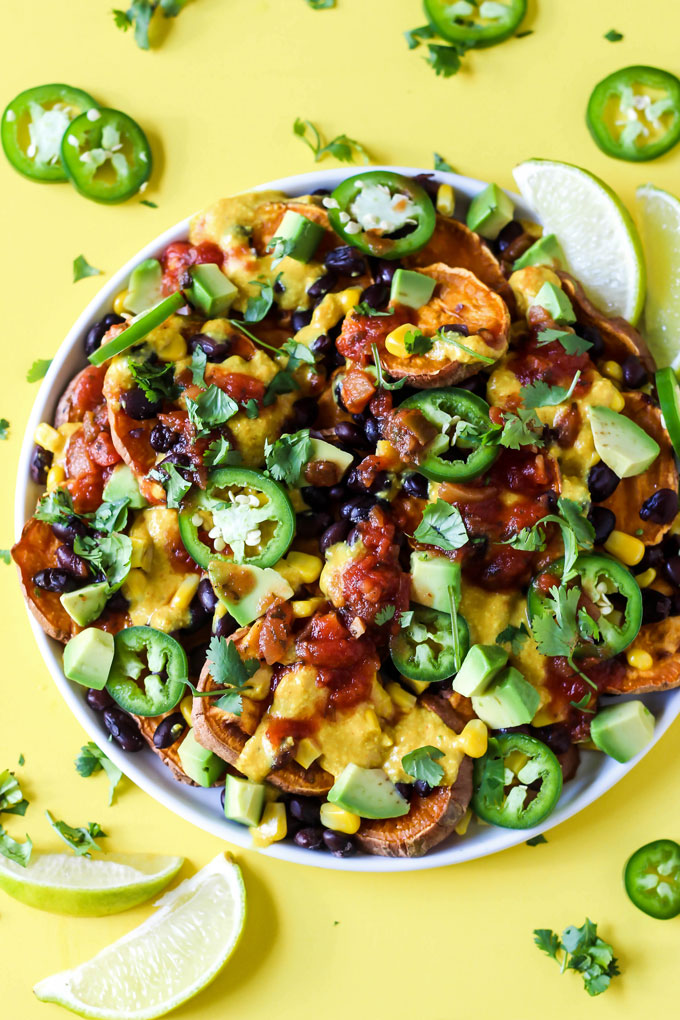 On any given day, you can find me eating something Greek-inspired (like this Greek Chickpea Salad) or a Mexican feast. My heart belongs to beans & rice, guac, and salsa. Can I get an amen?
I plan on eating these sweet potato nachos MINIMUM once a week because damn, they're good. Don't even try to stop me.
The awesome thing about these sweet potato nachos is that they're totally customizable to what you like. Don't like spice? Leave out the jalapeños. Like a little bite? Add some sliced red onion. I added a vegan cheese sauce from It Doesn't Taste Like Chicken – highly recommended to take your nachos from awesome to out-of-this-world.
Pile on the black beans, corn, avocado, cilantro, salsa, and whatever other toppings you love for the most EPIC plate of sweet potato nachos.
These are also great for sharing, but I doubt you'll want to do that. Notcho nachos👊🏼  (get it???).
[Tweet "LOADED #sweet potato nachos – so good you won't want to share. 🙊"]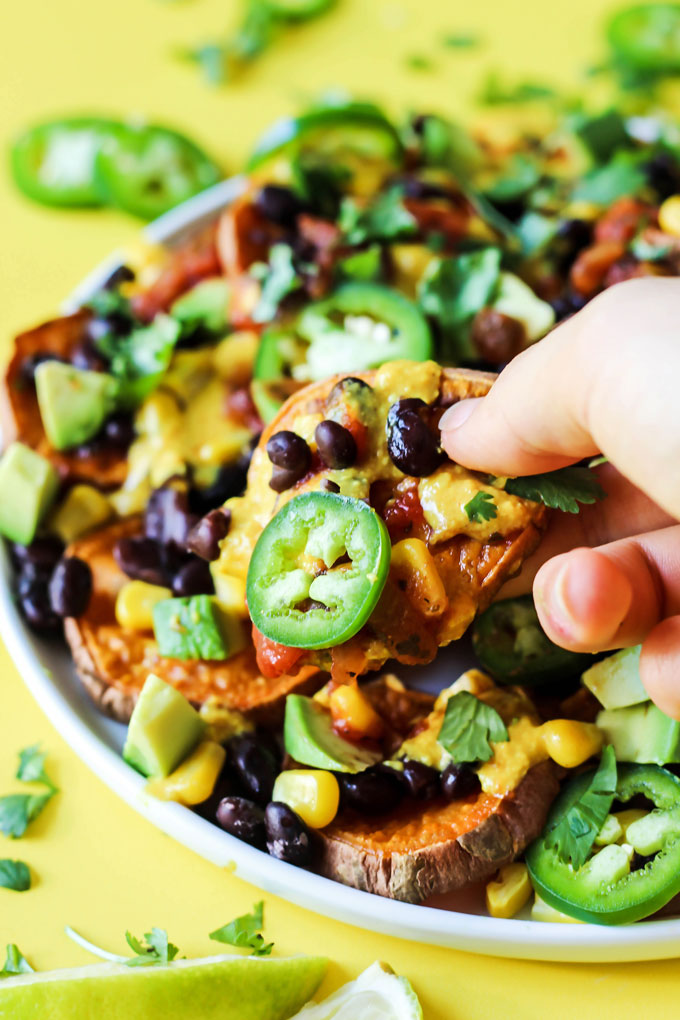 This quick 30-minute meal is perfect for cooking for your friends on the weekend, or just enjoying after a busy day. You deserve it!
If you get to try these sweet potato nachos, let me know what you think! I'd love to see a picture of your epic nacho plate – post it on Instagram and tag @emilieeats & #emilieeats.
I want to know: what are your favorite toppings for EPIC nachos?
Print
How to make:
Loaded Vegan Sweet Potato Nachos
These Vegan Sweet Potato Nachos will transform your Mexican night! They're loaded with all of your favorite toppings for an epic, healthy 30-minute meal.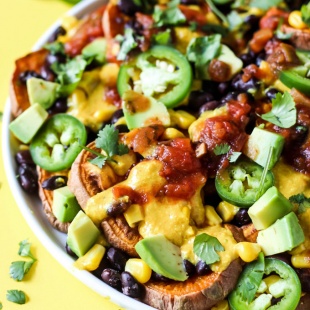 Ingredients
2

medium sweet potatoes, sliced into

1/4

-inch rounds

1 cup

black beans, drained and rinsed

1/4 cup

corn kernels

1/4 cup

salsa

1/2

avocado, chopped

1

jalapeno, sliced (optional)

2 tablespoons

fresh cilantro, chopped
Vegan cheese (optional)
Instructions
Preheat oven to 400F. Lightly grease a baking sheet with cooking spray or line with parchment paper.
Arrange the sweet potato rounds in a single layer on the baking sheet. Bake for 20-25 minutes, until slightly browned and crispy.
While the sweet potatoes are cooking, prepare your toppings.
Arrange the sweet potatoes on a plate and top with black beans, corn, salsa, avocado, jalapeno, cilantro, and vegan cheese.