As you may have already noticed, breakfast is my favorite meal of the day. I mean, just think about all of the options – pancakes, oatmeal, tofu scrambles, cinnamon rolls, fresh fruit, chia pudding… If you don't wake up excited for breakfast, you're missing out.
Sadly, gone are the days when I could get up lazily whenever I wanted, take my time making breakfast, and sit down to enjoy a matcha latte. Nope, not anymore. Now I need to be up and out of the door by 9 a.m. So when I have a jar of overnight banana split oatmeal ready for me when I wake up, I am one happy girl.
I like creating recipes that you can actually make in real life. I don't want my blog to be like an episode of Chopped – you know, when they create a "dish" that's literally every ingredient in the kitchen thrown together with a fancy name slapped on it. Let's be honest, no one has time for all of that. We need recipes to fuel us through our busy days, that don't take long to prepare, but are still healthy and (most importantly!) delicious.
That's what I want to give you. Some of you are college students like me, others are busy moms – no matter who you are, I hope you are able to incorporate my easy recipes into your life.
Speaking of easy recipes, let's talk about this Overnight Banana Split Oatmeal. Overnight oats are the epitome of practical, easy breakfast recipes. You literally throw stuff together the night before, and it's ready in the morning. BOOM. Hearty oats, strawberries, bananas, chocolate…oh my. Dessert for breakfast in 5 minutes.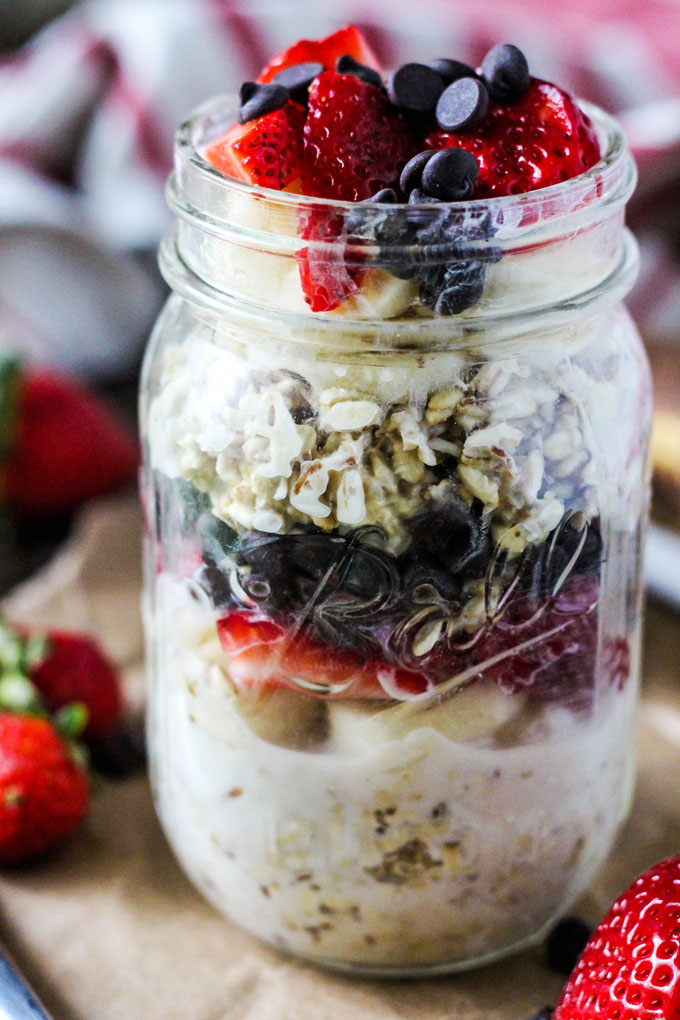 You guys should know how much I love oats. I'm pretty sure I use them in every recipe… But how can you blame me? They're such a versatile whole grain that's rich in fiber and can help reduce your cholesterol. Need some more inspo to start eating more healthy oats? Try some sweet potato waffles, almond butter brownies, savory oatmeal, or veggie burgers.
To make this banana split oatmeal, I used my favorite rolled oats from Bob's Red Mill! Seriously, my pantry is full of 90% Bob's Red Mill products – the obsession is real and there's no stopping it. I know I'm getting quality oats when I pick up a bag of Bob's Red Mill. Plus, if you're gluten-free, their gluten-free oats are packaged in their 100% gluten-free facility and checked for contamination every step of the way. Talk about caring for their customers!
As an added bonus, you can grab some awesome Bob's Red Mill coupons by clicking here so you can make this banana split oatmeal! Here's how simple it is to whip up this breakfast the night before:
Mix ingredients in a bowl.
Transfer to a jar.
Add fruit and chocolate chips.
Let it sit in the fridge overnight.
Grab a spoon in the morning and dig in!
[Tweet "All you need is 5 minutes to prepare this Overnight Banana Split Oatmeal!"]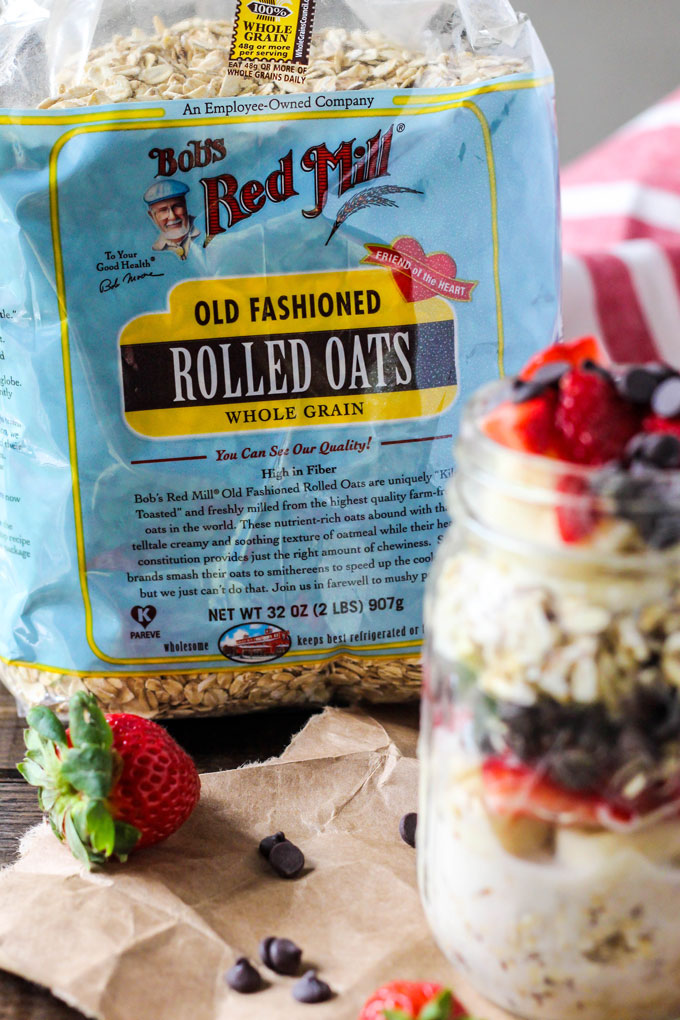 I know practical recipes are important for all of you busy students or moms or really anyone out there, so I hope you get to try this overnight oatmeal recipe! You'll still get to enjoy a delicious breakfast, but it'll help you save some time in the morning so you can focus on your kids, get some more sleep, or finish the homework you fell asleep doing the night before (guilty).
If you get to try this banana split oatmeal, leave me a comment to let me know how you liked it! You can also snap a pic for Instagram and tag #emilieeats & @emilieeats. And don't forget to grab your Bob's Red Mill coupons!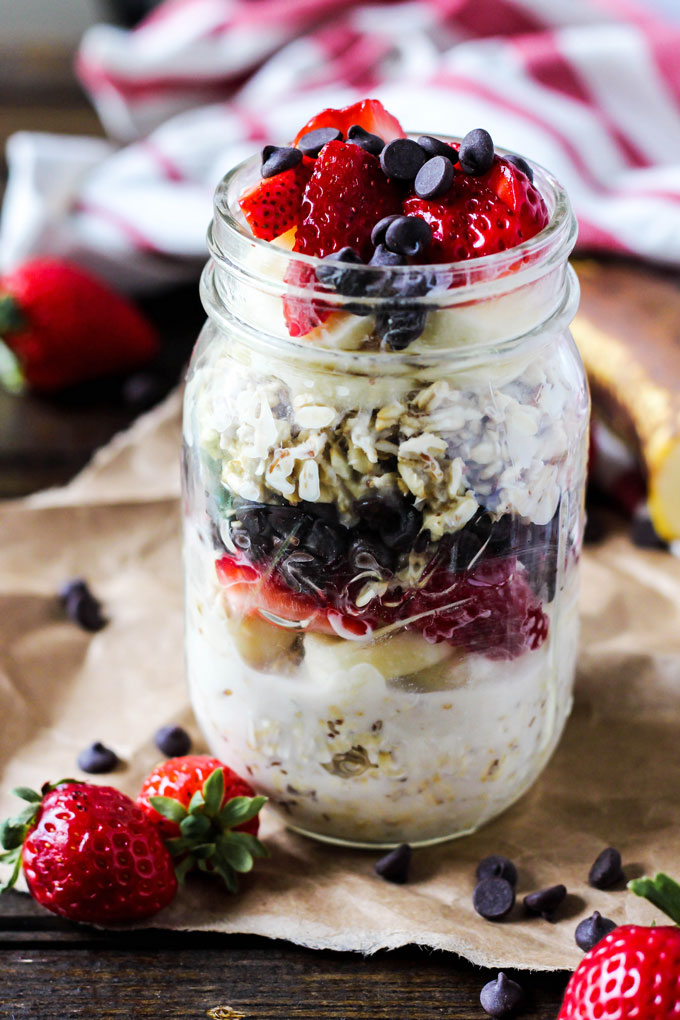 Print
How to make:
Overnight Banana Split Oatmeal
This classic dessert gets a healthy breakfast makeover! Make some Overnight Banana Split Oatmeal to have a tasty breakfast waiting for you in the morning.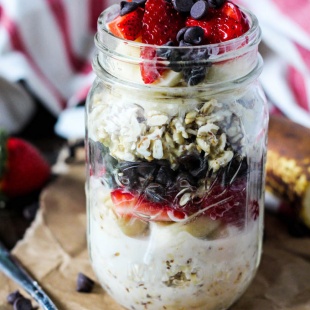 Ingredients
1 cup

Bob's Red Mill Regular Rolled Oats (or certified gluten-free, if necessary)

1 cup

non-dairy milk

2 tablespoons

flax meal

1 tablespoon

maple syrup, or a few drops pure stevia extract

1 teaspoon

vanilla extract

1/2 teaspoon

cinnamon

2

bananas, sliced

1 cup

strawberries, chopped

1/4 cup

non-dairy chocolate chips
Instructions
In a medium bowl, add oats, milk, flax meal, maple syrup, vanilla, and cinnamon. Stir to combine.
Divide the oats evenly between two jars or bowls. Add 1 banana, 1/2 cup strawberries, and 2 tablespoons chocolate chips into each jar. Stir into the oats.
Place in the fridge overnight. Enjoy in the morning!
I was selected for this opportunity as a member of Clever Girls and the content and opinions expressed here are all my own.