Put a spin on the classic PB&J with these gooey peanut butter and jelly pancakes! No one will guess they're vegan, whole-wheat, and healthy.
Brace your elementary school self: it's peanut butter jelly time.
I actually apologize for that quote. I'm kind of embarrassed.
BUT I promise I'll make it up to you with these oh-so-magical peanut butter and jelly stuffed pancakes (!!!) that are vegan and whole-wheat. Aka perfect. AKA everything you've ever dreamed of.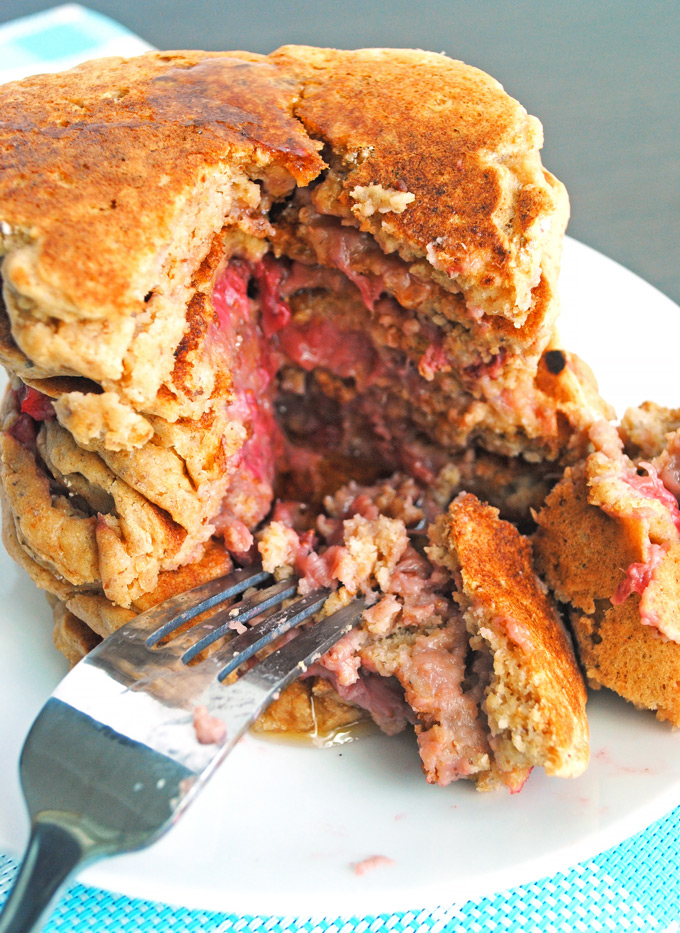 I've searched every corner of the Internet to find a decent vegan pancake recipe that was easy, fluffy, and not gummy. I finally came up with one that I was happy with (that I'm sure I'll share soon), so naturally I started making them all. the. time. Balance? Psh, why have balance when you can have pancakes every morning?
Since I've been making my recipe for awhile, I needed something a little different. Then the solution came to me, like something in a dream (dramatic?): throw some peanut butter in the batter and stuff those babies with deliciously sweet strawberries. I'm sure any berries would work, so feel free to experiment! You don't even have to make a complicated jelly–simply microwave the berries until they're warm and mash them. Easy peasy.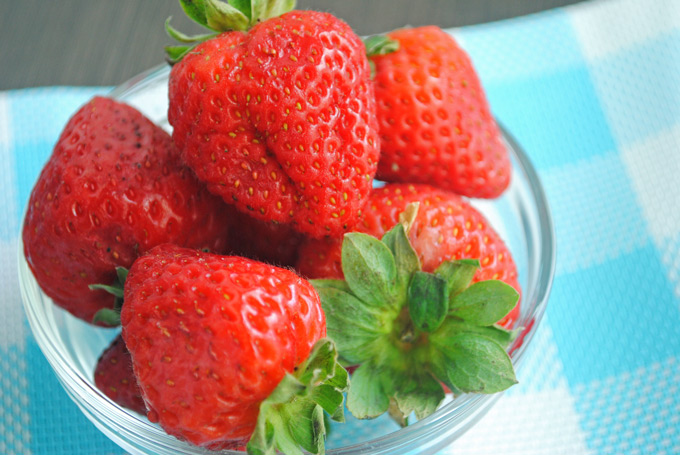 We were never big on PB&J sandwiches in my family; we always opted for peanut butter, honey, and banana. But these pancakes still take me back to elementary school, not a care in the world, not a paper or midterm coming up, jamming to the Jonas Brothers on repeat. Wow, what a dream life.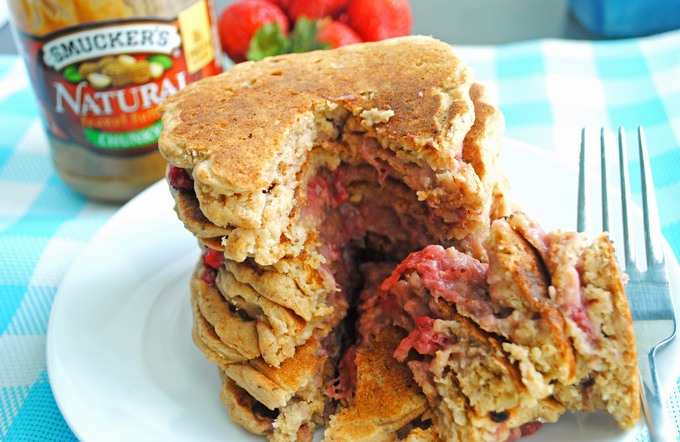 How to Make Pancakes
I love to use my electric griddle for pancake-makin' since you can cook more at a time (read: you can eat quicker) and it's easy clean-up. They're perfect for pancakes, veggie burgers, tortillas…just about anything!
I can't wait to make these pancakes for all my non-vegan friends and family; my best friends are already drooling over the pictures. If only you could eat with your eyes, right? These pancakes will definitely be a hit with everyone, and no one will guess that they're vegan, whole-wheat, and healthier than Bisquick! Waaaaay healthier.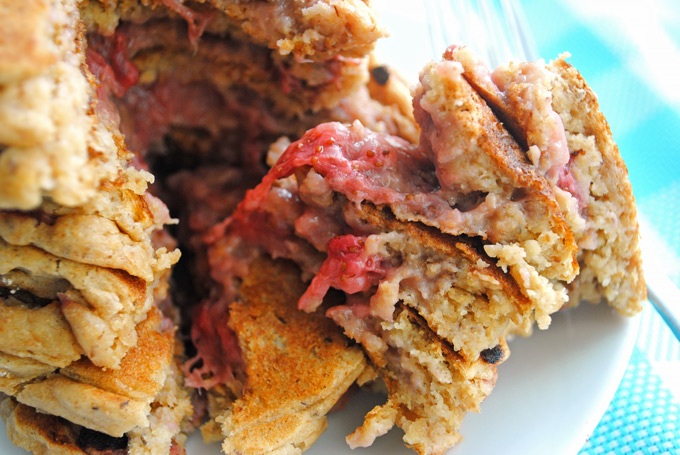 So grab a fork and your old Backstreet Boys CD (or cassette tape?), 'cause we're going back in time to when PB&Js were lunch every day and the only thing you had to worry about was if you colored inside the lines.
Let me know if you make these super yummy stuffed pancakes and be sure to share them with all your family and friends! Or, just eat them all yourself. That's okay too.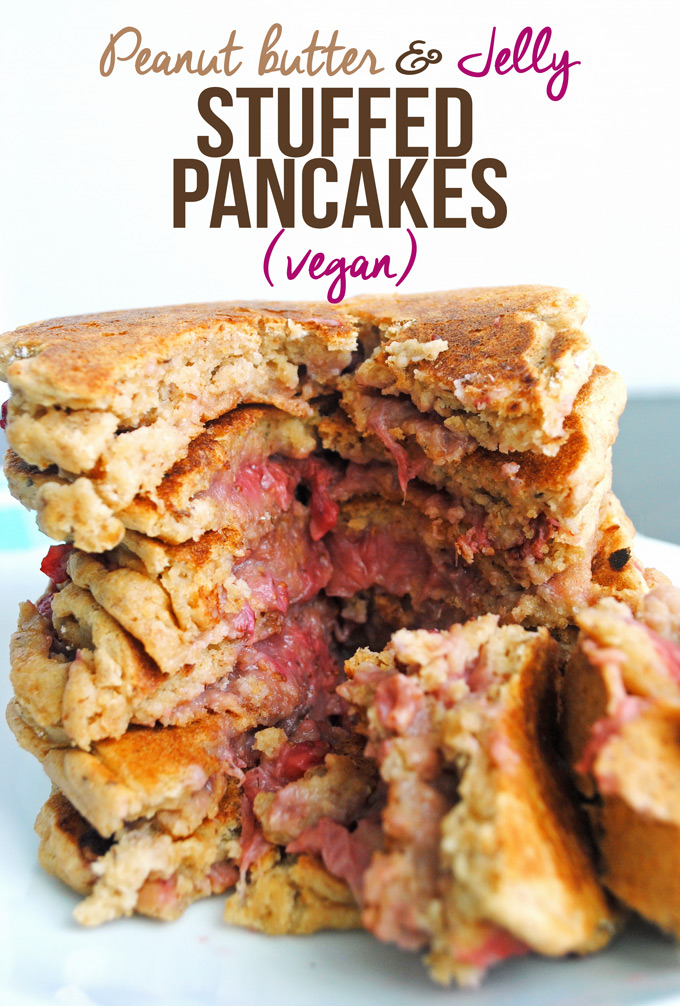 Print
How to make:
Peanut Butter and Jelly Stuffed Pancakes (vegan & whole-wheat)
Put a spin on the classic PB&J with these gooey peanut butter and jelly stuffed pancakes! No one will guess they're vegan, whole-wheat, and healthy.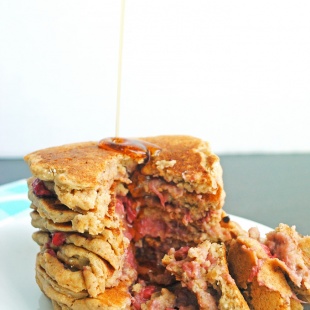 Ingredients
1 cup

almond milk

1 teaspoon

apple cider vinegar

1 cup

strawberries, chopped

1/4 teaspoon

tapioca starch (optional)

1 cup

white whole wheat flour, or whole wheat pastry flour

2 teaspoons

baking powder

1 1/2 teaspoons

flax meal

1/4 teaspoon

salt

2 tablespoons

peanut butter

1 1/2 tablespoons

coconut sugar

1 tablespoon

grapeseed oil, or melted coconut oil, plus more for cooking

1 teaspoon

vanilla extract
Instructions
Mix almond milk and vinegar in a small bowl. Let sit for 10 minutes. Preheat 1 teaspoon of oil on a skillet over medium heat or an electric griddle to 350°F.
While the milk is sitting, microwave the strawberries for about 1 minute or until warm, making sure they don't bubble over the bowl. Mix in the tapioca starch (if using) and mash the strawberries.
In a medium bowl, add flour, baking powder, flax meal, and salt; combine well.
Add peanut butter, coconut sugar, oil, and vanilla to milk mixture. Stir.
Slowly pour wet ingredients into flour mixture. Whisk to combine; don't over-mix. All ingredients should be combined, but there should be some lumps. Let sit for 5 minutes.
Pour 2 heaping tablespoons of batter for each pancake on skillet or griddle. Pour 1 tablespoon mashed strawberries in the middle of each pancake, then pour enough batter on top to cover the strawberries.
When the edges of the pancakes turn golden, flip.
Repeat cooking steps with remaining batter. Serve with maple syrup or more peanut butter and strawberries.