I've come to one intelligent conclusion: stuffing anything with Mexican food is fun. And downright delicious. Say you have some black beans, salsa, corn, and avocado. Stuff it in a hard shell? Tacos. Stuff it in lettuce? Mexican salad. Stuff it in a bowl of rice? Burrito bowl. Stuff it in a vegetable? Well, of course – this Spaghetti Squash Burrito Bowl!
I knew this recipe was an A+ winner? when my boyfriend gobbled his half up in about 6.4 seconds. He's not vegan, but he's always really supportive of how I eat (especially when it involves making him desserts). Turns out he loves spaghetti squash – and lentils and roasted sweet potatoes – so he was a big fan of this burrito bowl. This is also the guy who loves his Chipotle burrito bowls more than he loves me, so that's saying a lot.
Look, I know we ALL love Chipotle, but what if I told you this burrito bowl version is better? Yeah, I went there. It's homemade (with love), cheaper and packed with more veggies. Winner winner burrito bowl dinner.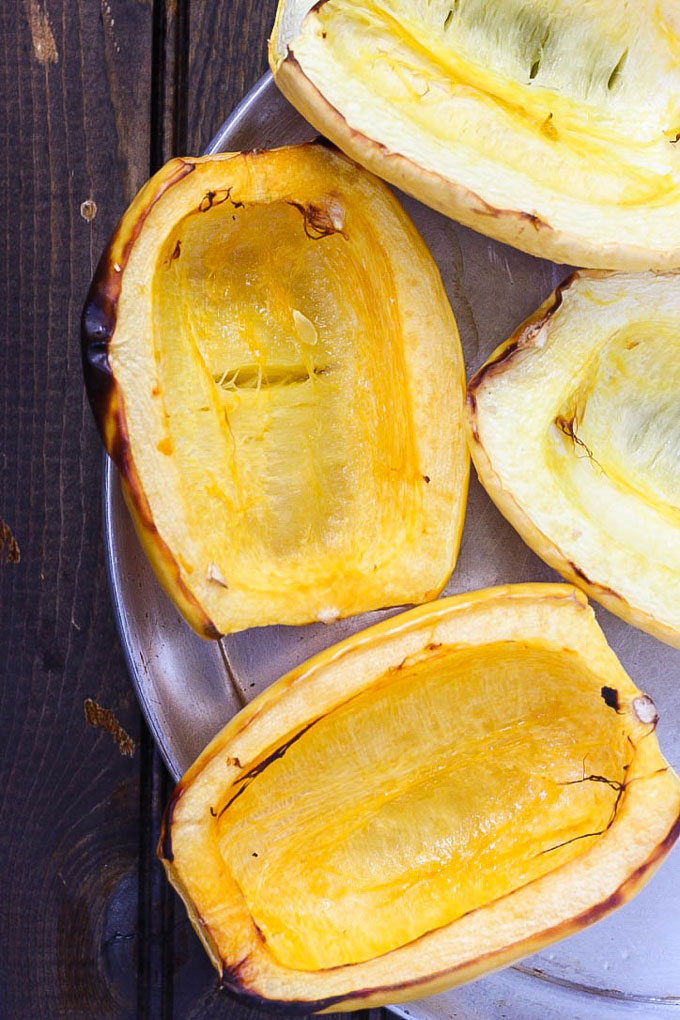 As much as I love talking about Chipotle and Mexican food, there's something else I want to talk about – the new site design!!! You may have noticed that Emilie Eats got a little facelift done, and I couldn't be more pumped. I really hope you guys love it! I worked with Julie from Deluxe Designs, and she is seriously the bomb dot com. She understood exactly what I wanted and is super easy to work with. I thought it was time to spruce up my little corner of the Internet. 🙂
Okay now, back to important things like FOOD. Like the fact that these burrito bowls are ready in under an hour. Or that they're already perfectly portioned in cute little halves. OR that they're perfect for serving to a big group of your hangry family and friends. Most importantly, whatever you do, do not forget the guac. Guac = life.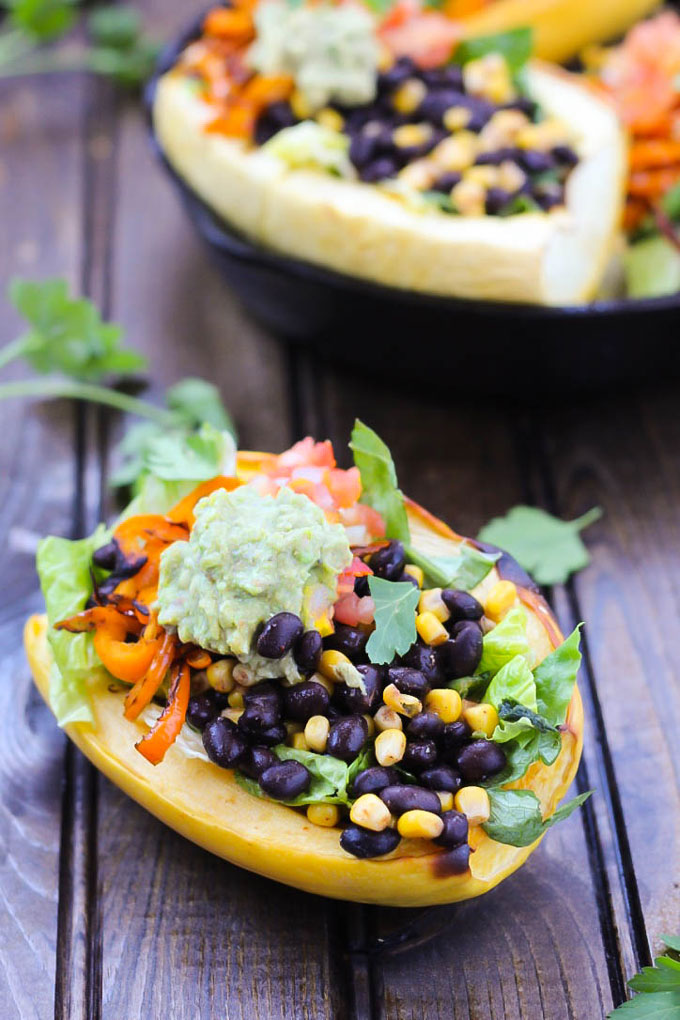 I really hope you guys get to try a Spaghetti Squash Burrito Bowl for yourself! It'll spare you the $10 at Chipotle (that damn guac), and you can pile on as many toppings as you like. Chipotle at home for the dinner win!
If you try this recipe, snap a pic and tag me on Instagram #emilieeats. Also, if you have a comment about the new site design, let me know! This site is all about you, so I want you to have a really good experience here.
I'll leave you with this – don't forget the guac. 😉
Do you have a meal you cook that can please everyone?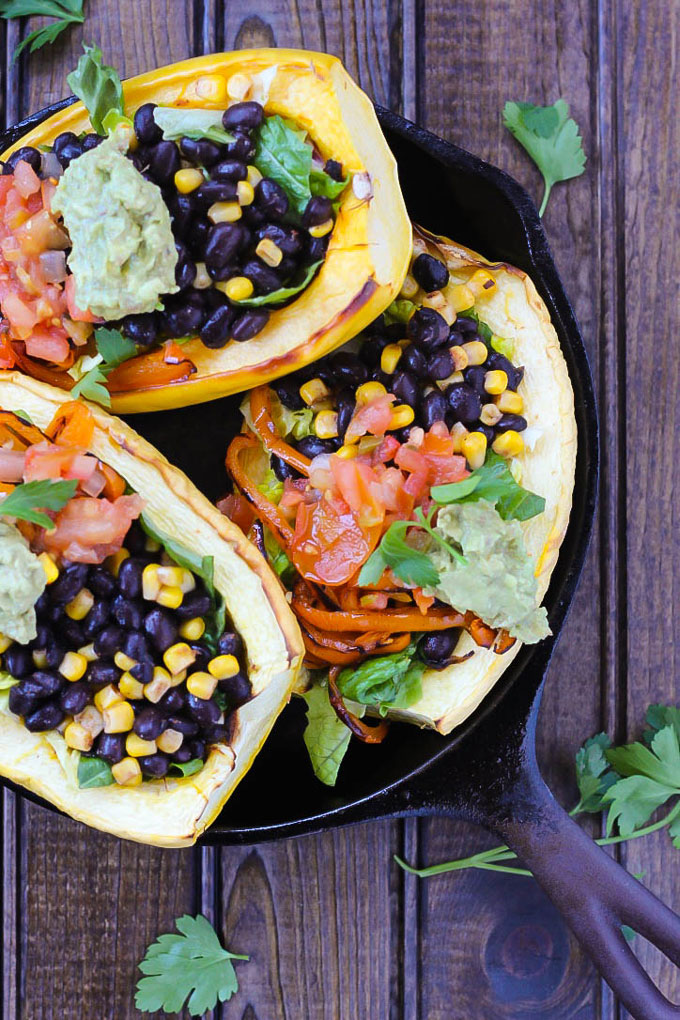 Print
How to make:
Spaghetti Squash Burrito Bowl
Skip Chipotle and have a Spaghetti Squash Burrito Bowl instead! They're loaded with vegetables and savory Mexican flavor. Ready in less than an hour!
Ingredients
2

medium spaghetti squash
Olive oil

1

15-ounce can black beans, rinsed and drained

1/2 cup

corn kernels (preferably organic)

1 tablespoon

chili powder

1 teaspoon

cumin

1 teaspoon

salt, plus more to taste

1/2 teaspoon

black pepper, plus more to taste

2

bell peppers, thinly sliced

4 cups

romaine, chopped
Toppings: guacamole, salsa, cilantro
Instructions
Preheat oven to 375 degrees. Lightly grease a baking sheet.
Carefully cut the squash in half. Drizzle a little oil on each half, then place flesh side down on the baking sheet. Bake for 40-45 minutes, until the squash are tender.
In a medium bowl, add black beans, corn, chili powder, cumin, salt, and pepper; stir to combine. Set aside. (You may want to warm this in the microwave before serving.)
In a skillet, warm about 1 tablespoon olive oil. Add the sliced peppers and season with salt and pepper. Sauté for about 7 minutes, until the peppers are tender and slightly browned.
When the squash are done, stuff with romaine, black bean mix, and peppers. Top with guacamole, salsa, cilantro, and any other desired toppings.