Make some vegan potato skins for the perfect party food or vegan superbowl snacks! These loaded potato skins are easy to make and fun to eat!
Loaded Vegan Potato Skins
Raise your hand if you love potatoes 🙋
Now raise your hand if you love potatoes even more when they're loaded with allllllllllll the fun toppings 🙋🙋🙋
Okay good, I'm glad we're all on the same page.
No matter what your plans are to ring in 2022, I think these vegan potato skins should make some sort of appearance in your plans. They would make for a delicious vegan appetizer before you head out for the evening or a fun late night snack while watching the ball drop at home.
Not to mention, football playoffs are right around the corner and you know these would be the perfect vegan game day food. I mean hello, could there possibly be a better vegan superbowl snack than loaded baked potato skins? No, no there can't be. So you're gonna wanna hang onto this recipe.

Ingredients for Vegan Loaded Baked Potato Skins
These vegan potato skins are so easy to make. Most of the cooking is pretty hands-off and the ingredients are super simple. If at first glance the ingredient list looks a little overwhelming, just know that nearly all the items you'll need are spices to make that glorious homemade vegan cashew cheese sauce and tempeh bacon!
Here's everything you'll need to make these vegan potato skins:
Potatoes. You'll want russet potatoes for this recipe.
Cashews. You'll want raw, unsalted cashews. No need to pre-soak them!
Carrots. This will give our cheese sauce color and a touch of sweetness.
Tempeh. We're making our own vegan bacon bits using tempeh for a boost of protein!
Soy sauce. Liquid aminos would also work.
Hot sauce. You can use as much or as little as you'd like based on your preference.
Spices. We're making homemade vegan bacon and cashew cheese sauce, so we're gonna need plenty of spices! You'll want garlic powder, onion powder, smoked paprika, cumin, nutritional yeast, and salt.
Maple syrup. You could also use coconut sugar if you'd prefer.
Liquid smoke. Just a touch of this goes a long way in making our tempeh bacon totally next level.
Non-dairy milk. Any variety will work, just make sure it's unsweetened.
Tapioca starch. You could also try corn starch if that's what you have handy.
Lemon. I recommend using fresh lemon, but use what you've got!
Miso. This is optional, but it adds a ton of umami flavor to our vegan cheese sauce!
The Best Vegan Cheese Sauce
If you've never made cashew cheese sauce, you're in for a real treat! This one is probably the best homemade vegan cheese I've tried (not just saying that!), and I will definitely be using it in future recipes like vegan mac-and-cheese, casseroles, nachos and much more. Got any ideas for a vegan version of your favorite cheesy comfort food? Let me know in the comments!
This vegan cheese sauce includes healthy, wholesome ingredients like cashews, carrots, nutritional yeast, lemon juice, spices, and miso for that umami flavor. Plus, it doesn't require you to soak your cashews overnight!
To make your own vegan cashew cheese, start by boiling your cashews and carrots in water for about 15 minutes. Then, strain the carrots and cashews and add them to a blender with all of the vegan cheese sauce ingredients. Blend it up until smooth and you've got yourself the creamiest, most luscious vegan cheese sauce of all time.

How to Make Potato Skins
You'd never guess how simple it is to make these vegan potato skins! Just potatoes, a silky-smooth cashew cheese sauce, and tempeh bacon bits adapted from my tempeh bacon recipe.
The most time consuming part of the recipe is baking the potatoes, which is totally hands-off, so pop those guys in a 400F oven for an hour and you can work on making the tempeh bacon and cashew cheese sauce while they bake.
To make your own homemade vegan bacon bits, you'll crumble your tempeh into a bowl along with some soy sauce, hot sauce, liquid smoke, maple syrup and pleeeenty of seasonings. You can let the tempeh marinate while your potatoes bake and move on to the vegan cheese sauce next.
Once your cashew cheese sauce is done and the potatoes have finished baking, you'll pull the potatoes out of the oven, cut them in half and scoop out a bit of potato from the middle to make room for your fillings. Arrange the potatoes skin side down on your baking sheet and pop them back into the oven for 10 minutes. Then, smother them with cheese sauce and vegan bacon bits and put them back in the oven for another 15 minutes, or until they start to look nice and crispy.
Now all that's left to do is finish them off with some fresh herbs and maybe some vegan sour cream!

More Vegan Party Food
Whether you're entertaining a crowd, hosting a small get-together, or just trying to mix things up on a Tuesday, these are some of my favorite vegan party food recipes that are fun to make and even more fun to eat! And with playoff season just around the corner, you're definitely gonna want to save this vegan potato skins recipe (and the rest of these!) for the perfect vegan superbowl snacks!
Print
How to make:
Loaded Vegan Potato Skins
Make some vegan potato skins for the perfect party food or vegan superbowl snacks! These loaded potato skins are easy to make and fun to eat!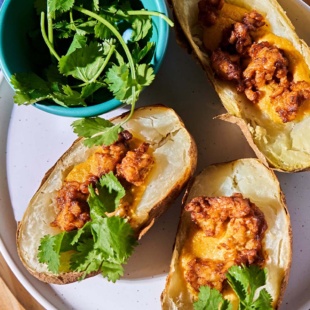 Ingredients
4

russet potatoes, washed and scrubbed

1/2 cup

cashews

1/2 cup

carrots, chopped

4 ounces

tempeh

2 tablespoons

soy sauce or liquid aminos

2 teaspoons

hot sauce

1 1/2 teaspoons

garlic powder, divided

1 teaspoon

maple syrup or coconut sugar

1 teaspoon

liquid smoke

3/4 teaspoon

onion powder, divided

3/4 teaspoon

smoked paprika, divided

1/2 teaspoon

cumin

3/4 cup

unsweetened non-dairy milk

1/3 cup

nutritional yeast

1 tablespoon

tapioca starch

1/2

lemon, juiced

1 teaspoon

organic miso* (optional)

1/4 teaspoon

salt

1/4 teaspoon

smoked paprika
Fresh cilantro or green onions, for garnish
Instructions
Preheat oven to 400F. Line a baking sheet with foil. Poke each potato 4-5 times with a fork and place on the baking sheet. Bake for 50-60 minutes, flipping once or twice.
In a medium saucepan, add cashews and carrots. Cover with water. Bring to a boil; cook for 15 minutes, until tender.
In a medium bowl, add soy sauce, hot sauce, 1/2 teaspoon garlic powder, maple syrup, liquid smoke, 1/2 teaspoon onion powder, 1/2 teaspoon smoked paprika, and cumin. Whisk to combine. Crumble tempeh into the bowl; stir until evenly coated with sauce. Set aside.
Remove cashews and carrots from heat; drain. Add to a blender or food processor with non-dairy milk, nutritional yeast, tapioca starch, lemon juice, miso, 1 teaspoon garlic powder, salt, smoked paprika, and 1/4 teaspoon onion powder. Blend until completely smooth. Set aside.
Remove potatoes from the oven. Cut each in half, then scoop out a little from the middle; set scooped potatoes aside for future use.
Place potatoes, skin side down, back on the baking sheet. Bake for 10 minutes.
Remove potatoes from the oven. Scoop some cheese sauce onto the middle of each potato, followed by some tempeh bacon bits. Bake for 15 minutes, until tempeh bacon is crispy.
Remove and garnish with fresh cilantro.