This Vegan Burrito Bowl is full of flavor and easy to make at home! Just wholesome ingredients like vegetables, rice and beans. And guac! (gluten-free)
Print
How to make:
Vegan Burrito Bowl
This Vegan Burrito Bowl is full of flavor and easy to make at home! Just wholesome ingredients like vegetables, rice and beans. And guac! (gluten-free)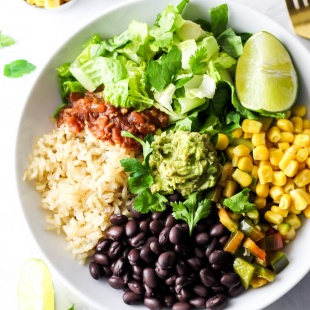 Ingredients
1

package VeeTee Dine In Microwaveable Brown Rice

2 cup

s romaine, chopped

1/2 cup

black beans, drained and rinsed

1/2

bell pepper, chopped

1/4 cup

corn (thawed if frozen)

1/4 cup

salsa

2 tablespoon

s cilantro, finely chopped

1/2

lime, juiced

1/2

ripe avocado

1/2 teaspoon

garlic powder

1/2 teaspoon

onion powder
Salt and pepper, to taste
Instructions
Cook brown rice according to package directions.
Add lettuce to a bowl or a lunch container. Top with 1/2 cup rice, black beans, bell pepper, corn, salsa, cilantro, and lime juice.
In a small bowl, add avocado, garlic power, onion powder, salt, and pepper. Mash until smooth. Scoop on top of burrito bowl.