Hearty veggie burgers on sweet potato buns make these Vegan Sweet Potato Sliders a great party appetizer! Have fun with the toppings. Healthy & gluten-free!
I promise we'll get around to the recipe for these vegan sweet potato sliders in a couple minutes (and trust me, you don't want to miss it). But let's talk about something else for a second: passion.
I'd say my perfectionist, type-A, black-or-white personality makes me an extremely passionate person. When I am into something, I'm in 100 percent. I grab the bull by the horns and run with it; I am a Taurus, so I guess that's pretty fitting.
I love to challenge myself, and I'm not afraid to bounce around pursuing different interests to try something new. I've explored many interests over my 20 years, including piano, cake decorating, volleyball, painting, knitting, cheerleading, dance, and so many more.
But I have honestly never felt such a passion for anything than I do for this blog and spreading the message of health.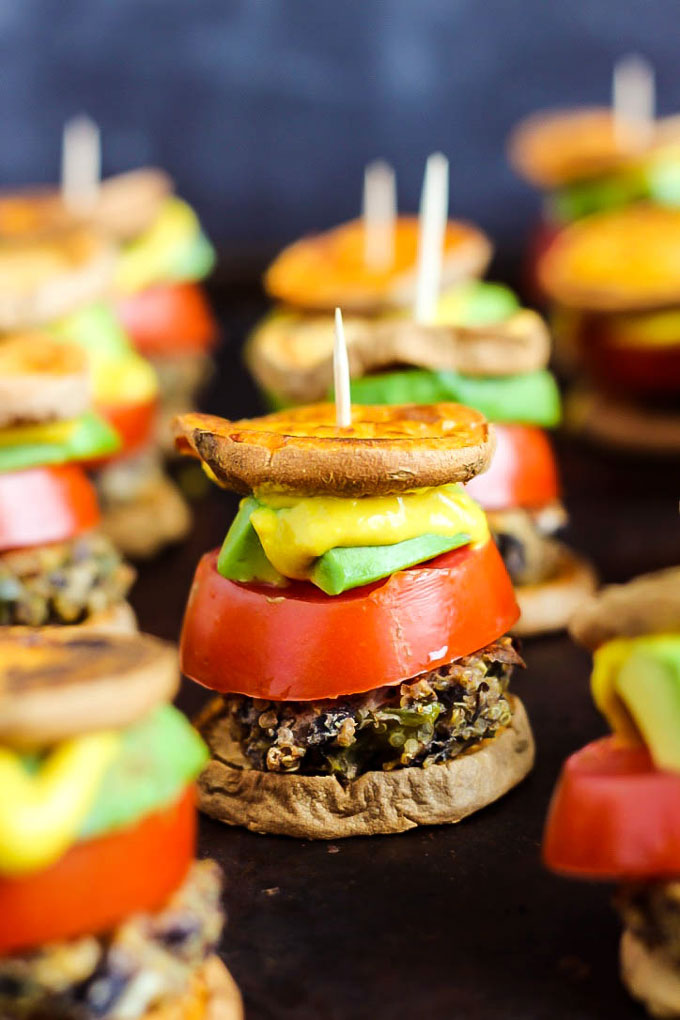 I know this sounds really (vegan) cheesy, but this little blog is my home. It's what I pour my heart into every day, and sometimes it's one of the only things that can put a smile on my face when I'm feeling down. Seriously, you guys leave the most heartfelt comments; I'm not going to deny that I've cried reading some of them.
Three years ago I cut out processed foods and focused on whole foods, and one year ago I went vegan. I found a passion for health and nutrition that I had never felt with anything else. I was (and still am) on fire for health. When you personally experience the benefits of nourishing your body, you want to shout it from the rooftops. So I started this blog, as a way to spread this passion with others, and I could have never imagined how much joy it brings me.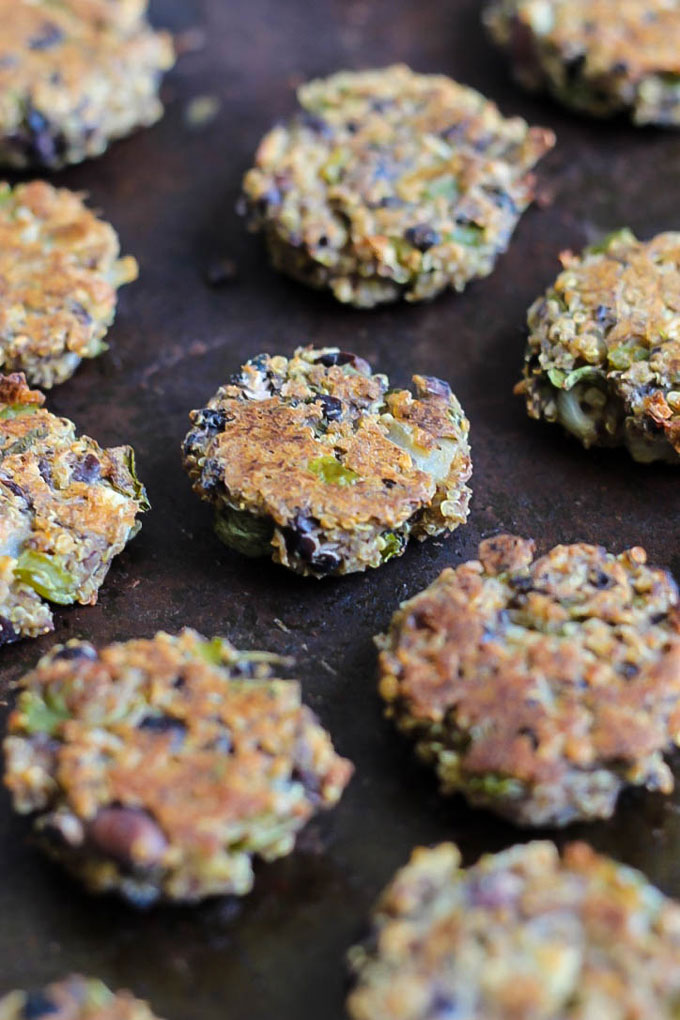 But there are some things that come your way that can dim the fire in you. Since I have such a black-or-white personality, it's very easy for me to go to extremes and become obsessive. For me, that's been the case with my food choices and body image. Trying to eat perfect to obtain the perfect body has become an obsession; it takes up waaaay more mind space than it should. When I dwell on these negative feelings, it brings my whole day down and distracts from what's important. I'm finally actively trying to reverse these thoughts and heal my relationship with food and my body, because I know that when I do, I will have so much more time for the things I really want to focus on – self-care, my relationships with loved ones, and this blog.
Before I started this blog, I was working a job that made me extremely unhappy, stressed, and a nutcase. I was, in the words of my now-boyfriend, "a ticking time bomb." I felt a strong calling to start this blog and share what I've learned about health with others, so you know what I did? I quit that job. I let go of that negativity and moved on to something so much bigger and better. It's amazing how much I've gained since then through this blog just by letting go of that unhappiness.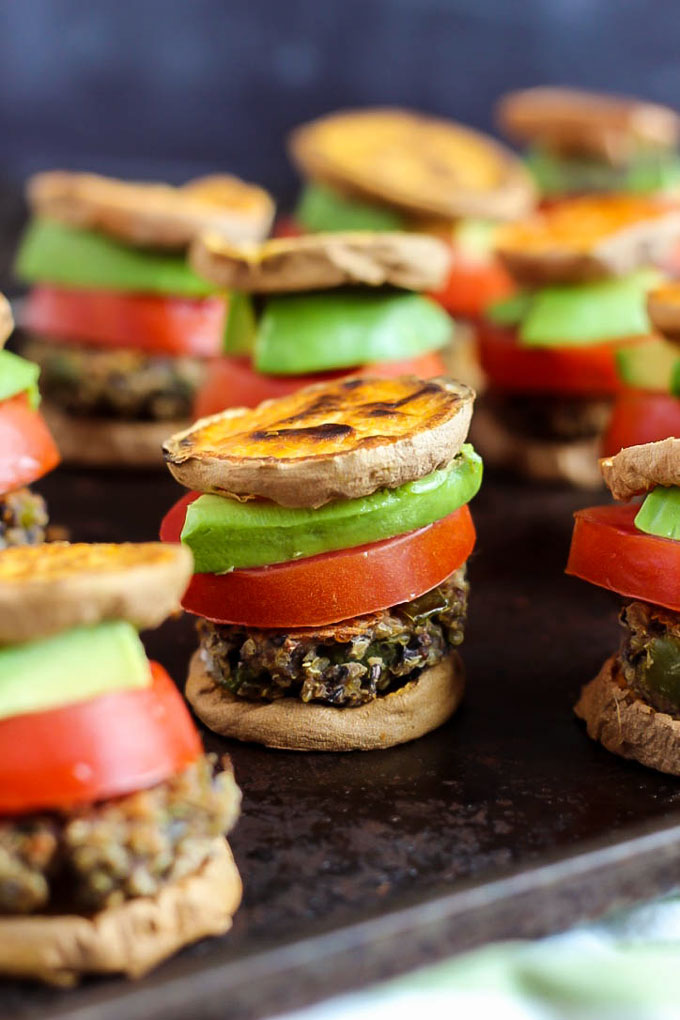 I am making it a priority to let go of the negative thoughts I deal with now to make room for the things I'm really passionate about, and I encourage you to look within and do the same. What do you really love to do? What is holding you back? Why are you still stuck there? Think of what you would love to do, let go of what is not serving you, and go after that passion. Do it.
I don't know if I say it enough on here, but thank you. Thank you for coming to my blog, my home. Thank you for making my recipes. Thank you for reading the personal stuff and connecting with me. Something I say a lot is, this blog is not for me – it's for you. I already have all the recipes. But I want more than anything for people to be healthy and happy, to share good, nourishing food with the people they love, and to enjoy the foods they eat.
That is my passion. That's what drives me every single day to make this blog the best it can be.
That's why I would love to get your opinion on a project I'm working on – because this is for YOU. All you have to is quickly answer 4 questions. That's it! I would really love your input so I can provide you something that is super valuable.
Okay, I promised you we would get back to these sweet potato sliders. Did you make it through all that??? Good, because this recipe is well worth it.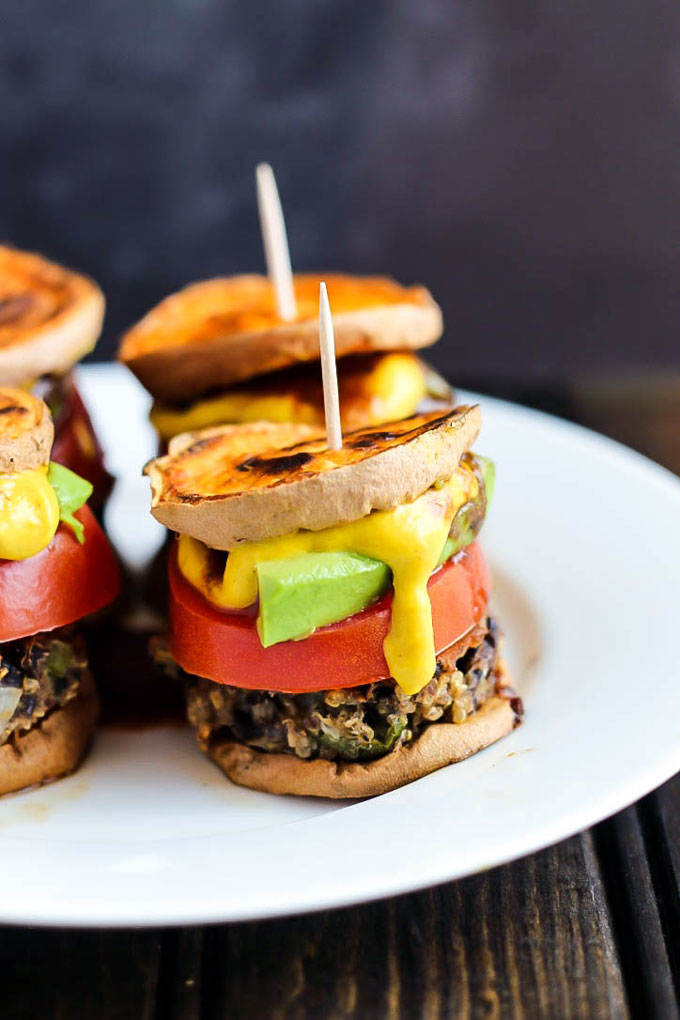 My black bean quinoa veggie burgers are one of the most popular recipes on my blog (you guys have great taste?), so I wanted to do a spin on those since they're the perfect recipe for summer. Nothing says summer like big, fat veggie burgers and sweet potatoes!
We're making mini veggie burgers here and slapping those babies on some perfectly roasted sweet potato buns?. The combo is INSANE. Especially once you add all your favorite burger toppings, like mustard, barbecue sauce, spinach, and, of course, avocado. I think grilled pineapple or sauerkraut would also be mind-blowingly delicious. Have fun with it!
The amount of mini burger patties you need will depend on how many sweet potato buns you have, so you may have leftover veggie burger mix like I did. No fear – just make them into patties and freeze them for easy leftovers you can pull out for a dinner emergency.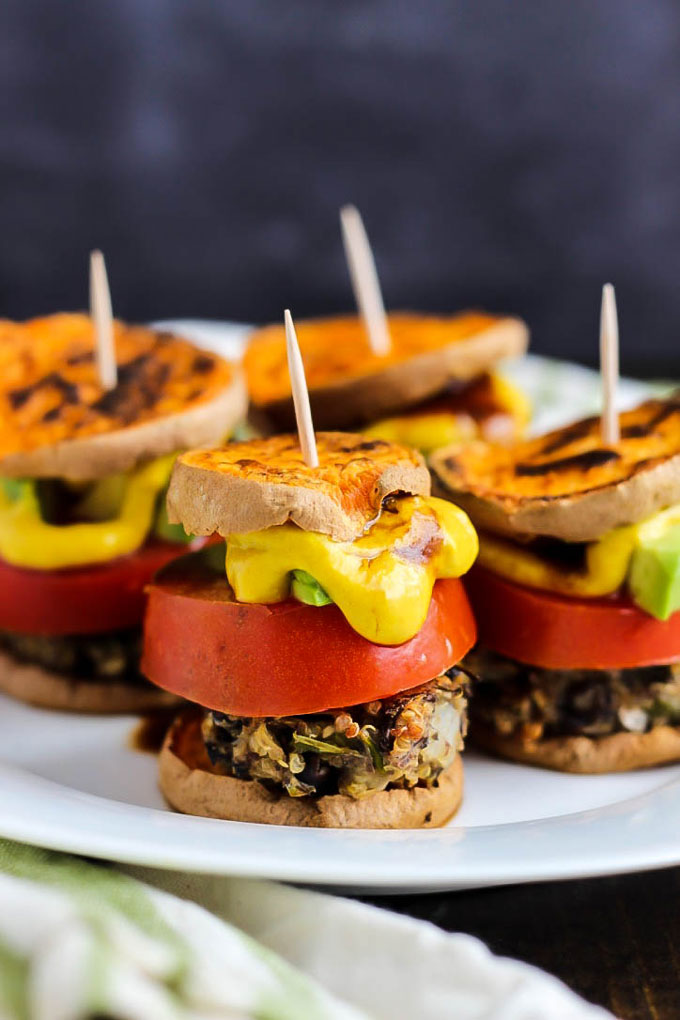 These are easy to throw together and are perfect for summer BBQs and party appetizers. I mean, who can resist anything any mini form? Especially if it involves roasted sweet potato and hearty veggies burgers. YUM.
If you get to make these this summer (or any time), make sure to leave a comment below?? and post a snazzy pic on Instagram with #emilieeats.
I really appreciate you guys reading this post (if you got through it all) and taking the survey if you chose to. Remember to let go of negativity and find your true passion. And if your true passion is eating vegan sweet potato sliders, then you go, girl.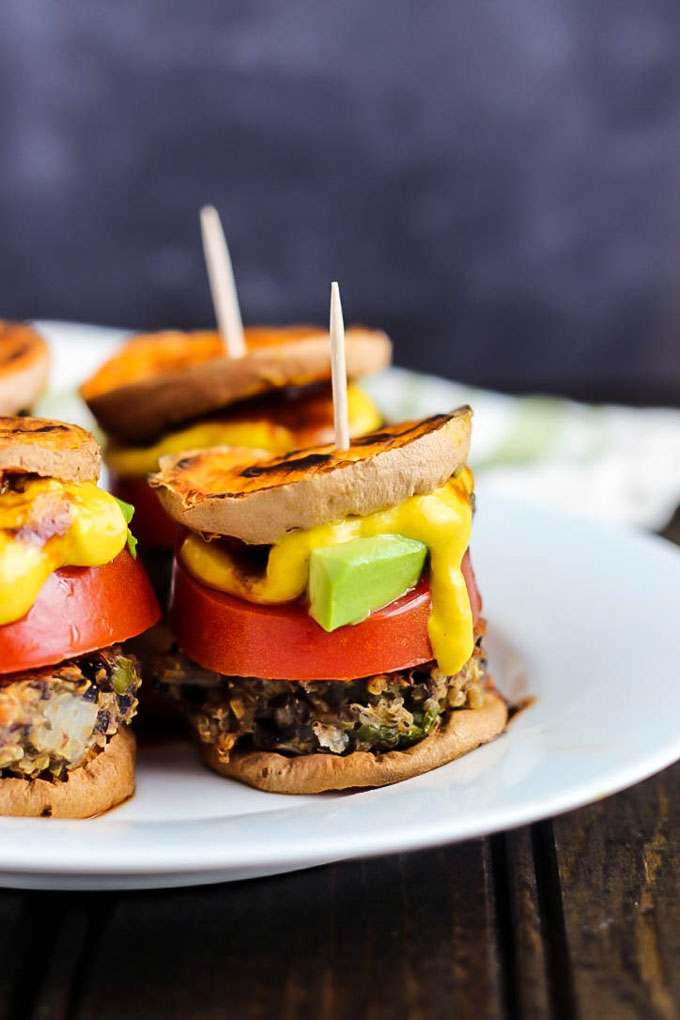 Print
How to make:
Vegan Sweet Potato Sliders
Hearty veggie burgers on sweet potato buns make these Vegan Sweet Potato Sliders a great party appetizer! Have fun with the toppings. Healthy & gluten-free!

Ingredients
Oil or cooking spray

2

pounds sweet potato (about

3

medium)

½ cup

uncooked quinoa

2 tablespoons

flax meal +

5 tablespoons

water

1

small yellow onion, finely chopped

1

orange bell pepper, finely chopped

1

jalapeno pepper, seeds removed, finely chopped

1 tablespoon

garlic, minced

1 cup

packed spinach, chopped

1½ cups

cooked black beans, drained, or

1

can black beans, rinsed and drained

1 teaspoon

salt

1 teaspoon

paprika

½ teaspoon

cumin

½ teaspoon

pepper

⅛ teaspoon

ground cayenne

½ cup

oat flour (ground-up rolled oats), or any other flour
Toppings: sliced tomatoes, avocado, mustard, BBQ sauce
Instructions
Preheat the oven to 400°F. Lightly grease a baking sheet.
Slice sweet potatoes into 1/2-inch thick rounds. Place in a single layer on the baking sheet; lightly grease or spray them. Season with salt and pepper. Bake for 20-25 minutes, until slightly browned.
While the sweet potatoes are cooking, place a small saucepan over medium heat. Rinse quinoa in a small mesh strainer; add to the saucepan. Cook for 1-2 minutes until lightly toasted. Add 1 cup water; turn the heat to high. Once boiling, reduce heat to low, cover, and simmer for 13-15 minutes.
Combine flax meal and water in a small bowl; set aside for 10 minutes. Reduce oven to 375°F.
*Warm a little oil in a skillet over medium heat. Once hot, add chopped onion; let it cook for 5 minutes, stirring often. Add bell pepper, jalapeño, and garlic; cook until the onion is translucent, about 2 minutes. Add the spinach and stir immediately, letting it wilt slightly. Turn the heat off.
In a large bowl, add black beans; mash with a fork, leaving some texture. Add cooked quinoa, sautéed vegetables, salt, paprika, cumin, pepper, cayenne, and reserved flax eggs. Mix until combined, then add oat flour. Stir.
Form however many mini patties you need, about 2 inches wide**. Place on baking sheet; bake for 20 minutes, flip, then bake for 20 more minutes, until browned and crispy.
Place each patty on a sweet potato bun, top with desired toppings, and finish with another sweet potato bun. Serve & enjoy!
Notes
*You don't have to sauté the vegetables, but I think it really brings out the flavors better. If not sautéing, simply mash them directly in the bowl with the black beans and other ingredients.
**If you have leftover burger mix than you need, simply form regular size patties, bake according to directions, and refrigerate or freeze.