Cozy up with a bowl of this Vegan Wild Rice Soup on! It's full of nutritious ingredients and will leaving you feeling nourished and satisfied.
Vegan Wild Rice Soup
It's somehow almost December, which means it's that time of year where there is nothing I want more at the end of each day than my fuzzy slippers, a good movie, and a big bowl of hot soup.
I mean, it's honestly a little wild how I could seriously eat soup for dinner every dang day when it starts getting cold. You could probably say it's super wild… Okay, I'm sorry – that was a horrible joke, but we're making a vegan wild rice soup today and I just had to!
So anyways. Wild rice soup! It's full of fiber and antioxidants, it's gluten-free, and it can be made in about 1 hour. Plus, it's actually filling unlike so many vegetable soup recipes. In addition to the wild rice, we're also adding in a can of white beans to pack in some plant-based protein and keep you feeling nice and full. I promise you're going to want it on repeat this winter.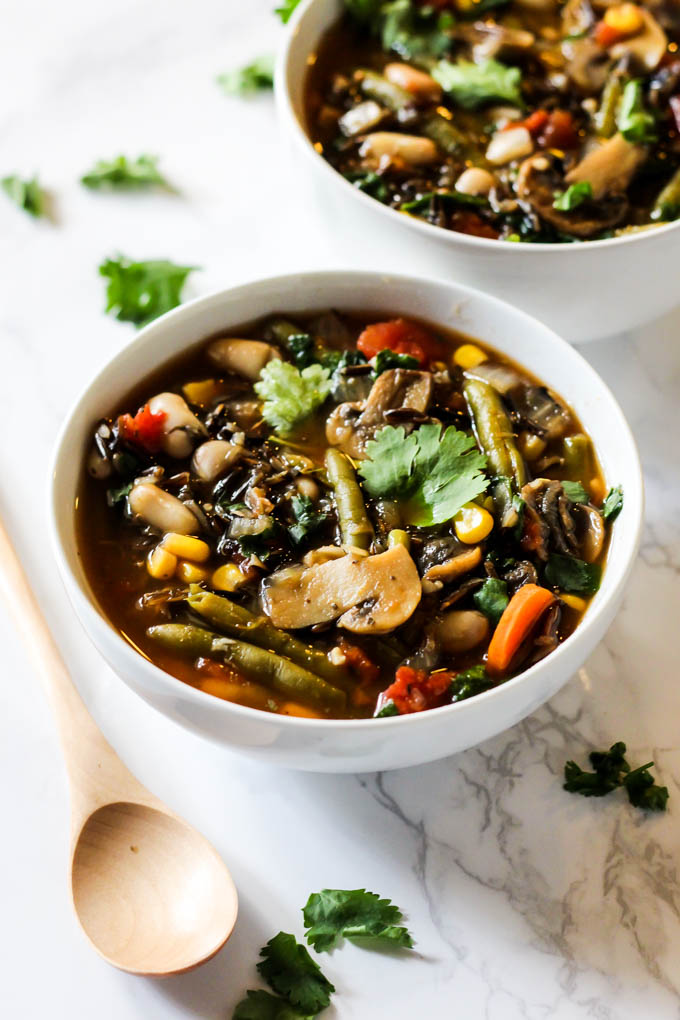 Ingredients for Wild Rice Soup
Soups are so forgiving, which is why they're such a go-to for me on weeknights where I just can't be bothered, or when I'm putting off my next trip to the grocery store. You just throw in a ton of vegetables, even ones that are going bad at the back of your produce drawer, and whatever else you have on hand to create the coziest bowl of goodness. You really can't mess up soup! (Well, I'm sure there's a way…but I trust all of you enough.)
This vegan wild rice soup is incredibly customizable to your taste preferences and what you already have lying around. Hate mushrooms? Leave 'em out. Got a can of kidney beans? Use those instead. Prefer kale? Use that instead of spinach. Here's everything I used in mine:
Onion. This soup starts with sauteed onion to build up a base of flavor for the soup.
Garlic. Feel free to scale the garlic up or down based on your preferences.
Vegetables. Use what you have! I used a couple carrots, bell pepper, mushrooms, green beans, corn and spinach. Fresh, frozen, canned – it all works!
Seasonings.  You'll need dried basil, oregano, smoked paprika salt and pepper.
Canned tomatoes. You'll want to use a can of diced tomatoes, both the tomatoes and all the juices to help add body to the broth.
Vegetable broth. Feel free to use a carton of pre-made broth, bouillon or a homemade vegetable stock.
Wild rice. I love wild rice not only because it's packed with fiber and plant-based protein, but it also has a delicious nutty flavor that is so delicious in this soup.
White beans. Any kind will work, so use your favorite!
How to Make Vegan Wild Rice Soup
This wild rice soup recipe is ready in about an hour and it's mostly hands-off cooking, so once you get everything in the pot, all that's left to do is let it simmer away until the rice is cooked!
You'll start by sauteeing your onion in water or olive oil for about 5 minutes, or until it has softened and is starting to brown. Next, add in your carrots and bell pepper, or any other heartier vegetables you're using. Once those have started to soften, add in your garlic and continue to cook until fragrant. After about a minute, you'll add in your spices and the more tender vegetables, including the mushrooms and green beans. Give everything a good stir to incorporate the spices and cook for another 4 minutes or so.
Then, add in the tomatoes, broth, water and your wild rice. Bring the soup up to a boil, then reduce to a simmer and cook for 45 minutes, or until the rice is cooked through. The cook time may vary depending on your wild rice so take a peek at the package instructions and test the rice until you're happy with the texture.
Once your rice is tender, toss in the beans, corn and spinach and cook until the spinach has wilted and the beans and corn are warmed through.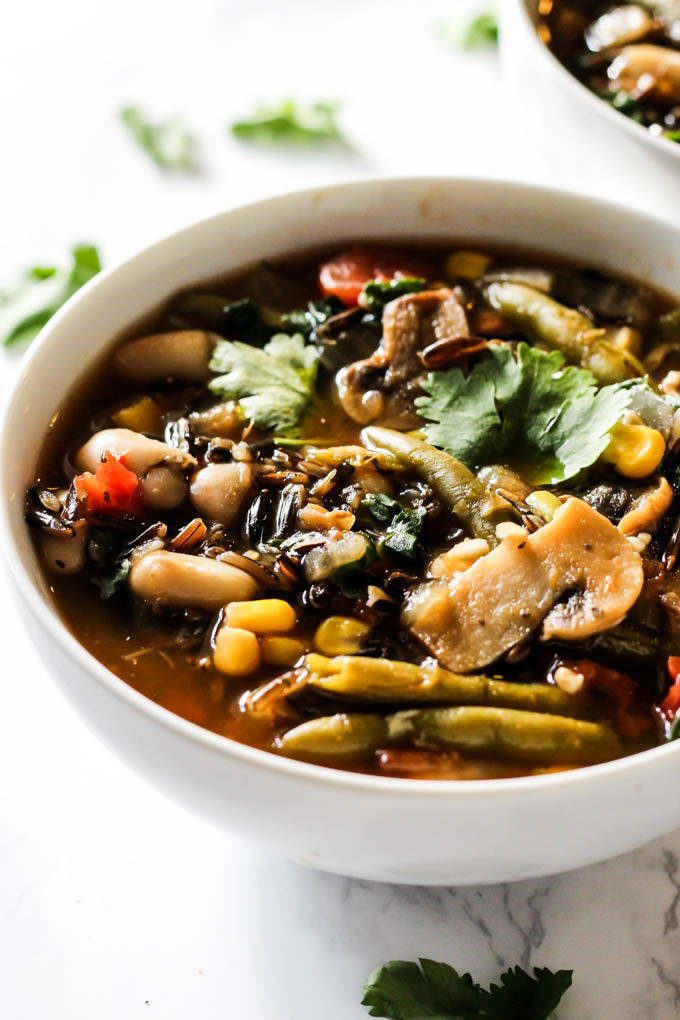 How to Store this Vegan Wild Rice Soup
I love to be able to cook once and eat multiple times to save time in the kitchen and stress less over having meals ready to go. Soup is one of the easiest things to scale up into a bigger batch. It stores well in the fridge, holds up great in the freezer, and doesn't require any additional cooking time when you double the recipe.
If you plan on making this vegan wild rice soup, I highly recommend making a double batch to keep extras on hand! You can simply pop any remaining soup into a container and stash it in the fridge for up to 5 days. If you take advantage of your freezer the way I do, than this also makes for a great freezer meal! Make sure to store the soup in an air-tight container, and divvy it up into servings that you plan to use in one go. That way you can pull out the amount you want when ya want it and keep the rest in the freezer for another time!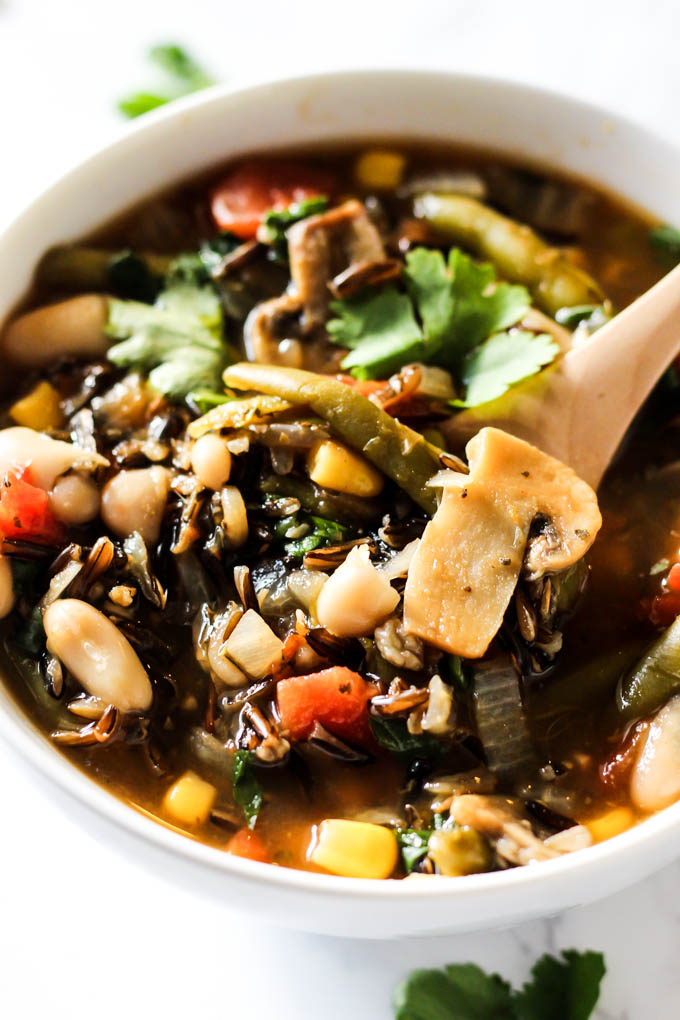 More Vegan Soup Recipes
There's no better way to get cozy than with a warm, comforting bowl of soup. If you're looking for more ideas, check out these other vegan soup recipes!
Print
How to make:
Vegan Wild Rice Soup
Cozy up with a bowl of this Vegan Wild Rice Soup on! It's full of nutritious ingredients and will leaving you feeling nourished and satisfied.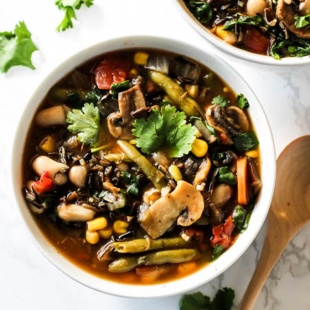 Ingredients
1

medium onion, finely chopped

2

medium carrots, sliced

1/2

bell pepper, chopped

2

cloves garlic, minced (

1 teaspoon

)

8 ounces

mushrooms, sliced

2 cups

green beans (fresh or frozen)

2 teaspoons

dried basil

1 teaspoon

dried oregano

1/2 teaspoon

smoked paprika

1

15-ounce can diced tomatoes

1

32-ounce (4 cups) container vegetable broth

2 cups

water

1 cup

wild rice

1

15-ounce can white beans, drained and rinsed

3/4 cup

organic corn kernels (canned or frozen)

2 cups

spinach, chopped
Salt and pepper, to taste
Instructions
In a large pot, heat a little water or oil over medium heat.
Add onion; cook for 5-7 minutes, until they begin to brown. Add carrots and bell pepper; cook for 3 minutes. Add garlic; cook for 1 minute.
Add mushrooms, green beans, basil, oregano, and smoked paprika. Stir until the vegetables are evenly coated in spices; cook for 3-4 minutes.
Add diced tomatoes, broth, water and wild rice. Bring to a boil. Cover, reduce heat to simmer, and cook for 45 minutes.
Add beans, corn, and spinach. Cook until the spinach is wilted. Serve hot.