Print
How to make:
Sweet Potato Black Bean Tacos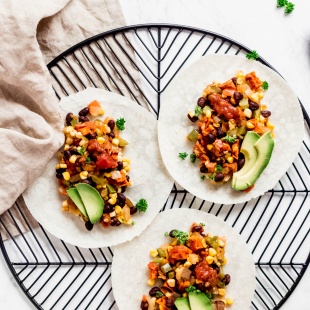 Ingredients
1 tablespoon

olive oil

1/2

onion, diced

2

cloves garlic, minced

1/2 cup

tomatoes, diced

1/2 cup

corn

1/2

bell pepper, diced

1

medium sweet potato, diced

1 cup

black beans

2 tablespoons

salsa

1/2 teaspoon

chili powder

1/2 teaspoon

ground cumin

1/4 teaspoon

salt

1/4 teaspoon

black pepper

2

whole grain tortillas

1/2

avocado, sliced
Instructions
In a medium skillet over medium heat, warm oil. When hot, add onion; cook for 5-7 minutes, until lightly browned. Add garlic; cook for 1 minute, stirring. Add tomatoes, corn, and bell pepper; cook for 5-7 minutes, until vegetables are tender.
Add sweet potato and 1/2 cup water; stir. Cover skillet; cook for 15 minutes, until sweet potato is fork tender. Add black beans, salsa, chili powder, cumin, and pepper; stir and cook for 5 minutes.
Fill each tortilla with 1/2 of the filling. When ready to eat, top with avocado slices.