Print
How to make:
Black Bean Stuffed Sweet Potato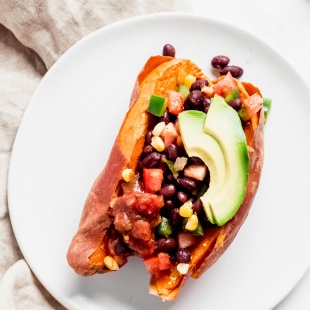 Ingredients
2

medium sweet potatoes, washed and scrubbed

1 cup

black beans

1/2 cup

tomatoes, diced

1/2 cup

corn

1/2

bell pepper, diced

2 tablespoons

salsa

1/2 teaspoon

chili powder

1/2 teaspoon

ground cumin

1/4 teaspoon

salt

1/4 teaspoon

black pepper

1

avocado, sliced
Jalapeno slices
Instructions
Preheat oven to 350ºF. Place sweet potatoes on a baking pan. Bake for 1 hour, until potatoes are oozing. Remove from oven and let cool.
In a medium bowl, add beans, tomatoes, corn, bell pepper, salsa, chili powder, cumin, and pepper. Stir to combine.
When potatoes are cool, slice in half. Stuff each potato with half of the filling, half of the avocado, and jalapeño slices.