How to make:
Baked Sticky Tempeh Potstickers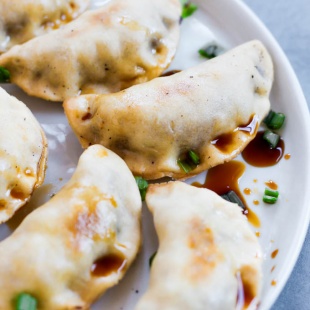 Ingredients
1 tablespoon

sesame oil

1/2

medium onion, chopped

2

cloves garlic, minced

1/2 cup

carrots, chopped

1/2 cup

mushrooms, chopped

1 tablespoon

ginger, minced

2 tablespoons

green onions, sliced

1

8-ounce package tempeh

1/4 cup

low-sodium soy sauce, plus more for serving

1 tablespoon

cornstarch or tapioca starch

1 teaspoon

maple syrup

1 tablespoon

rice wine vinegar

32

vegan wonton wrappers*
Oil for cooking (vegetable, avocado, grapeseed)
Instructions
Preheat oven to 350ºF.
In a medium skillet over medium heat, add sesame oil. When hot, add onion; cook for 5 minutes, until slightly translucent. Add garlic; cook for 1 minute. Add carrots, mushrooms, ginger, and green onions; cook for 8-10 minutes, until vegetables are tender.
Crumble the tempeh into the pan; you want small pieces. Stir. Add soy sauce, starch, maple syrup, and vinegar; cook for 5 minutes, until sauce has thickened. Remove filling from pan.
Place wonton wrappers on a lightly greased baking sheet. Add a small scoop of the tempeh vegetable mixture (about 1-2 tablespoons) to the center of each wrapper. Fold each wrapper over; use some water to stick the edges together. Pinch the edges together.
Bake for 15 minutes, flip the potstickers, then bake for 10 more minutes.
Serve with soy sauce for dipping.
Notes
*Egg-free wonton wrappers can be hard to find. I made them myself using this recipe.