How to make: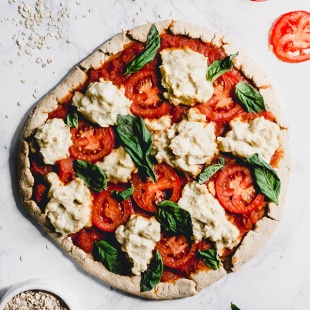 Ingredients
2 cups

Quaker Quick 1-Minute Oats

1 tablespoon

sugar

1 cup

warm water

1

packet (2 1/4 teaspoons) active dry yeast

3 tablespoons

olive oil

1 teaspoon

salt

1 1/2 cups

whole wheat pastry flour
Instructions
In a blender or food processor, add oats. Blend into a fine flour; set aside.
In a large bowl, add sugar and warm water. Sprinkle yeast on top and gently stir once. Let sit 5 minutes, until yeast is foamy. If there is no foam, the yeast is dead; start again with new yeast.
Add olive oil and salt to the bowl; whisk to combine.
Add oat flour and whole wheat flour to the bowl. Stir until a dough ball forms. On a lightly floured surface, knead the dough. Knead for 5-8 minutes, until the dough is smooth.
In a large bowl coated with oil, place the dough. Cover with a damp warm towel. Let sit for 1 hour, until dough has risen.
Punch dough. Divide into two even dough balls; knead each until smooth (alternatively, you can freeze one dough ball). On a lightly floured surface, roll out each dough ball into a 1/4-inch thick circle. Fold in the edges to form a raised crust.
Preheat oven to 425°F. Lightly flour a baking pan. Transfer crust to pan. Bake for 18 minutes.
Add desired toppings and bake accordingly.