How to make: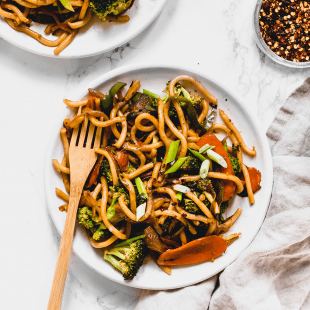 Ingredients
1 tablespoon

oil

1/2

yellow onion, thinly sliced

4

cloves garlic, minced

1

medium carrot, thinly sliced

1 cup

broccoli, chopped

1/2

bell pepper, thinly sliced

1 cup

fresh basil, chopped

12 ounces

Annie Chun's Organic Udon Noodles

3 tablespoons

low-sodium soy sauce

2 tablespoons

water

1 tablespoon

vegan fish sauce (optional)

1 teaspoon

sugar

1/2

–

1

teaspoon Sriracha
Pinch red pepper flakes
Sliced green onions
Instructions
In a large skillet or wok over medium heat, add oil. When hot, add onion. Cook for 7 minutes, stirring, until onion is lightly browned. Add carrot, broccoli, and bell pepper; stir. Cook for 7 minutes, until vegetables are tender. Add basil; stir until wilted.
Add Annie Chun Organic Udon Noodles, soy sauce, water, vegan fish sauce, sugar, Sriracha, and red pepper flakes; stir. Turn heat to low. Cook for 3 minutes.
Top with sliced green onions.