How to make:
Black Bean Taquitos with Avocado Dip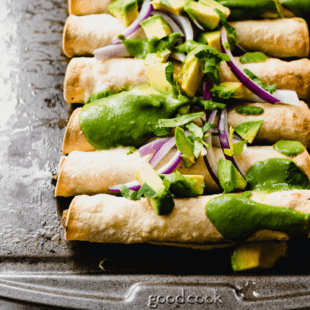 Ingredients
For the taquitos:
1

15-ounce black beans, drained and rinsed

1/2

fresh California avocado

3 tablespoons

salsa

2 tablespoons

dairy-free cream cheese

2 teaspoons

chili powder

1/2 teaspoon

ground cumin

1/2 teaspoon

garlic powder

1/4 teaspoon

ground black pepper

10

–

12

small corn tortillas

2 teaspoons

olive oil
For the avocado dip:
1

fresh California avocado

1/2 cup

 water (plus more if needed)

1/4 cup

fresh cilantro

2 tablespoons

lime juice

1/2 teaspoon

 garlic powder
Salt and pepper, to taste
For topping:
Diced fresh California avocado
Sliced red onions
Chopped cilantro
Dairy-free sour cream
Instructions
Preheat oven to 425ºF. Grease a baking sheet.
In a medium bowl, add black beans. Mash with a fork until just a little bit of texture remains. Add avocado, salsa, cream cheese, chili powder, cumin, garlic powder, and black pepper; use your fork to mash and mix all ingredients together until a smooth mixture forms.
Place a small greased skillet over low-medium heat. Warm each corn tortilla in the skillet for 30 seconds each side, then place on a flat surface. Place 2 tablespoons black bean mixture on one side of the tortilla, then roll tightly. Place seam side down on the baking sheet. Repeat until all black bean mixture is used.
Use a pastry brush to brush the olive oil onto the tops of all taquitos.
Bake for 15-18 minutes, until lightly browned on the edges.
While the taquitos are baking, prepare the dip. To a blender, add all dip ingredients; blend until smooth.
When taquitos are done baking, top with desired toppings. Serve with avocado dip.