Need ideas for movie night snacks? Serve up these black bean taquitos with a creamy avocado dip made with fresh California Avocados.
This post is sponsored by the California Avocado Commission, but all opinions are my own.
Black Bean Taquitos with Avocado Dip
Since we're finally able to start seeing some people again, I am thinking about all kinds of PARTY FOOD! You know, those recipes that everyone will love. The real crowd-pleasing recipes. I'm talking nachos, creamy dips, wings, chips and guac…
I'm putting these black bean taquitos in the crowd-pleaser category! I can't wait to serve these for movie nights, grilling nights, hot tub nights, and more.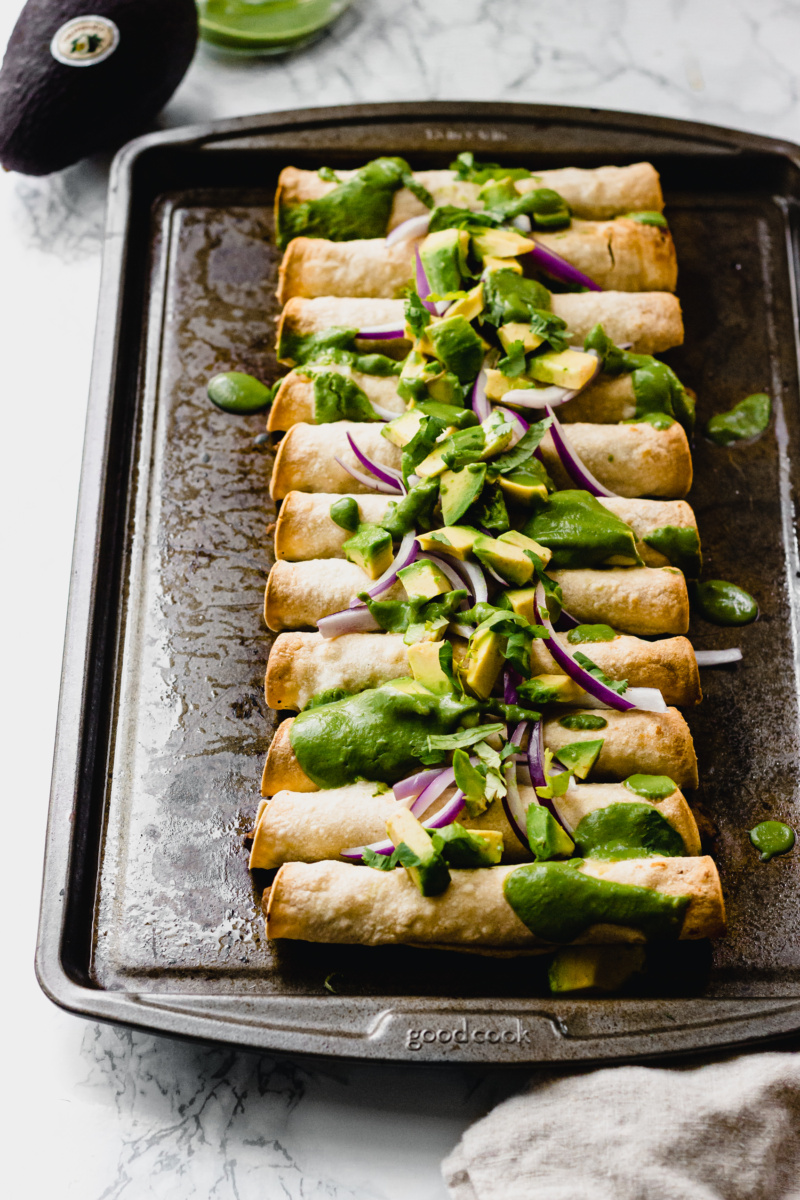 How to Make Black Bean Taquitos
Taquitos are a traditional Mexican dish made of a crispy rolled tortilla with a filling of chicken, beef, or cheese. Taquitos are typically deep-fried.
To make some delicious vegan taquitos, we're using black beans and dairy-free cream cheese with fresh California Avocado to add even more creaminess to the filling! We're also baking these rather than deep-frying for a more hands-off cooking experience.
To make the filling for these homemade taquitos, you'll mash the black beans well, then add the rest of the ingredients and mix together. You can also blend all the filling ingredients to a food processor, but I wanted to keep some texture in my filling.
Very important step: you must warm the tortillas on the stove before rolling up to prevent cracking. Then, once all black bean taquitos are rolled and ready to go, we'll brush them with a bit of olive oil. We want them to get nicely browned and crispy!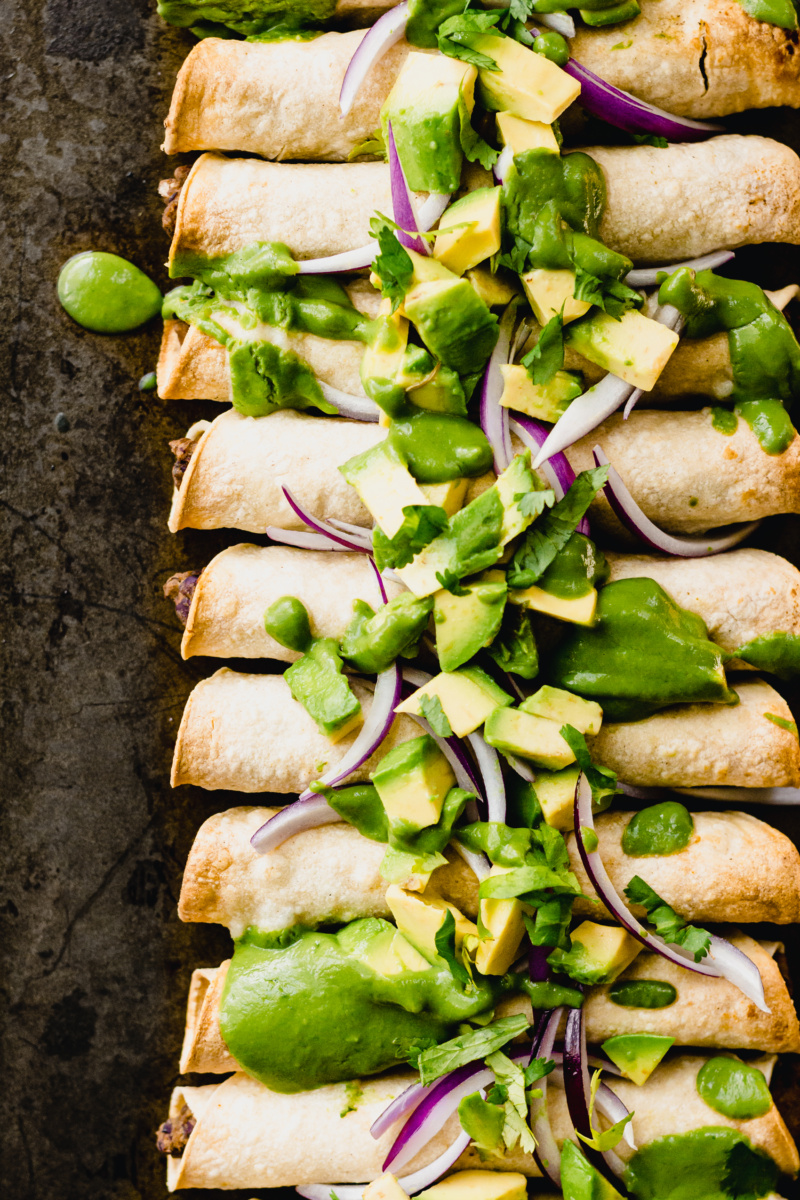 How to Make Avocado Dip
This creamy, cool avocado dip made with fresh California Avocados is a perfect complement to the hot, crunchy black bean taquitos. Plus, this dip is full of healthy monounsaturated fats, which can promote heart health. All thanks to California Avocados!
To ensure you're enjoying locally grown avocados, be sure to check for California on the label from spring through summer!
To make the avocado dip, you'll add all dip ingredients to a blender and blend until smooth. Adjust the liquid amount and seasonings to your liking. This dip is also delicious with a chunk of jalapeno thrown in for heat!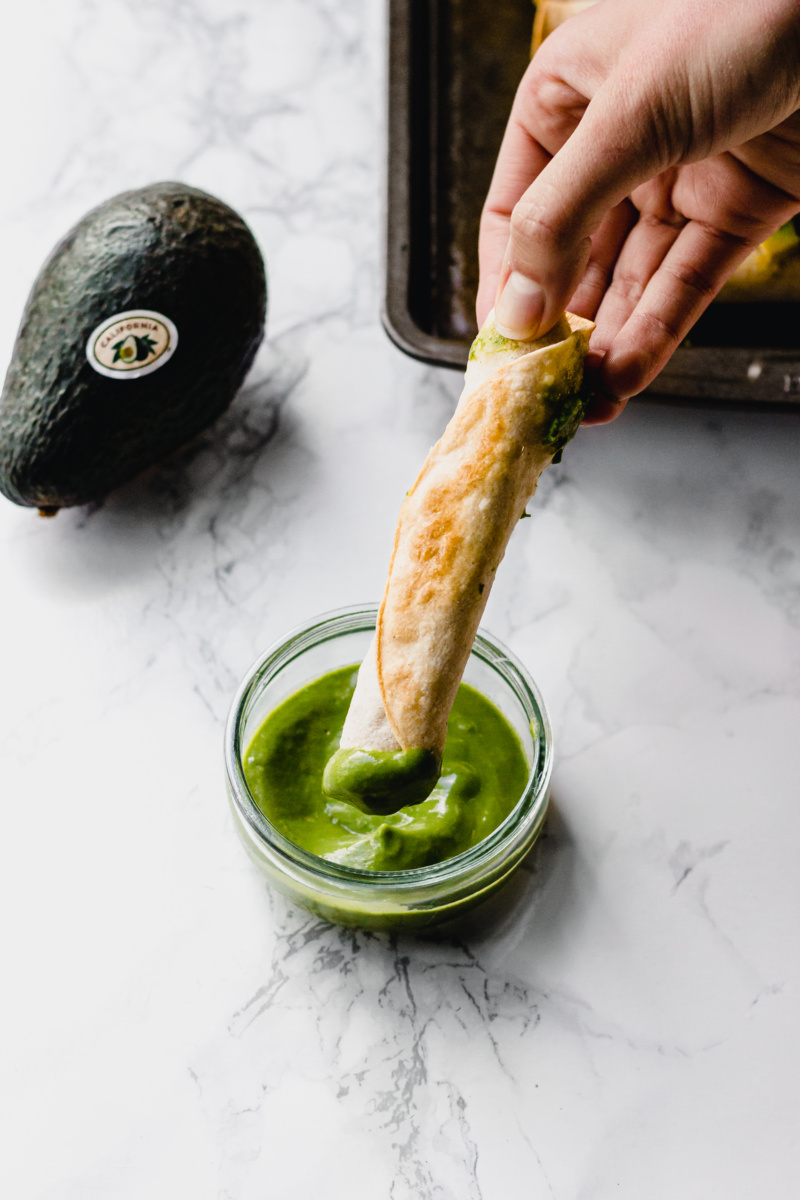 More Movie Night Snack Ideas
We all know you need an ENTIRE array of delicious snacks to have a proper movie night! Here are some vegan movie night snack ideas for your next get-together that you can serve alongside these black bean taquitos: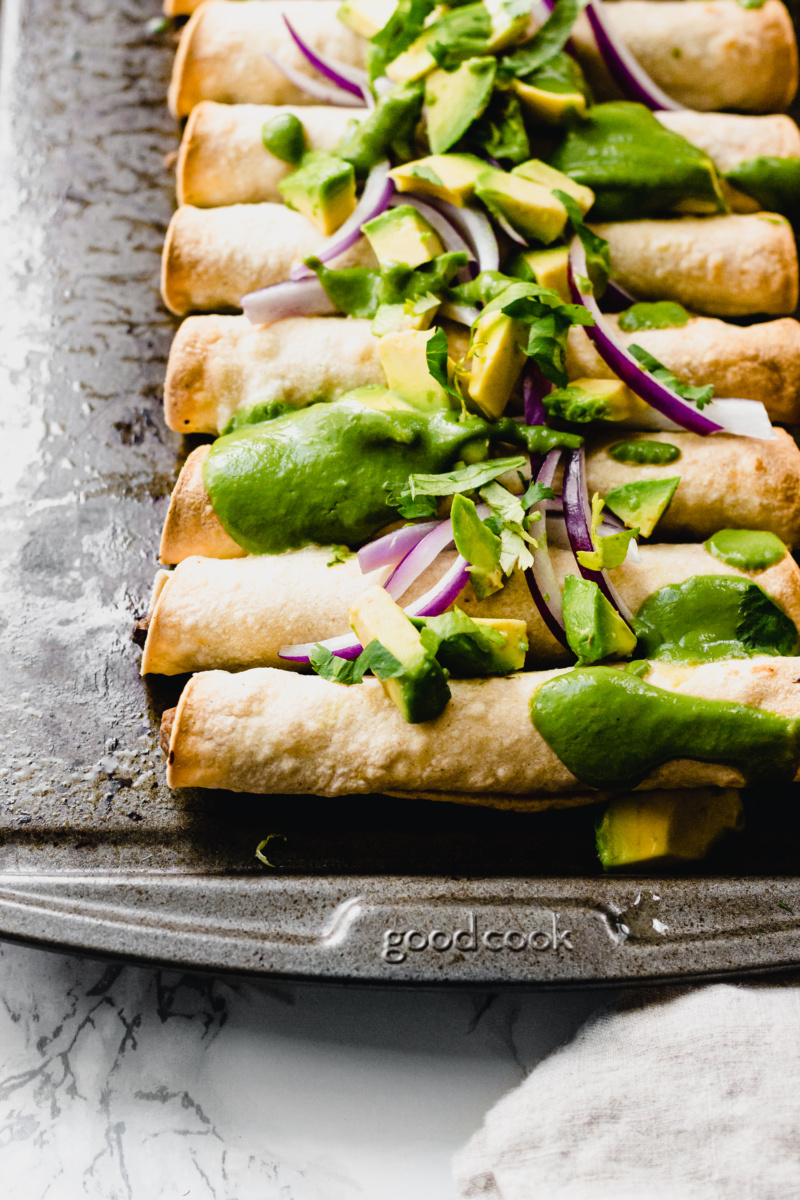 Print
How to make:
Black Bean Taquitos with Avocado Dip
Need ideas for movie night snacks? Serve up these black bean taquitos with a creamy avocado dip made with fresh California Avocados.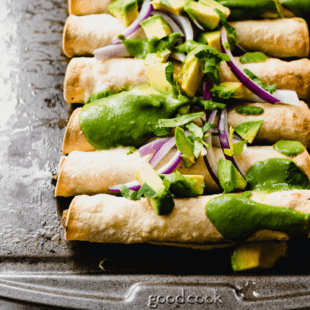 Ingredients
For the taquitos:
1

15-ounce black beans, drained and rinsed

1/2

fresh California avocado

3 tablespoons

salsa

2 tablespoons

dairy-free cream cheese

2 teaspoons

chili powder

1/2 teaspoon

ground cumin

1/2 teaspoon

garlic powder

1/4 teaspoon

ground black pepper

10

–

12

small corn tortillas

2 teaspoons

olive oil
For the avocado dip:
1

fresh California avocado

1/2 cup

 water (plus more if needed)

1/4 cup

fresh cilantro

2 tablespoons

lime juice

1/2 teaspoon

 garlic powder
Salt and pepper, to taste
For topping:
Diced fresh California avocado
Sliced red onions
Chopped cilantro
Dairy-free sour cream
Instructions
Preheat oven to 425ºF. Grease a baking sheet.
In a medium bowl, add black beans. Mash with a fork until just a little bit of texture remains. Add avocado, salsa, cream cheese, chili powder, cumin, garlic powder, and black pepper; use your fork to mash and mix all ingredients together until a smooth mixture forms.
Place a small greased skillet over low-medium heat. Warm each corn tortilla in the skillet for 30 seconds each side, then place on a flat surface. Place 2 tablespoons black bean mixture on one side of the tortilla, then roll tightly. Place seam side down on the baking sheet. Repeat until all black bean mixture is used.
Use a pastry brush to brush the olive oil onto the tops of all taquitos.
Bake for 15-18 minutes, until lightly browned on the edges.
While the taquitos are baking, prepare the dip. To a blender, add all dip ingredients; blend until smooth.
When taquitos are done baking, top with desired toppings. Serve with avocado dip.
Thanks to the California Avocado Commission for sponsoring this post! I love working with brands whose products I really love and would honestly recommend. Thank you for your support!