Print
How to make: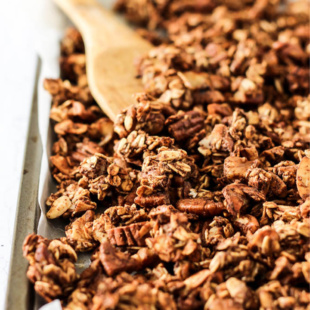 Ingredients
1/2 cup

pitted dates

2 cups

rolled oats

1 1/2 cups

chopped nuts (I used pecans, almonds, and walnuts)

1 tablespoon

ground cinnamon

2 1/2 teaspoons

ground cardamom

1 1/2 teaspoon

ground ginger

1 teaspoon

ground allspice

1 teaspoon

ground cloves

1/2 teaspoon

nutmeg

1/4 teaspoon

salt

1/2 cup

water

2 tablespoons

almond butter

1 1/2 teaspoons

vanilla extract

1/4 teaspoon

almond extract
Instructions
Preheat oven to 325F. Line a baking sheet with parchment paper.
Soak your dates. In a small bowl, add dates and cover with boiling water; set aside for 5 minutes.
In a large bowl, add oats, nuts, cinnamon, cardamom, ginger, allspice, cloves, nutmeg and salt. Stir to combine.
Drain the dates. In a blender or food processor, add dates and 1/2 cup water. Blend until smooth. Stir in almond butter, vanilla, and almond extract.
Slowly pour the date mixture into the dry ingredients. Stir until the date mixture is evenly incorporated into the granola. Pour granola onto the baking sheet in an even layer.
Bake for 20 minutes. If you want a looser granola, stir the granola around in the pan and bake for 10 more minutes. For a chunky granola, do not touch; let it cook for 10 more minutes.
Remove from the oven and let it cool in the pan for 5-10 minutes.