Enjoy the warming flavors in this chunky Chai Spice Granola! It's full of oats & nuts without oil, plus it's completely date-sweetened. Vegan & gluten-free!
Have you ever tried to cook something and you were 50% sure it wasn't going to work out but then it comes out completely perfect and you're just like, "put me on Chopped – I'm a culinary genius"?
Okay, maybe I'm still not the best cook, BUT I did create a chai spice granola that's crunchy and chunky with absolutely no oil and no sugar besides dates. I'm silently patting myself on the back over here.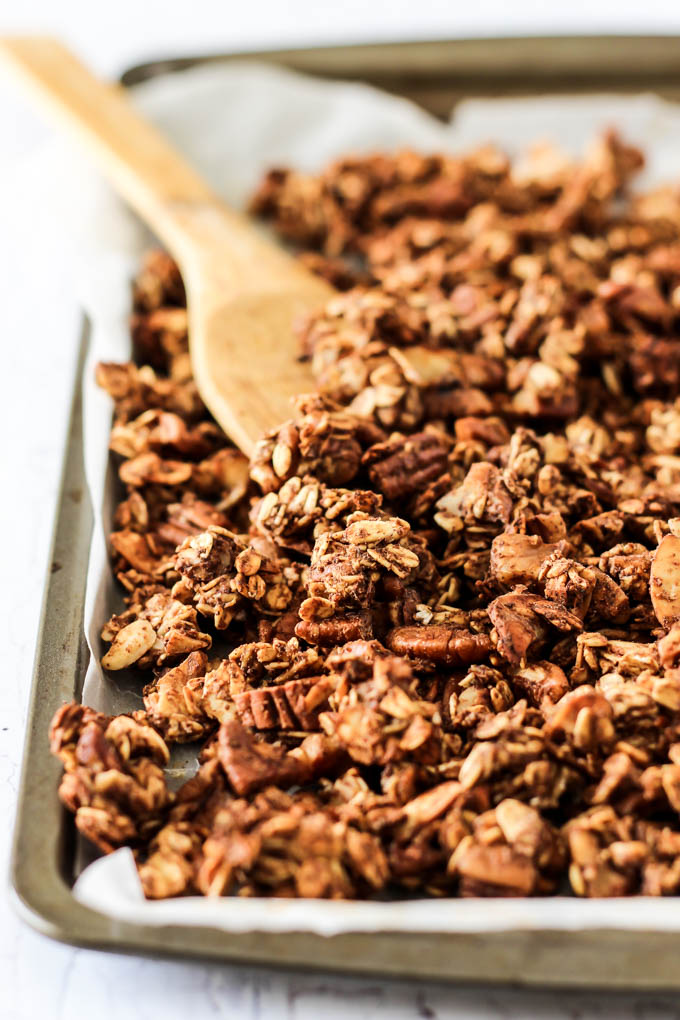 I'll be the first to tell you I'm not the world's biggest granola fan. In fact, I couldn't tell you the last time I actually bought a bag of granola.
I mean, how can you blame me? Why would I spend $7 a bag on the good stuff when I could buy a whole cart of fruits & veggies? #priorities
I'm just not a fan of super dense granola with lots of oil and sugar. Sure, this is fine every now and then, but I'd rather fill my belly up with the good stuff when I can. So, I did what any creative food blogger would do – I marched to my kitchen and made it my mission to create a healthier granola that's still just as chunky and delicious. And boy, did I do just that!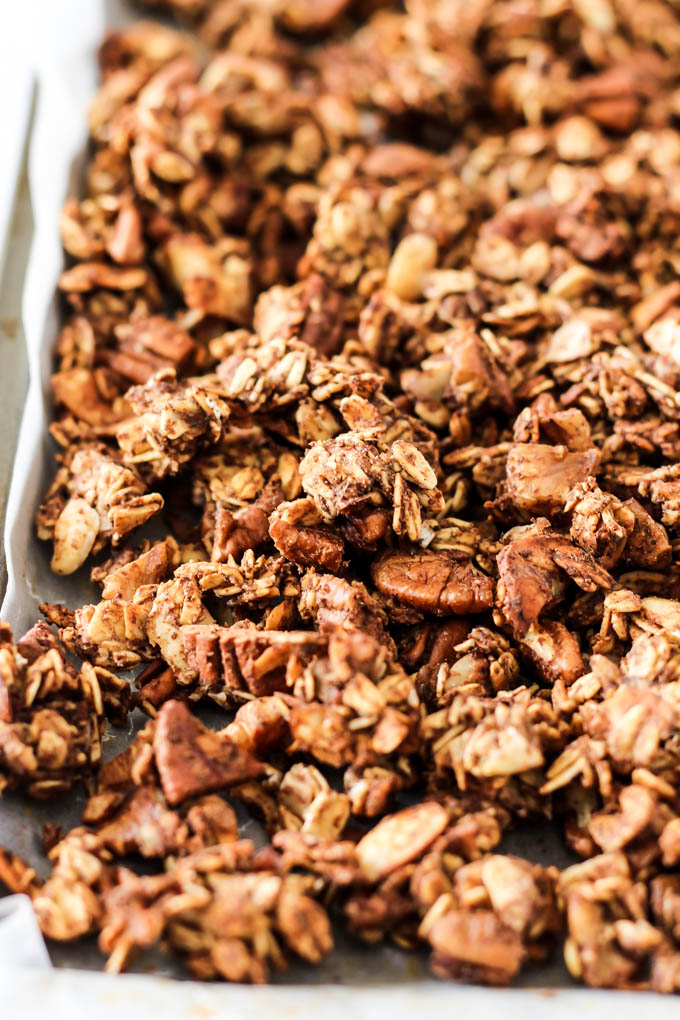 In most granola recipes, oil is used to crisp up the granola and hold the chunks together. In many oil-free recipes, maple syrup is used to both give it sweetness and replace the oil.
I love maple syrup (especially on pancakes!), but because it's $13,492 a bottle, and because I'm having a serious love affair with dates right now, and because I love to challenge myself in the hardest way possible, I wanted to see if I could sweeten the granola completely with dates and get it to really crisp up. It works!
All you have to do is blend some sweet, juicy dates with water to make a "date syrup." It holds the granola together perfectly! Ooh, so many other ideas for that date syrup… pancakes? ice cream topping? straight with a spoon? Yep.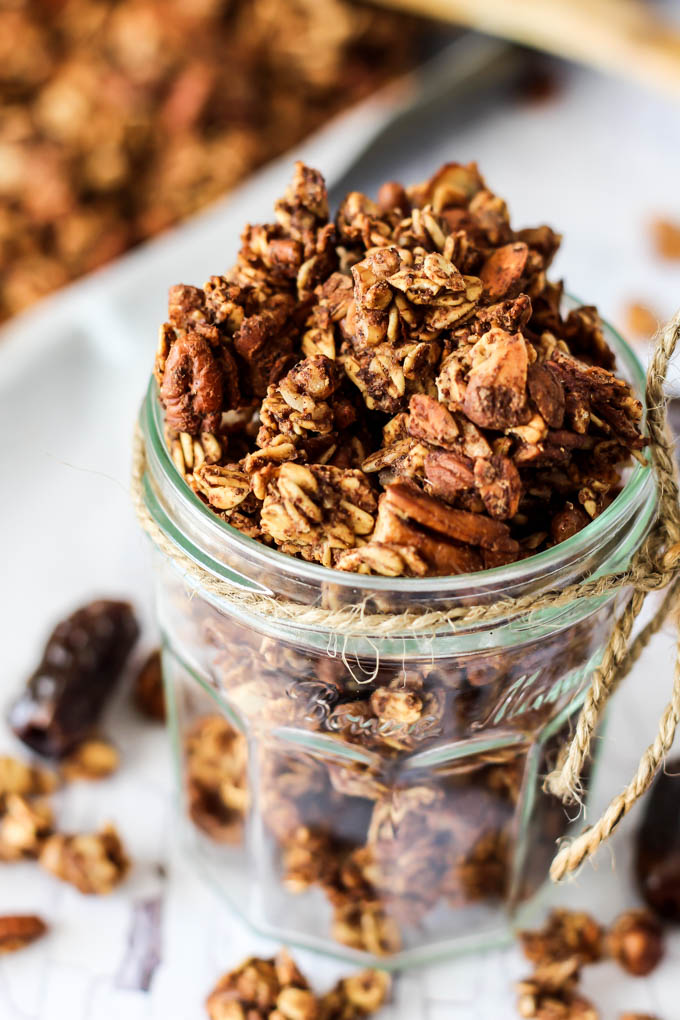 And because we're all reveling in the beauty that is fall, with all of its pumpkin-flavored things and comfy sweaters and pretty leaves, I gave this granola the perfect dose of chai spice. Because what is cooler weather without a chai spice latte?
Here's an idea – make yourself a nice chai latte, a bowl of this chai spice granola with a splash of almond milk, and curl up in bed to enjoy this perfect fall breakfast. Bonus points if you throw pumpkin in there somewhere. #basic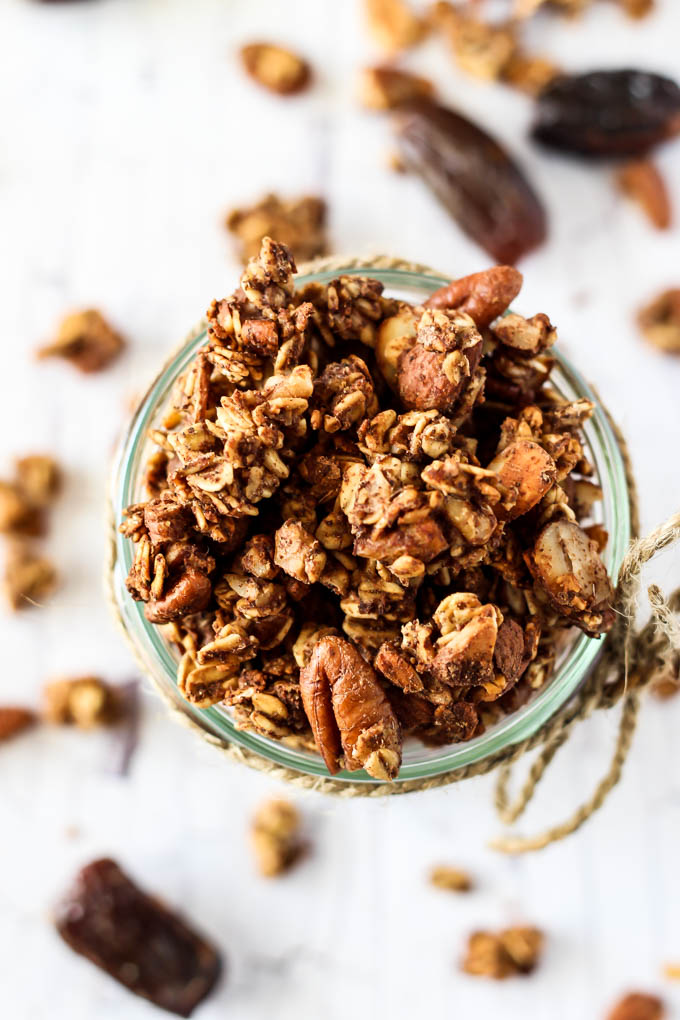 I hope you get to try this granola for yourself so you can fangirl at all of those delicious chunks of sweet & spicy goodness. Ugh, I just love it so much. If you make it, snap a pic, post it on Instagram, and tag me @emilieeats. Your pics & comments make my day!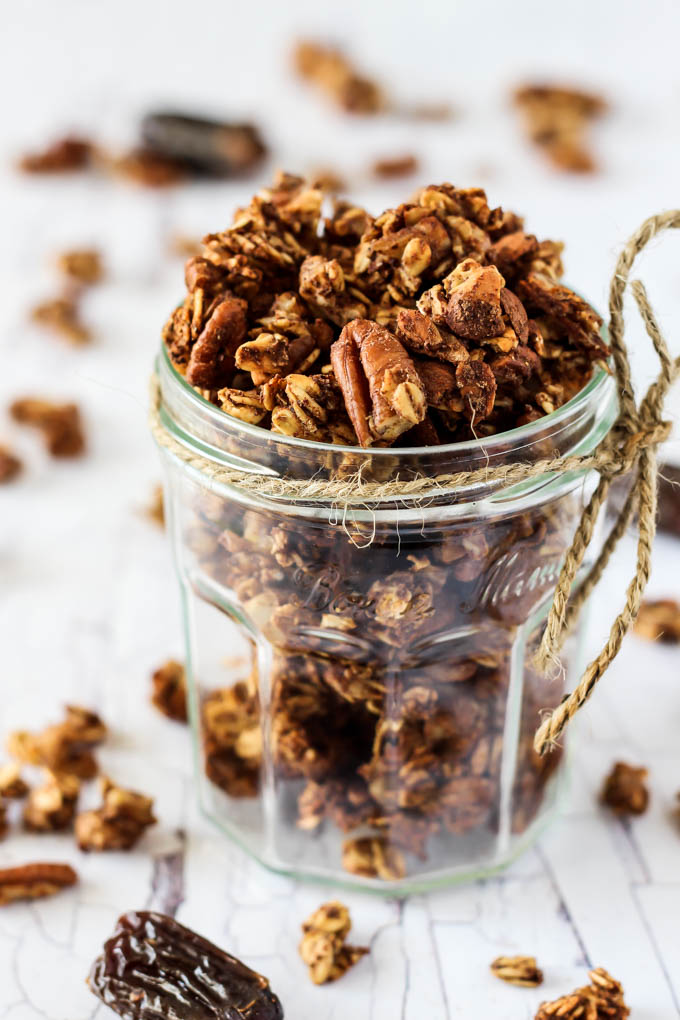 Print
How to make:
Chai Spice Granola (oil-free & date-sweetened)
Enjoy the warming flavors in this chunky Chai Spice Granola! It's full of oats & nuts without oil, plus it's completely date-sweetened. Vegan & gluten-free!
Ingredients
1/2 cup

pitted dates

2 cups

rolled oats

1 1/2 cups

chopped nuts (I used pecans, almonds, and walnuts)

1 tablespoon

ground cinnamon

2 1/2 teaspoons

ground cardamom

1 1/2 teaspoon

ground ginger

1 teaspoon

ground allspice

1 teaspoon

ground cloves

1/2 teaspoon

nutmeg

1/4 teaspoon

salt

1/2 cup

water

2 tablespoons

almond butter

1 1/2 teaspoons

vanilla extract

1/4 teaspoon

almond extract
Instructions
Preheat oven to 325F. Line a baking sheet with parchment paper.
In a small bowl, add dates. Cover with boiling water; set aside for 5 minutes.
In a large bowl, add oats, nuts, cinnamon, cardamom, ginger, allspice, cloves, nutmeg and salt. Stir to combine.
Drain the dates. In a blender or food processor, add dates and 1/2 cup water. Blend until smooth. Stir in almond butter, vanilla, and almond extract.
Slowly pour the date mixture into the dry ingredients. Stir until the date mixture is evenly incorporated into the granola. Pour granola onto the baking sheet in an even layer.
Bake for 20 minutes. If you want a looser granola, stir the granola around in the pan and bake for 10 more minutes. For a chunky granola, do not touch; let it cook for 10 more minutes.
Remove from the oven and let it cool in the pan for 5-10 minutes.
---
Love this recipe? You'll definitely want to check these out, too:
Chai Spice Mix + Vegan Chai Latte
Oil-Free Chunky Monkey Granola