How to make: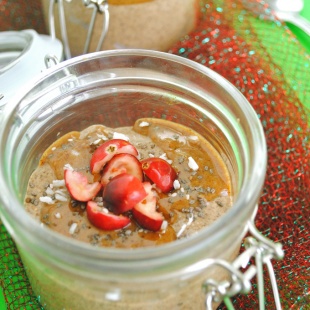 Ingredients
1/4 cup

chia seeds

1 cup

non-dairy milk (I used unsweetened cashew milk)

2 teaspoons

blackstrap molasses

1 1/2 tablespoons

maple syrup, plus more to taste

1/2 teaspoon

ground cinnamon

1/2 teaspoon

ground ginger

1/4 teaspoon

ground cloves
Pinch of salt
Instructions
In a medium bowl, add chia seeds and milk. Stir to combine.
Add molasses, maple syrup, cinnamon, ginger, cloves, and salt. Mix until fully combined, making sure there are no clumps.
Let sit in the fridge overnight, or at least 6 hours.
Serve as is with desired toppings, or blend until smooth then serve.