How to make:
Healthy Cornbread (vegan + gluten-free)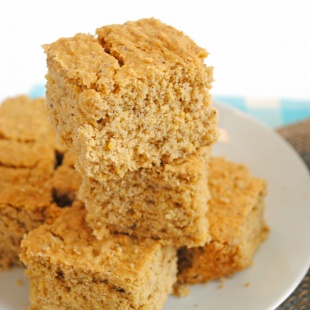 Ingredients
1 tablespoon

flax meal +

2 1/2 tablespoons

water

1 cup

unsweetened almond milk +

1 teaspoon

apple cider vinegar

1 1/2 cups

organic fine cornmeal

1/2 cup

oat flour

1 1/2 tablespoons

baking powder

1 teaspoon

salt

1/4 teaspoon

baking soda

1/4 cup

unsweetened applesauce

2

–

3

tablespoons coconut palm sugar, depending on how sweet you want your bread

1 tablespoon

coconut oil, melted, or grapeseed oil
Instructions
Preheat oven to 400F. Grease an 8-inch x 8-inch pan or line with parchment paper.
In a small bowl, combine flax meal and water; set aside in the fridge. In another small bowl, stir together milk and vinegar. Let the mixtures sit for 10 minutes.
In a large bowl, place cornmeal, oat flour, baking powder, baking soda, and salt; stir.
In the bowl with the milk mixture, add the flax egg, applesauce, sugar, and oil. Whisk to combine.
Slowly pour wet ingredients into the dry ingredients. Stir until just combined, but do not over-mix.
Pour the batter into the prepared pan. Bake for 21-23 minutes, or until a toothpick comes out clean. Remove from the oven; let the bread cool in the pan for a few minutes before cutting. Serve with a hearty bowl of chili or as a side dish for just about anything.