How to make: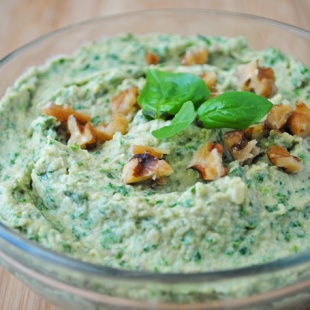 Ingredients
3 tablespoons

lemon juice

2 tablespoons

tahini

1 1/2 cups

chickpeas, or

1

15-ounce chickpeas, drained and rinsed

1 tablespoon

olive oil

1 1/2 teaspoons

minced garlic

1/2 teaspoon

salt, plus more to taste
Pepper, to taste

2 tablespoons

water, plus more if desired

1/4 cup

+

2 tablespoons

fresh basil, packed

1/2 cup

kale, stems removed, packed

1 tablespoon

walnuts, plus more for topping
Instructions
In the bowl of a food processor, place lemon juice and tahini. Process until smooth.
Add the chickpeas, oil, garlic, salt, and pepper. Process until fully combined and smooth. Slowly add the water while it's processing.
Add the basil, kale, and walnuts. Process until the basil and kale are chopped into fine pieces, adding more water if it gets too thick.
Top with crumbled walnuts and fresh basil; serve with fresh veggies or chips.