I love Whole Foods. The employees, the atmosphere, the freshly ground almond butter, the free samples…it's like heaven on earth. I don't actually buy any of my groceries at Whole Foods, but I go there to kill time 'cause it's just so damn fun.
Does that make me crazy?
Actually, I like to buy a few things at Whole Foods that are surprisingly cheaper than at Trader Joe's (?) or the ridiculously-dirt-cheap produce market that I love so very much. But to be honest, I mostly go for the almond butter samples. I have no shame.
I've been planning out my meals for the last couple weeks so I can budget my groceries. I've been giving myself $40–$50 to spend every week; after much research, I found that was a pretty modest amount, considering I don't eat out, I cook all my meals, and I buy a lot of fresh produce.
On the weeks that my budget allows, I let myself buy one "treat" item, or something I really don't need but reeeeeally want. Usually it's a nice bottle of kombucha. Other times it's a kale pesto hummus. That's how this glorious recipe happened.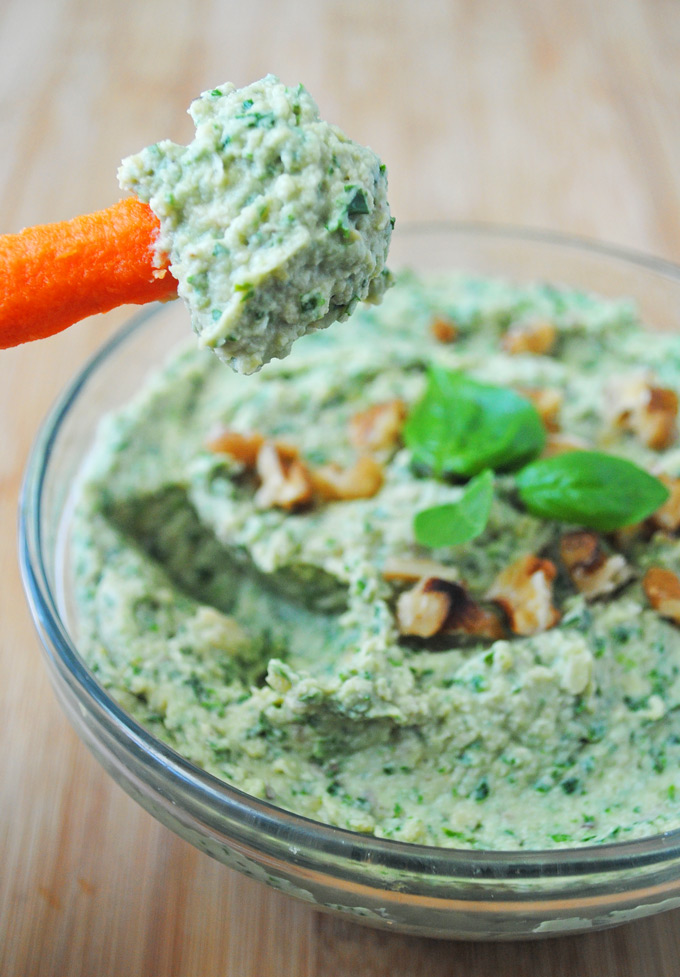 It was a long day at school, and all I wanted was a comforting dinner. I noticed the sale sticker in the hummus cooler and found  the Hope Foods brand. Omg the flavors though: Sriracha, jalapeño cilantro, coconut curry (!!!)…KALE PESTO. Ummmmm hello hummus-from-heaven. Where have you been all my life.
I ended up with hummus and coconut milk ice cream for dinner that night. Again, I have no shame.
As soon as I tried the hummus, I knew I had to recreate it. It's a delicious combination of hummus and pesto, two of my favorites, with a ton of fresh basil flavor that is just irresistible. I kept the amount of oil down, but it still boasts the amazing flavor I found in that hummus at Whole Foods. But better. 'Cause I made it.
Oh, and can we talk about the kale?!? You'll be getting your greens in without even knowing. Kale for the win.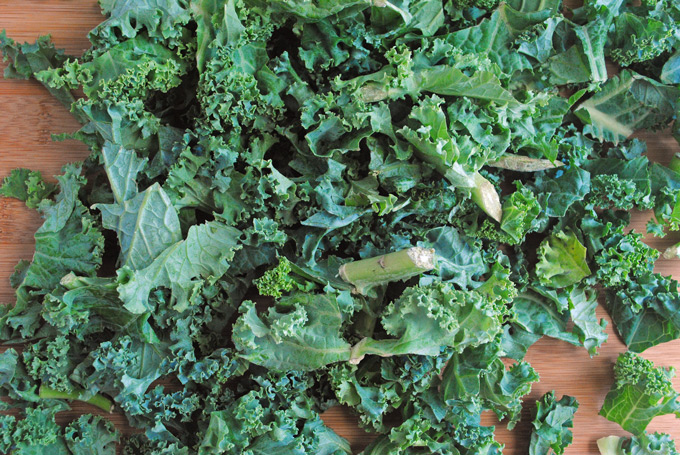 This kale pesto hummus is great for dipping veggies or chips, spreading on sandwiches and wraps, or shoving in your face by the spoonful. My favorite way to eat is is the third option, but that's just me.
I'll definitely be making this at gatherings for my family and friends but hovering over it so no one else can eat it. Is that sharing?
Let me know if you try this kale pesto hummus! You really won't regret it.
Print
How to make: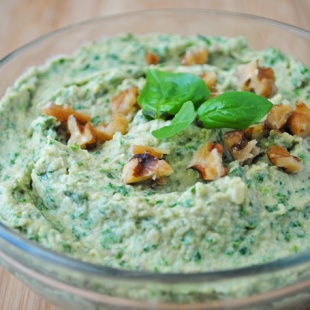 Ingredients
3 tablespoons

lemon juice

2 tablespoons

tahini

1 1/2 cups

chickpeas, or

1

15-ounce chickpeas, drained and rinsed

1 tablespoon

olive oil

1 1/2 teaspoons

minced garlic

1/2 teaspoon

salt, plus more to taste
Pepper, to taste

2 tablespoons

water, plus more if desired

1/4 cup

+

2 tablespoons

fresh basil, packed

1/2 cup

kale, stems removed, packed

1 tablespoon

walnuts, plus more for topping
Instructions
In the bowl of a food processor, place lemon juice and tahini. Process until smooth.
Add the chickpeas, oil, garlic, salt, and pepper. Process until fully combined and smooth. Slowly add the water while it's processing.
Add the basil, kale, and walnuts. Process until the basil and kale are chopped into fine pieces, adding more water if it gets too thick.
Top with crumbled walnuts and fresh basil; serve with fresh veggies or chips.