How to make: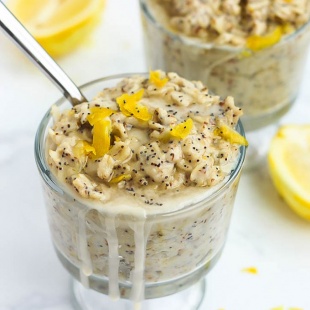 Ingredients
1 cup

old-fashioned rolled oats

2 cups

+

1 teaspoon

almond milk or water, divided

2 1/2 tablespoons

fresh lemon juice (about

one

lemon)

1

–

2

tablespoons maple syrup or agave nectar

1 tablespoon

flax meal

2 teaspoons

poppy seeds, plus more for topping

1 teaspoon

lemon zest, plus more for topping
Dash of salt

2 tablespoons

organic powdered sugar
Instructions
In a medium saucepan, add oats and milk. Turn heat to high; bring to a boil. Reduce heat to simmer, stir, and cook for 5-7 minutes.
Add the lemon juice, maple syrup, flax meal, poppy seeds, lemon zest, and salt. Stir until well combined. Cook until the oatmeal is your desired consistency. Divide into two bowls.
(Optional glaze) In a small bowl, whisk together the powdered sugar and 1 teaspoon milk. Drizzle over the oatmeal. Top with additional lemon zest and poppy seeds.