I feel like I have kind of failed you, my dear and beloved readers. I have tons of recipes baking with oats and oat flour, like these fluffy Carrot Cake Oat Muffins. I've got some adorable mason jars of overnight oats, a hearty baked oatmeal recipe, and even a bowl of savory oatmeal.
But I have not ONE recipe for good ole classic oatmeal – just a simple, warm bowl of sweet oatmeal that gets you out of bed in the morning. Can I make you some lemon poppy seed oatmeal and ask for your forgiveness?
I knew I needed an oatmeal recipe ASAP because 1. oats are probably the best food item ever, and 2. I start my morning with a bowl almost every day.
Oatmeal and I had a rather rocky relationship at the beginning. My mom would make us super-soupy oatmeal for breakfast (because she made us breakfast every morning, she rocks), but I had to literally force it down my throat. I haaaated it so much. I would get so excited for breakfast, then I'd walk into the kitchen and see oatmeal. MOM. Wut. I think was just used to lots of sugar and it tasted so bland to me. I guess I finally came around, because I can't imagine a life without oatmeal. Dramatic? Maybe. Truth? Yes.
I couldn't leave my blog without a proper oatmeal recipe any longer. I didn't want to just give you guys a plain bowl of vanilla oats topped with fruit and almond butter. Don't get me wrong – that's usually my go-to. But my debut classic oatmeal recipe needed to be better than that. Reach for the stars.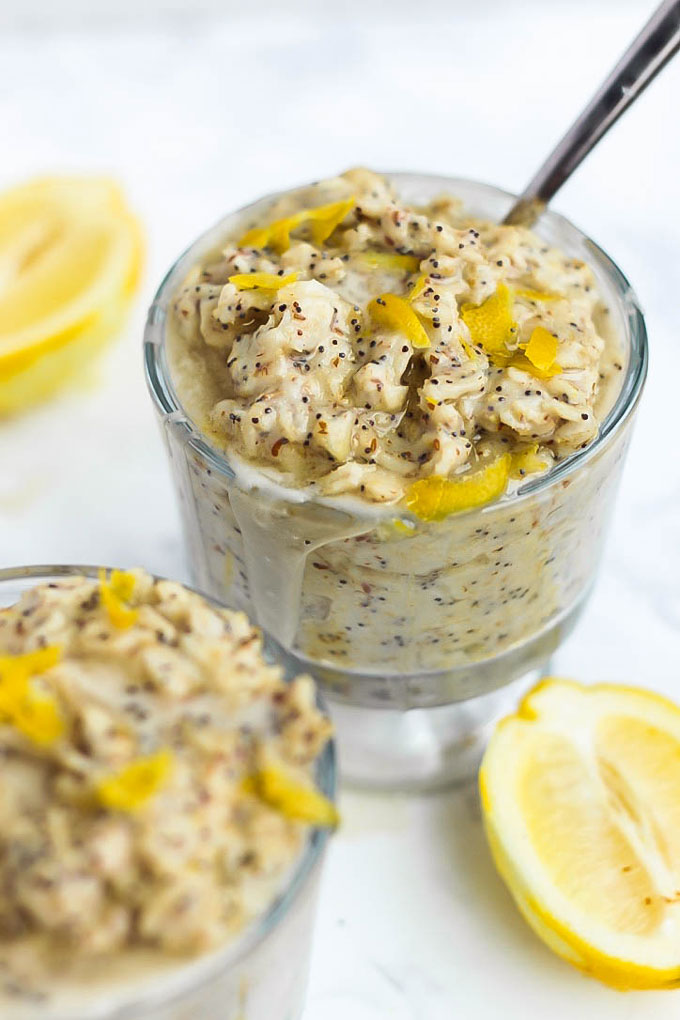 So, almost as much as I love oatmeal, I love muffins. I love the batter, I love them straight out the oven and I even love them 4 days later when I find them in the back of my fridge. Basically, I love carbs. Don't trust anyone who doesn't.
This lemon poppy seed oatmeal is like a perfect marriage of two beautiful breakfasts – muffins + oatmeal 4ever. We all know and love the bright, zesty flavor of lemon poppy seed muffins, so do yourself a favor and make your oatmeal taste just like that glorious muffin.
What's so great about oatmeal, anyway? I'm sure I've talked about it before, but there is no such thing as too much knowledge, friends. Here's why I love it so much.
Oatmeal helps lower LDL cholesterol levels (the bad kind).
It packs 6 grams of protein in a 1/2 cup serving.
It's rich in fiber, which promotes heart health and keeps everything…regular.
Oatmeal's low glycemic index could help prevent diabetes.
It's the perfect vessel for anything and everything you have in your kitchen, including (but not limited to): copious amounts of nut butter, berries, coconut, granola, seeds, and heck, maybe even some chocolate chips.
As you can see from the evidence, a big bowl of oatmeal = the most perfect breakfast ever.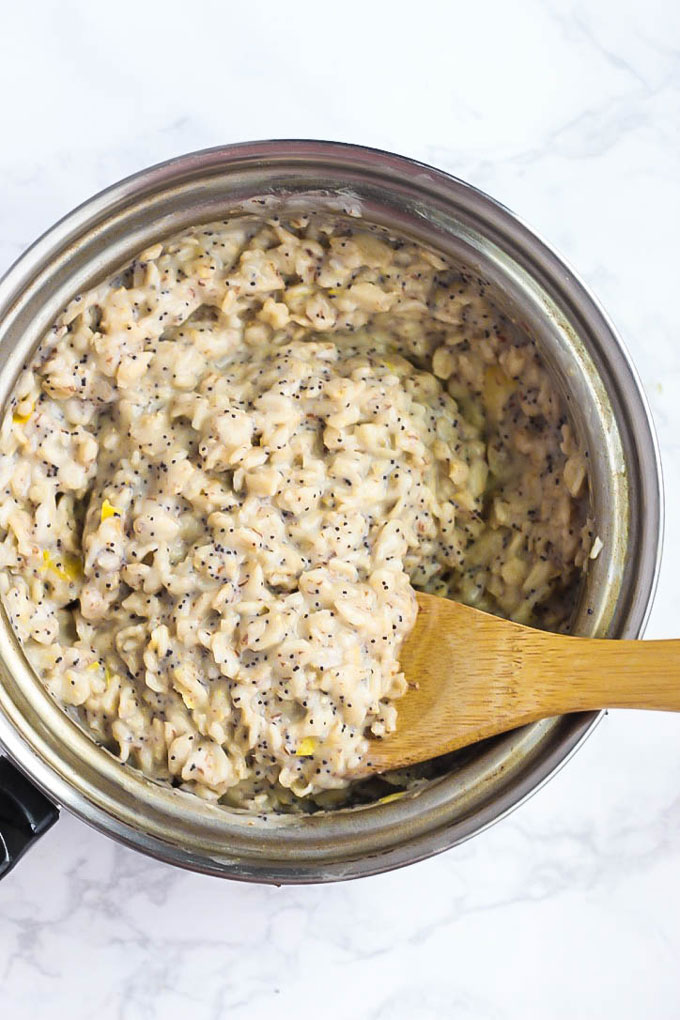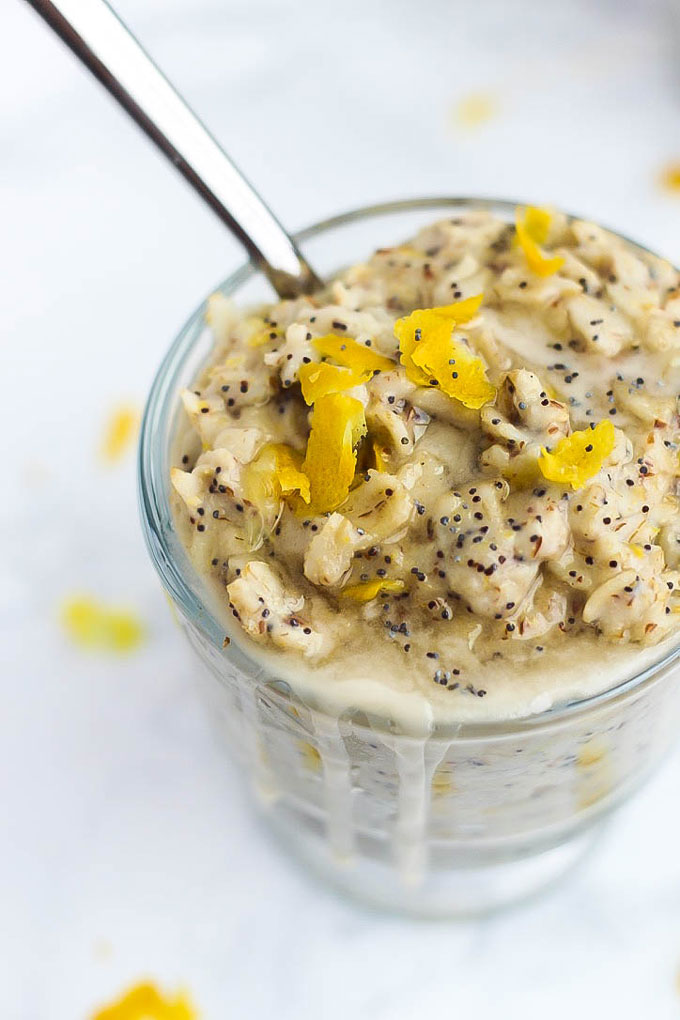 This oatmeal is perfectly lemony in all the right ways, with just the right amount of lemon juice and a hint of lemon zest to kick it up a notch. Then you add in those cute little poppy seeds and all is right with the world, because you have a warm bowl of oatmeal to start off your morning that tastes exactly like a muffin.
You are now a morning champ.?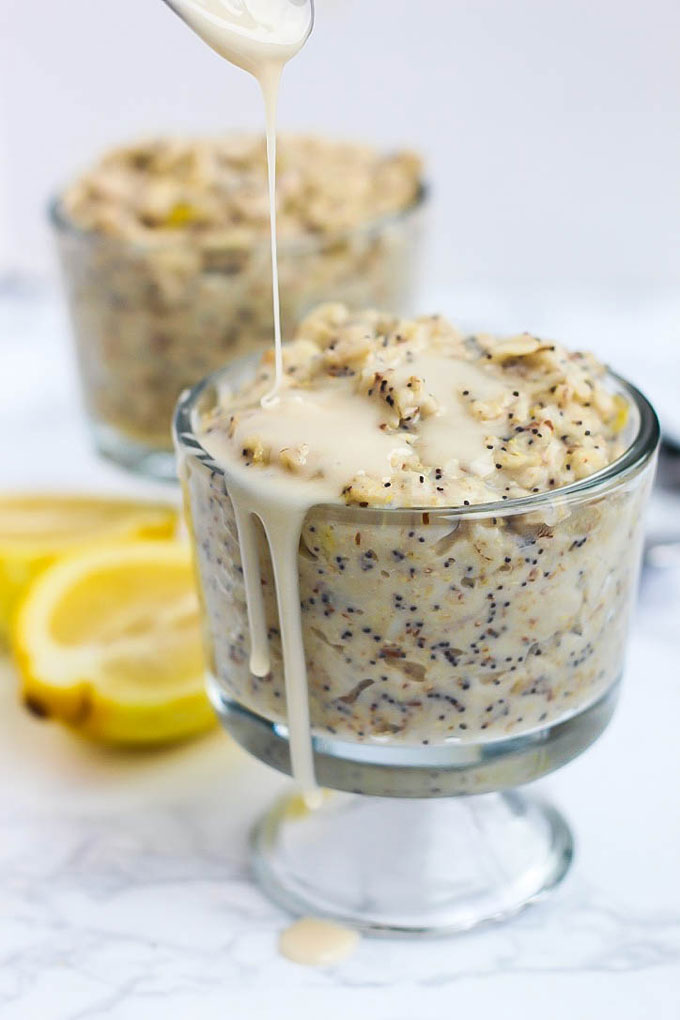 Of course the toppings are up to you (I think blueberries would be awesome in here!) but I decided to get all crazy and top mine with a leeeettle powdered sugar glaze, just like a classic lemon poppy seed muffins. Coconut butter would be delicious too! Finish it off strong with some extra zest and poppy seeds, and you'll impress everyone with your oatmeal-making skills.
This would be a perfect breakfast to start off your Easter morning! You could even double or triple the recipe to feed a crowd. If you try it, snap a pic and tag me on Instagram. Keep eating all the oats!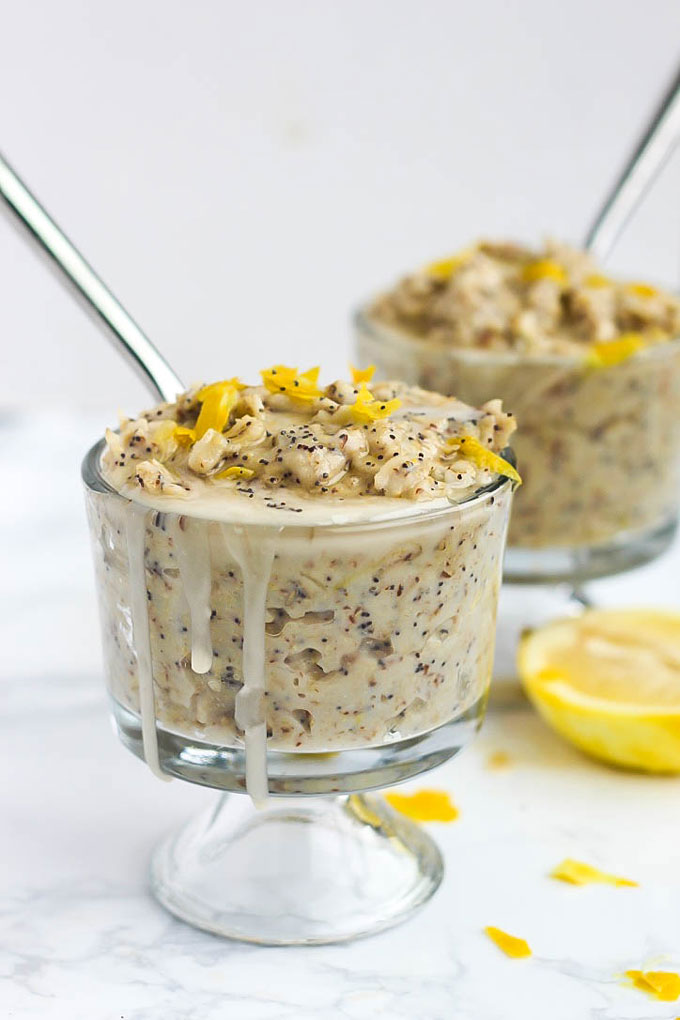 Print
How to make:
Lemon Poppy Seed Oatmeal
What's better than a warm bowl of oatmeal for breakfast? Oatmeal that tastes like a muffin! This Lemon Poppy Seed Oatmeal is bursting with lemon flavor.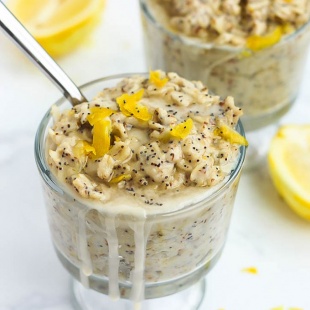 Ingredients
1 cup

old-fashioned rolled oats

2 cups

+

1 teaspoon

almond milk or water, divided

2 1/2 tablespoons

fresh lemon juice (about

one

lemon)

1

–

2

tablespoons maple syrup or agave nectar

1 tablespoon

flax meal

2 teaspoons

poppy seeds, plus more for topping

1 teaspoon

lemon zest, plus more for topping
Dash of salt

2 tablespoons

organic powdered sugar
Instructions
In a medium saucepan, add oats and milk. Turn heat to high; bring to a boil. Reduce heat to simmer, stir, and cook for 5-7 minutes.
Add the lemon juice, maple syrup, flax meal, poppy seeds, lemon zest, and salt. Stir until well combined. Cook until the oatmeal is your desired consistency. Divide into two bowls.
(Optional glaze) In a small bowl, whisk together the powdered sugar and 1 teaspoon milk. Drizzle over the oatmeal. Top with additional lemon zest and poppy seeds.