Print
How to make:
Maple Curry Roasted Brussels Sprouts, Butternut Squash and Apples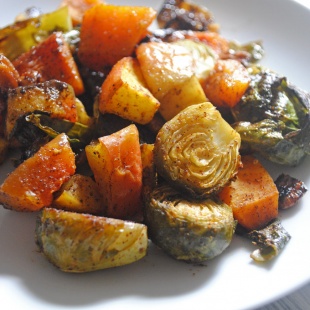 Ingredients
1

pound Brussels sprouts

3 cups

butternut squash, cut into

1/2

-inch cubes

1

large apple (like Honeycrisp or Fuji), cored and cut into 1/2-inch cubes

1/2 cup

pecans

1/4 cup

olive oil

1 tablespoon

maple syrup

2 teaspoons

curry powder

1 teaspoon

cinnamon

1/2 teaspoon

nutmeg

1/2 teaspoon

salt
Instructions
Preheat oven to 375°F. Lightly grease a large baking sheet.
Cut the ends of the Brussels sprouts, then cut in half.
In a large bowl, place Brussels sprouts, squash, apples, and pecans. Stir to combine.
In a small bowl, mix oil, maple syrup, curry power, cinnamon, nutmeg, and salt. Whisk to combine well.
Pour the dressing in the large bowl. Toss until all the vegetables and fruits are coated evenly.
Pour everything onto the baking sheet and spread out into an even layer. Bake for 26-28 minutes.
If desired, increase the temperature to 400°F and bake for 5 more minutes.
Serve warm and enjoy!