Let the Thanksgiving menu planning begin!!! Or have you already finished your menu? Am I behind on the festivities?! Probably.
Even if you have finished your menu for The Big Day, please save some room for this side dish. I literally said HOLY S**T when I took my first bite.
What's not to love about Thanksgiving? You're surrounded by your family and loved ones, celebrating everything good in your life that you're so grateful. Oh, and THE FOOD. Sorry fam, but that's probably my favorite part of Thanksgiving. I don't feel bad about making such a statement because they'd probably agree with me…we sure do love to eat.
On a serious note, though, we have a lot to be thankful for, every single one of us. Family, friends, jobs, education, our special talents, our accomplishments, even our failures, because they always teach us something important. With so much global chaos going on right now, all I want to do is hold my loved ones tight and make them good food.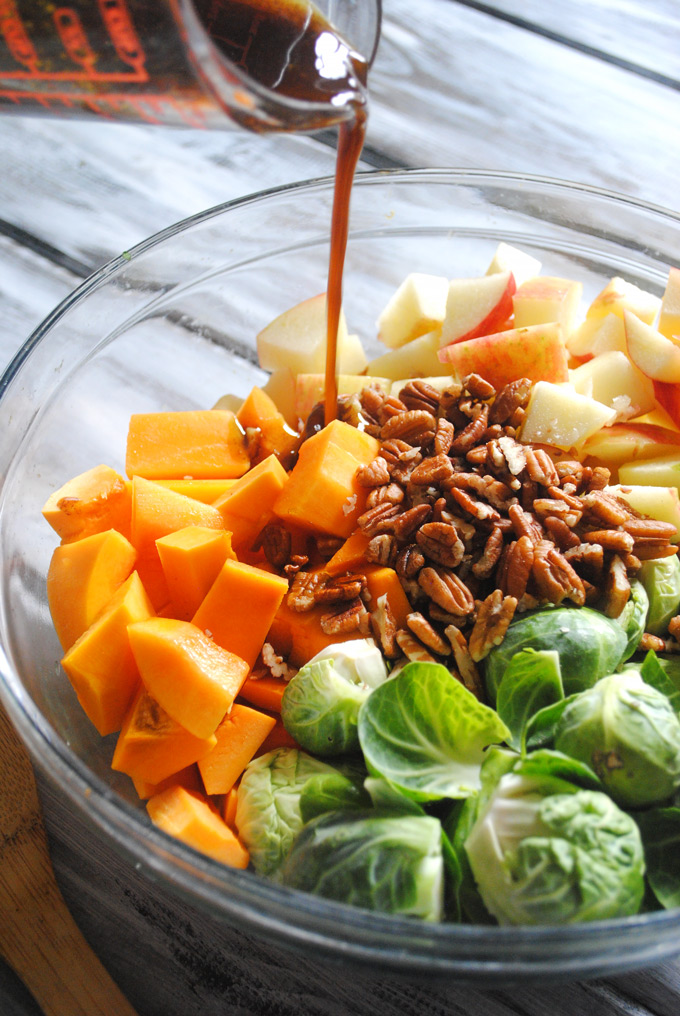 What are your Thanksgiving plans? Where are you going? Tell me, tell me! I feel like we're all super close friends in this little blogosphere. We're having a family dinner Thursday, then my boyfriend and I are leaving for an 8-hour road trip to Dallas for a concert. Wish us luck!
Back to the food. Since I'm obviously the lead chef in the family (hehe), I like to make a few dishes for each family gathering. Hummus usually always makes an appearance; I always make some sort of side vegetable and then an entree for me since I'm the sole vegetarian/vegan. No ? for me (just pretend that's a turkey emoji plz thx).
To be honest, I've been so bogged down with school/work/blogging to even think of what to cook once I'm home for Thanksgiving. But as soon as I took a ~huge~ bite of these roasted Brussels sprouts, butternut squash, and apples (!!!!!), I knew I found a winner for the menu?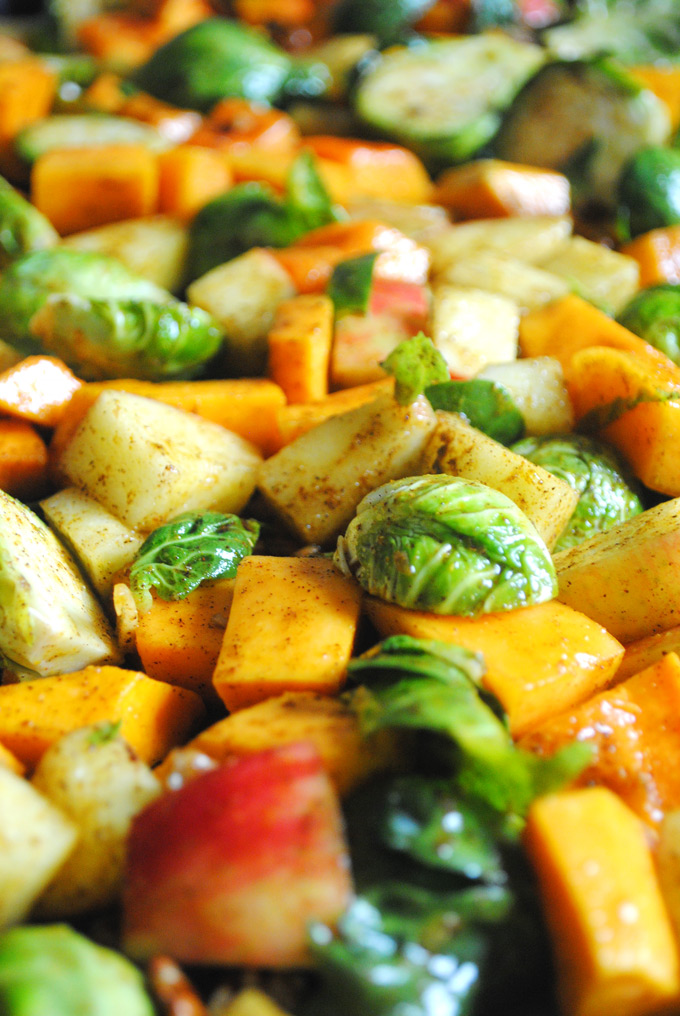 I could honestly eat half of the pan as my whole Thanksgiving meal. It's THAT good. I must have really underestimated what I was cooking up because I was pleasantly surprised when I bit into a piece of heaven.
Dramatic much?
I thought curry would be the perfect spice for this dish because it's warm, comforting, goes great with sweet flavors, and has a kick of spice. Curry + a touch of maple = flavor explosion like whoa. Add some other fall spices like cinnamon and nutmeg, and you've got yourself a side dish everyone will want seconds of.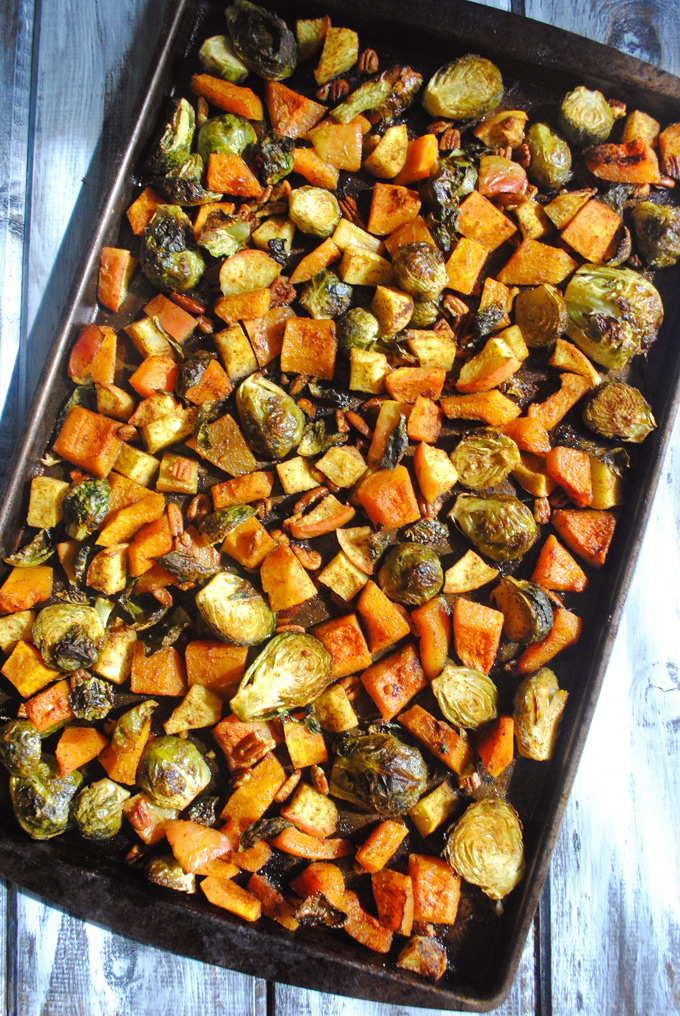 This is also the perfect dish to whip up Thanksgiving morning before the horde of hungry hippos comes running through the door expecting food on their plate like, yesterday. You can even chop it all the night before and toss it with the dressing! In the morning, just bake it and have a side dish in no time.
I like to bake this at 375°F for about 26 to 28 minutes, which will cook everything through. But then I love to kick up the temp to 400°F for 5 minutes to get those edges reeeeal crispy and caramelized. *drools*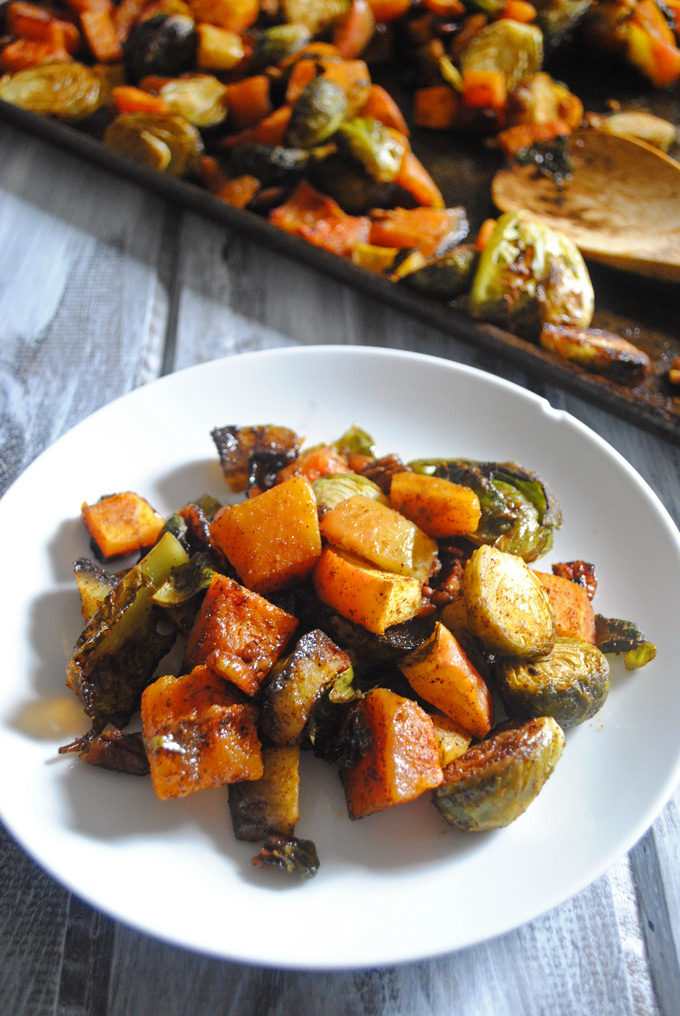 If you don't have or don't like butternut squash, I think sweet potato would go really nicely here, too! Out of apples? Pear sounds delicious. Sub any kind of nut or seed for the pecans if you'd like. The recipe is pretty forgiving!
Just don't forget that dressing! It's slightly sweet with just a kick of perfect warm spice.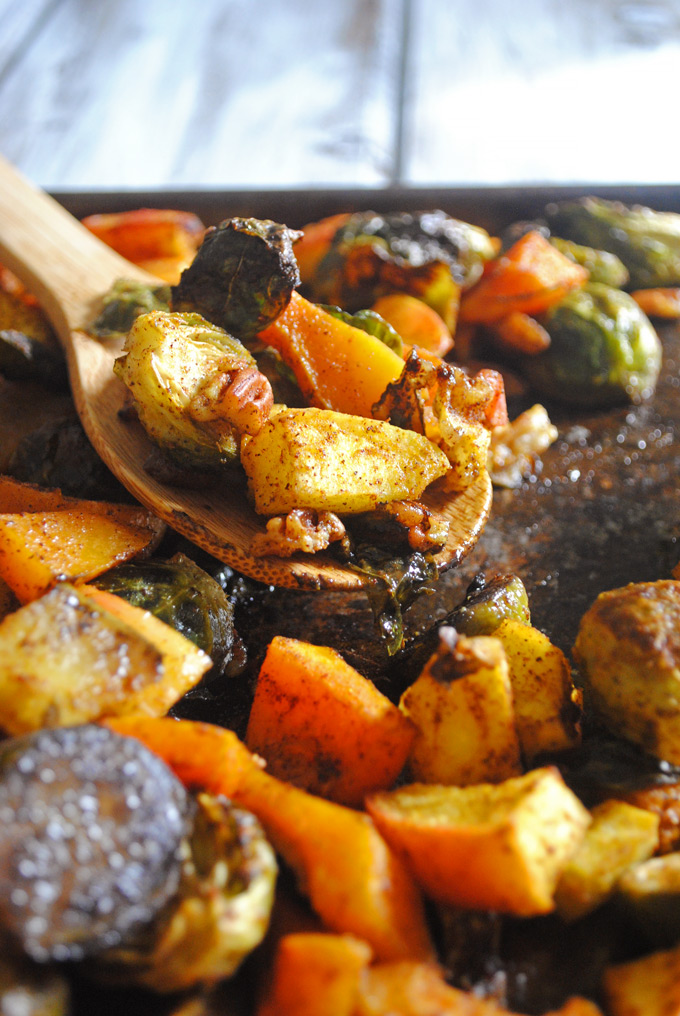 If you try out these roasted Brussels sprouts, butternut squash, and apples (YOU SHOULD), be sure to comment!
What are your Thanksgiving plans? What's your menu? Let me know!?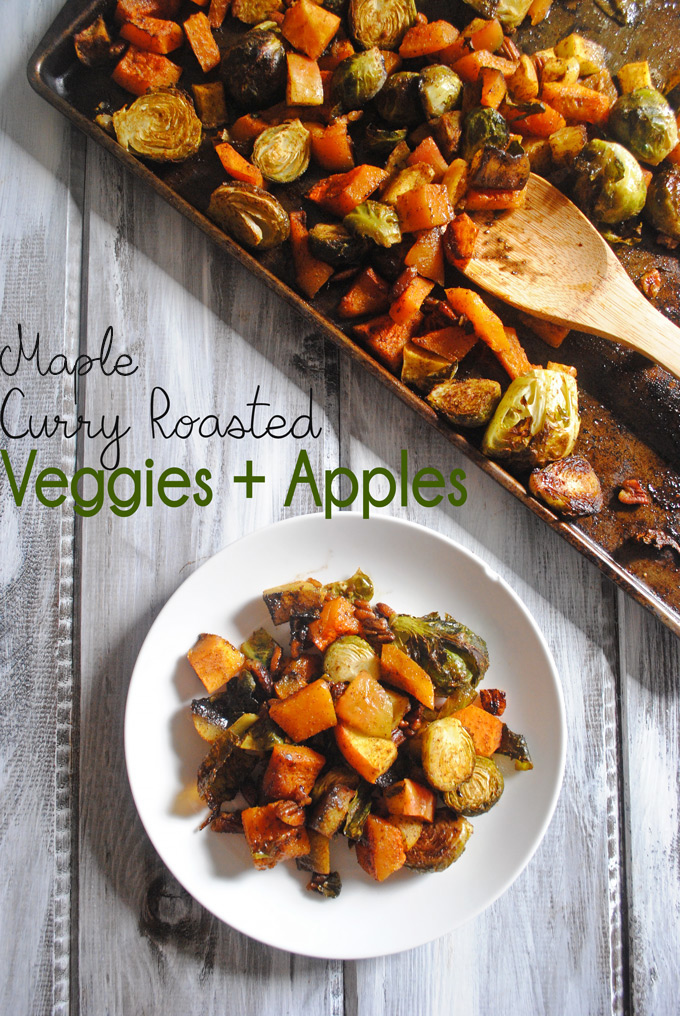 Print
How to make:
Maple Curry Roasted Brussels Sprouts, Butternut Squash and Apples
Slightly sweet with a little spice, these Maple Curry Roasted Brussels Sprouts, Butternut Squash and Apples make a delicious side dish for Thanksgiving!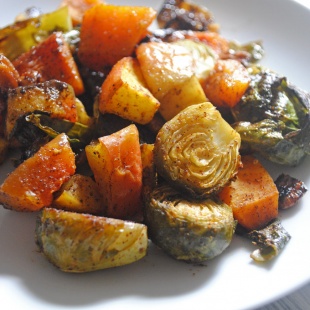 Ingredients
1

pound Brussels sprouts

3 cups

butternut squash, cut into

1/2

-inch cubes

1

large apple (like Honeycrisp or Fuji), cored and cut into 1/2-inch cubes

1/2 cup

pecans

1/4 cup

olive oil

1 tablespoon

maple syrup

2 teaspoons

curry powder

1 teaspoon

cinnamon

1/2 teaspoon

nutmeg

1/2 teaspoon

salt
Instructions
Preheat oven to 375°F. Lightly grease a large baking sheet.
Cut the ends of the Brussels sprouts, then cut in half.
In a large bowl, place Brussels sprouts, squash, apples, and pecans. Stir to combine.
In a small bowl, mix oil, maple syrup, curry power, cinnamon, nutmeg, and salt. Whisk to combine well.
Pour the dressing in the large bowl. Toss until all the vegetables and fruits are coated evenly.
Pour everything onto the baking sheet and spread out into an even layer. Bake for 26-28 minutes.
If desired, increase the temperature to 400°F and bake for 5 more minutes.
Serve warm and enjoy!