Print
How to make:
Mushroom Spaghetti Squash (vegan & gluten-free)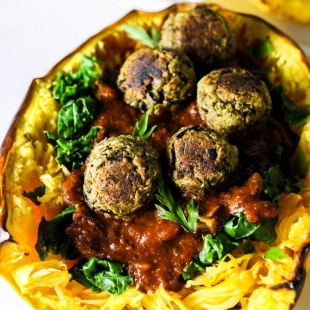 Ingredients
1

medium spaghetti squash

4

Dr. Praeger's Mushroom Risotto Veggie Burgers

1/4 cup

oat flour*

2 tablespoons

Italian seasoning blend, divided

1

25-ounce jar marinara sauce

8 ounces

baby bella mushrooms (can also use white button mushrooms), stem removed and thinly sliced

2 tablespoons

nutritional yeast

1

–

2

cups kale, chopped
Fresh chopped parsley, for garnish
Instructions
Preheat oven to 400F. Slice the tough stem off, then slice squash in half lengthwise. Scoop out the seeds; discard. Place the squash, flesh up, on a baking sheet. Bake for 45-50 minutes, until slightly browned on the edges and tender on the inside.
Reduce oven heat to 350F.
While the squash is cooking, prepare the meatballs and sauce. Place veggie burgers on a microwave-safe plate; microwave in 1-minute intervals for 3 minutes, until defrosted.
Add veggie burgers to a bowl. Mash with a fork until completely broken apart. Add oat flour and 1 tablespoon Italian seasoning; stir together until combined. Roll dough into 1-inch balls.
On the same baking sheet that you used for the squash, place "meat" balls. Bake for 20 minutes, until crispy on the outside.
Place a medium saucepan over medium heat; spray with cooking spray or add a little cooking oil. Add mushrooms; cook for 8-10 minutes, until mushrooms are reduced and browned. Add marinara, nutritional yeast, and 1 tablespoon Italian seasoning. Reduce heat to simmer; add kale and cook until slightly wilted, about 3-5 minutes. Keep warm until ready to serve.
Fluff spaghetti squash flesh with a fork. Top with mushroom marinara, "meat" balls, and a sprinkle of fresh parsley.