This Mushroom Spaghetti Squash recipe is a delicious, wholesome way to use seasonal squash! It's topped with a hearty mushroom sauce & vegan meatballs. In partnership with my friends at Dr. Praeger's Sensible Foods. ❤️
If there's a recipe you MUST make this fall/winter, it is this👆🏼 Mushroom Spaghetti Squash with veggie meatballs! Why, you might be asking? Because in my humble opinion, there is no better, more delicious, or more classic way to enjoy the goodness of spaghetti squash than in classic spaghetti fashion. Complete with hearty marinara sauce and vegan meatballs.
Have I convinced you to run to the store right now and buy a spaghetti squash for this recipe? Good – that was totally my goal!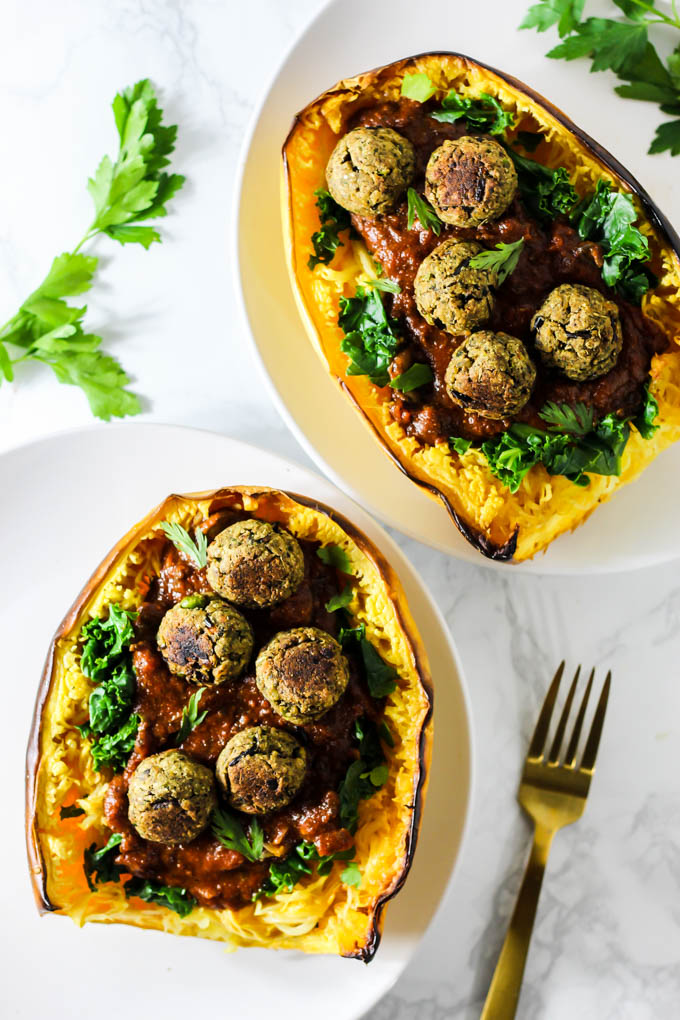 Let's get one thing straight first: I am not one of those people who will tell you to cut out all pasta/carbs/bread and eat veggie noodles instead. How sad is that! This girl can't live without her carbs (and technically, no one can…they're kind of vital to living).
I'm an advocate for a wholesome, balanced plate. Carbs, fat, protein, lots of veg. It's really that simple, but everything we've heard about dieting and being healthy has complicated reality so much. I promise that if you make sure to have a good balance of carbs, fats and protein, with lots of vegetables and fruits, you'll be a-okay!
Now let's talk about why spaghetti squash rocks🤘. Squash in season right now, so you can probably find it local at your farmer's market. It's also subtly sweet and is so versatile. I don't use it as a carb replacement, but as a fun (and delicious!) way to add more colorful veggies to my plate.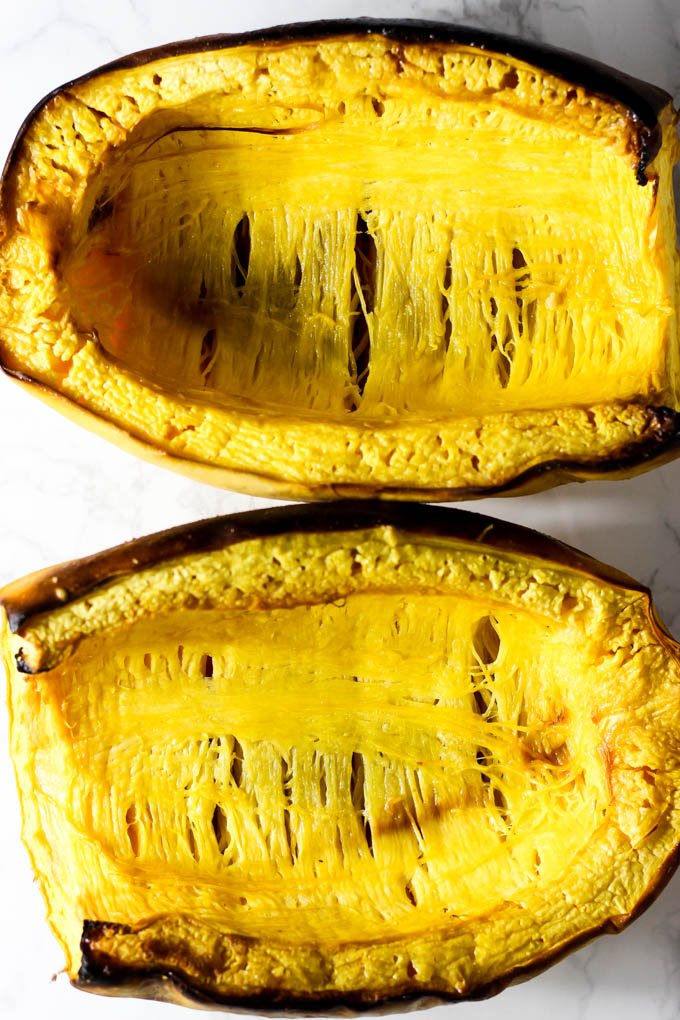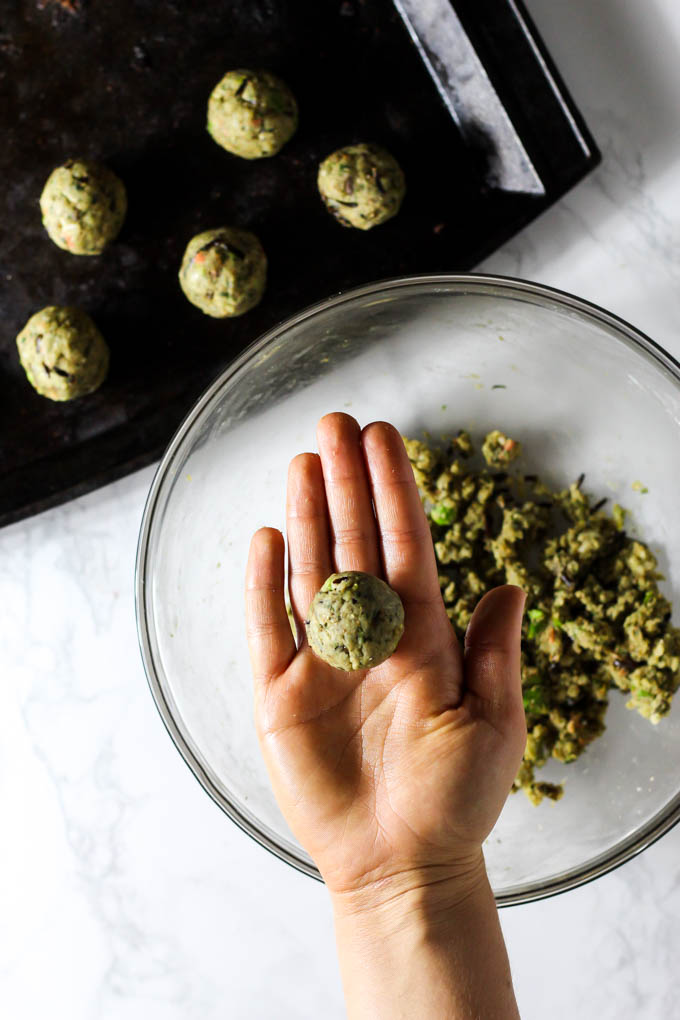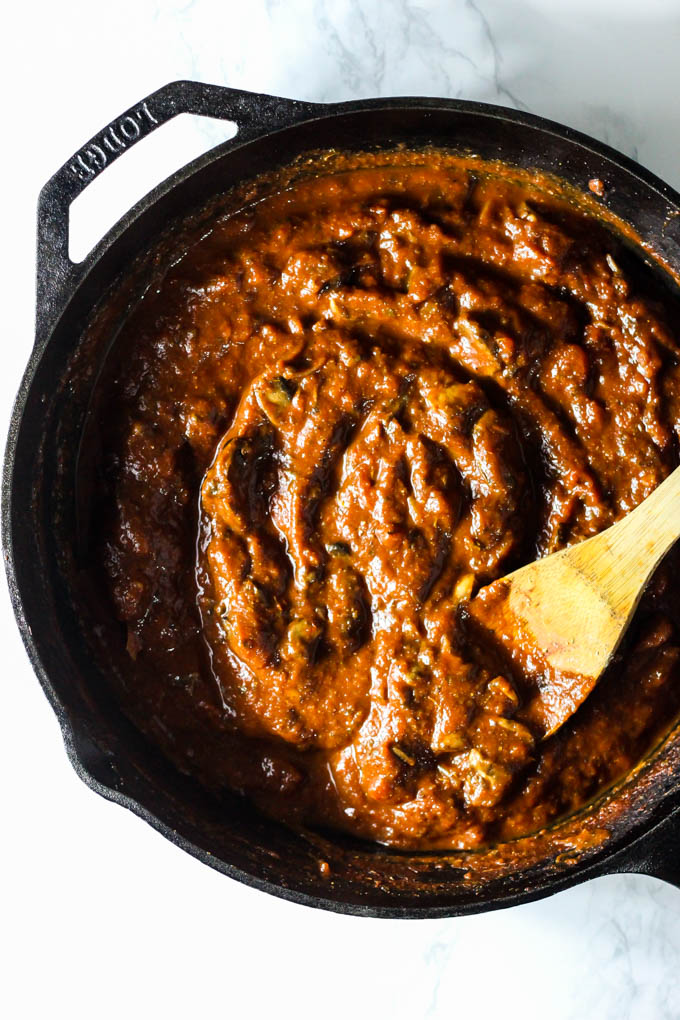 Yes, the cook time for this recipe is 1 hour, BUT – hear me out – 45 minutes of that is just waiting for the spaghetti squash in the oven. I mean, you could technically take a nap while it's cooking, just make sure to set an alarm so you don't burn your house down. 😉
Cook the squash, make the veggie meatballs, cook the sauce. Done! I used jarred marinara sauce to make my life easier, but if you're ~super~ cool, you can make your own. Mushrooms add flavor and meatiness, but if you want more staying power, you can also add cooked lentils or crumbled tofu. Options = endless.
Do you want to guess how I made the meatballs? GUESS! Okay, I'll just tell you: frozen veggie burgers! Who knew you could get so creative with a veggie burger?
I love working with Dr. Praeger's because they have many vegan options, are committed to using fresh, nutritious ingredients, and they're products are delicious! I used the Mushroom Risotto Veggie Burgers for the vegan meatballs because can you have too much mushroom in your spaghetti?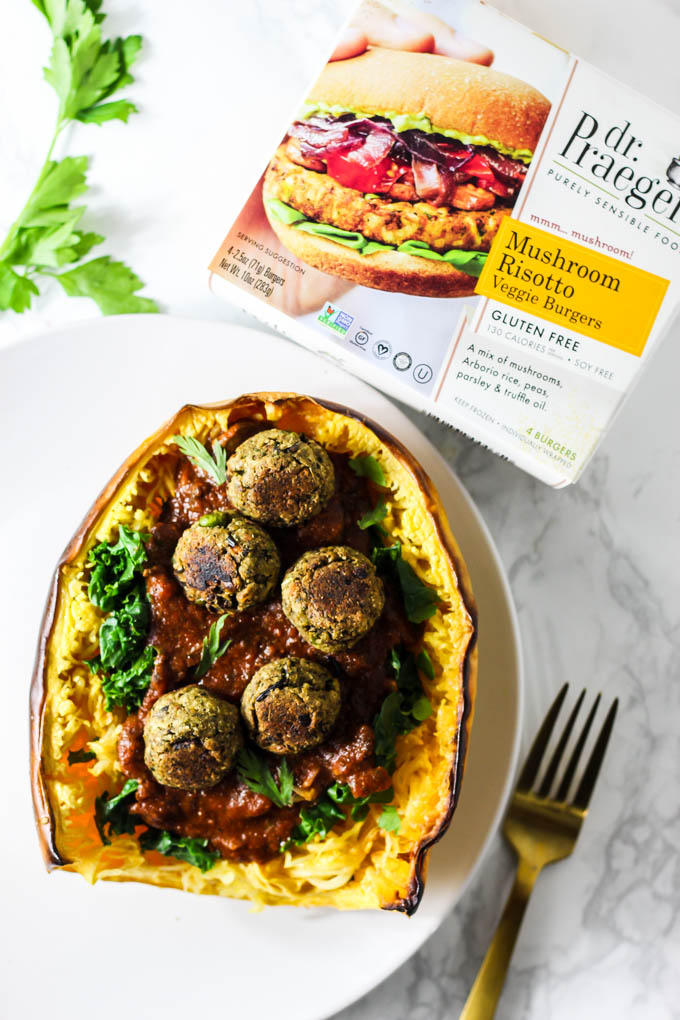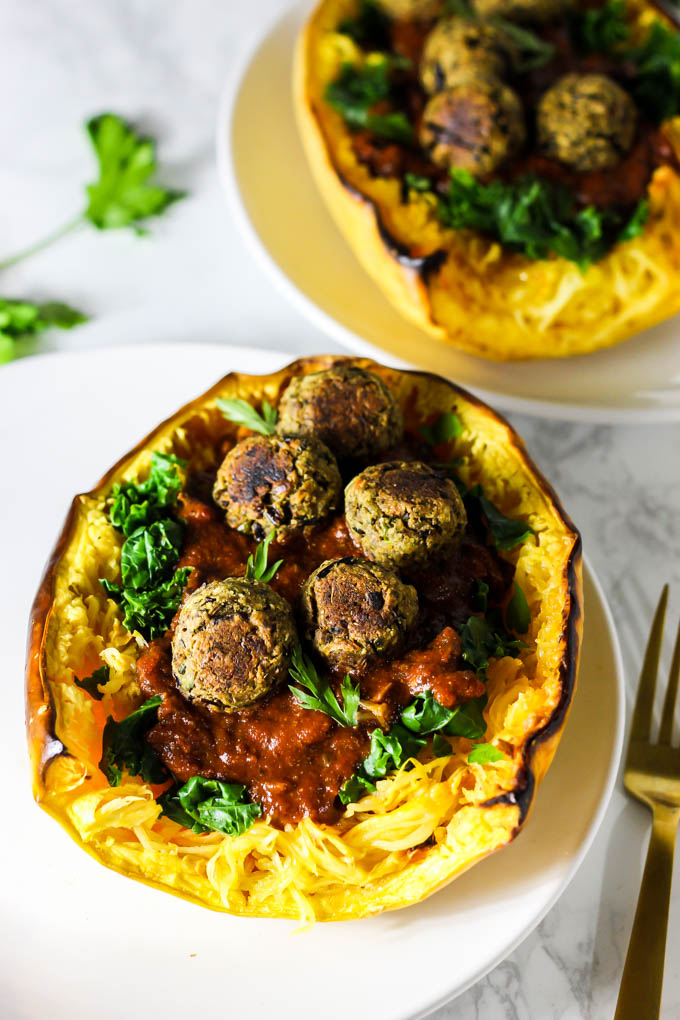 I know everyone is focused on Thanksgiving right now, but unfortunately Thanksgiving leftovers will not last you forever…eventually, you'll need to cook dinner again! Might I suggest mushroom spaghetti squash?
Feel free to double the recipe to feed more hungry people. Another suggestion: my friend Alexis makes delicious garlic bread with whole grain toast, Earth Balance vegan butter, garlic powder and nutritional yeast. Doesn't that just make your mouth water?
Let me know if you and your family try this easy recipe! Have a great weekend!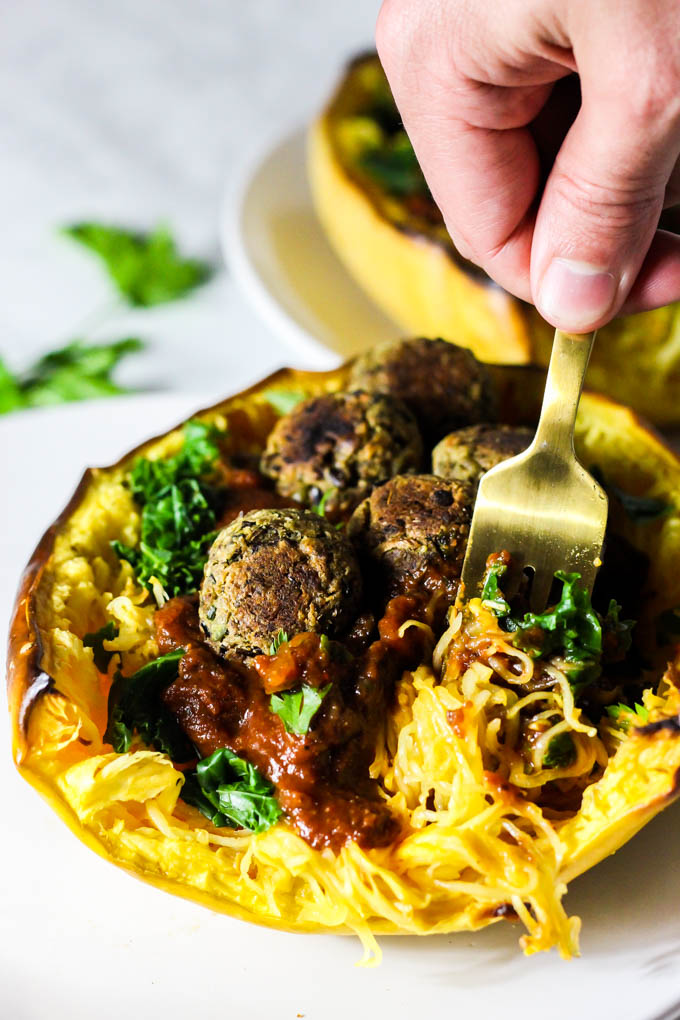 Print
How to make:
Mushroom Spaghetti Squash (vegan & gluten-free)
This Mushroom Spaghetti Squash recipe is a delicious, wholesome way to use seasonal squash! It's topped with a hearty mushroom sauce & vegan meatballs. (vegan & gluten-free)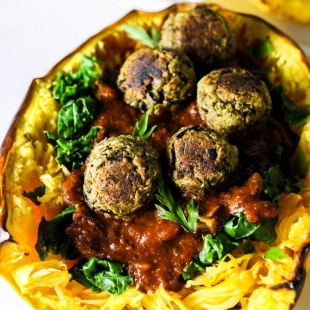 Ingredients
1

medium spaghetti squash

4

Dr. Praeger's Mushroom Risotto Veggie Burgers

1/4 cup

oat flour*

2 tablespoons

Italian seasoning blend, divided

1

25-ounce jar marinara sauce

8 ounces

baby bella mushrooms (can also use white button mushrooms), stem removed and thinly sliced

2 tablespoons

nutritional yeast

1

–

2

cups kale, chopped
Fresh chopped parsley, for garnish
Instructions
Preheat oven to 400F. Slice the tough stem off, then slice squash in half lengthwise. Scoop out the seeds; discard. Place the squash, flesh up, on a baking sheet. Bake for 45-50 minutes, until slightly browned on the edges and tender on the inside.
Reduce oven heat to 350F.
While the squash is cooking, prepare the meatballs and sauce. Place veggie burgers on a microwave-safe plate; microwave in 1-minute intervals for 3 minutes, until defrosted.
Add veggie burgers to a bowl. Mash with a fork until completely broken apart. Add oat flour and 1 tablespoon Italian seasoning; stir together until combined. Roll dough into 1-inch balls.
On the same baking sheet that you used for the squash, place "meat" balls. Bake for 20 minutes, until crispy on the outside.
Place a medium saucepan over medium heat; spray with cooking spray or add a little cooking oil. Add mushrooms; cook for 8-10 minutes, until mushrooms are reduced and browned. Add marinara, nutritional yeast, and 1 tablespoon Italian seasoning. Reduce heat to simmer; add kale and cook until slightly wilted, about 3-5 minutes. Keep warm until ready to serve.
Fluff spaghetti squash flesh with a fork. Top with mushroom marinara, "meat" balls, and a sprinkle of fresh parsley.
Thanks to Dr. Praeger's Sensible Foods for sponsoring this post! I love working with brands whose products I really love and would honestly recommend. Thank you for supporting this blog that I love oh-so-much!