Print
How to make:
Sweet Potato Spaghetti with Chunky Lentil Sauce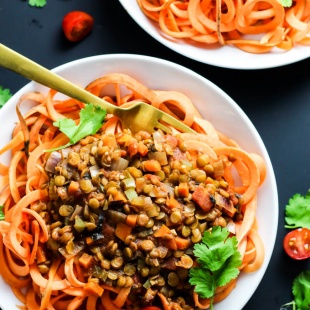 Ingredients
2

large or 4 medium sweet potatoes (about

2

pounds)

1

medium onion

1

small bell pepper, or

1/2

large

1

medium carrot

1

stalk celery

4

cloves garlic

2 teaspoons

dried basil

1 1/2 teaspoons

dried oregano

1 teaspoon

dried thyme
Dash of ground cayenne pepper

1

14.5-ounce can diced tomatoes

1

14.5-ounce can tomato sauce

1 cup

green lentils

3 cups

vegetable broth

1 teaspoon

apple cider vinegar
Fresh parsley, for garnish
Instructions
In a large pot over medium heat, add water or oil, if using.
Add onion; cook for 5 minutes, until they begin to turn clear. Add bell pepper, carrot, and celery; cook for 5-7 more minutes, until the vegetables begin to soften. Add garlic; cook for 1 minute. Add basil, oregano, thyme, and cayenne pepper; cook for 1 minute, until fragrant.
Add diced tomatoes, tomato sauce, lentils, and broth. Bring to a boil. Cover; lower heat. Simmer for 25-30 minutes. until the lentils are fully cooked.
Add apple cider vinegar; stir.
Spiralize or julienne sweet potatoes into noodles or ribbons. In a large pot or wok, add a little water or oil; add sweet potatoes. Cook for about 10 minutes, stirring, until tender. You can cover the pot to steam the noodles and speed up the process.
Serve a bed of noodles with a scoop of lentil sauce and a garnish of fresh parsley.