This post was sponsored by USA Pulses. I only work with brands whose products and missions I truly believe in. Thanks for supporting my blog!
Ahh, the post-holiday funk. Everyone is still in somewhat of a cookie coma and the reality of the new year is starting to sink in. There's boxes and everywhere, yet no one wants to get any work done.
Can we all just agree to do nothing for these last few days of 2016? I think we all deserve to just eat some sweet potato spaghetti together and relax.
How was your holiday season? Mine was great – very low-key and simple, just the way I like it. I spent my time off from school getting some work done, cuddling with my cat and watching documentaries. Oh, if every day could be like that…
I got to come home for a few days to spend time with the fam and veg out on the couch after all the gingerbread donuts. Like I talked about last week, we're not big into Christmas or presents, but we are big into spending time together. So that's what we did!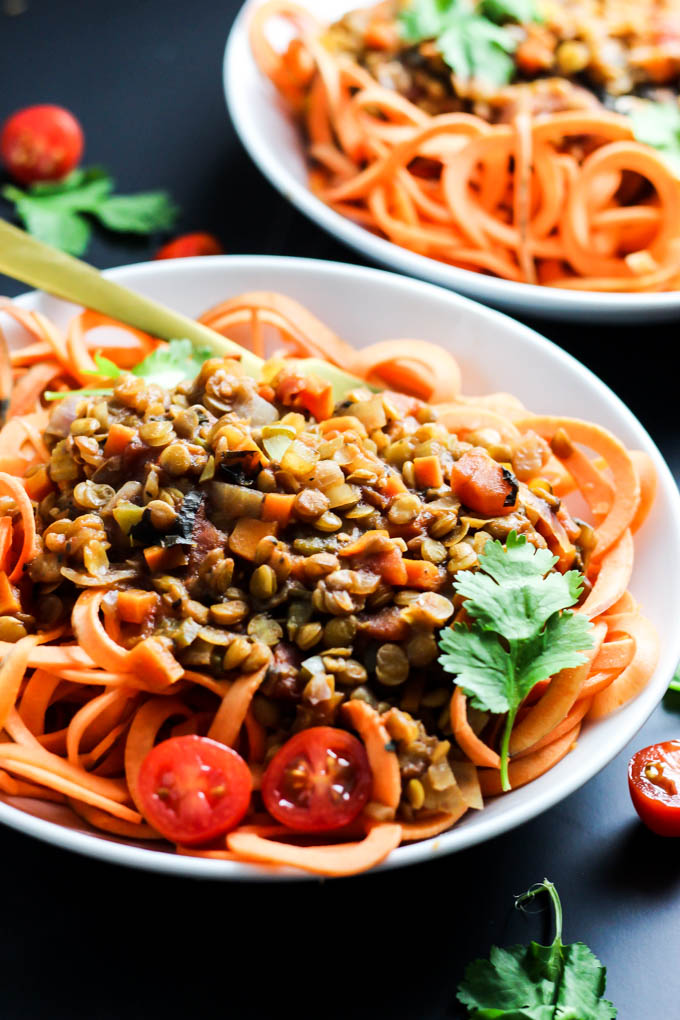 One of my favorite things to do with my family, especially my mom, is cook together and teach them what I've learned in the kitchen. I love whipping out my cookbooks and blog recipes and watching their faces light up when the food is super delicious (which is always 🏆).
Louisiana has some of the best sweet potatoes in the country, so we are always cooking something with sweet potatoes. We also love our beans and pulses. Mom raised us saying, "Fiber, fiber, fiber. Eat your fiber!"
This dish checked all of our boxes for our favorite foods! Don't you love when that happens?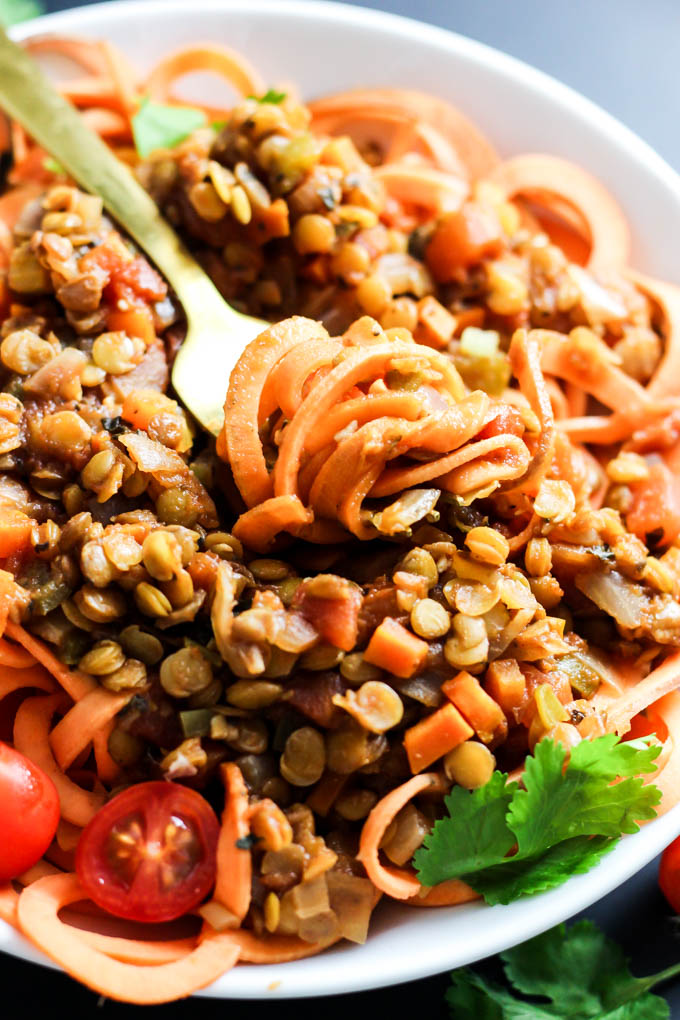 This sweet potato spaghetti recipe is also perfect for the New Year since lentils are considered lucky! I always thought it was just black-eyed peas, but when USA Pulses asked me to create a recipe with lucky lentils, I couldn't pass up creating this recipe.
Thanks lucky lentils for the new year magic (and fiber and protein and folate and other goodness).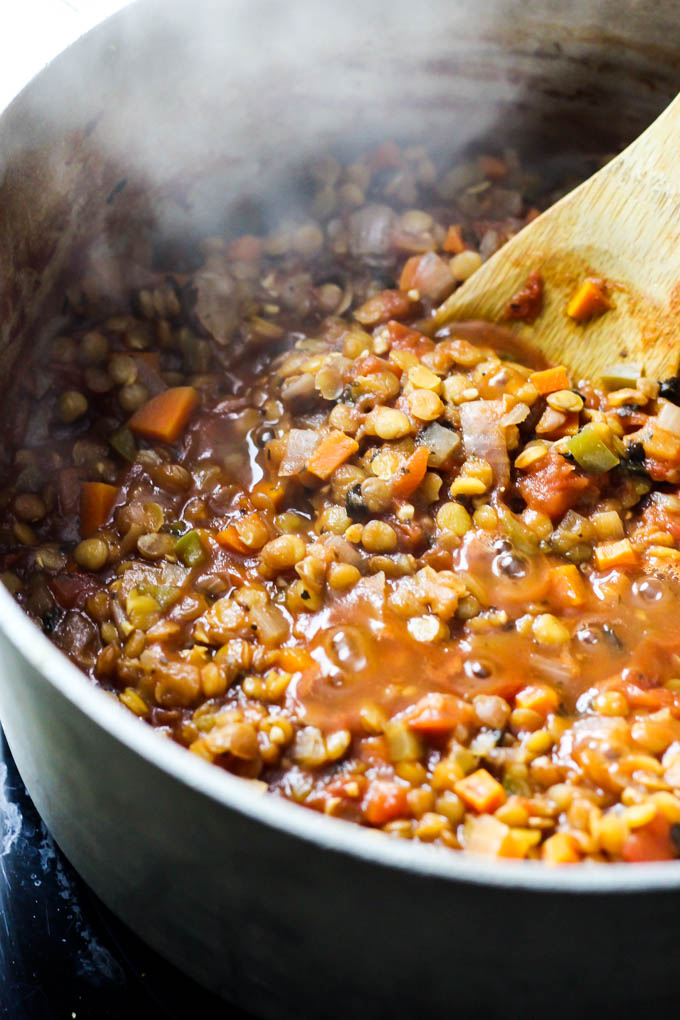 Have you ever heard of pulses? They're just another name for plants in the legume family, like dry peas, beans, lentils and chickpeas. A.k.a. my favorite foods in the world.
When you think of superfoods, you probably think of $20-per-jar exotic ingredients, but pulses are the ultimate superfoods since they're nutritious, affordable and versatile! I mean, did you see this lentil brownie recipe? Boom.
2016 was the International Year of Pulses, and USA Pulses encouraged thousands of people to eat more of these awesome foods. I wish every year was all about pulses, but don't worry – we can enjoy them all year every year!
Let's celebrate the end of the Year of Pulses with some healthy sweet potato spaghetti for some 2017 luckiness, shall we?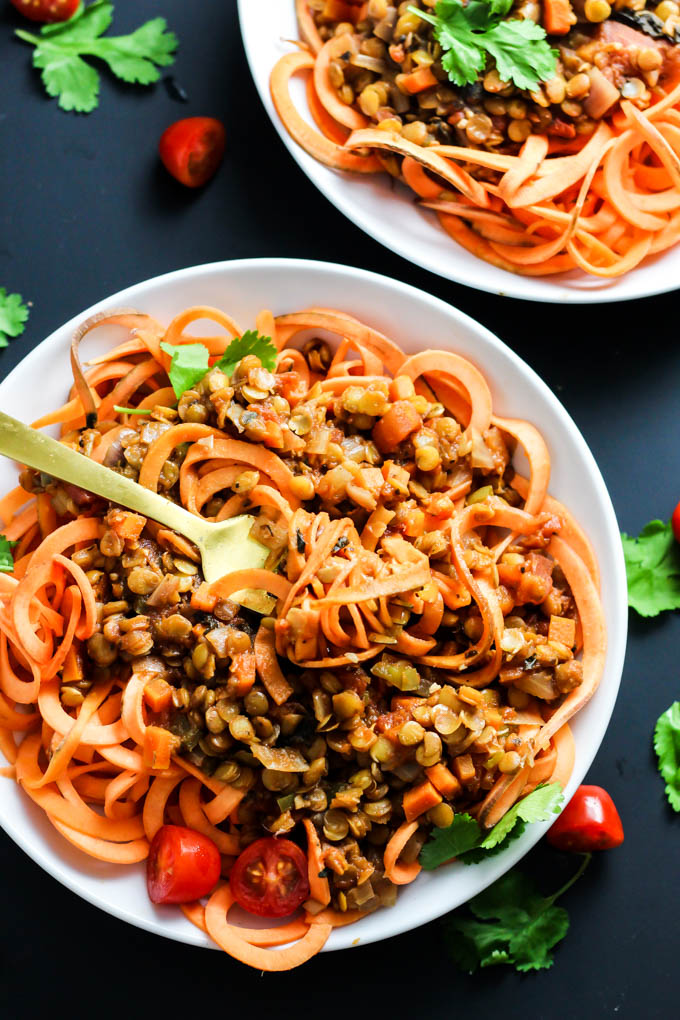 If you're looking for a comforting, filling dinner that's also healthy, vegan, and gluten-free, this sweet potato spaghetti with chunky lentil sauce is for you! I promise everyone will lick his plate clean.
If you cook this sweet potato spaghetti, I'd love your kitchen creation! Take a pic, post it on Instagram with the hashtag #emilieeats, and tag me @emilieeats.
Keep eating all the pulses!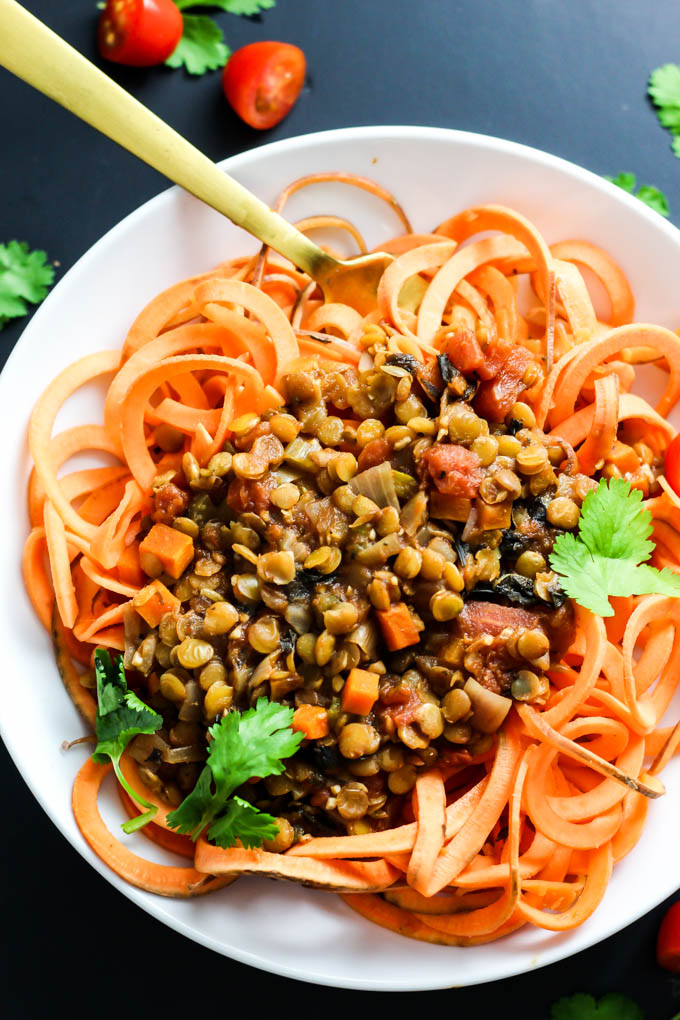 Print
How to make:
Sweet Potato Spaghetti with Chunky Lentil Sauce
Enjoy this classic flavors of this Sweet Potato Spaghetti with Chunky Lentil Sauce! This vegan & gluten-free meal is comforting and filling, yet healthy.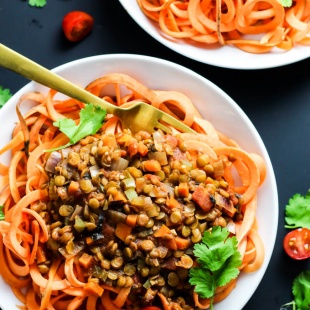 Ingredients
2

large or 4 medium sweet potatoes (about

2

pounds)

1

medium onion

1

small bell pepper, or

1/2

large

1

medium carrot

1

stalk celery

4

cloves garlic

2 teaspoons

dried basil

1 1/2 teaspoons

dried oregano

1 teaspoon

dried thyme
Dash of ground cayenne pepper

1

14.5-ounce can diced tomatoes

1

14.5-ounce can tomato sauce

1 cup

green lentils

3 cups

vegetable broth

1 teaspoon

apple cider vinegar
Fresh parsley, for garnish
Instructions
In a large pot over medium heat, add water or oil, if using.
Add onion; cook for 5 minutes, until they begin to turn clear. Add bell pepper, carrot, and celery; cook for 5-7 more minutes, until the vegetables begin to soften. Add garlic; cook for 1 minute. Add basil, oregano, thyme, and cayenne pepper; cook for 1 minute, until fragrant.
Add diced tomatoes, tomato sauce, lentils, and broth. Bring to a boil. Cover; lower heat. Simmer for 25-30 minutes. until the lentils are fully cooked.
Add apple cider vinegar; stir.
Spiralize or julienne sweet potatoes into noodles or ribbons. In a large pot or wok, add a little water or oil; add sweet potatoes. Cook for about 10 minutes, stirring, until tender. You can cover the pot to steam the noodles and speed up the process.
Serve a bed of noodles with a scoop of lentil sauce and a garnish of fresh parsley.
Thanks to USA Pulses for sponsoring this post! I love working with brands whose products I really love and would honestly recommend. Thank you for supporting this blog that I love oh-so-much so I can bring you delicious recipes!