How to make:
Teriyaki Tempeh and Vegetables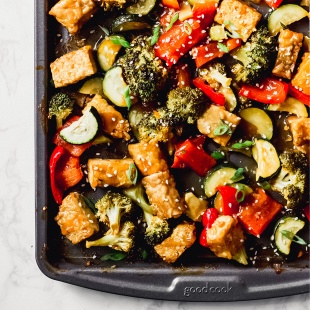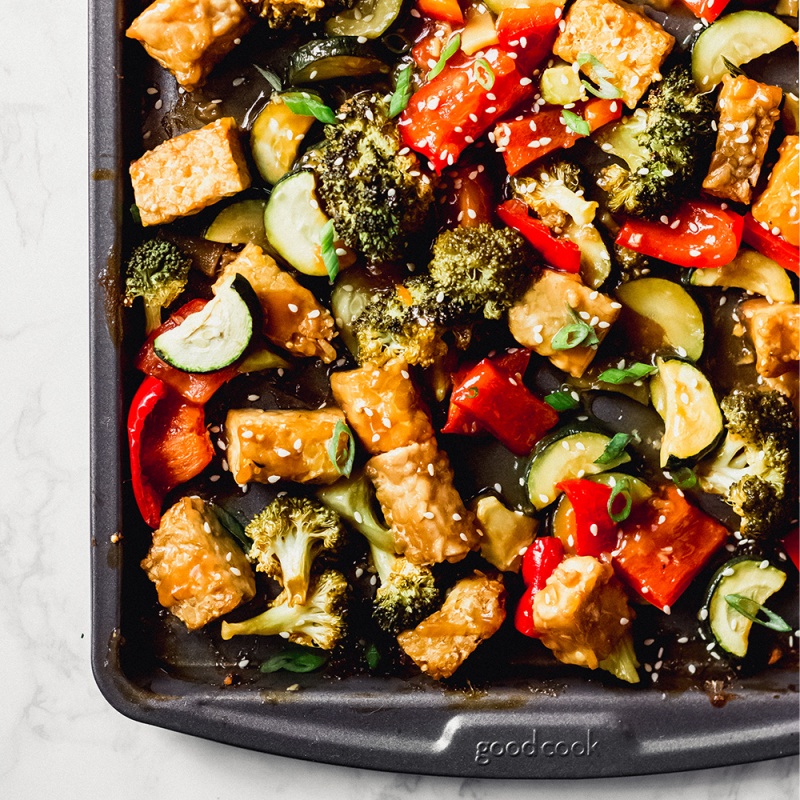 Ingredients
1

8-ounce block tempeh

1

medium head broccoli, chopped

1

medium bell pepper, chopped

1

medium or

2

small zucchini, chopped

1/2 cup

low-sodium soy sauce (tamari for gluten-free)

1/2 cup

water

1/4 cup

brown sugar

2 tablespoons

rice vinegar

1 tablespoon

sesame oil

3

cloves garlic, minced

1/2 teaspoon

ground ginger

2 tablespoons

corn starch

1/4 cup

cold water
For serving: cooked brown rice, sesame seeds, green onions
Instructions
Preheat oven to 375ºF. Lightly grease a baking sheet.
Cut the tempeh into 1/2-inch cubes and place on the baking sheet. Add broccoli, bell pepper, and zucchini to the baking sheet.
In a medium saucepan, add soy sauce, water, sugar, rice vinegar, sesame oil, garlic, and ginger; whisk to combine. Bring to a boil, then reduce heat to low. Simmer for 5 minutes.
To a small bowl, add cornstarch and cold water. Whisk until smooth, making sure there are no lumps. Pour cornstarch slurry into the pot; whisk to combine. Simmer for 5 minutes, until sauce has thickened. Remove from heat.
Pour teriyaki sauce over tempeh and vegetables. Toss to evenly coat.
Bake for 25 minutes.