Looking for easy tempeh recipes? This Teriyaki Tempeh is made with homemade vegan teriyaki sauce, uses only one pan and is gluten-free!
Teriyaki Tempeh and Vegetables
I never thought I'd say this but… I'm sick of cooking. REALLY. Do you ever just have those weeks where you think to yourself, "UGH I CANNOT SPEND ONE MORE MINUTE IN THE KITCHEN." Because same. If you can't tell by the fact that I write this food blog, I typically love spending time in the kitchen. But cooking gets to all of us some times, myself included.
Well friends, if you're also sick of cooking, might I suggest this one-pan teriyaki tempeh dinner that can be on the table in under an hour? It all comes together on a sheet tray and involves minimal active cooking.
Lately, we can't stop eating Thai food, Japanese food, Vietnamese food… really anything Asian-inspired. This teriyaki tempeh recipe is in our regular rotation!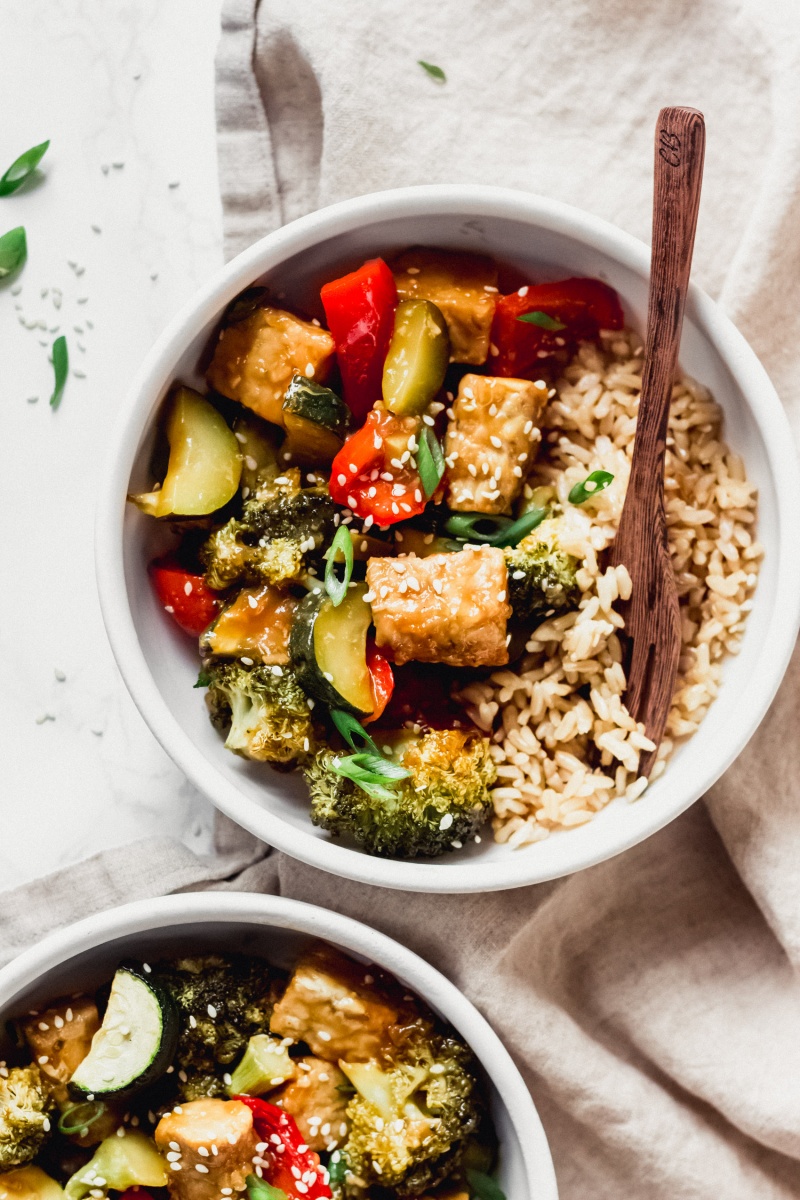 What is Tempeh?
Let's start with… what the heck is tempeh? Tempeh is a fermented soy product made from whole soybeans and often grains like brown rice. It packs about 16 grams of plant-based protein in a 3-ounce serving – pretty impressive! Plus, tempeh contains prebiotics, which is basically food for beneficial gut bacteria.
You can find tempeh at most grocery stores, or you can try your hand at making your own tempeh with just 3 ingredients. This would be such a fun project!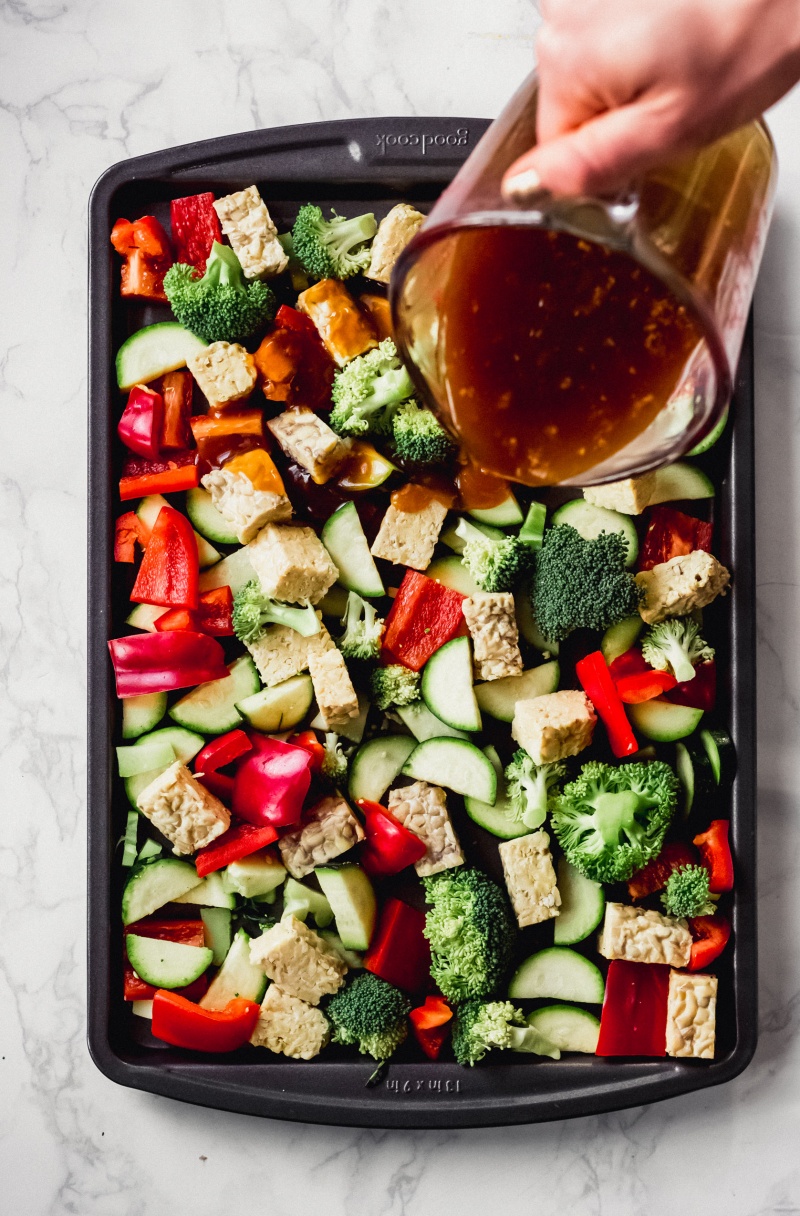 How to Make Vegan Teriyaki Sauce
I don't know about you, but I hate having a billion bottles of sauces and condiments packed into the fridge. It's tempting to pick up a new sauce every time you peruse the aisles at the store, but y'all – you can make so many of your favorite sauces super easily at home, including teriyaki sauce! Not only will making sauces at home free up space in your fridge and pantry, but you'll also likely save money and be able to control the amount of sugar and sodium you're using.
The vegan teriyaki sauce in this teriyaki tempeh recipe couldn't be easier to make – or more delicious. Plus, you probably have all of the ingredients already: soy sauce, brown sugar (regular sugar is fine too), rice vinegar, sesame oil, garlic, ginger, and corn starch. Now you can nix store bought teriyaki sauce for good!
All you do to make this teriyaki sauce is add all ingredients (except the corn starch) to a pot and cook it down for a few minutes. Then, make a corn starch slurry. It is VERY important that you use cold water for the slurry, or else it will clump and be a corn starch disaster (dramatic?). Add it to the pot to make the sauce gooey. Then you're ready to use it in this delicious vegan teriyaki stir fry!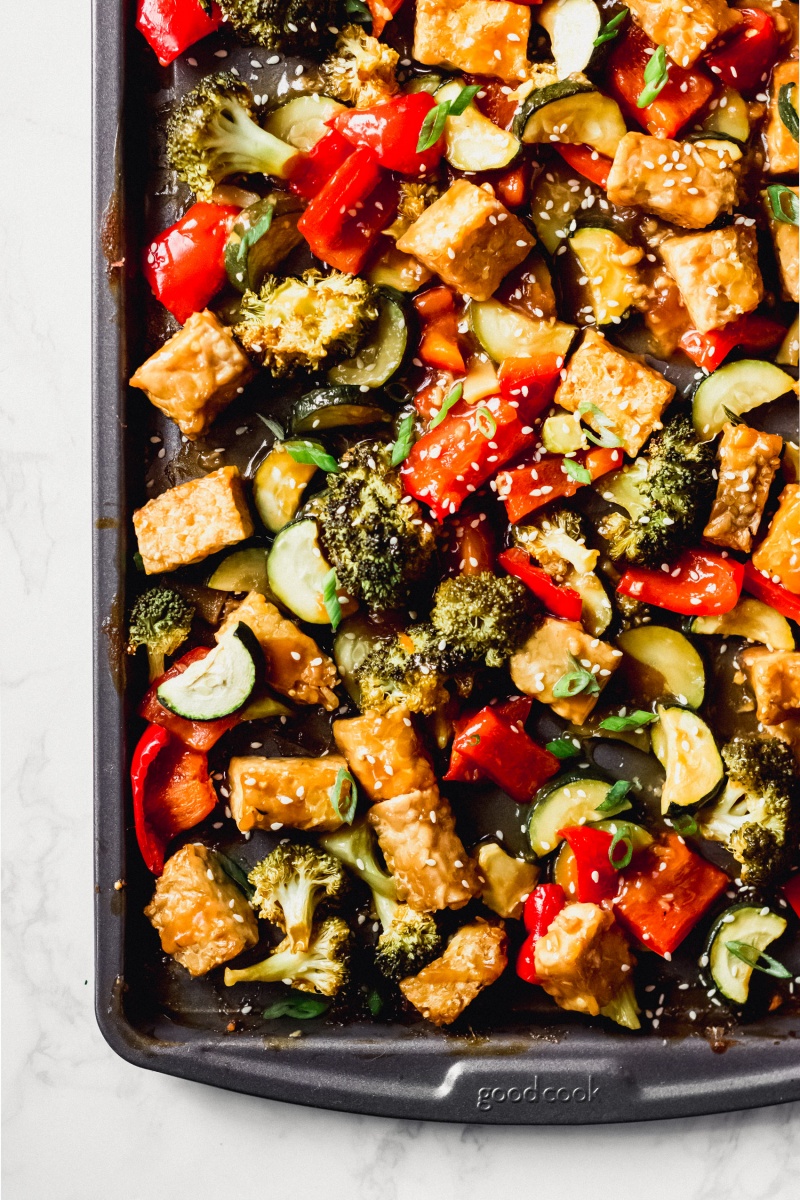 What to Serve with Teriyaki Tempeh
The vegan teriyaki sauce used in this recipe is the same one I used in my teriyaki tofu recipe. It really is good on anything. It'd also be delicious as a marinade for anything you're planning to throw on the grill!
I like to serve this vegan teriyaki stir fry over brown rice with some sesame seeds and chopped green onions. Also, I think it would be good over noodles!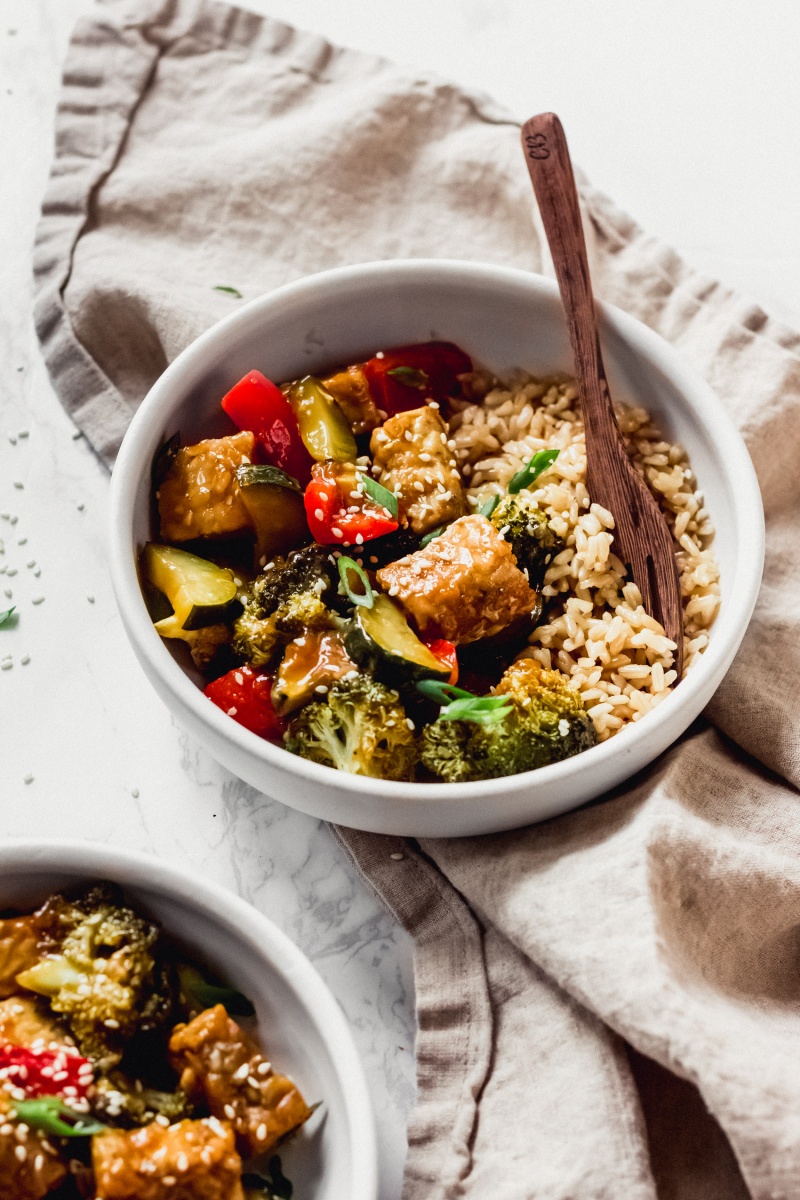 More Tempeh Recipes
It's no secret that I'm a big tempeh lover. I have tons of tempeh recipes if you're looking for more ideas, but here are just a few of my favorites:
Print
How to make:
Teriyaki Tempeh and Vegetables
Looking for easy tempeh recipes? This Teriyaki Tempeh is made with homemade vegan teriyaki sauce, uses only one pan and is gluten-free!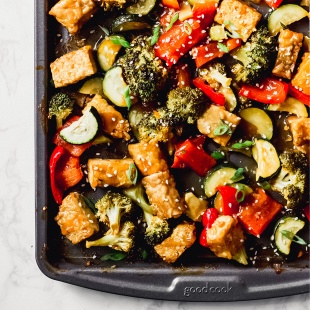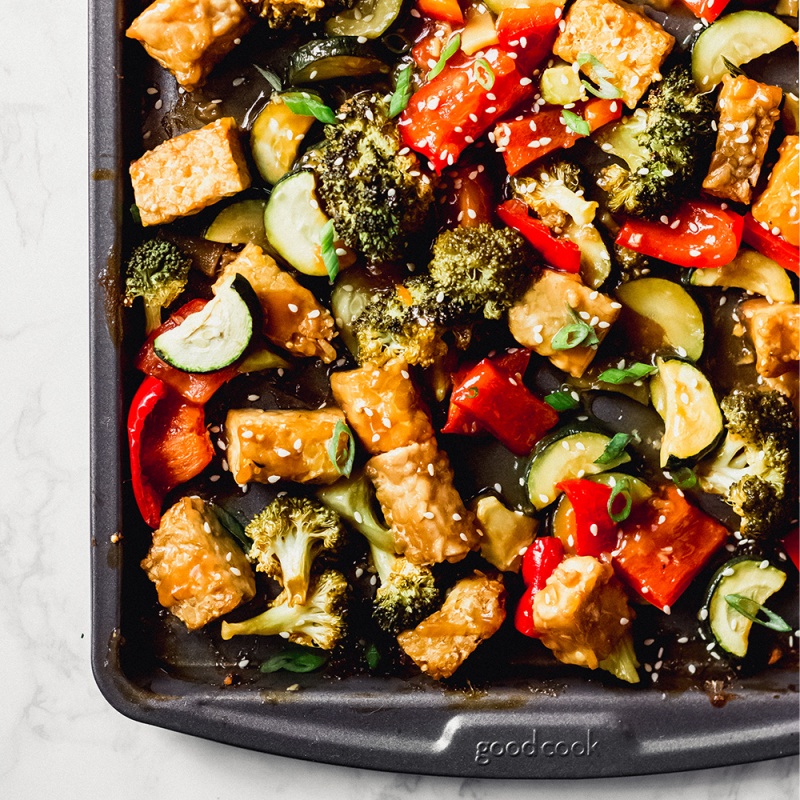 Ingredients
1

8-ounce block tempeh

1

medium head broccoli, chopped

1

medium bell pepper, chopped

1

medium or

2

small zucchini, chopped

1/2 cup

low-sodium soy sauce (tamari for gluten-free)

1/2 cup

water

1/4 cup

brown sugar

2 tablespoons

rice vinegar

1 tablespoon

sesame oil

3

cloves garlic, minced

1/2 teaspoon

ground ginger

2 tablespoons

corn starch

1/4 cup

cold water
For serving: cooked brown rice, sesame seeds, green onions
Instructions
Preheat oven to 375ºF. Lightly grease a baking sheet.
Cut the tempeh into 1/2-inch cubes and place on the baking sheet. Add broccoli, bell pepper, and zucchini to the baking sheet.
In a medium saucepan, add soy sauce, water, sugar, rice vinegar, sesame oil, garlic, and ginger; whisk to combine. Bring to a boil, then reduce heat to low. Simmer for 5 minutes.
To a small bowl, add cornstarch and cold water. Whisk until smooth, making sure there are no lumps. Pour cornstarch slurry into the pot; whisk to combine. Simmer for 5 minutes, until sauce has thickened. Remove from heat.
Pour teriyaki sauce over tempeh and vegetables. Toss to evenly coat.
Bake for 25 minutes.