How to make:
Sriracha Tofu Power Bowl with Forbidden Rice and Mango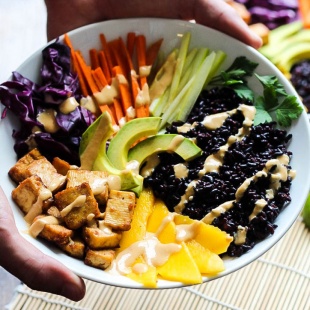 Ingredients
1 cup

black rice

1

14-ounce package extra-firm tofu

2 tablespoons

organic soy sauce or liquid aminos

1 tablespoon

rice vinegar

1 tablespoon

tapioca starch (optional, for extra crispiness)

1 teaspoon

sesame oil

2 1/2 teaspoons

Sriracha sauce, divided

1/2 teaspoon

ground ginger

1/4 teaspoon

garlic powder

1

mango, sliced

1

medium carrot, thinly sliced

1

cucumber, thinly sliced

1 cup

red cabbage, chopped

1

ripe avocado, sliced

1/4 cup

tahini

3 tablespoons

water

1/2

lime, juiced

2 teaspoons

Sriracha sauce
Salt and pepper, to taste
Cilantro for garnish (optional)
Instructions
Drain the tofu. Wrap in several paper towels; place in the sink. Place a heavy object (such as a large pot with a heavy weight inside) on top of the tofu to press the water out. You can also use a tofu press. Let the tofu drain for 15-20 minutes.
Rinse rice well. In a medium pot, place rice and 2 cups water. Bring to a boil; cover and reduce to simmer. Cook for 40-45 minutes, until rice is tender and chewy.
Preheat oven to 375F. Lightly grease a baking sheet with oil or cooking spray.
Cut tofu into 1/2-inch chunks. In a small bowl, whisk together soy sauce, vinegar, starch, sesame oil, 1/2 teaspoon Sriracha, ginger, and garlic powder. Add tofu; toss to combine. Let sit for 5-10 minutes.
Place tofu in a single layer on the baking sheet. Bake for 30 minutes, until crispy on the edges.
While the rice and tofu are cooking, slice and chop your vegetables. Prepare the sauce by whisking together tahini, water, lime juice, Sriracha, and salt and pepper.
To make your bowl, add a scoop of rice, 1/4 of the tofu, mango slices, carrots, cucumbers, red cabbage, and avocado slices. Drizzle with the tahini sauce and garnish with cilantro.