Full of wholesome ingredients, these Tofu & Mango Forbidden Rice Bowls are a colorful dinner that makes great leftovers for lunch. Vegan & gluten-free!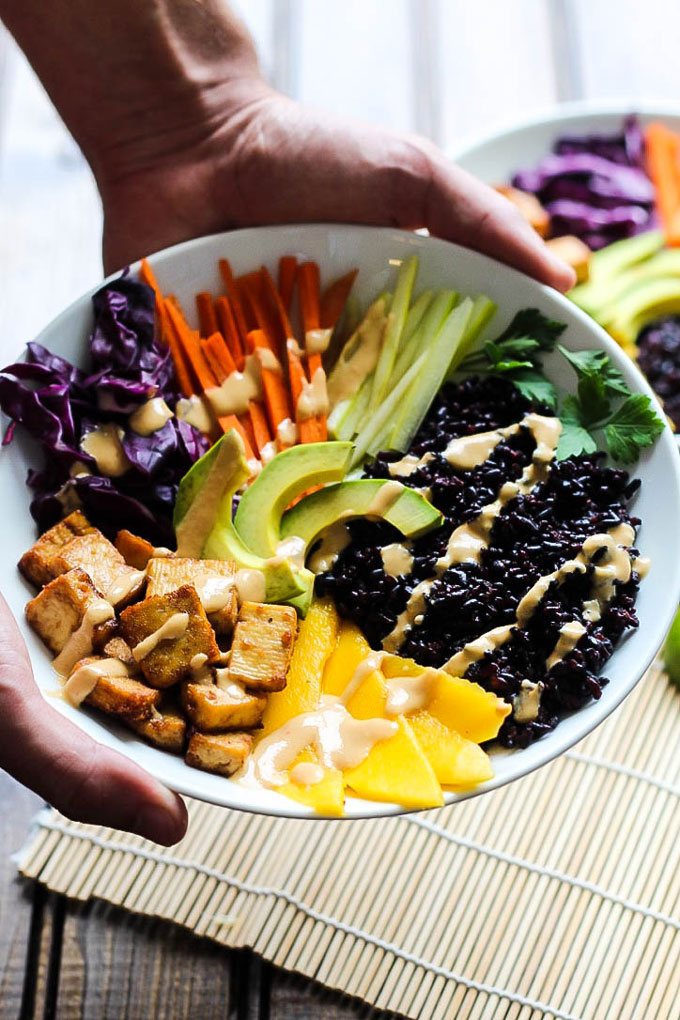 First things first, can we just have give a round of applause to my awesome boyfriend & #1 hand model for showing off these beautiful bowls?!👏🏼 I know it's a hard job, babe, but you're doing a great service to the foodies of the Internet.
Plus, I know you love eating all the food on photography days, so – you're welcome.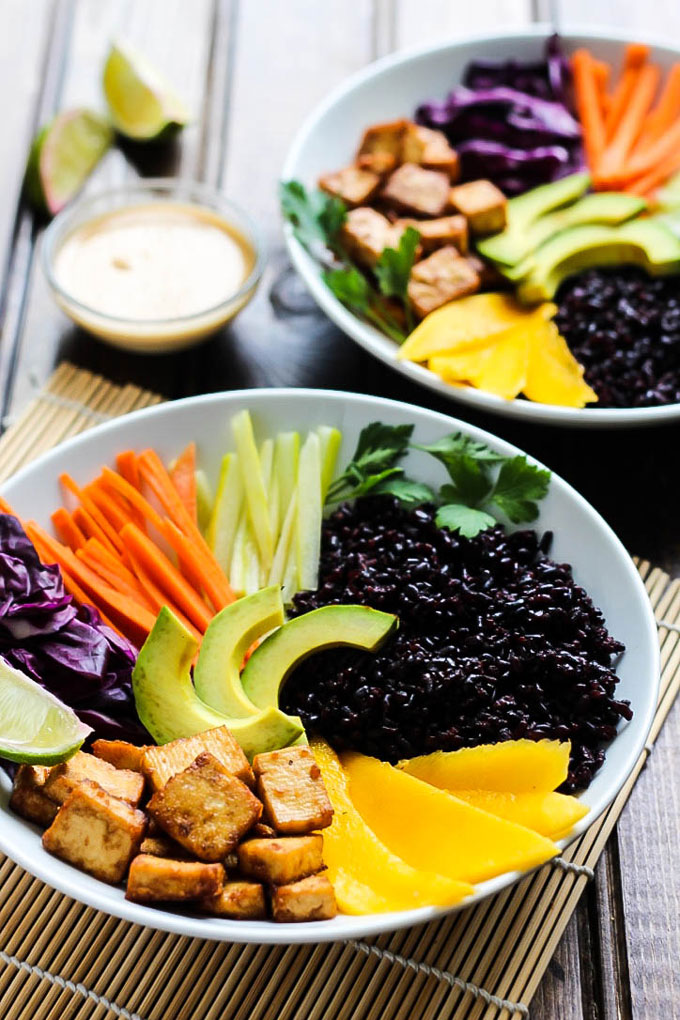 You know when you go to the grocery store and accidentally grab every new product/superfood/somewhat-interesting-looking-item down the aisles so you have to get a food storage shelf in your bedroom because you're an actual food hoarder? Oh, me neither.
No but really, that's me. I love grocery shopping. I love walking slooooow down the aisles to look at every single product to see if something new came out. Some people love buying lots of shoes; I love buying lots of plants. Plants > shoes.
Sometimes this overzealousness at the store leads to many products sitting on my shelves for a long time before I use them up (probably past their expiration dates, but they're wrong anyway, right?).
Such is the case with the couple cups of black rice (or forbidden rice – so scandalous) I purchased on impulse from the bulk aisle at Whole Foods. I swear I've had that damn jar of black rice for two years…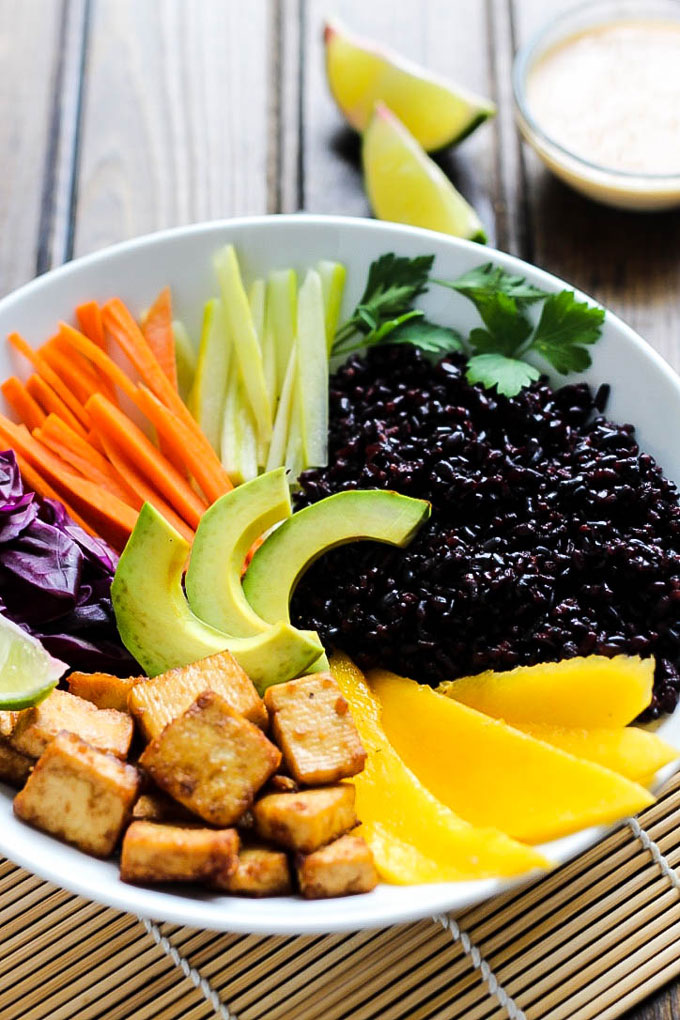 For some reason I just never got around to cooking it. But since I'll be moving out of my current apartment very soon (packed yet? nope), I've been trying to make an effort to use the pantry items I already have rather than buying more I don't need. It's harder than it sounds, folks.
When I was brainstorming recipe ideas, I remembered my long-forgotten black rice jar and said, ALAS, the time has come.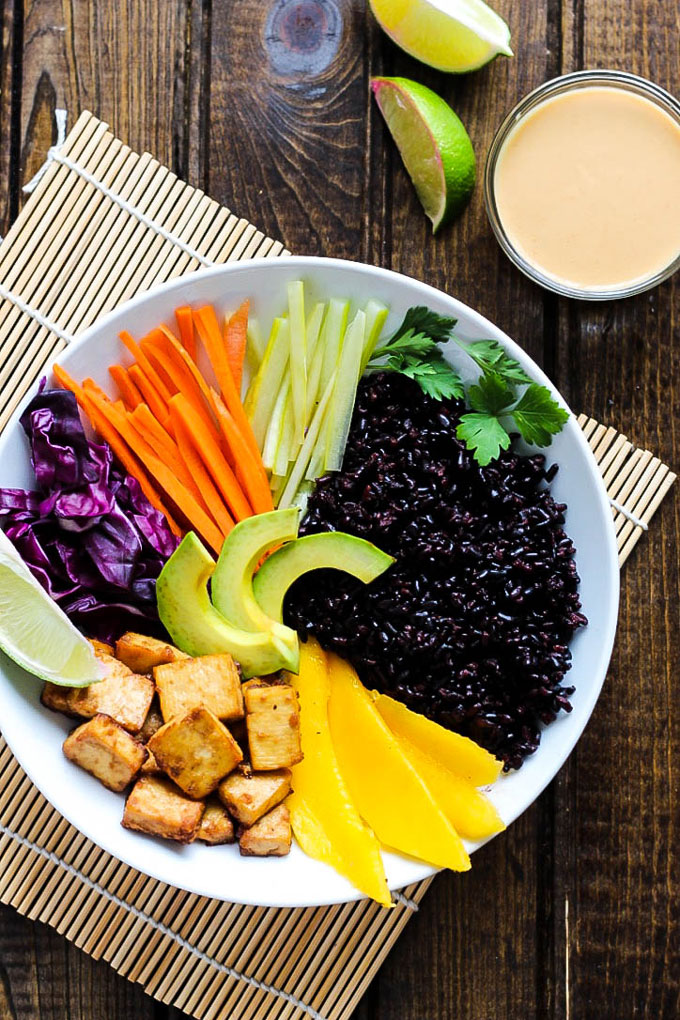 I regret taking so long to cook it, because turns out it's delicious – especially with all the other fixings in these forbidden rice bowls. Here's what we've got going on in these bowls:
A big pile of chewy black rice,
Perfectly marinated tofu that's not nasty & mushy,
Crisp, fresh veggies like carrots, cucumbers & red cabbage,
Juicy mango slices that add a mouthful of sweetness,
Creamy dreamy Sriracha tahini sauce,
Avocado slices because, duh.
Uhmmmm, yes I'll take a forbidden rice bowl every day for the rest of my life please.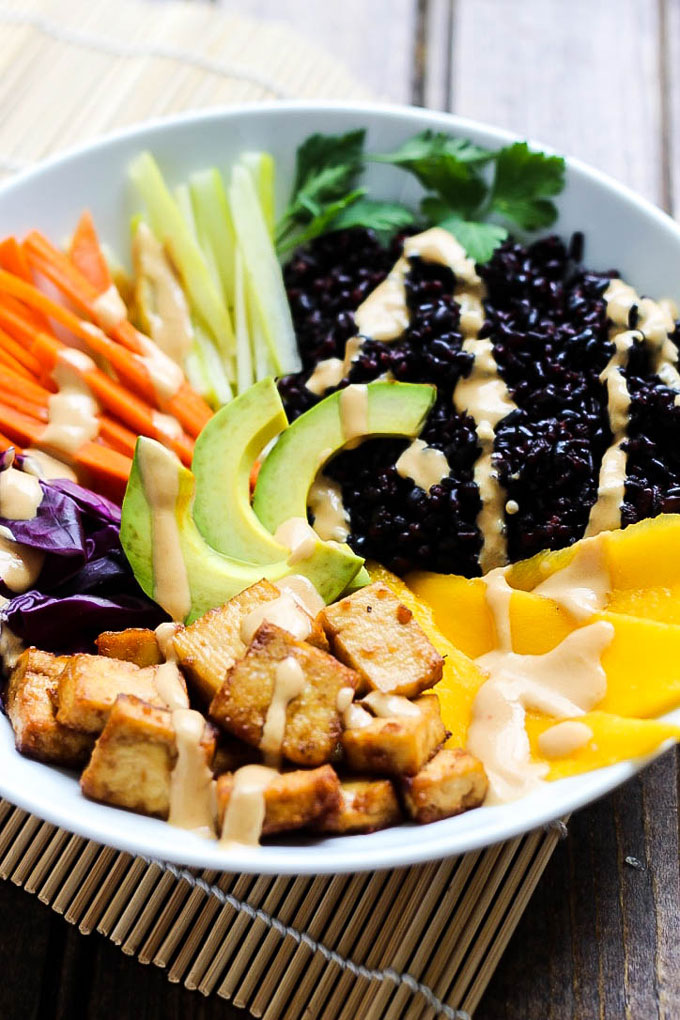 You guys know how much I love BOWLS (exhibit A, B & C). These are no exception. I love them because you can prepare all of the elements separately, then decide how much of each you want. Aka heaping spoonfuls of black rice drowning in Sriracha tahini sauce.
I enjoyed these for dinner, but it was almost even better to enjoy the leftovers for lunch the next day. Easily packable meals I can take on-the-go to class or work are always winners for me.🏆
[Tweet "When your lunch looks like a rainbow, you know you've done something right."]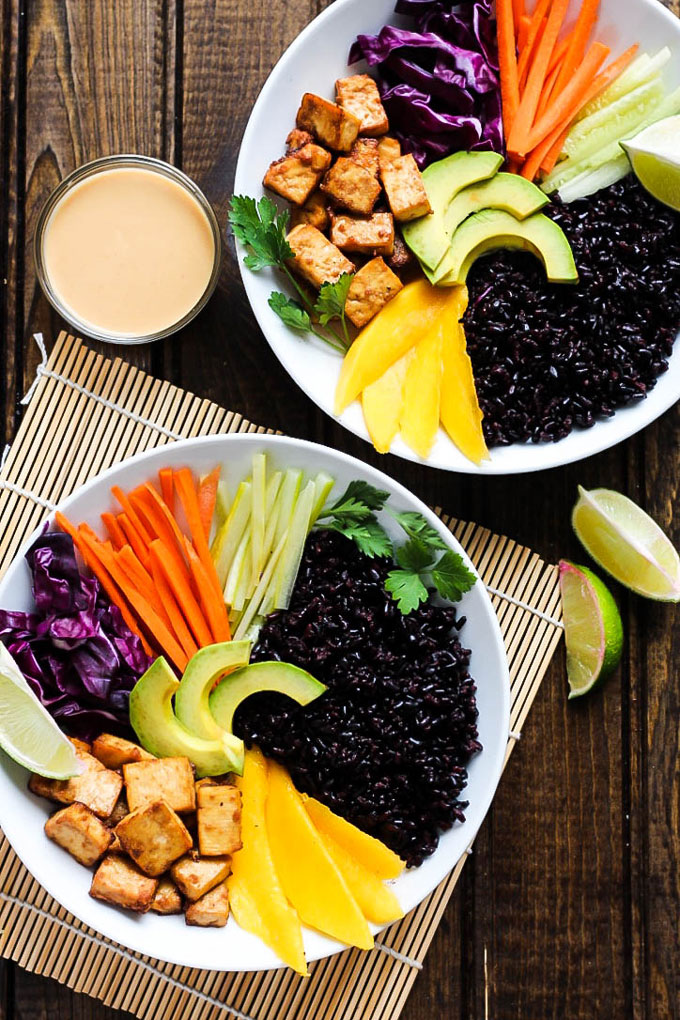 If you need an easy, healthy, plant-powered meal to impress dinner guests, this is the recipe for you! Let everyone build their own bowls and dig into the deliciousness of black rice, mango, tofu, and veggies. Oh, and don't forget the sauce!
I'd love to see all your beautiful bowls, so if you try this recipe, post a pic on Instagram and tag me @emilieeats with #emilieeats!
Do you love grocery shopping? Is Whole Foods your happy place?
Print
How to make:
Tofu & Mango Forbidden Rice Bowls
Full of wholesome ingredients, these Tofu & Mango Forbidden Rice Bowls are a nutritious dinner that makes great leftovers for lunch. Vegan & gluten-free!

Ingredients
1 cup

black rice

1

14-ounce package extra-firm tofu

2 tablespoons

organic soy sauce or liquid aminos

1 tablespoon

rice vinegar

1 tablespoon

tapioca starch (optional, for extra crispiness)

1 teaspoon

sesame oil

2 1/2 teaspoons

Sriracha sauce, divided

1/2 teaspoon

ground ginger

1/4 teaspoon

garlic powder

1

mango, sliced

1

medium carrot, thinly sliced

1

cucumber, thinly sliced

1 cup

red cabbage, chopped

1

ripe avocado, sliced

1/4 cup

tahini

3 tablespoons

water

1/2

lime, juiced

2 teaspoons

Sriracha sauce
Salt and pepper, to taste
Cilantro for garnish (optional)
Instructions
Drain the tofu. Wrap in several paper towels; place in the sink. Place a heavy object (such as a large pot with a heavy weight inside) on top of the tofu to press the water out. You can also use a tofu press. Let the tofu drain for 15-20 minutes.
Rinse rice well. In a medium pot, place rice and 2 cups water. Bring to a boil; cover and reduce to simmer. Cook for 40-45 minutes, until rice is tender and chewy.
Preheat oven to 375F. Lightly grease a baking sheet with oil or cooking spray.
Cut tofu into 1/2-inch chunks. In a small bowl, whisk together soy sauce, vinegar, starch, sesame oil, 1/2 teaspoon Sriracha, ginger, and garlic powder. Add tofu; toss to combine. Let sit for 5-10 minutes.
Place tofu in a single layer on the baking sheet. Bake for 30 minutes, until crispy on the edges.
While the rice and tofu are cooking, slice and chop your vegetables. Prepare the sauce by whisking together tahini, water, lime juice, Sriracha, and salt and pepper.
To make your bowl, add a scoop of rice, 1/4 of the tofu, mango slices, carrots, cucumbers, red cabbage, and avocado slices. Drizzle with the tahini sauce and garnish with cilantro.
If you love bowl recipes like this one, check out these plant-powered bowls: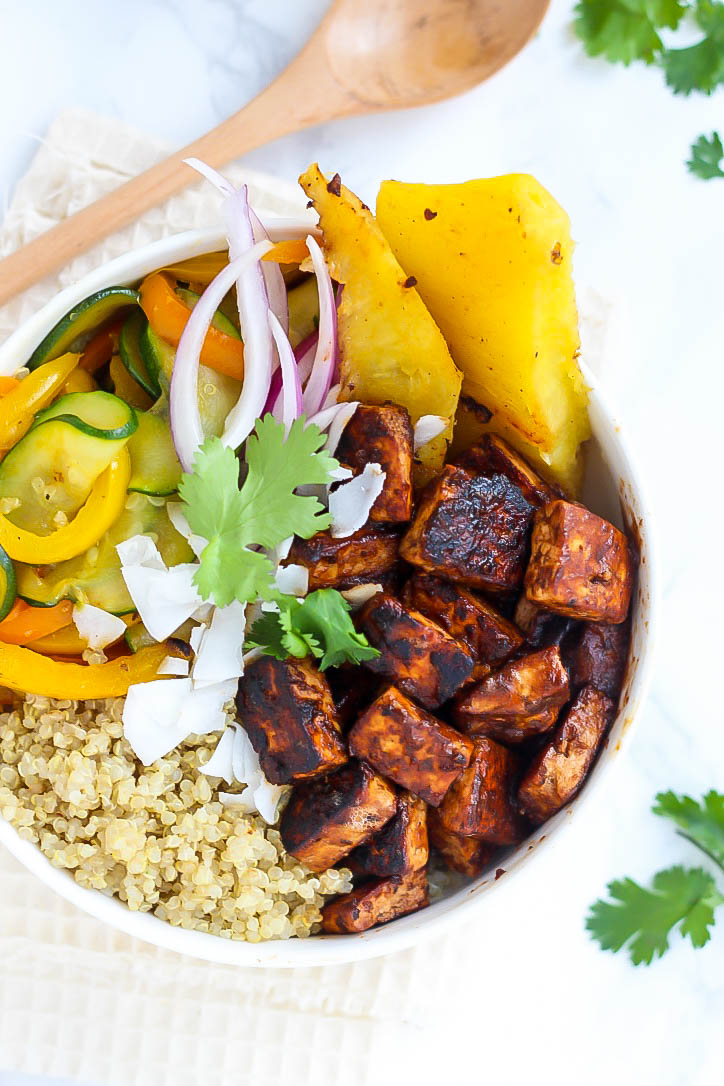 Black Bean Cilantro Lime Rice Bowls with Plantains
Nourishing Garden Veggie Vegan Buddha Bowl from Cotter Crunch
Thai Tempeh Buddha Bowl from Fit Mitten Kitchen