How to make:
Vegan Blueberry Zucchini Bread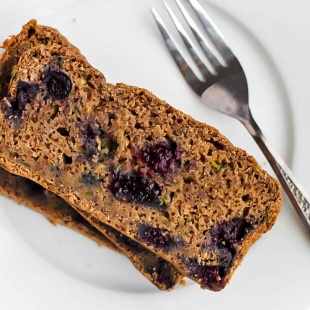 Ingredients
3 tablespoons

flax meal

7 1/2 tablespoons

water

2 cups

spelt flour or white whole wheat flour

1 1/2 teaspoons

baking powder

1 1/2 teaspoons

cinnamon

1/2 teaspoon

baking soda

1/2 teaspoon

salt

1/4 teaspoon

nutmeg (optional)

1 cup

grated zucchini, packed (about

1

medium zucchini)

1/2 cup

coconut sugar

1/2 cup

applesauce

1/2 cup

almond milk

2 tablespoons

coconut oil, melted

2 teaspoons

vanilla extract

1 cup

blueberries
Instructions
Preheat oven to 350F. Grease a 9×5-inch loaf pan with oil or cooking spray.
In a medium bowl, add flax meal and water. Set aside to thicken for at least 5 minutes.
In a large bowl, add spelt flour, baking powder, cinnamon, baking soda, salt, and nutmeg. Stir until fully combined.
To the flax mixture, add grated zucchini, coconut sugar, applesauce, almond milk, coconut oil, and vanilla. Whisk to combine.
Slowly pour wet ingredients into the dry ingredients. Fold together until just combined, then add blueberries. Stir until blueberries are evenly mixed through the batter.
Pour batter into loaf pan. Bake for 50 minutes, until a toothpick inserted in the middle comes out clean. Let it cool in the pan for at least 15 minutes before slicing.