Enjoy this whole-grain Vegan Blueberry Zucchini Bread for a nutritious breakfast or dessert! It's packed with zucchini, blueberries & wholesome ingredients. Plus, six other vegan recipes using delicious blueberries that you'll love.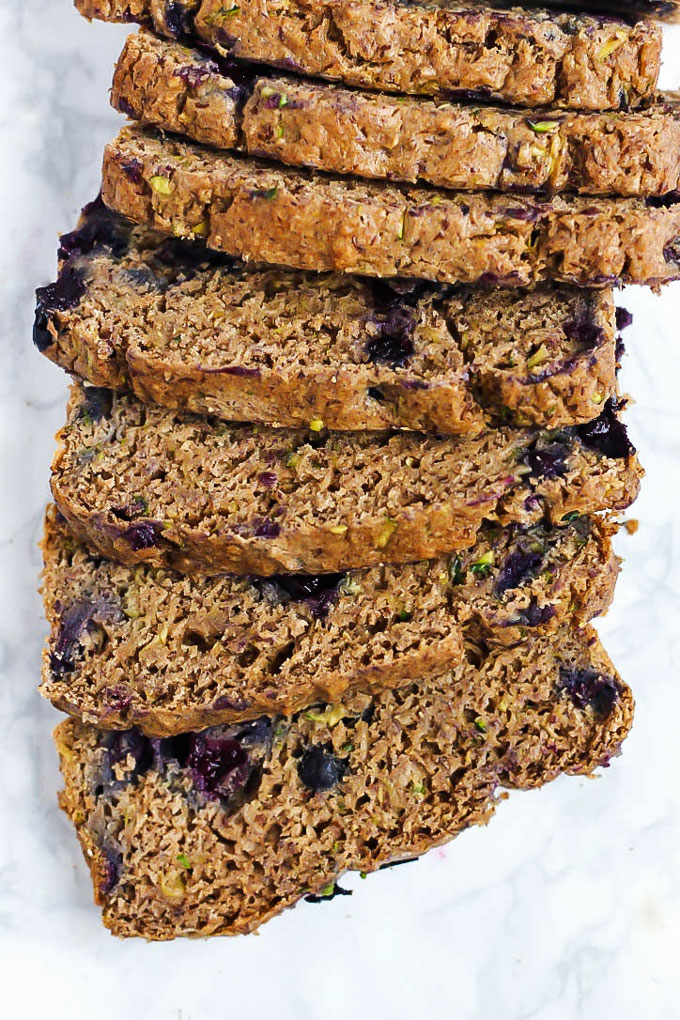 Funny story about making this bread. I knew I wanted to bake a blueberry zucchini bread because I can't get enough of either this summer. I haven't baked anything in awhile, so it was time to head to the drawing board.
First, I tried to make it gluten-free. HA. Good try, Emilie. Alas, I do not claim to be the all-knowing vegan/gluten-free baker (I'll leave that up to Dana). The bread did not rise at all and was just a big brick of baked almond flour with exploded blueberries.
Of course, since I hate to waste food and money, I still sliced it up, froze it, and plan to eat it. I mean, it's still tasty – just not blog-worthy. #nofoodleftbehind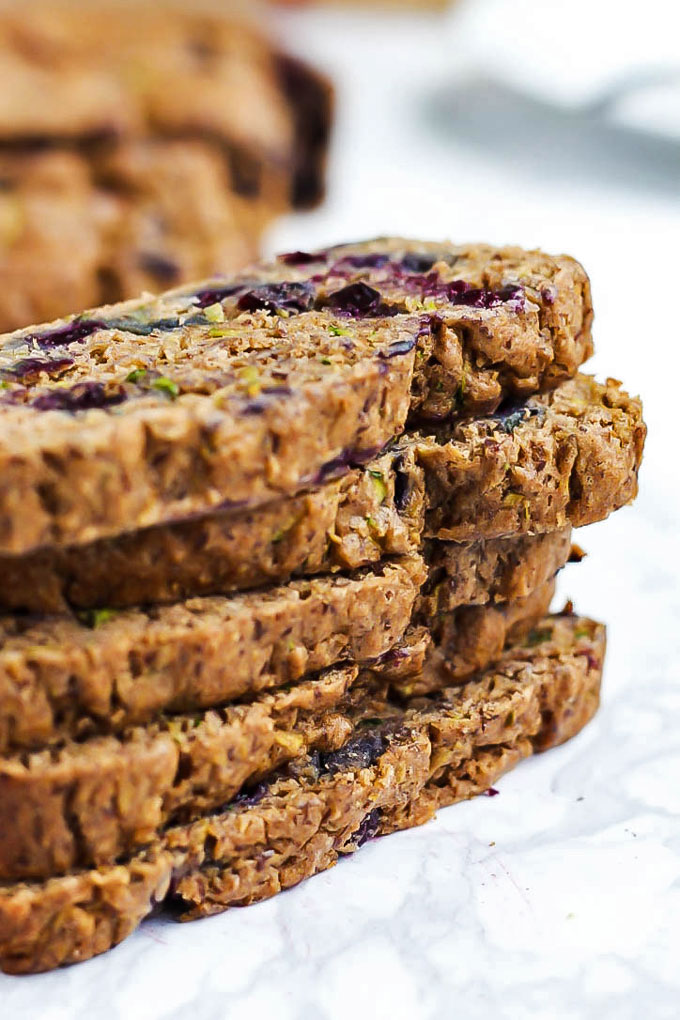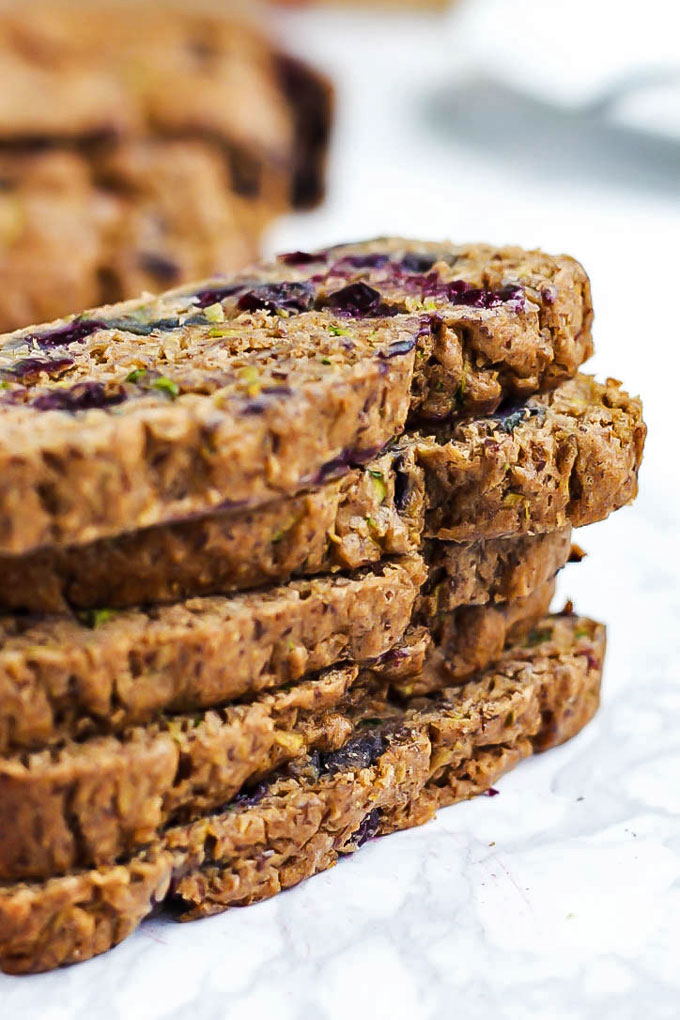 I gave up on trying to make it gluten-free, even though I try to make most of my recipes gluten-free for all of you out there with allergies. I'm not gluten-free, but 98% of the food I eat is. And I know you guys love these kinds of recipes! So, I'm sorry that I failed you on this one…
Then I turned to one of my favorite flours to bake with – spelt flour. It's a tad lighter than whole wheat flour, so it's great for baking. It can also be easier to digest for people with wheat intolerances (of course, if you have Celiac or something like that, I'd still be wary). I was feeling optimistic about the second loaf of bread, and then…
Our power went out. RIGHT before I mixed the dry and wet ingredients. Ugh.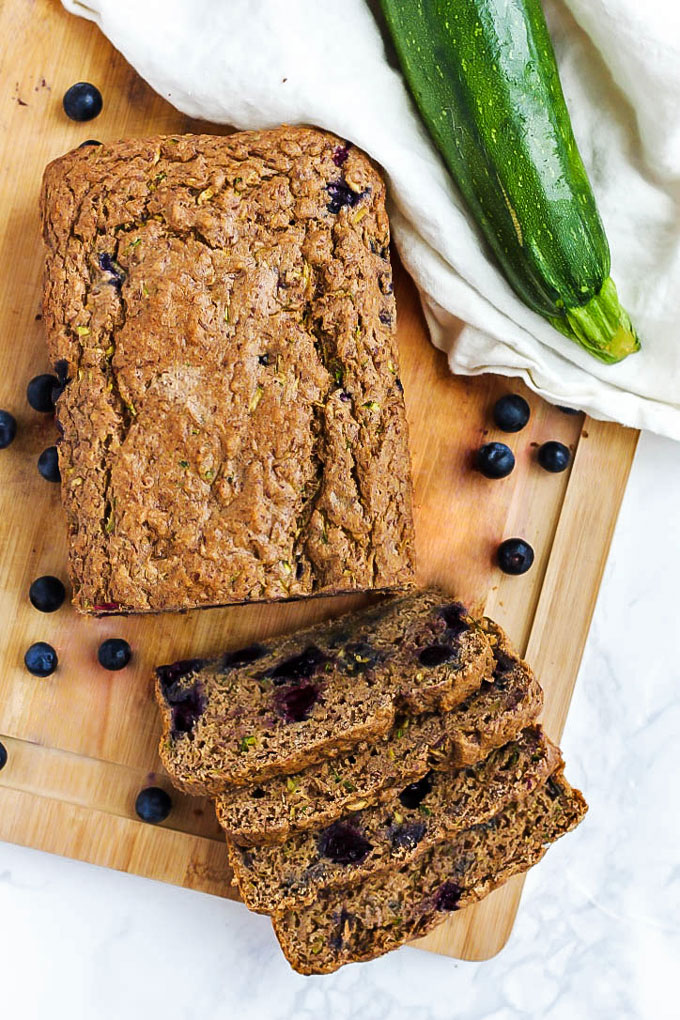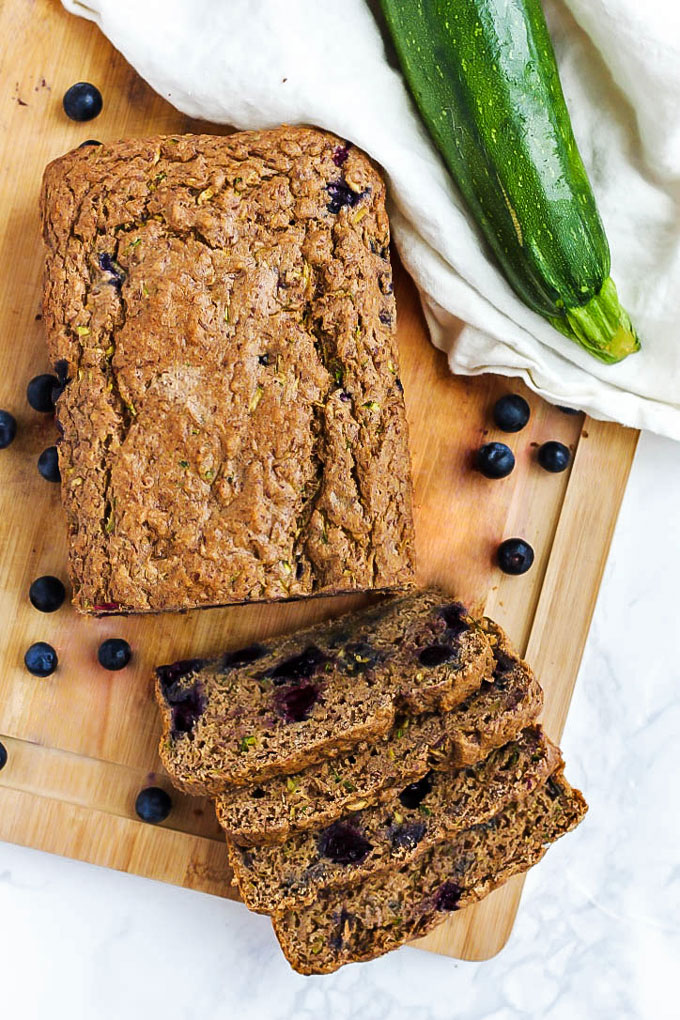 There I sat, in a dark apartment during a thunderstorm with no electricity, microwave, oven, stove, or WiFi. Basically a food blogger's nightmare. I couldn't mix the batter because glutinous mixes need to be baked as soon as they're mixed, so they sat on the counter separately for three hours until I could bake the bread. It kind of turned out to be a good thing, though, because it gave me an excuse to fold the two loads of laundry sitting in my room – oops.
Finally our electricity returned and I was able to resume my food blogger duties. I thought, if this bread doesn't turn out good after all of this, I give up on life. Okay, that's a little dramatic. But I was crossing my fingers and hoping for a positive outcome.
And boy, what a positive outcome it was. This blueberry zucchini bread is damn delicious. Packed with moisture from zucchini and studded with juicy blueberries, it's healthy enough to enjoy for breakfast. Or a snack. Or dessert (smothered in almond butter🙌🏼). Your choice!
[Tweet "Take advantage of delicious summer produce while it's here – Vegan Blueberry Zucchini Bread! #vegan"]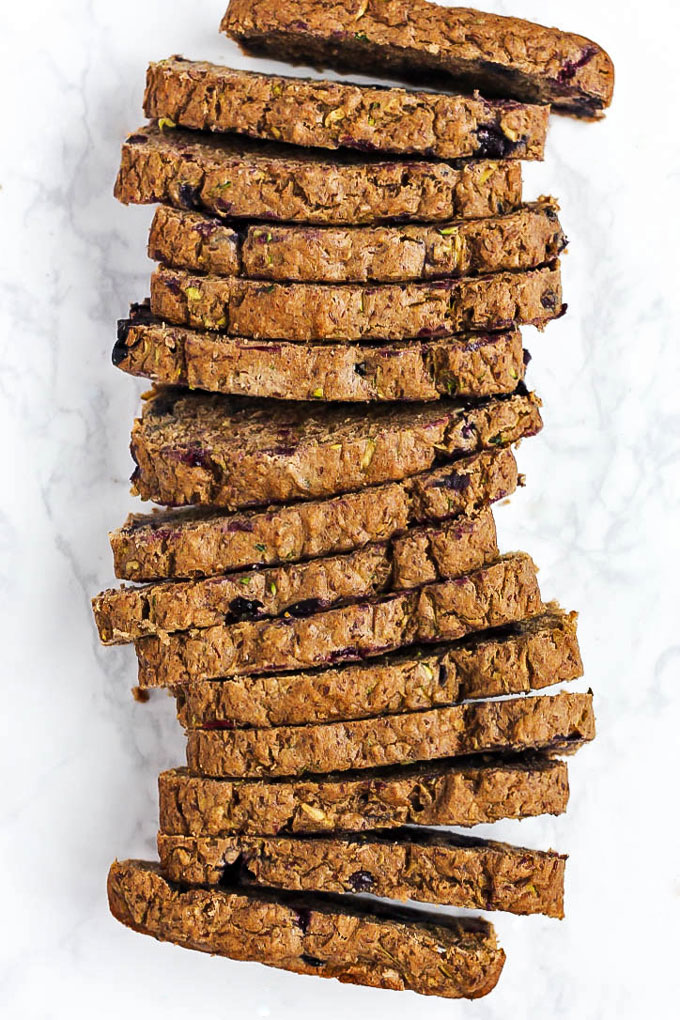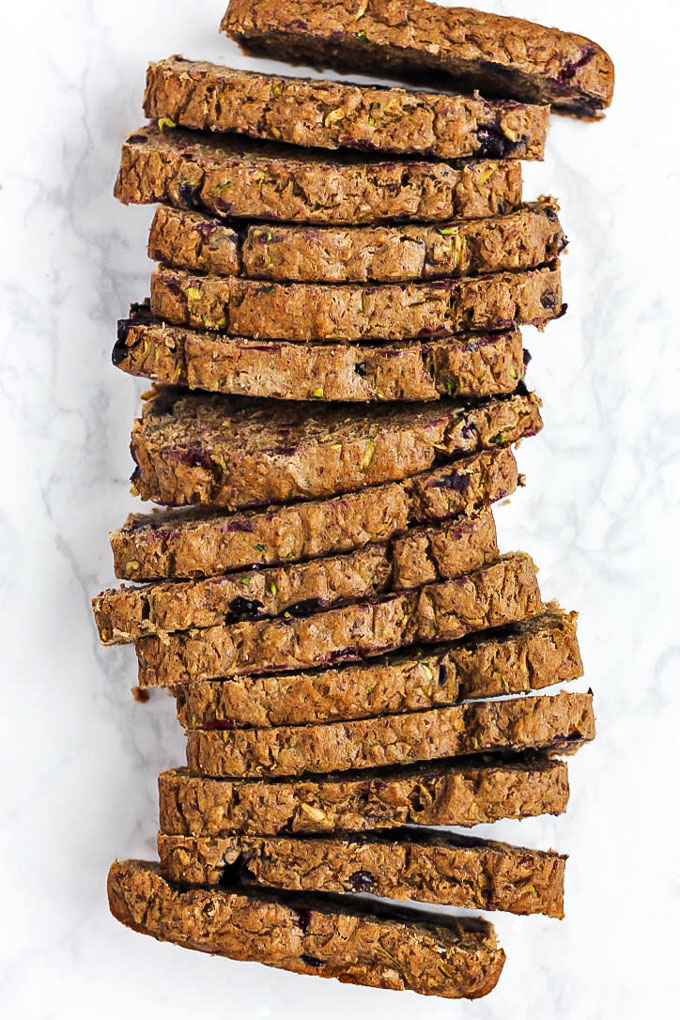 I hope you enjoyed the little back story behind this humble loaf of blueberry zucchini bread. It may have given me a headache, but it was well worth it, because now you guys can have the perfected recipe! And because I have two loaves of bread in my freezer waiting to be enjoyed. THE BEST.
You definitely need to take advantage of the summer zucchini and blueberries while they're around and bake this bread! If you try it, post a picture on Instagram, tag me & #emilieeats, and let me know what you think. I know you'll love it no matter how you enjoy it!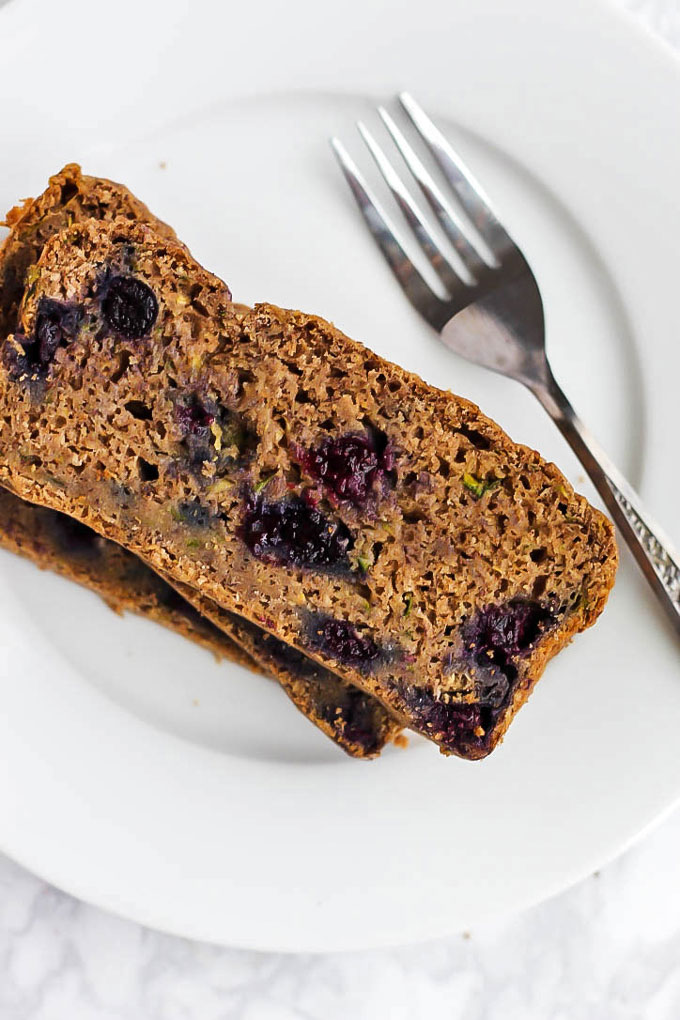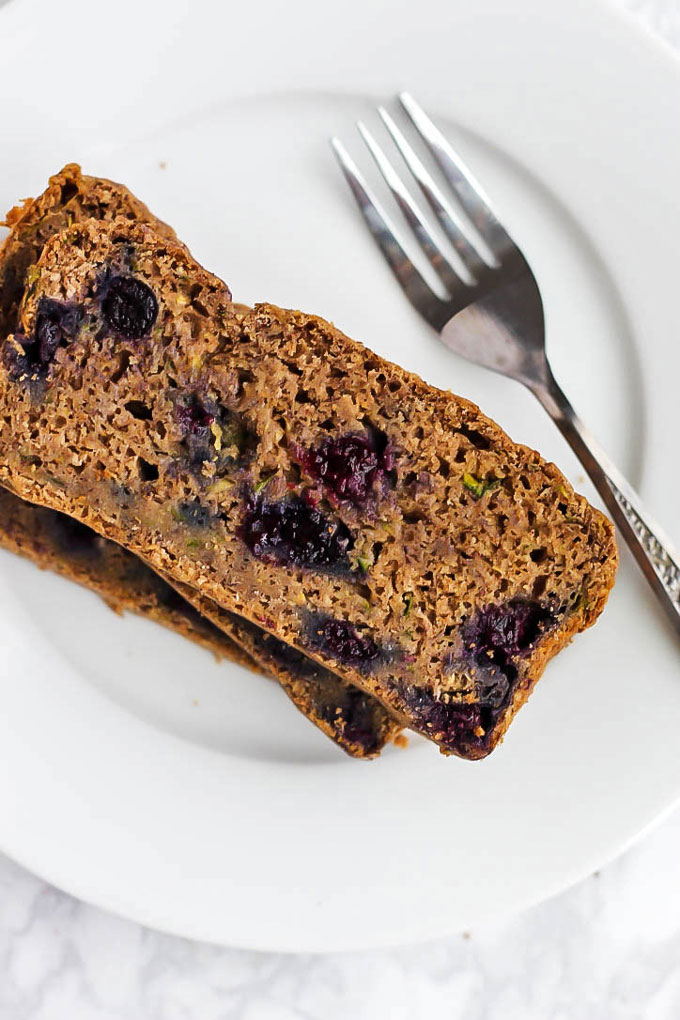 Print
How to make:
Vegan Blueberry Zucchini Bread
Enjoy this whole-grain Vegan Blueberry Zucchini Bread for a nutritious breakfast or dessert! It's packed with zucchini, blueberries & wholesome ingredients.

Ingredients
3 tablespoons

flax meal

7 1/2 tablespoons

water

2 cups

spelt flour or white whole wheat flour

1 1/2 teaspoons

baking powder

1 1/2 teaspoons

cinnamon

1/2 teaspoon

baking soda

1/2 teaspoon

salt

1/4 teaspoon

nutmeg (optional)

1 cup

grated zucchini, packed (about

1

medium zucchini)

1/2 cup

coconut sugar

1/2 cup

applesauce

1/2 cup

almond milk

2 tablespoons

coconut oil, melted

2 teaspoons

vanilla extract

1 cup

blueberries
Instructions
Preheat oven to 350F. Grease a 9×5-inch loaf pan with oil or cooking spray.
In a medium bowl, add flax meal and water. Set aside to thicken for at least 5 minutes.
In a large bowl, add spelt flour, baking powder, cinnamon, baking soda, salt, and nutmeg. Stir until fully combined.
To the flax mixture, add grated zucchini, coconut sugar, applesauce, almond milk, coconut oil, and vanilla. Whisk to combine.
Slowly pour wet ingredients into the dry ingredients. Fold together until just combined, then add blueberries. Stir until blueberries are evenly mixed through the batter.
Pour batter into loaf pan. Bake for 50 minutes, until a toothpick inserted in the middle comes out clean. Let it cool in the pan for at least 15 minutes before slicing.
I teamed up with six amazingly talented bloggers to bring you six other vegan recipes featuring blueberries! They're one of my favorite summer fruits, so I can't wait to try all of these recipes. Don't they look delicious?! Go check them out!
Matcha Frosted Blueberry Coconut Cupcakes from Love Me, Feed Me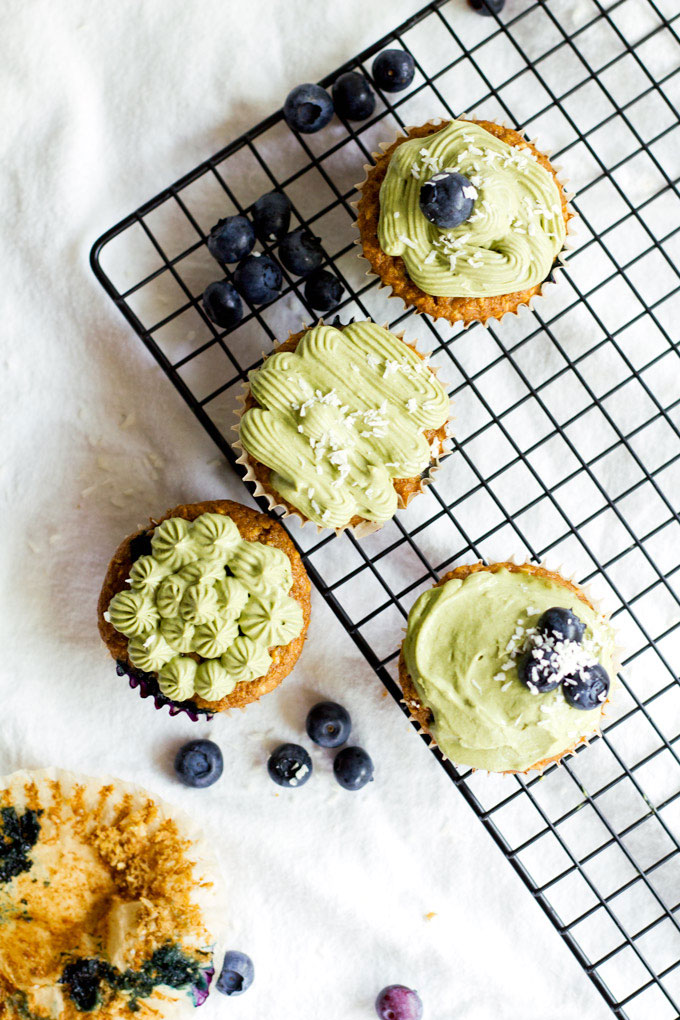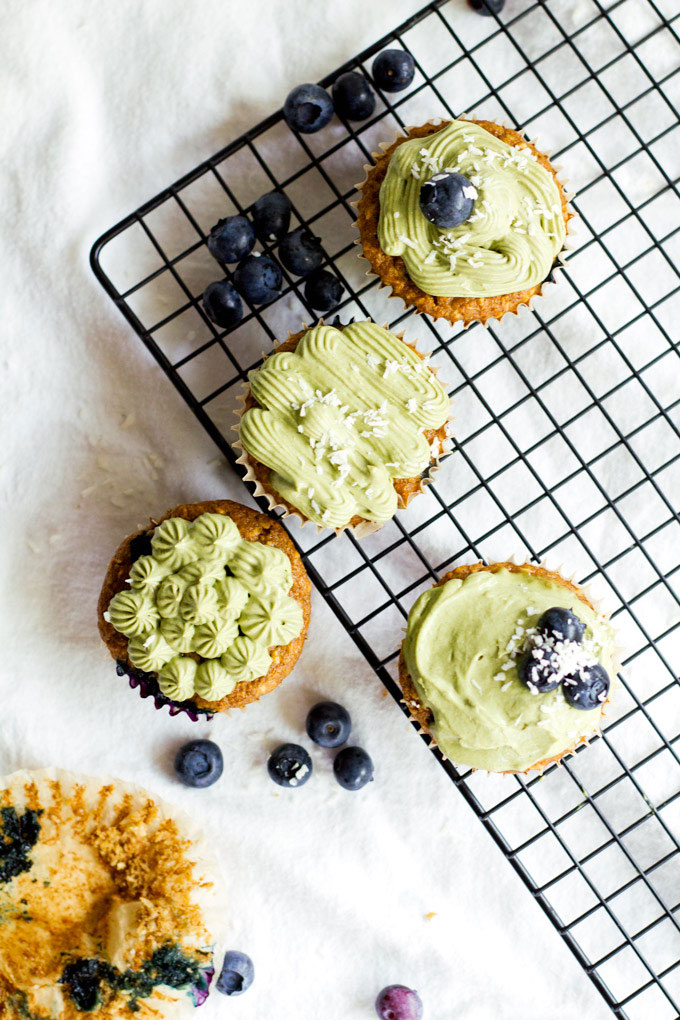 Chocolate Blueberry Muffin Ice Cream Sandwiches from Feasting on Fruit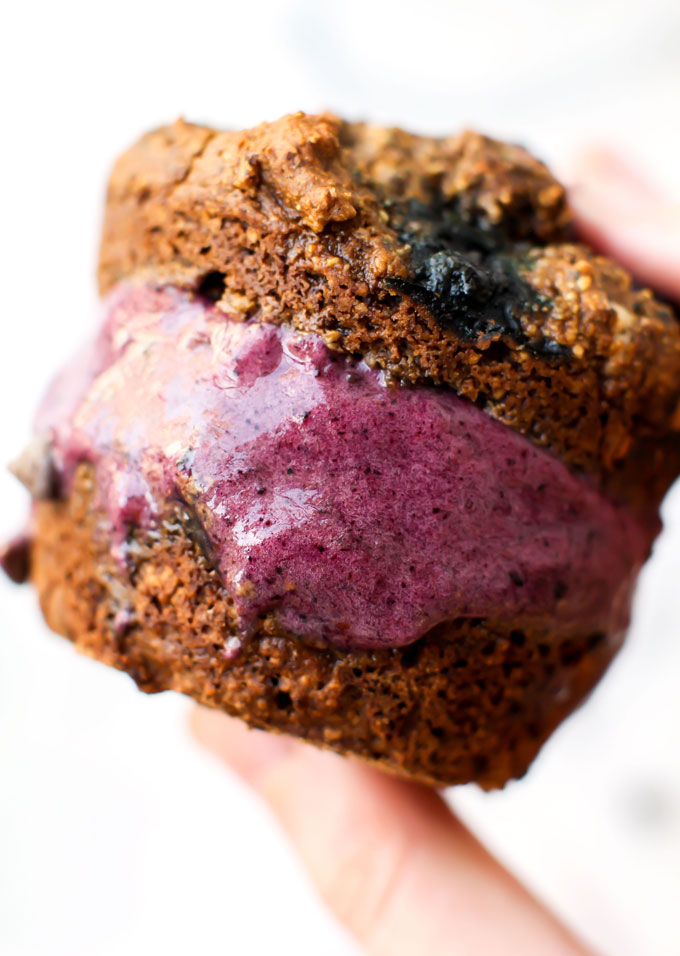 Blueberry Cashew Breakfast Cookies by The Coconut Diaries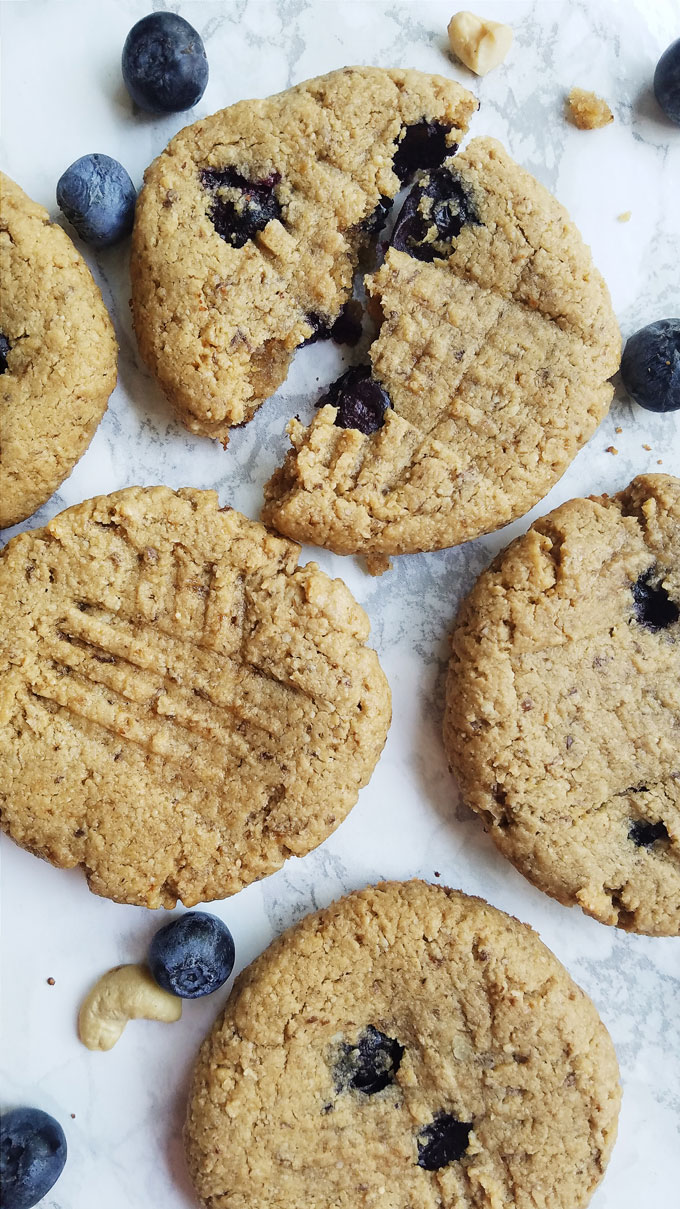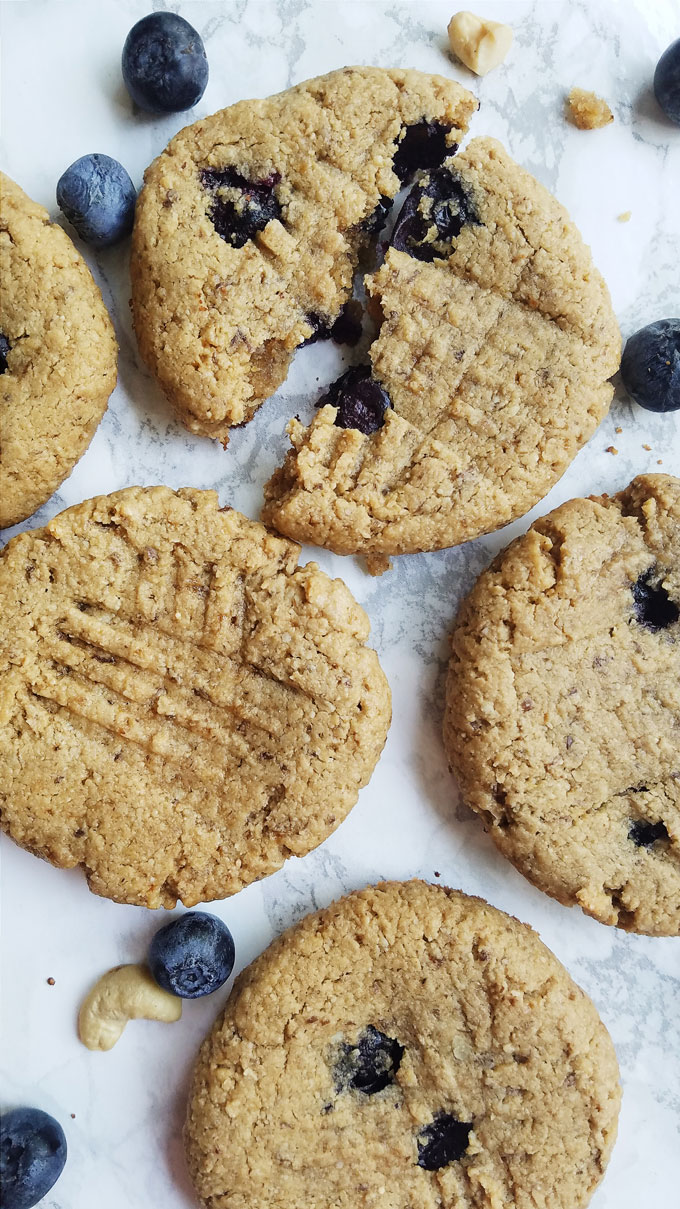 Blueberry Granola Tarts from Choosing Chia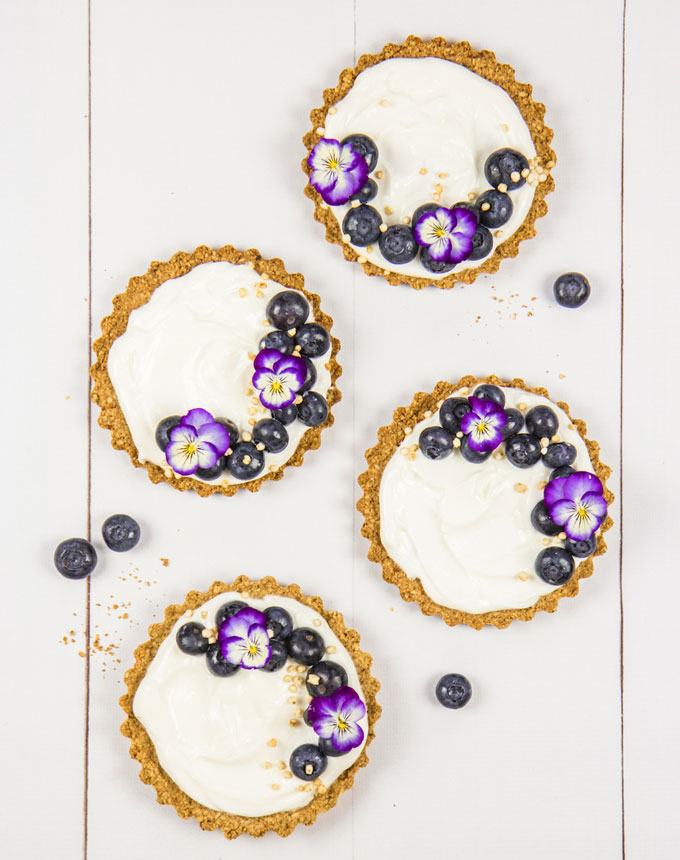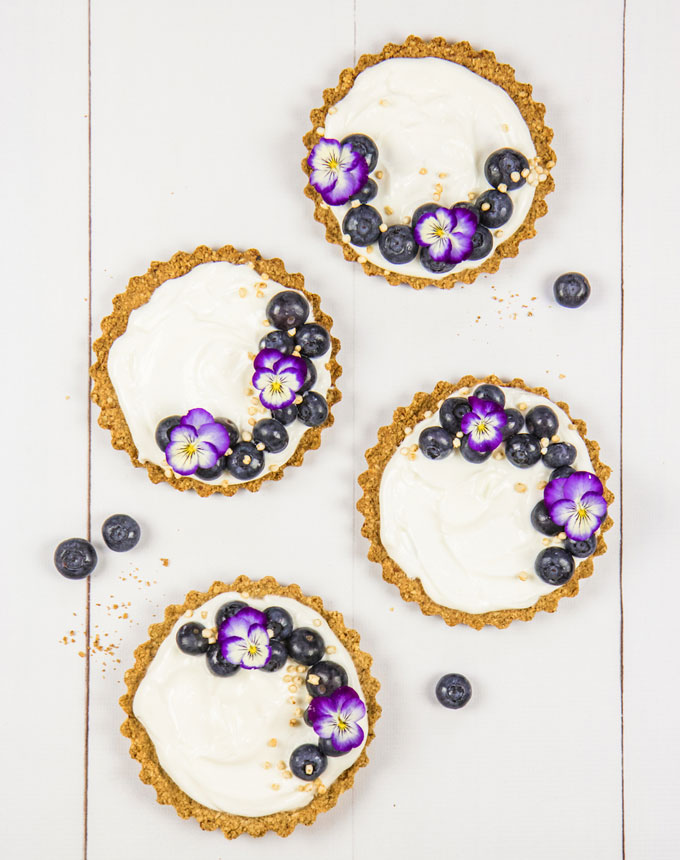 Blueberry Cobbler Cookie Dough Bites from Healthy Helper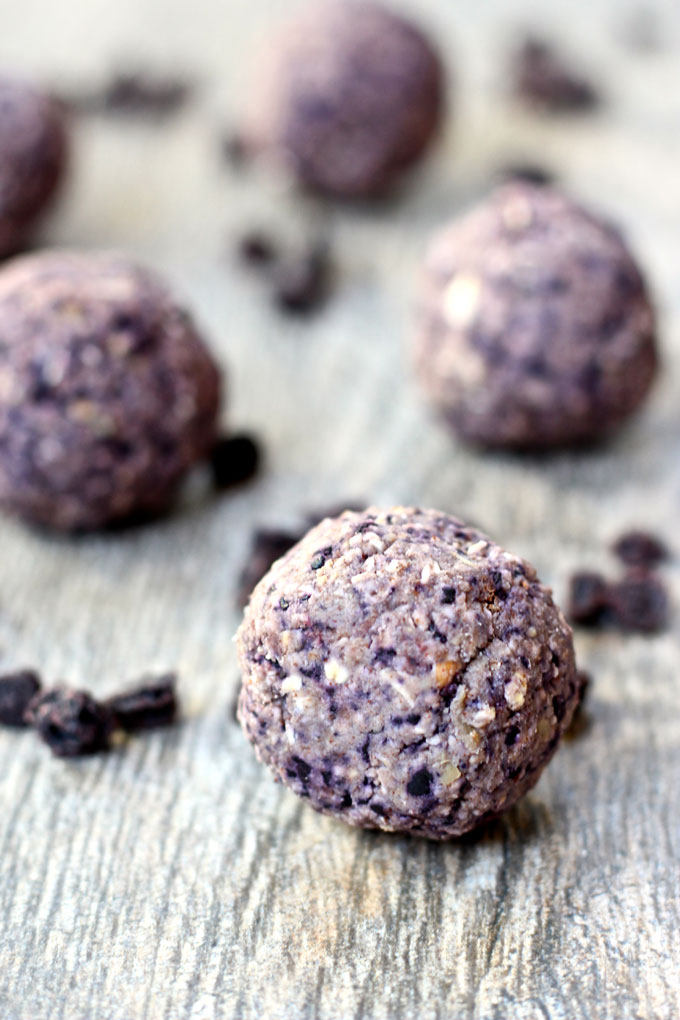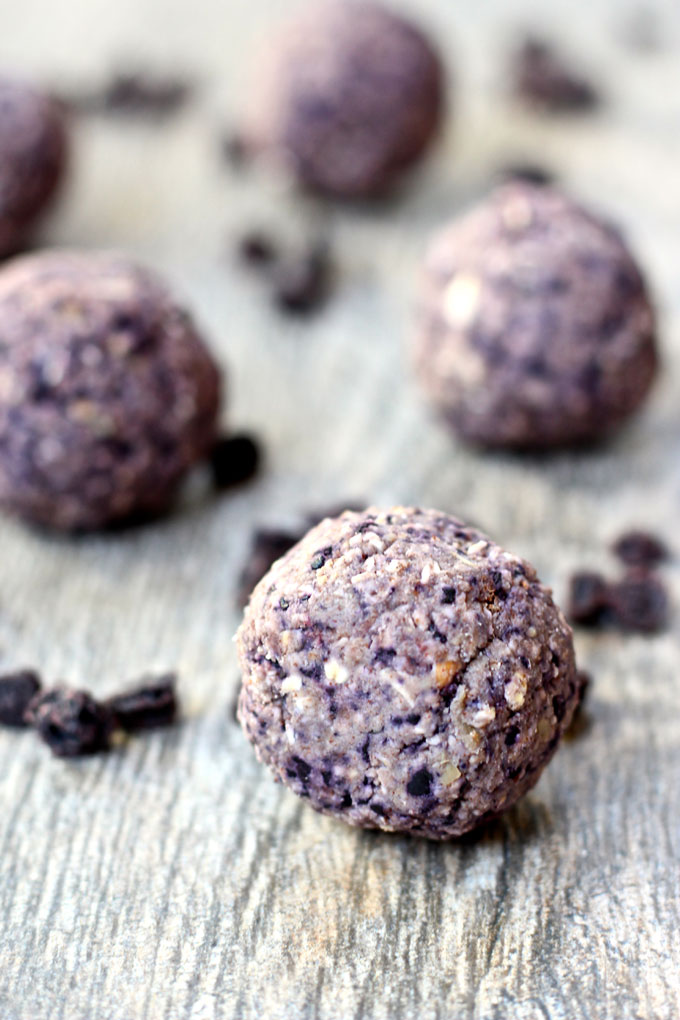 Lemon Blueberry Crumb Mug Cake from Athletic Avocado