Print
How to make:
Vegan California Roll with Avocado Wasabi Sauce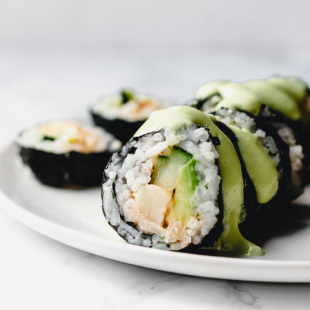 Ingredients
½ cup

short-grain rice

1 tablespoon

rice vinegar

1

14-ounce can hearts of palm, drained

1 tablespoon

vegan mayonnaise

½ teaspoon

low-sodium Old Bay seasoning

3 ¼

sheets nori

¾

ripe, Fresh California Avocado, sliced

½

cucumber, sliced into thin matchsticks
Avocado wasabi sauce:
½

avocado

¼ cup

water (plus more if needed)

1 teaspoon

low-sodium soy sauce

½ teaspoon

wasabi powder, plus more as desired

¼ teaspoon

garlic powder
Salt and pepper, to taste
Instructions
Cook rice according to package directions. When done, add rice vinegar. Stir and set aside.
To a medium bowl, add hearts of palm. Use a knife to slice into small, thin pieces, similar to the texture of lump crab meat. Add mayonnaise and Old Bay; stir. Crumble ¼ sheet nori into the bowl; stir.
Place a sheet of nori onto a sushi mat. Spread out ½ cup rice into an even layer. In a horizontal line towards one end of the nori sheet, place a few spoonfuls of "crab" mix, sliced cucumbers, and ¼ sliced avocado. Roll the sushi tightly, adding a bit of water at the end to help the nori stick to itself and close the roll. Slice into 8-10 pieces.
In a blender, add all sauce ingredients; blend. Add more water if needed to blend.