Say yes to homemade vegan sushi! This Vegan California Roll is easy to make and topped off with a big drizzle of the best avocado wasabi sauce.
This post is sponsored by the California Avocado Commission, but all opinions are my own.
Vegan California Roll with Avocado Wasabi Sauce
You guys, the weather is really starting to warm up and I am seriously California dreamin'. Don't get me wrong, Colorado is beautiful this time of year, but I have beaches and sunshine on the mind big time.
This month, the California Avocado Commission asked me to come up with a recipe that reminds me of the Golden State, and I knew right away what I wanted to make. Hello, Vegan California Rolls!
I already know what you're thinking. "A homemade California roll?! Yeah right, there's no way I can make sushi at home." But I'm here to tell you right now that not only can you do it (I believe in you!), but it's actually pretty easy! I've got a few tricks for you to make your sushi rolling game 💯.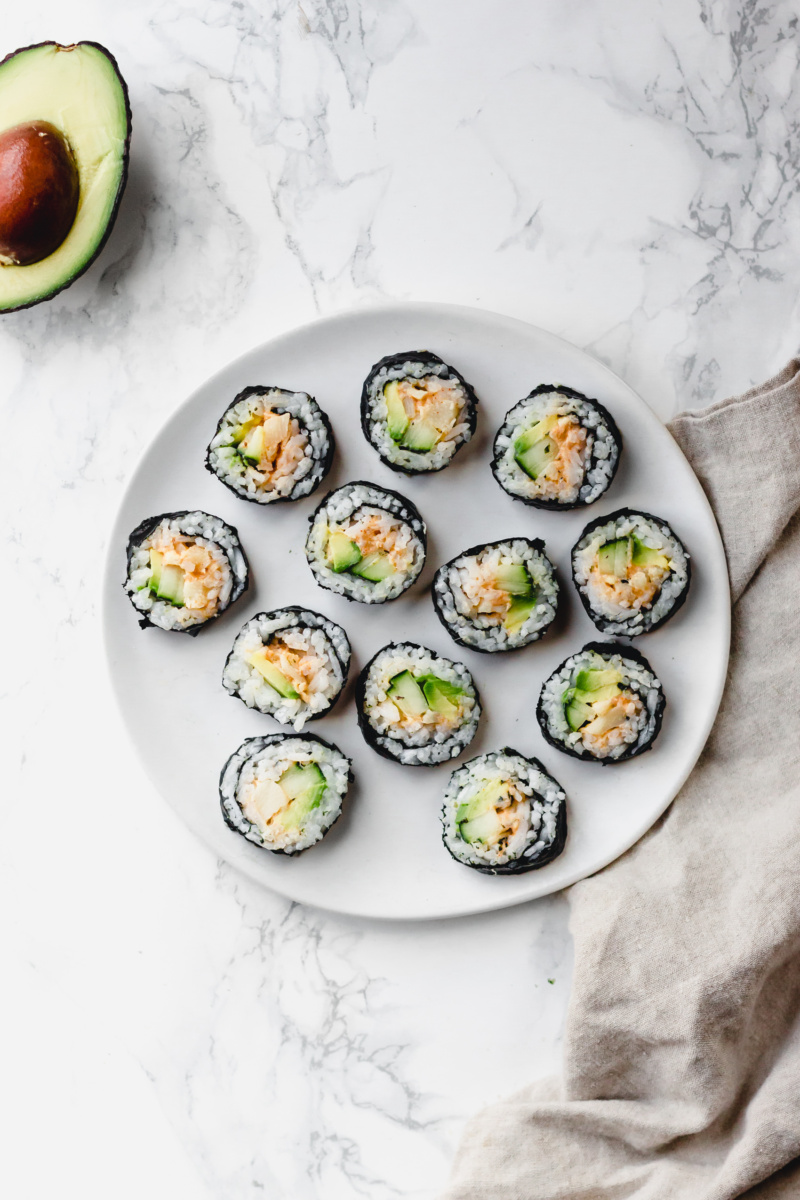 What is in a California Roll?
Traditionally, maki (or the sushi rolls you're probably familiar with) are rolled with the rice inside and the sheet of nori on the outside, but in a California roll the rice stays on the outside of the roll. However, for this recipe, I'm rolling the rice inside because I find it easier. Feel free to make it either way!
In the original version, a California roll is filled with avocado, cucumber and either crab or imitation crab (which is not vegan!). Since of course I will be making a vegan California roll, we're using hearts of palm as our vegan crab.
Hearts of palm is just what it sounds like – it's a vegetable that is harvested from the middle, or heart, of certain palm trees. I know it sounds like a fancy ingredient, but you can find it canned at most grocery stores. It has a pretty mild flavor and the texture is perfect for our crab substitute in our vegan sushi. Plus, hearts of palm are rich with minerals and antioxidants, so paired with the vitamins and healthy unsaturated fats in the ripe, Fresh California Avocados we're using, this quick and easy recipe packs in plenty of nutrients.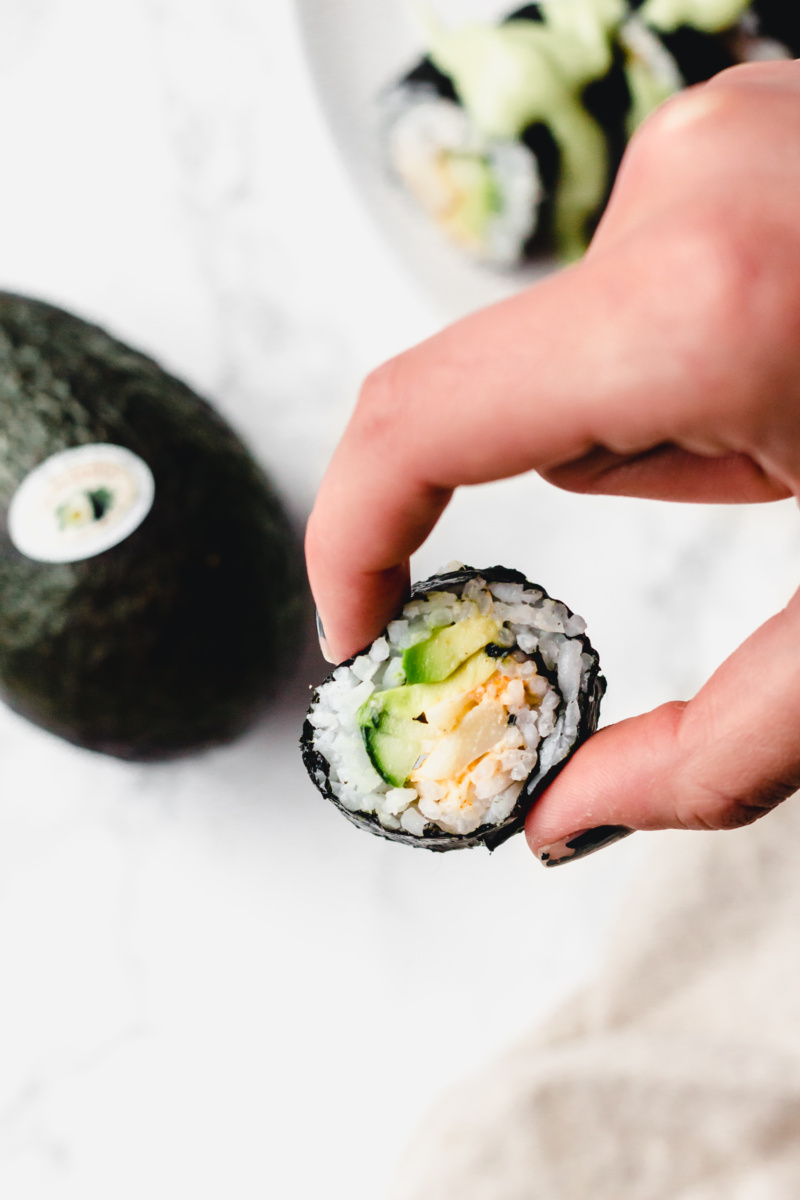 How to Make an Avocado Wasabi Sauce
When I tell you that the avocado wasabi drizzle makes this vegan California roll, I'm not playing around. It's the perfect kick to contrast the fresh veggies, and thanks to the ripe, Fresh California Avocados, it's also super creamy and balanced.
When I opened my box of California Avocados to make this recipe, I knew they'd really make this vegan California roll shine. They're the prettiest shade of green, hands down. If you see California on the label, you know it's gonna be a good one.
To ensure you're enjoying locally grown avocados, be sure to check for California on the label from spring through summer!
Of course, my California Avocados were going to make their way inside the roll, but I knew I had to get that color on top of the California roll as well. I don't know about you guys, but I love the kick that wasabi adds to sushi. The California Avocados add the perfect cool, richness when used in a sauce, so I figured what better way to mellow out the heat from the wasabi than to make a sauce by blending it with the avocados.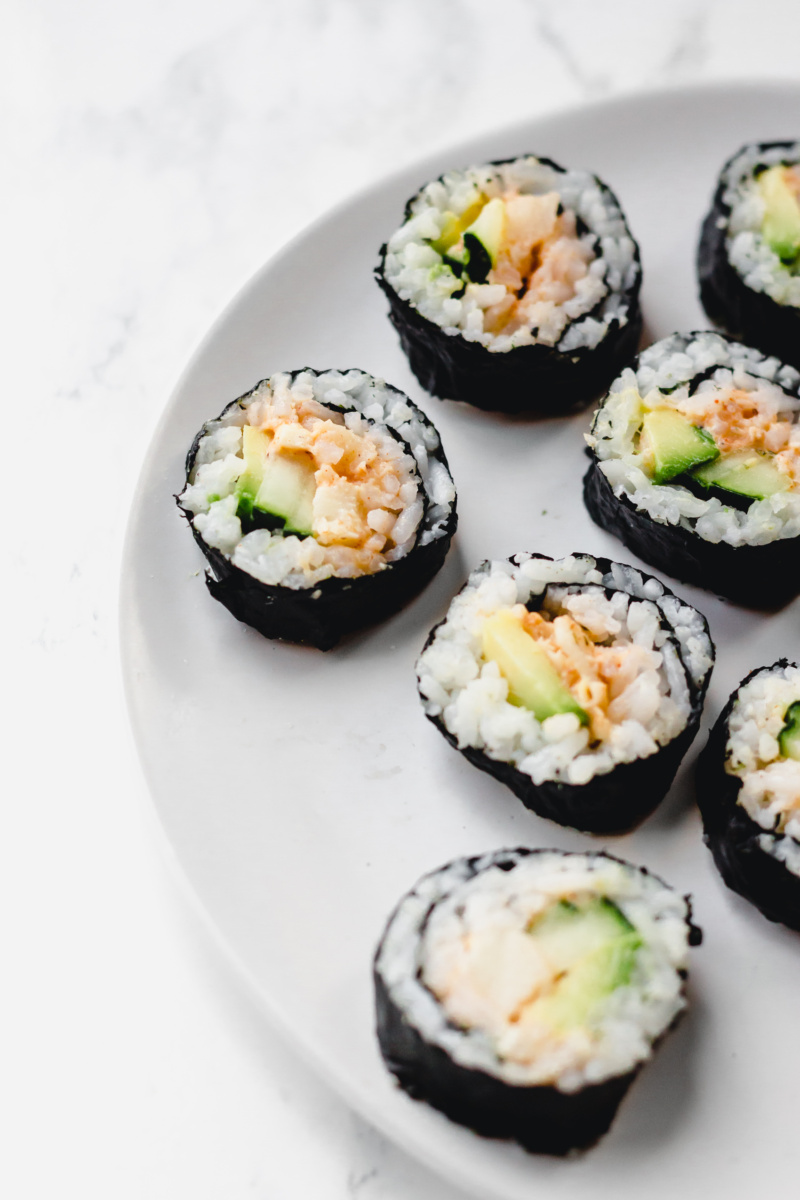 How to Make California Rolls
If you've been put off from trying to make homemade sushi, I promise you'll find it to be easier than you've made it out to be in your head.
Start by laying your nori down first on a sushi mat. Pack the rice on to fill the entire sheet. Add your California Avocado slices, sliced cucumber, and vegan crab to one half of the nori. Start rolling, applying pressure the whole time, until you've reached the end. Give it a good gentle squeeze to make sure it's secure, then remove the mat!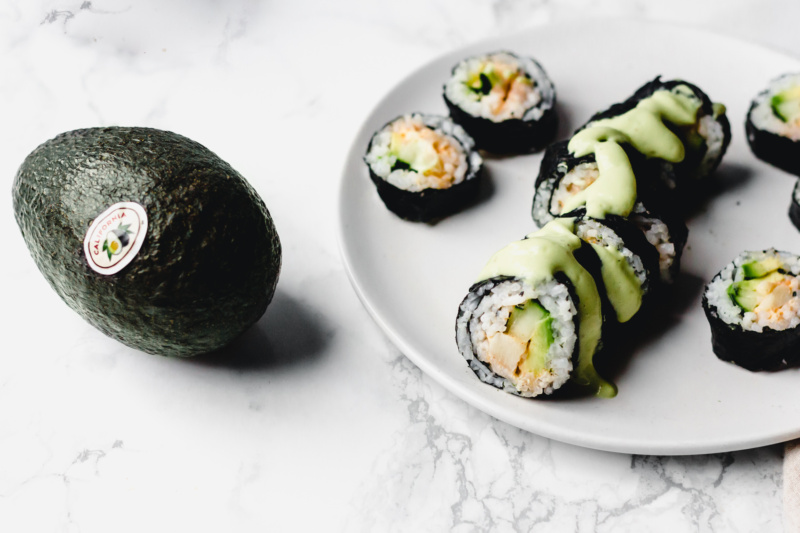 Troubleshooting your Vegan California Rolls
You'll all be sushi rolling pros, so I doubt you'll even need to troubleshoot, but I want you to feel set up for success, so let's chat about some common homemade sushi pitfalls.
Ugh! My sushi is falling apart. I am all for substitutions, but this is one scenario where the long grain rice in your cabinet won't work quite the same. Look for a short grain glutinous rice at the store. Sushi rice is also prepared with sushi vinegar, which you can find at the store or make yourself! Here is a traditional sushi rice recipe.
I don't have a sushi mat at home. No sweat! You can totally use parchment paper or plastic wrap in place of a sushi mat.
I can't cut my sushi without flattening the rolls. Make sure your knife is nice and sharp! Instead of using a sawing motion to cut your sushi, try to apply pressure and pull the knife through the roll in one swift drag.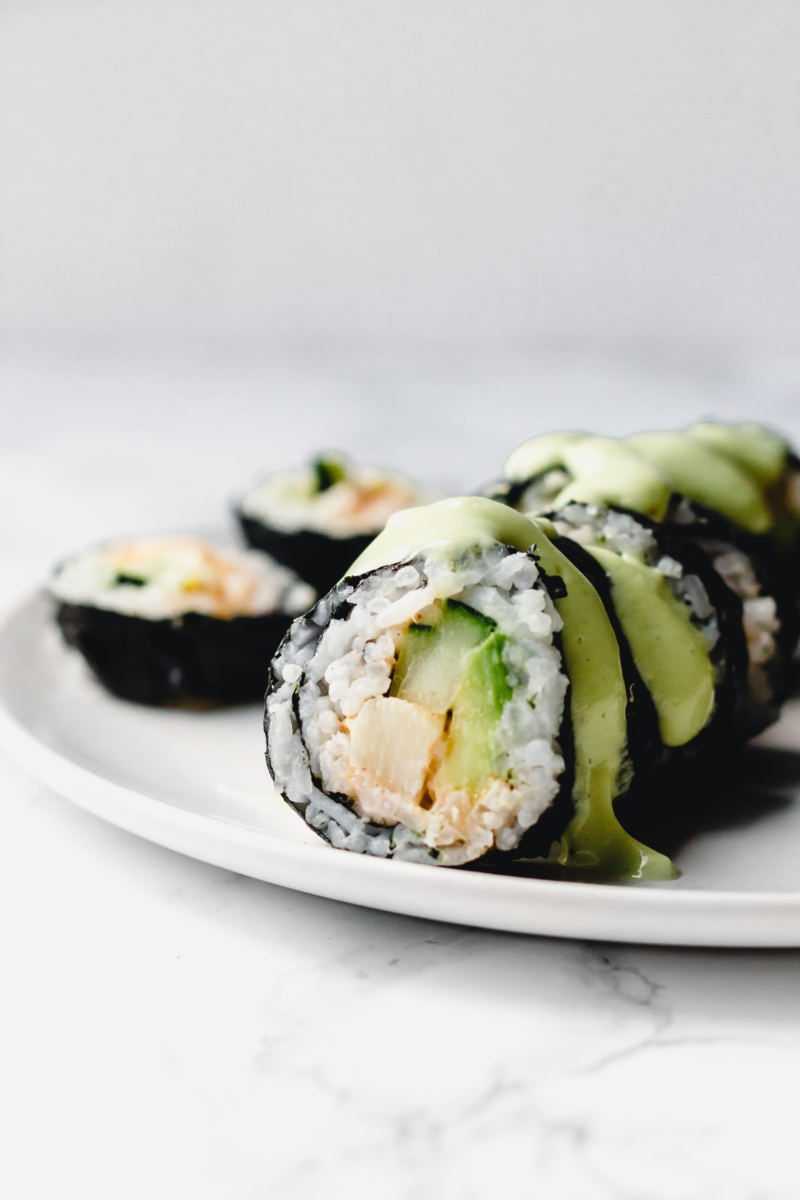 More Vegan Sushi Inspired Recipes
Craving more vegan sushi? Check out these sushi inspired recipes!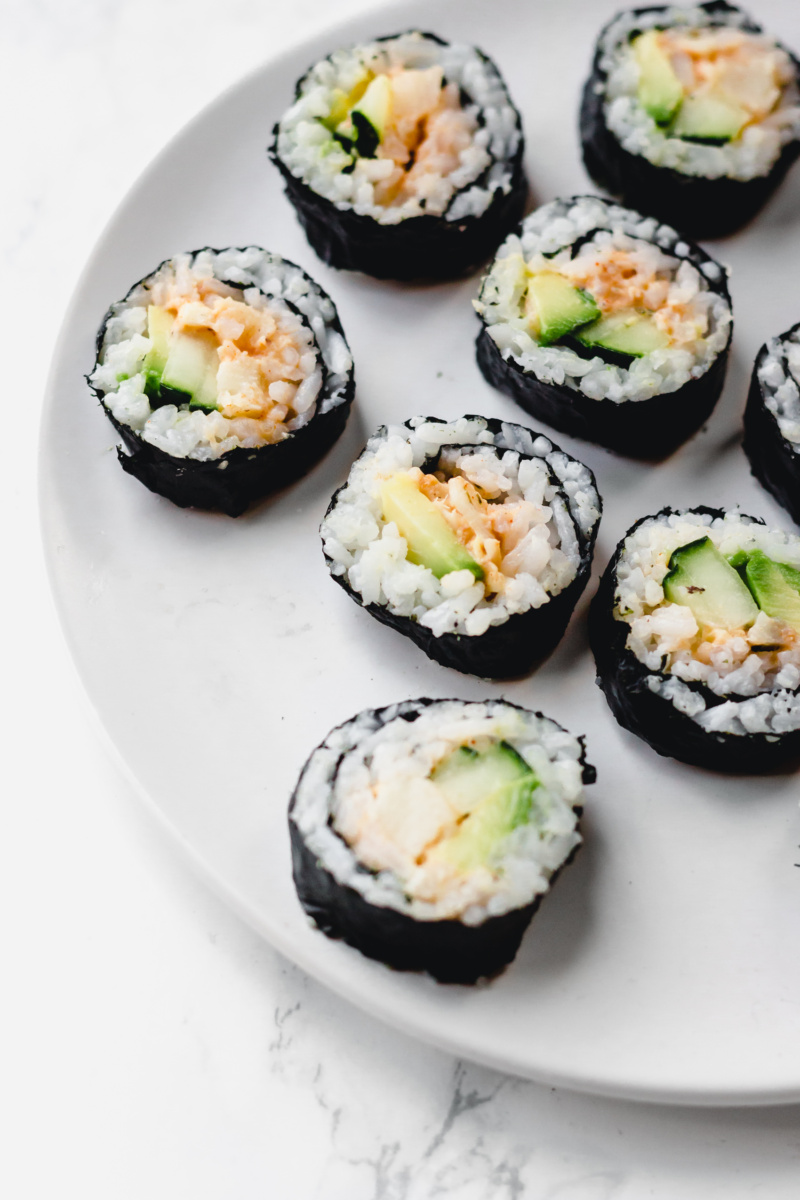 Print
How to make:
Vegan California Roll with Avocado Wasabi Sauce
Say yes to homemade vegan sushi! This Vegan California Roll is easy to make and topped off with a big drizzle of the best avocado wasabi sauce.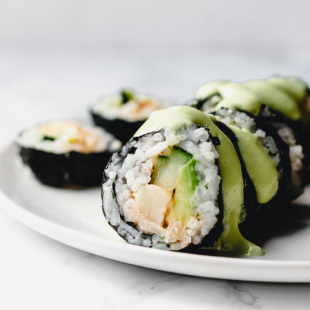 Ingredients
½ cup

short-grain rice

1 tablespoon

rice vinegar

1

14-ounce can hearts of palm, drained

1 tablespoon

vegan mayonnaise

½ teaspoon

low-sodium Old Bay seasoning

3 ¼

sheets nori

¾

ripe, Fresh California Avocado, sliced

½

cucumber, sliced into thin matchsticks
Avocado wasabi sauce:
½

avocado

¼ cup

water (plus more if needed)

1 teaspoon

low-sodium soy sauce

½ teaspoon

wasabi powder, plus more as desired

¼ teaspoon

garlic powder
Salt and pepper, to taste
Instructions
Cook rice according to package directions. When done, add rice vinegar. Stir and set aside.
To a medium bowl, add hearts of palm. Use a knife to slice into small, thin pieces, similar to the texture of lump crab meat. Add mayonnaise and Old Bay; stir. Crumble ¼ sheet nori into the bowl; stir.
Place a sheet of nori onto a sushi mat. Spread out ½ cup rice into an even layer. In a horizontal line towards one end of the nori sheet, place a few spoonfuls of "crab" mix, sliced cucumbers, and ¼ sliced avocado. Roll the sushi tightly, adding a bit of water at the end to help the nori stick to itself and close the roll. Slice into 8-10 pieces.
In a blender, add all sauce ingredients; blend. Add more water if needed to blend.
Thanks to the California Avocado Commission for sponsoring this post! I love working with brands whose products I really love and would honestly recommend. Thank you for your support!