How to make: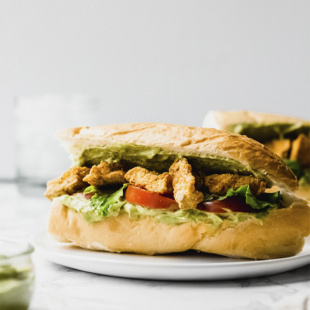 Ingredients
1

14-ounce package extra-firm tofu, drained and pressed*

½ cup

unsweetened non-dairy milk

1/3 cup

all-purpose flour

3 tablespoons

yellow cornmeal

1 tablespoon

corn starch

2 teaspoons

paprika

1 teaspoon

garlic powder

1 teaspoon

onion powder

¾ teaspoon

salt

½ teaspoon

ground thyme

¼ teaspoon

ground black pepper

¼ teaspoon

ground cayenne pepper
Dash of white pepper (optional)

4

French sandwich loaves (or

1

large loaf of French bread, cut into

4

pieces)

1

tomato, thinly sliced

1 cup

lettuce, thinly sliced
For the California Avocado remoulade:
1

ripe, Fresh California Avocado

¼ cup

pickle juice

2

garlic cloves

2

green onions

2 tablespoons

fresh parsley

2 teaspoons

mustard

1 teaspoon

Worcestershire sauce

¼ teaspoon

hot sauce
Dash of white pepper (optional)
Instructions
Preheat oven to 400ºF. Grease a baking sheet with nonstick spray.
Use your hands to break tofu into 1-inch chunks. Place in a shallow bowl. Drizzle milk on top of the tofu. Set aside.
In a medium bowl, add flour, cornmeal, paprika, salt, garlic powder, onion powder, thyme, black pepper, cayenne, and white pepper. Stir to combine.
Dip each tofu chunk into the flour mixture and coat completely. Shake to remove excess flour mixture, then place on the baking sheet. Repeat with all tofu chunks.
Spray tofu generously with oil spray or nonstick spray. Bake for 30-35 minutes, until crispy and browned.
To make the California Avocado remoulade, add all ingredients in a blender or food processor. Blend until smooth.
To assemble each po boy: spread California Avocado remoulade on both halves of the French bread. Place tomato slices and lettuce on the bottom half of the bread. Place tofu on top.
Notes
*Use a tofu press or wrap the tofu in paper towels and place in the sink with a heavy object on top. Press for 10-15 minutes.