This Vegan Po Boy is piled high with crispy tofu, packed full of southern flavor, and slathered with a Cajun remoulade sauce made with California Avocados.
This post is sponsored by the California Avocado Commission, but all opinions are my own.
Vegan Po Boy
When the California Avocado Commission asked me to create a recipe inspired by my heritage, I only had one thought: LET'S MAKE A VEGAN PO BOY!
Po boys have been on my list of Cajun-recipes-to-veganize. Since y'all love the Cajun recipes here (see vegan red beans and rice, vegan chicken and sausage gumbo, and vegan jambalaya), I thought you'd enjoy this recipe, too.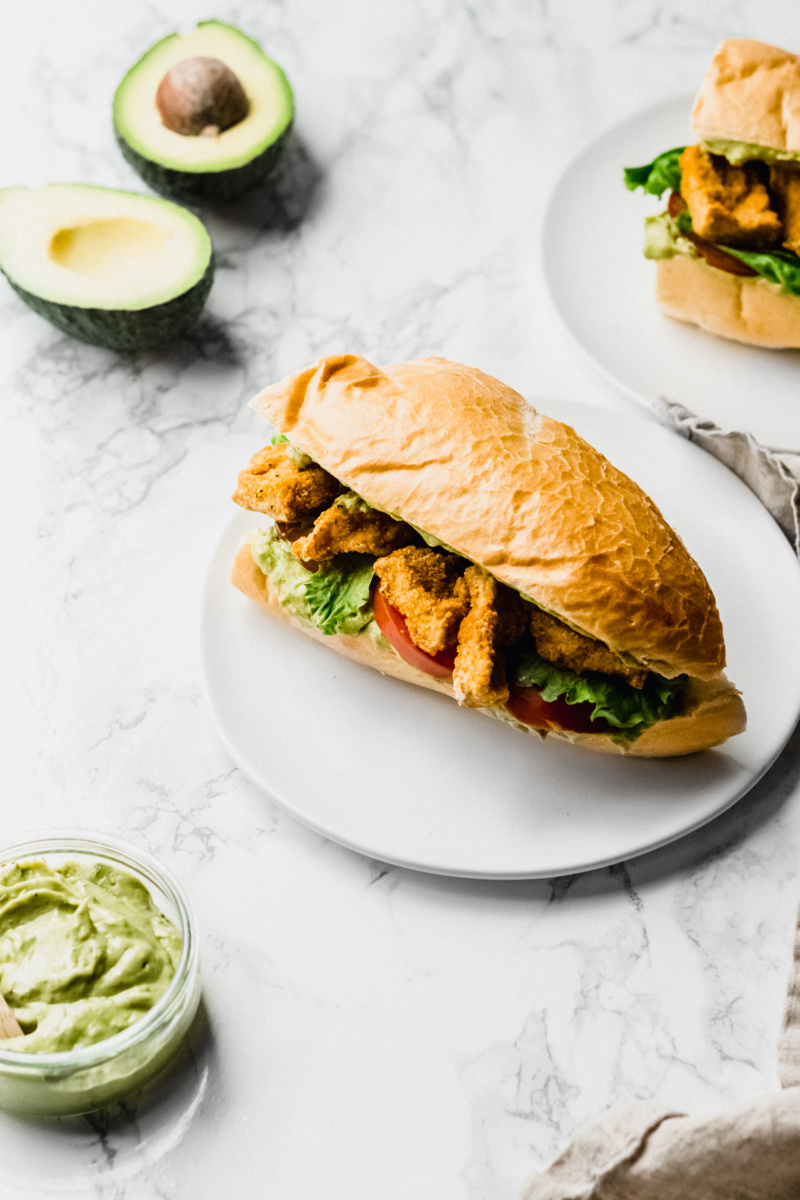 What is a Po Boy?
A po boy is a sandwich native to Louisiana that traditionally contains fried seafood or meat on fluffy New Orleans French bread with remoulade sauce, tomatoes, and iceberg lettuce. The sandwich originated in New Orleans but is popular all across the state—I grew up loving them.
The vegan po boy I'm sharing with you today just has a few tweaks from the original version! We're still using fluffy French bread (because, hello… bread), lettuce, and tomatoes. We're making our own remoulade sauce with a base of ripe, Fresh California Avocados AND we're making crispy baked tofu as our "fried meat."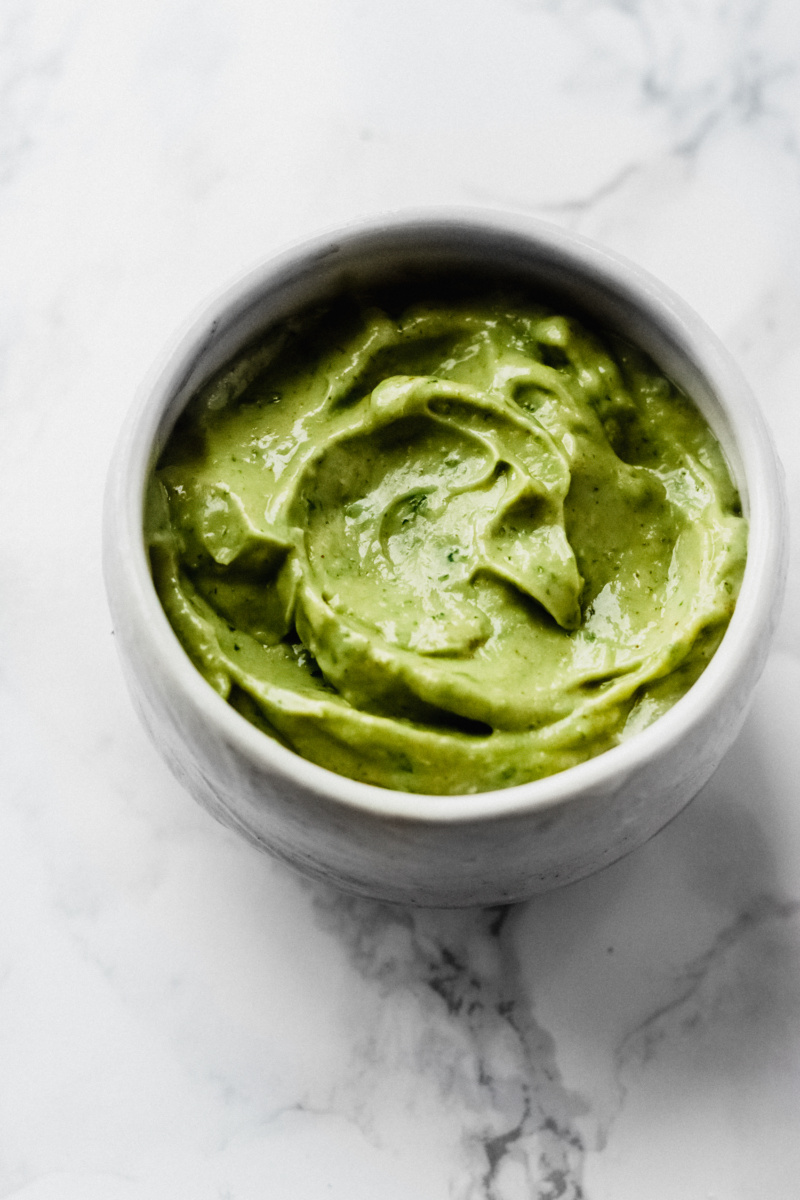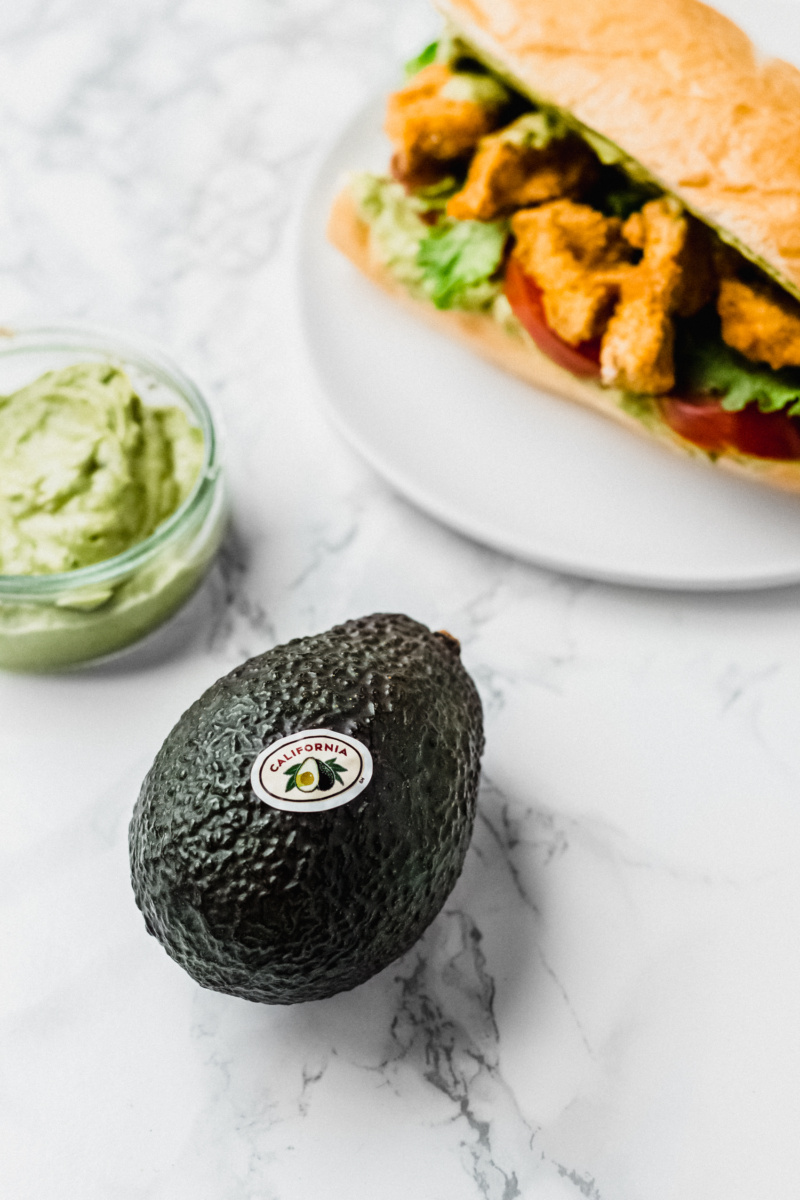 How to Make Cajun Remoulade Sauce
Typically, the base of remoulade sauce is mayonnaise, but today we're using ripe, Fresh California Avocados in this vegan po boy recipe! Ripe, Fresh California Avocados, full of healthy unsaturated fats, provide the creamiest base for this remoulade sauce recipe.
To ensure you're enjoying locally grown avocados, be sure to check for California on the label from spring through summer! Don't be fooled by the long-ish ingredient list for the remoulade sauce. I promise they are mostly ingredients you already have, like Worcestershire, garlic, pickle juice, and mustard, plus some fresh herbs. It's a sauce that's honestly good on any sandwich.
Add all your remoulade sauce ingredients to a blender, then blend until smooth. That's it!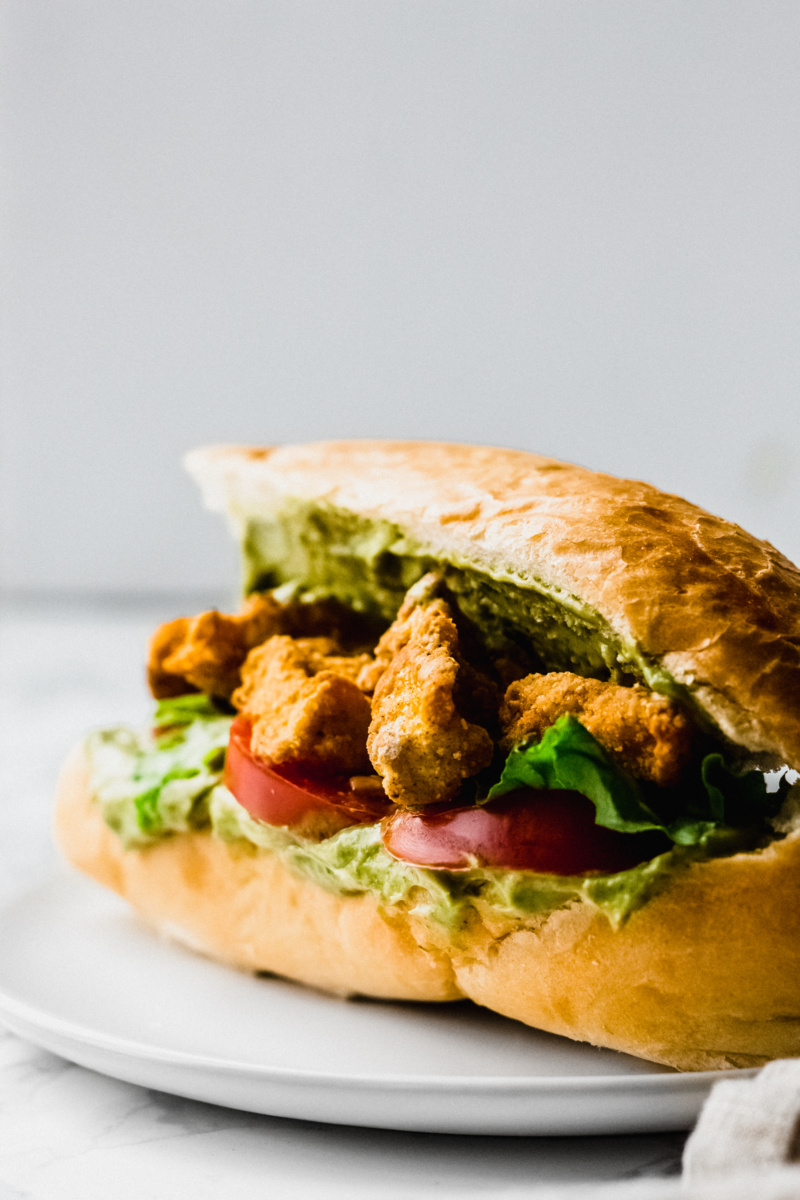 How to Make Crispy Baked Tofu
First off, you could totally make deep fried tofu for this recipe if you wanted a really authentic vegan po boy. However, I find that making baked tofu is an easier process—just stick it in the oven and you're good!
First, you'll want to press your tofu so it's really firm and has a meatier texture. Then, you'll want to make your flour mixture—flour, cornmeal, starch, and spices. Right before you dredge your tofu chunks in the flour mixture, you'll want to coat them in non-dairy milk so the flour mixture sticks.
Finally, you'll coat the tofu chunks very well using nonstick spray or oil spray. This helps create really crispy baked tofu!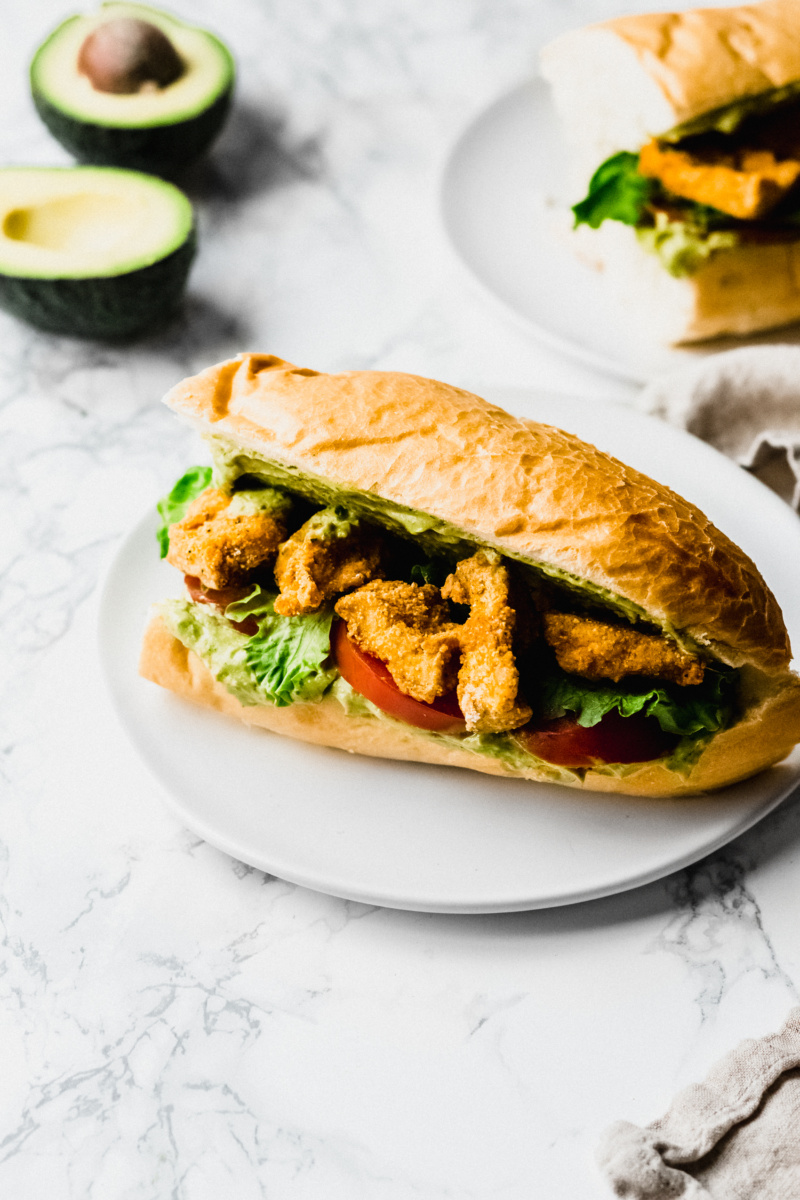 Print
How to make:
Vegan Po Boy
This Vegan Po Boy is piled high with crispy tofu, packed full of southern flavor, and slathered with a Cajun remoulade sauce made with California Avocados.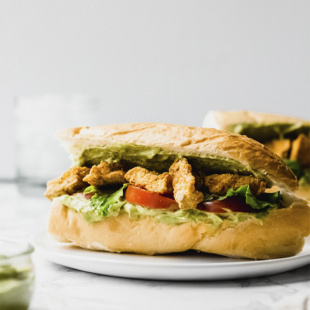 Ingredients
1

14-ounce package extra-firm tofu, drained and pressed*

½ cup

unsweetened non-dairy milk

1/3 cup

all-purpose flour

3 tablespoons

yellow cornmeal

1 tablespoon

corn starch

2 teaspoons

paprika

1 teaspoon

garlic powder

1 teaspoon

onion powder

¾ teaspoon

salt

½ teaspoon

ground thyme

¼ teaspoon

ground black pepper

¼ teaspoon

ground cayenne pepper
Dash of white pepper (optional)

4

French sandwich loaves (or

1

large loaf of French bread, cut into

4

pieces)

1

tomato, thinly sliced

1 cup

lettuce, thinly sliced
For the California Avocado remoulade:
1

ripe, Fresh California Avocado

¼ cup

pickle juice

2

garlic cloves

2

green onions

2 tablespoons

fresh parsley

2 teaspoons

mustard

1 teaspoon

Worcestershire sauce

¼ teaspoon

hot sauce
Dash of white pepper (optional)
Instructions
Preheat oven to 400ºF. Grease a baking sheet with nonstick spray.
Use your hands to break tofu into 1-inch chunks. Place in a shallow bowl. Drizzle milk on top of the tofu. Set aside.
In a medium bowl, add flour, cornmeal, paprika, salt, garlic powder, onion powder, thyme, black pepper, cayenne, and white pepper. Stir to combine.
Dip each tofu chunk into the flour mixture and coat completely. Shake to remove excess flour mixture, then place on the baking sheet. Repeat with all tofu chunks.
Spray tofu generously with oil spray or nonstick spray. Bake for 30-35 minutes, until crispy and browned.
To make the California Avocado remoulade, add all ingredients in a blender or food processor. Blend until smooth.
To assemble each po boy: spread California Avocado remoulade on both halves of the French bread. Place tomato slices and lettuce on the bottom half of the bread. Place tofu on top.
Notes
*Use a tofu press or wrap the tofu in paper towels and place in the sink with a heavy object on top. Press for 10-15 minutes.
Thanks to the California Avocado Commission for sponsoring this post! I love working with brands whose products I really love and would honestly recommend. Thank you for your support!