How to make:
Vegan Chickpea Pot Pie with Biscuit Topping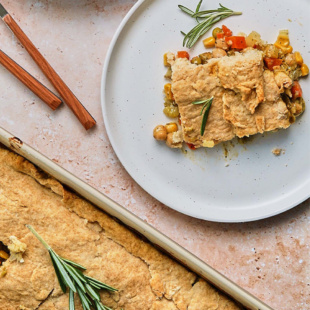 Ingredients
For the filling:
1

yellow onion, diced

1

medium carrot, diced

2

celery ribs, diced

1

medium white or gold potato, chopped into

1/2

-inch pieces

3

garlic cloves, minced

1

15-ounce can chickpeas, drained and rinsed

1/2 cup

corn, fresh or frozen

1/2 cup

green peas, fresh or frozen

1 1/2 cups

vegetable broth

2 tablespoons

flour (whole wheat or all-purpose)

2 tablespoons

tapioca starch (or arrowroot starch)

1 tablespoon

nutritional yeast

2 teaspoons

Italian seasoning

1/2 teaspoon

salt

1/2 teaspoon

pepper
For the biscuit topping:
2 cups

unbleached all-purpose flour

1/2 teaspoon

salt

1 tablespoon

baking powder

1/2 cup

dairy-free butter (I use Earth Balance)

1/2 cup

ice cold water
Fresh rosemary, for garnish
Instructions
Preheat oven to 425F.
In a medium skillet, warm a little oil or grease the pan with cooking spray. Add onion; cook for 5-7 minutes, until onions begin to brown. Add carrots, celery, and potato; cook for 8-10 minutes, until the vegetable are semi-tender. Add garlic; cook for 1 minute until fragrant. Add chickpeas, corn and green peas; cook until heated through, if vegetables are frozen.
Add broth, flour, tapioca starch, nutritional yeast, Italian seasoning, salt and pepper. Cook for 10 minutes, stirring frequently, until the mixture thickens.
In a large casserole baking dish or cast iron pan, add the chickpea and vegetable filling.
In a large bowl, add flour, baking powder and salt; stir to combine. Add butter. Using a pastry blender or fork, cut the butter into the flour until it is in small pieces. It should look like coarse, wet sand. Slowly pour in the water, stirring with a wooden spoon, until a dough forms.
Dump the dough onto a floured surface; knead a few times to get a smooth dough. Using a rolling pin, roll the dough into a rectangle the shape and size of your baking dish. Carefully place the dough on top of the filling in the baking dish.
Bake for 30-35 minutes, until the filling is bubbling and the biscuit topping is golden and crispy.
Serve with fresh rosemary as a garnish.