This Vegan Pot Pie will be a hit with everyone at the dinner table! It's full of chickpeas and vegetables with a fluffy biscuit topping. Made with plants!
Anything with a fluffy, buttery biscuit on top is a winner in my book. Just look at the fluffiness!!!
I'm getting ahead of myself here. I apologize. Let's start from the beginning!
I've had "Vegan Pot Pie" written in my endless list of recipe ideas since fall 2016. It was one of those recipes I reeeeally wanted to make, but life happened and I missed my opportunity to experience the deliciousness. I was also still working through my fear of white flour and vegan butter. But now I accept that those foods have a place in our diets every now and then to comfort our souls 😋. Hooray for food freedom!
This year I was determined to make a vegan pot pie that was equally as delicious as all the pot pies I ate when I was younger. Homemade and those frozen pot pies. I vividly remember my routine of grabbing a frozen individual chicken pot pie once a week to watch The Biggest Loser.
Oh myyyyy, have we come a long way since then!
I have two things to say about that. One, this vegan pot pie is way better because no animals were harmed🐔 and it's just more tasty. Two, I watch waaaaay better TV than The Biggest Loser nowadays. It was a phase.
It all starts with the filling! I stuffed this vegan pot pie with allllll the vegetables: onions, carrots, celery, potatoes, corn and green peas. Feel free to add mushrooms or green peas to the mix! The recipe is pretty forgiving, so you can use any vegetables you have on hand. Instead of chicken, we're using chickpeas! They're a great source of fiber and plant protein. Basically magical beans🌟 .
Let's talk about the biscuit topping situation. I didn't want to go the crust route because crusts are kind of finicky to make and boring to eat. Doesn't a buttery, fluffy AF biscuit sound so much better?! I thought so, too.
That's all there is to it! Loaded vegetable filling and soft, pillowy biscuit topping. The best couple since Britney and Justin; don't argue with me on that one.
I hope you make this vegan pot pie for all of your loved ones, plant-eaters and carnivores alike, and watch their eyes widen when they take a bite of this deliciousness! Let me know if you cook it – I always love to hear about your kitchen adventures.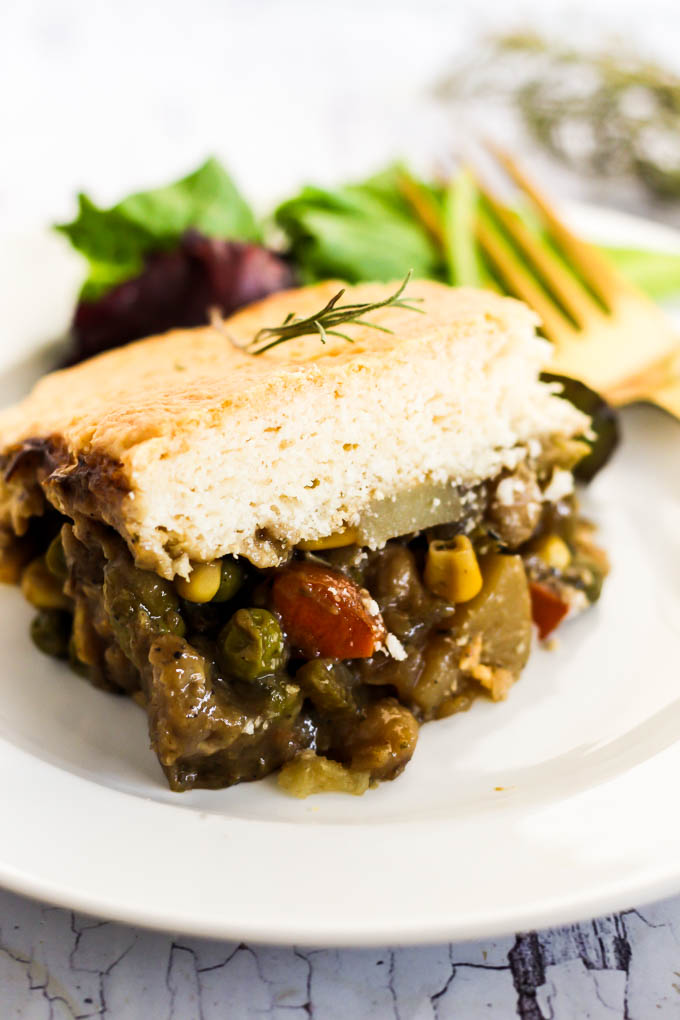 Print
How to make:
Vegan Pot Pie with Chickpeas
This Vegan Pot Pie will be a hit with everyone at the dinner table! It's full of chickpeas and vegetables with a fluffy biscuit topping. Made from plants!
Ingredients
For the filling:

1

yellow onion, diced

1

medium carrot, diced

2

celery stalks, diced

1

medium white or gold potato, chopped into

1/2

-inch pieces

3

garlic cloves, minced

1

15-ounce can chickpeas, drained and rinsed

1/2 cup

corn, fresh or frozen

1/2 cup

green peas, fresh or frozen

1 1/2 cups

vegetable broth

2 tablespoons

flour (whole wheat or all-purpose)

2 tablespoons

tapioca starch (or arrowroot starch)

1 tablespoon

nutritional yeast

2 teaspoons

Italian seasoning

1/2 teaspoon

salt

1/2 teaspoon

pepper
For the biscuit topping:

2 cups

unbleached all-purpose flour

1 tablespoon

baking powder

1/2 teaspoon

salt

1/2 cup

dairy-free butter (I use Earth Balance)

1/2 cup

ice cold water
Fresh rosemary, for garnish
Instructions
Preheat oven to 425F.
In a medium skillet, warm a little oil or grease the pan with cooking spray. Add onion; cook for 5-7 minutes, until onions begin to brown. Add carrots, celery, and potato; cook for 8-10 minutes, until the vegetable are semi-tender. Add garlic; cook for 1 minute until fragrant. Add chickpeas, corn and green peas; cook until heated through, if vegetables are frozen.
Add broth, flour, tapioca starch, nutritional yeast, Italian seasoning, salt and pepper. Cook for 10 minutes, stirring frequently, until the mixture thickens.
In a large casserole baking dish or cast iron pan, add the chickpea and vegetable filling.
In a large bowl, add flour, baking powder and salt; stir to combine. Add butter. Using a pastry blender or fork, cut the butter into the flour until it is in small pieces. It should look like coarse, wet sand. Slowly pour in the water, stirring with a wooden spoon, until a dough forms.
Dump the dough onto a floured surface; knead a few times to get a smooth dough. Using a rolling pin, roll the dough into a rectangle the shape and size of your baking dish. Carefully place the dough on top of the filling in the baking dish.
Bake for 30-35 minutes, until the filling is bubbling and the biscuit topping is golden and crispy.
Serve with fresh rosemary as a garnish.