Today I'm starting my apartment makeover reveal with my bedroom! From basic beige to bright and full of plants, this room inspires me when I wake up and go to sleep. In partnership with Article! ❤️
It's done, it's done!!! I have been working nonstop since I stepped into my new apartment on August 2nd to make it the bright, beautiful home I envisioned.
In case you don't know: last month I moved from Louisiana (my home for 21 years!) to Fort Collins, Colorado, to earn my master's degree in nutrition to become a registered dietitian. Right now my plan is to stay in Colorado after I graduate, but plans change! I'm just enjoying the mountains and farmer's markets and everything the state has to offer.
Anyway, onto the reason you came here: THE APARTMENT MAKEOVER! This was such a fun process for me as I love DIYs and home design.
Since I'll probably be in this apartment for at least three years, I wanted to take the time to make it a space I really loved. Plus, I work from home and do most of my homework at home, so I want to be in a space that inspires and uplifts me.
Next week I'm sharing the whole apartment makeover, but for right now, we're focusing on my beautiful bedroom I decorated in partnership with Article.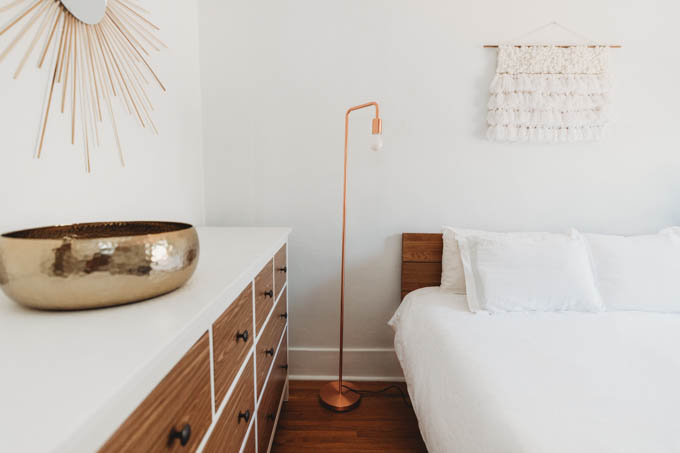 Article is an online furniture company that delivers high-quality, modern, BEAUTIFUL furniture right to your door. Their prices are lower than typical retailers since they eliminate the middle men. Plus, their flat shipping rate is only $49 for even the largest orders!
One of the best parts about ordering from Article is their 30-day satisfaction guarantee. Not happy with how the furniture looks in your home? No problem, they'll pick it up and refund you.
Below is a before picture of the bedroom! A pretty standard room with beige walls → a bright, inspiring space. 🌿🌿🌿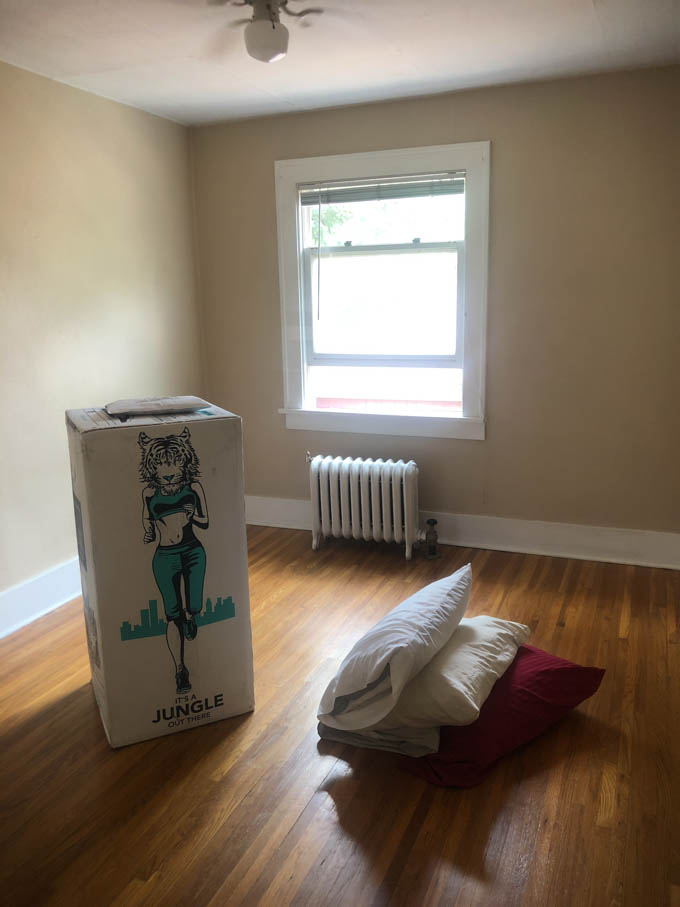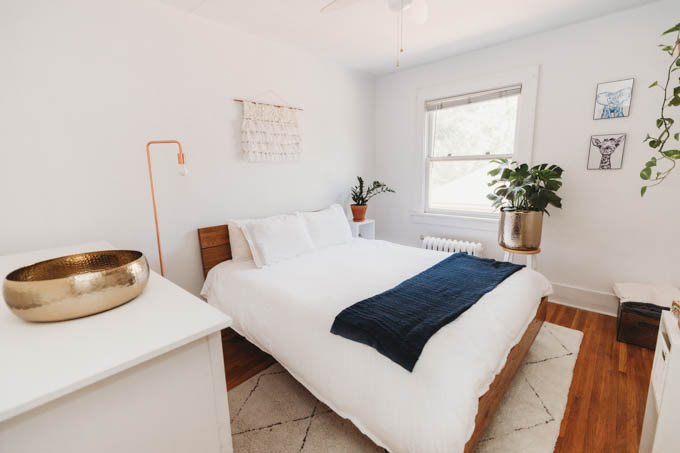 My bedroom is pretty small, but I don't think you need that much room anyway—I mean, you pretty much just sleep in there!
There's only one window, so to give the illusion of a brighter room, we painted the walls white and replaced the orange-y lightbulb (I HATE those) with a daylight bulb.
One of my favorite elements of the entire bedroom is the Taiga Oak Queen Bed frame. It was fairly easy to put together (with another person) and is insanely sturdy. I know this bed frame will last forever, and the simplicity and natural finish should match any decor as my style changes in the future.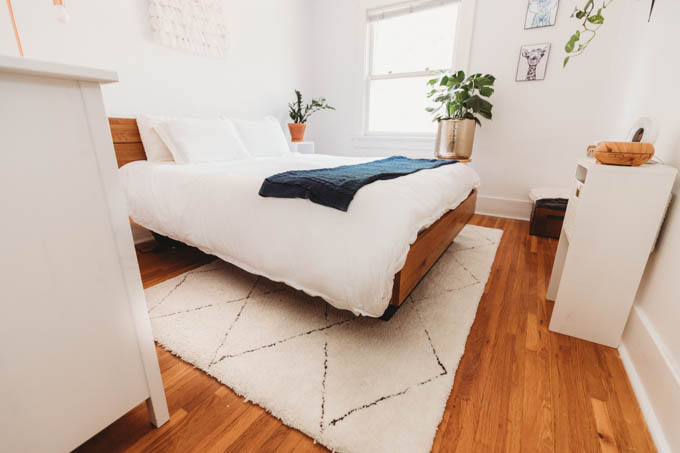 Of course I had to fill the room with as many plants as possible. I originally had the idea to do a plant shelf above my headboard, but the wall didn't have traditional studs; it's a 100-year old building, so who knows what they used to build it. In hindsight, it's probably a good idea that the plant shelf isn't right above my head while I'm sleeping! Now I can fall asleep and wake up to a beautiful array of greenery across from me.
The shelf is just a wooden board from the hardware store that I stained, supported by L-brackets. Easy!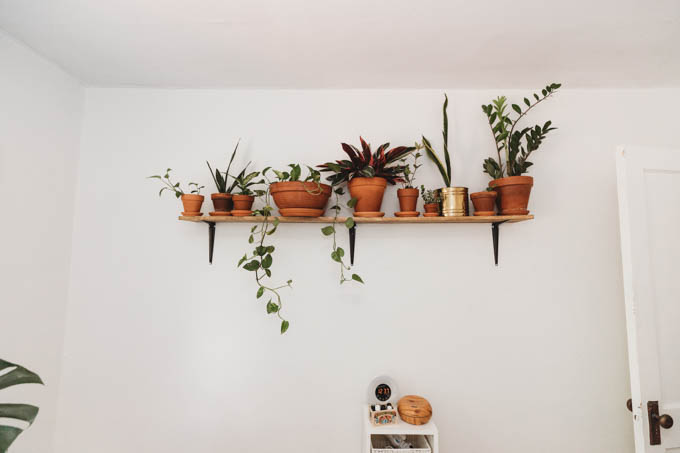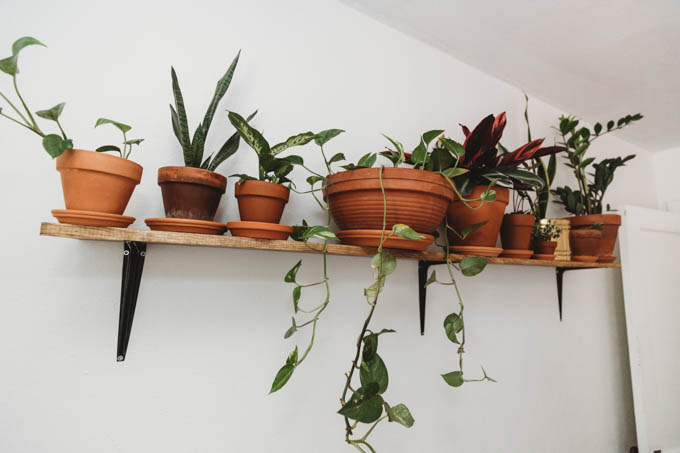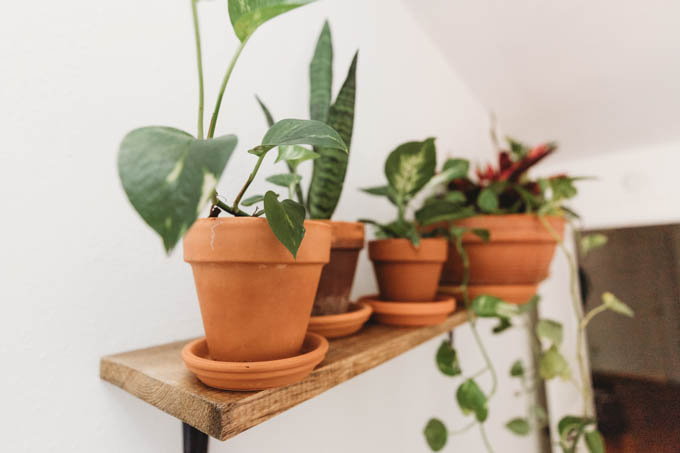 Since the light is limited coming from the single north-facing window, I have low-maintenance plants with low light requirements on the plant shelf: pothos, snake plant (mother-in-law's tongue, ZZ plant, and calathea. These are also all toxic to cats except for calathea, so I'm able to keep them away from Leo on the high shelf.
I have a Monstera deliciosa close to the window since it requires a bit more light. It's planted in a plastic pot, which is sitting in one of the stunning gold pots from the Myria Small Pot Set from Article. It's sitting on a thrifted stool so Leo can't get to it!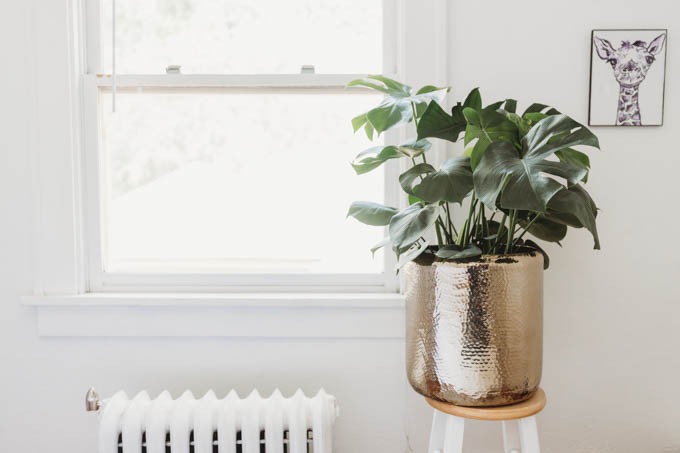 I brought the dresser from my old apartment in Louisiana because I'm too attached to it, LOL. I got the all-white dresser on Craigslist, then covered the front of the drawers with wood contact paper. You'll see in my full apartment makeover post how obsessed I am with contact paper…
Above the dresser I have a DIY starburst mirror! It was a really easy project—you just need a mirror from the craft store, small wooden dowels of different lengths, and a hot glue gun.
On the dresser I have this Myria Gold Bowl for random things: headphones, chargers, pens, etc.  Maybe one day I'll make it a succulent garden!
I have this Beacon Copper Floor Lamp next to the bed, which has an orange-y bulb for when I don't want the daylight bulbs on at night. I think I might get the same lamp in gold for the bedroom and move the copper one to the living room!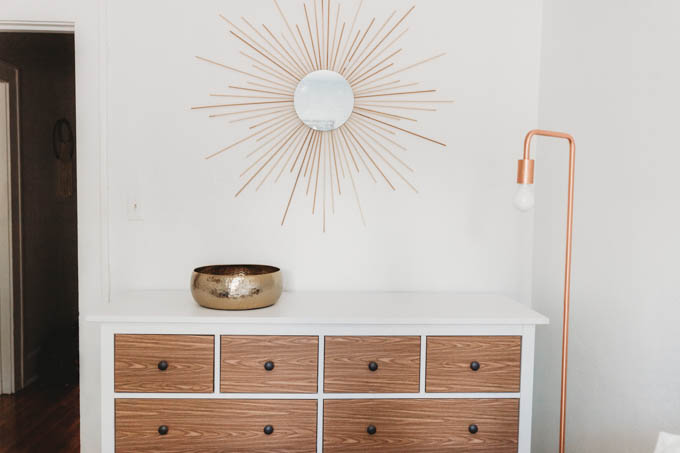 Last but not least are these DIY end tables I made last year! One is by my bed with a ZZ plant and a picture of me and Cayden. ❤️ Yes, ZZ plants are toxic to cats, and this one is very accessible to Leo. But he ignores this one—he prefers stringy plants.
The other end table is across from the bed next to the only outlet in the bedroom (old building probz). It works out because I'm forced to pick my phone up when I get in bed! The table houses all my chargers, my essential oils and diffuser, and my sunrise alarm clock.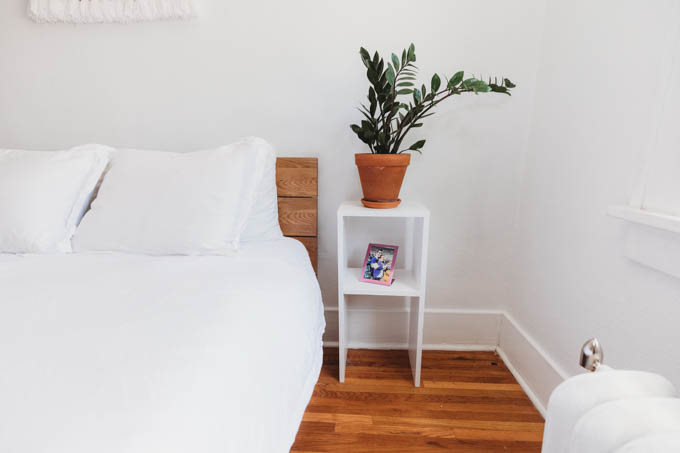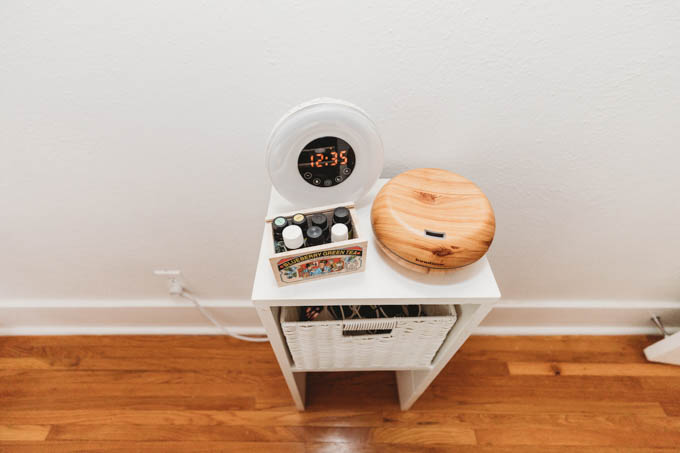 This room makes me feel peaceful and restful, which is exactly what you want in a bedroom! I absolutely love the way it turned out. I think eventually I'll switch out the rug for something more colorful. But if I've learned anything about decorating: it's a marathon, not a sprint!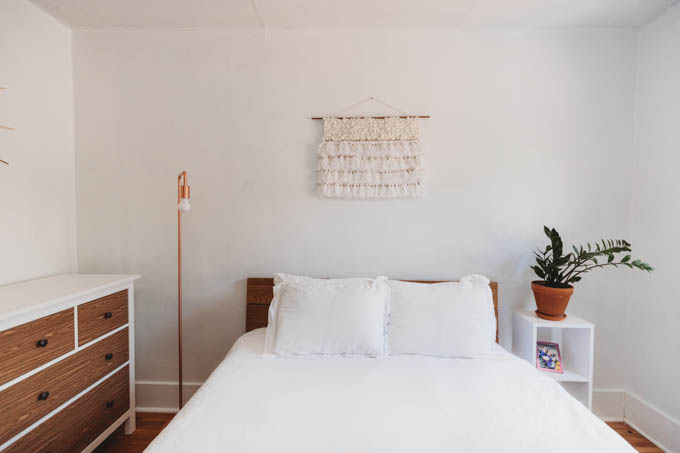 Thanks to Article for sponsoring this post! I love working with brands whose products I really love and would honestly recommend. Thank you for supporting this blog that I love oh-so-much!
Photos by Wild Bliss Photography.