These Cajun-Style Vegan Red Beans and Rice are a healthy version of the traditional Louisiana dish, but are still just as satisfying and flavorful!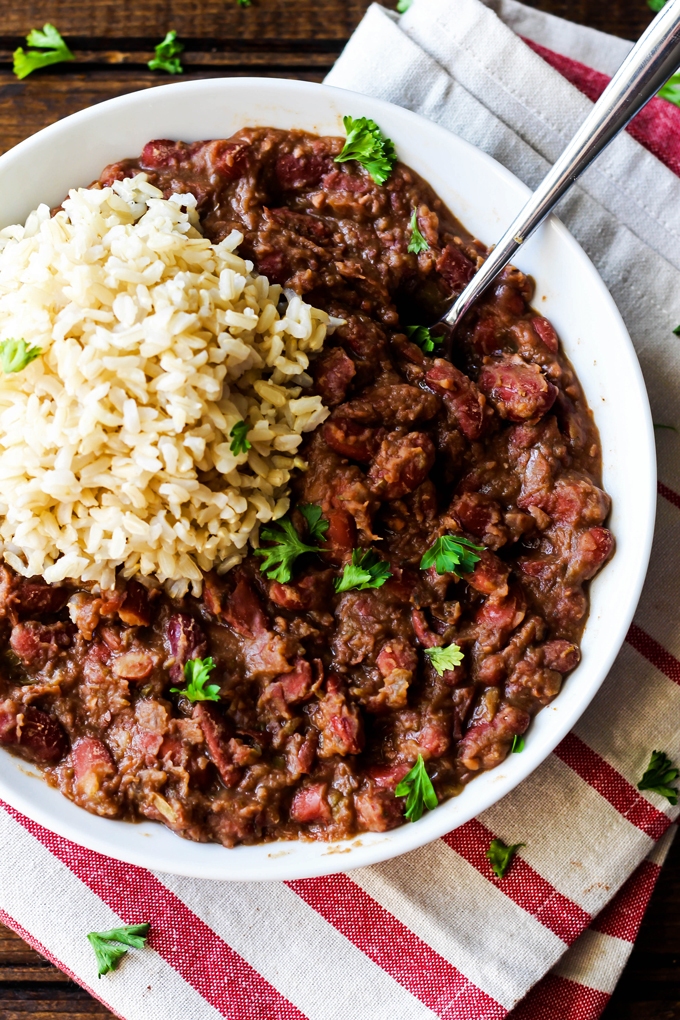 Cajun-Style Vegan Red Beans and Rice
If there's one thing Louisianians can agree on, it's that we love food. You can see this deep love reflected unquestionably in the way that literally every single event we have revolves around food. Wedding? Buffet time. Mardi Gras? By all means, let's eat all the king cake we can stuff in our faces. Just ran a 5K downtown? No worries, there's surely lots of beer and fried food waiting for you at the finish line.
If you've ever visited New Orleans or somewhere else down here in the deep South, then you certainly already know all this. Your Southern friend or host probably made you a huge feast when you visited, and the highlights of your trip were without a doubt all the delicious restaurants you visited. There ain't no going hungry here.
I know I always talk about wanting to move away after graduation, but in reality I will always hold my home state of Louisiana close to my heart. We love to love, and we love hard. Everyone is family. We turn everything into party (see: Mardi Gras). But most importantly, we show love with our food. And hot damn, do we know how to cook.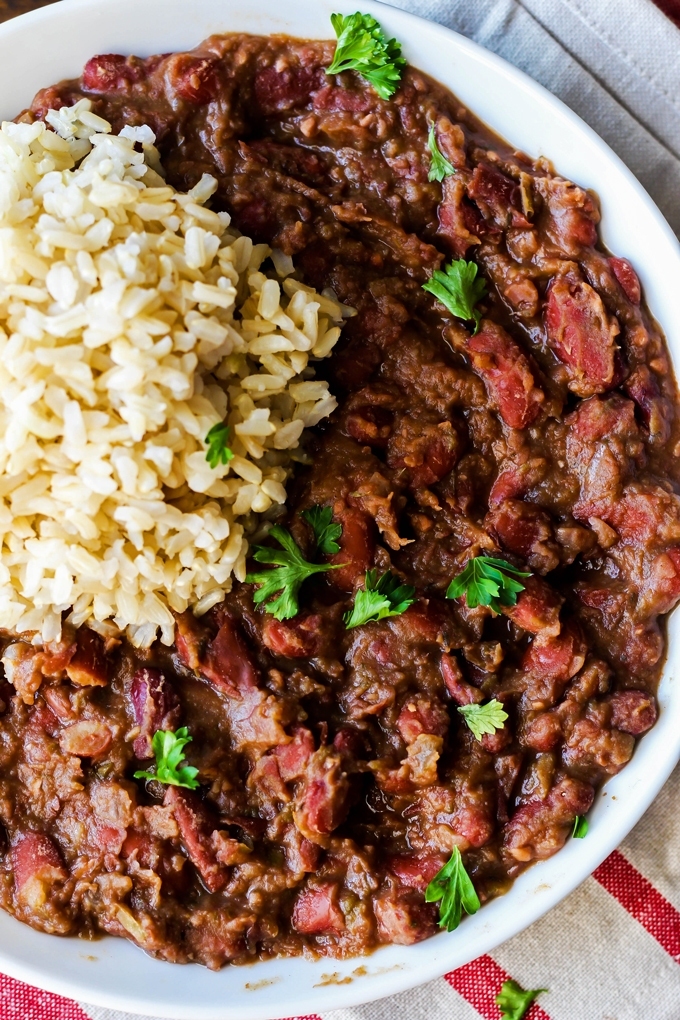 Hands down, the food down here is some of the best in the world. Not just at your fancy restaurants, but in family homes across the state, where home-cooking is still respected and well-loved. There are lots of vegetable gardens and people making their recipes from scratch.
Of course, when you think of classic Southern food, it's not healthy. Fried fish, chicken and potatoes (basically fried everything), creamy soups and étouffée, meat and seafood in everything. Vegetables are usually soaked in grease. Not the most health-conscious-foodie-friendly cuisine, let alone vegan-friendly. That's a whole other ball game.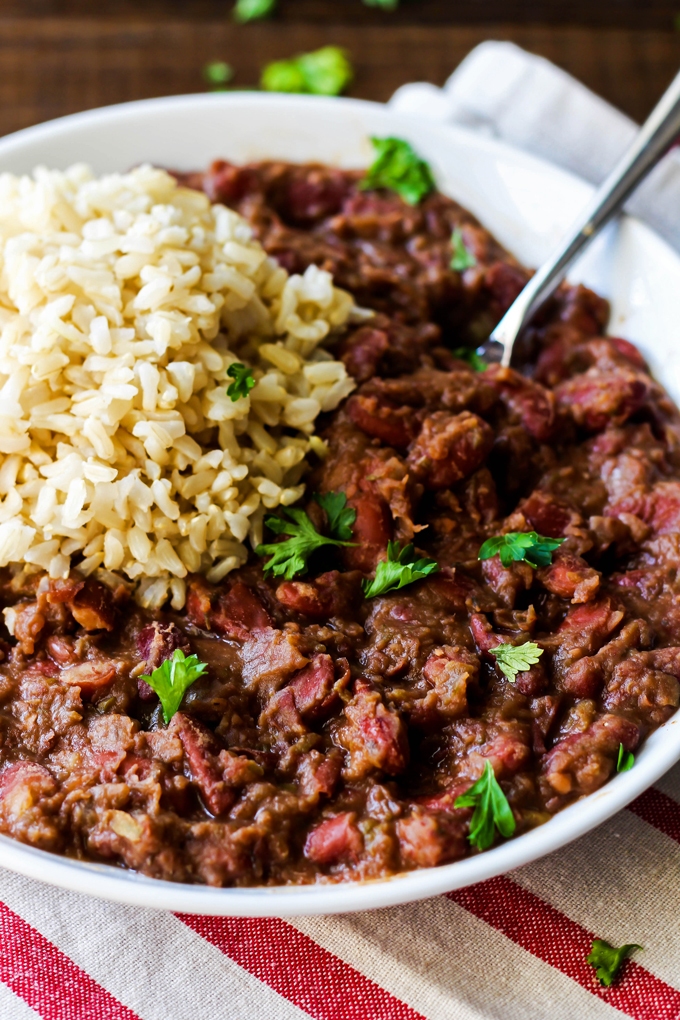 Make Healthier Classic Cajun Recipes without Sacrificing Flavor 
I have found a way to still enjoy the dishes I grew up on! Yes, it is possible to healthify and veganize these meaty, cheesy, downright artery-clogging dishes. After all, I truly believe the magic is in the spices and fresh herbs in our food. Oh, and the caramelized onions. ALWAYS caramelize your onions.
My hope is that I can share these healthy versions of my favorite Cajun dishes to inspire people all over the world to have a bite of good Louisiana cookin', as well as people here at home to cook the dishes they love in a healthier way for their families. After all, Louisiana is the unhealthiest state in the country, so if I can even be just a little part of reversing that, I've done my job!
First up: vegan red beans and rice. OMG this was so good, I can't even deal.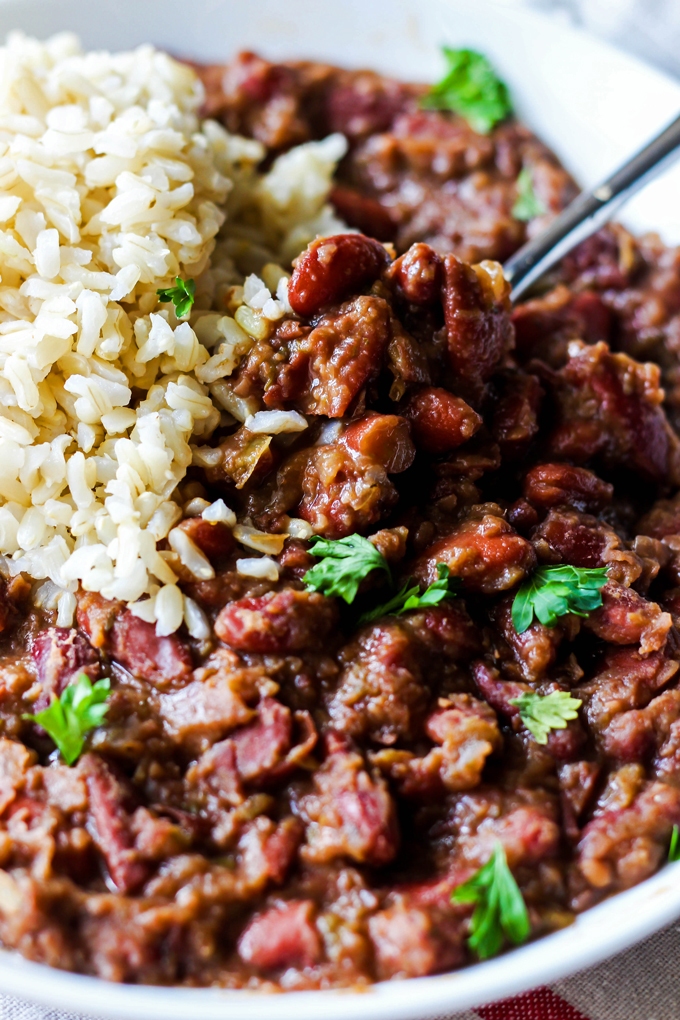 How to Make Red Beans and Rice Vegan-Friendly
A traditional red beans and rice recipe would be made with sausage, but we don't need any of that here! I was honestly shocked when I tried my first bite of these; they tasted exactly like my childhood bowl of red beans and rice. It's all in the spices!
Without the sausage, this Cajun dish transforms into a hearty, satisfying, healthy meal full of fiber, whole grains, protein, and flavor, of course!💃🏼 Specifically with winter coming up, it's the perfect warming dish to enjoy on a cold night snuggled on the couch.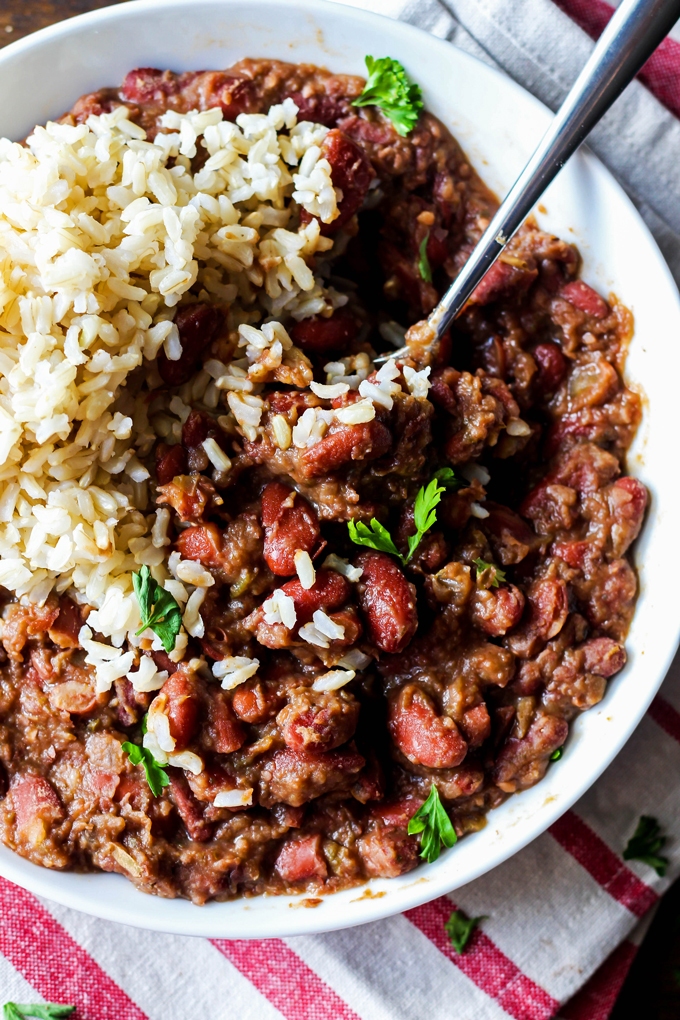 I would love for you guys to try this authentic Cajun recipe for vegan red beans and rice so you can enjoy true Louisiana cookin' in your own home! I promise, this recipe won't let you down.
If you get to try this super flavorful red beans and rice recipe, then please let me know in the comments! Also, you can post a pic on Instagram and tag @emilieeats & #emilieeats. Welcome to the bayou, friends!
Also, check out some of my other vegan Cajun recipes!
Tell me: Have you ever visited the South? What's your favorite Southern food?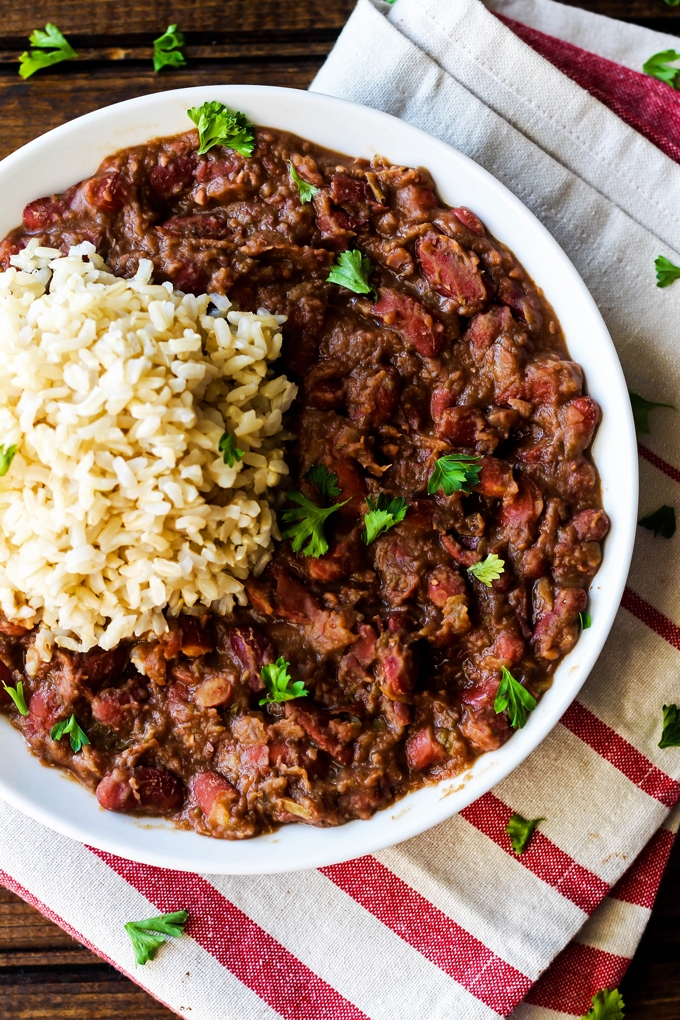 Print
How to make:
Cajun-Style Vegan Red Beans and Rice
These Cajun-Style Vegan Red Beans and Rice are a healthy version of the traditional Louisiana dish, but are still just as satisfying and flavorful!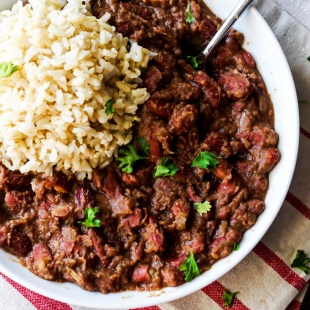 Ingredients
1

pound dry red kidney beans, soaked overnight

2 tablespoons

cooking oil

1

medium yellow onion, diced

1

green bell pepper, cored and diced

2

medium stalks celery, diced

6

cloves garlic, minced (about

1 tablespoon

)

2 tablespoons

fresh parsley, chopped, plus more for garnish

1 tablespoon

hot sauce

1 teaspoon

dried thyme

1 teaspoon

paprika

1/2 teaspoon

salt, plus more to taste

1/4 teaspoon

pepper, plus more to taste

1/8 teaspoon

ground cayenne pepper

2

bay leaves

1

32-ounce container vegetable broth

1 1/2 cups

dry brown rice

1/2 teaspoon

liquid smoke (optional)
Instructions
Drain the kidney beans; set aside.
In a large pot over medium heat, add oil. When hot, add onion, bell pepper and celery. Cook until vegetables are tender and slightly browned, about 8-10 minutes. Add garlic; cook for one more minute, until fragrant.
Stir in parsley, hot sauce, thyme, paprika, salt and pepper; stir to evenly coat the vegetables in the spices. Cook for one minute.
Pour in kidney beans, bay leaves and vegetable broth. Bring to a boil; cover, lower heat and simmer for 1 hour and 15 minutes. Remove lid; let simmer uncovered for 15 minutes.
While the beans are cooking, prepare rice according to package directions.
When the beans are ready, scoop about 1/4 of the beans in a blender or food processor; blend until smooth. Return to pot; add liquid smoke (if using). Stir
Serve beans with a scoop of rice and a sprinkle of chopped parsley.
Nutrition
Serving Size:

1 serving

Calories:

477.4

Sugar:

9.9

Sodium:

779.4

Fat:

8.2

Saturated Fat:

1.4

Unsaturated Fat:

5.4

Trans Fat:

0

Carbohydrates:

83.7

Fiber:

13.3

Protein:

19.5

Cholesterol:

0