Serve this epic Vegan Charcuterie Board at your next party as a fun appetizer! Loaded with veggie meats, dairy-free cheese, fruit and vegetables. Made in partnership with my friends at Sweet Earth Enlightened Foods. ❤️
Are you ready to be the hostess with the mostest?? Or the host with the most, if you're a guy. Whoever you are, you're about to be the LIFE🌟 of the party with this epic vegan charcuterie board! Bring the food and you bring the fun.
I've been working with Sweet Earth Foods for the last few months developing recipes with their plant-based products, which has been so much fun. But when they asked me to arrange a vegan charcuterie board for this month's recipe, I was a little nervous.
This girl didn't even know what a charcuterie board was. 🙋🏼 You learn something new every day!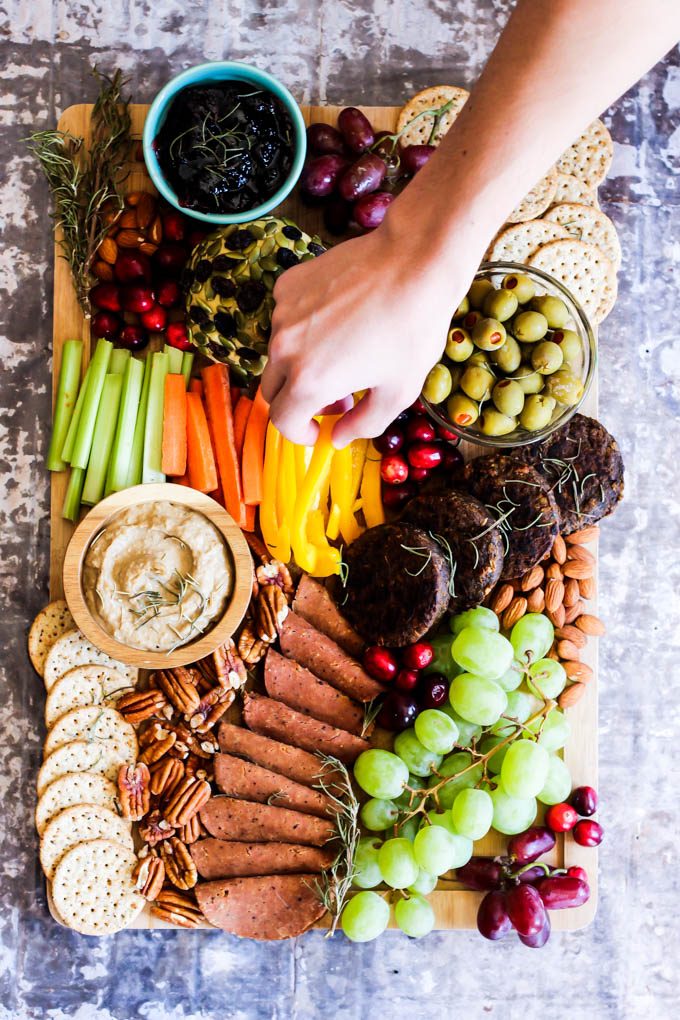 I'm actually surprised I had never heard of charcuterie because it's a French tradition, and I live in an area that has strong French roots. Basically, charcuterie is the preparation of a variety of different meats. Obviously not #vegan.
But we can veganize anything, right? Right. Let's do this!
A traditional charcuterie board is usually loaded with meats, cheese, some fruits, maybe vegetables, and bread or crackers. What I did for our vegan charcuterie board was use Sweet Earth Foods veggie meats and nut cheese and amp up the amount of fruits and vegetables.
See, that was easy!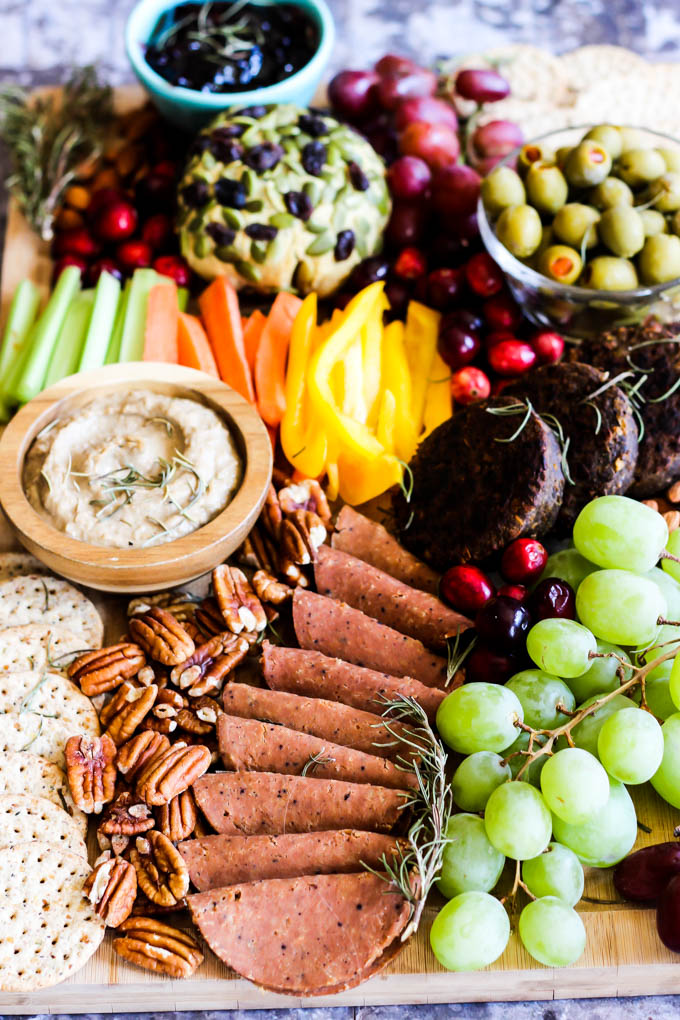 Here are all the elements you need for an EPIC vegan charcuterie board:
VEGGIE MEATS. You can use your favorite Sweet Earth Foods products here, like their Mediterranean Veggie Burgers or Traditional Seitan Slices. I went with Harmless Ham slices (great on sandwiches, too!) and the Tuscan Veggie Sausages.
VEGAN CHEESES. There are a ton of great vegan cheese blocks and slices on the market right now, so I would definitely encourage you to explore your local Whole Foods or health food store. I made my own cashew cheeseball using this recipe.
FRUITS. The options are endless! I included grapes and fresh cranberries for a seasonal touch. Strawberries or apple slices would be great, too! I also had a bowl of olives.
VEGETABLES. Great vegetables for dipping are carrots, celery and bell peppers.
DIPS. Hummus is required, of course. We also had some grape jam.
DIPPERS. Any bread or crackers would work here!
EXTRA. I added pecans and almonds for a savory crunch, and fresh rosemary to jazz things up.
At the end of the day, it's really customizable, so use whatcha want and eat it up!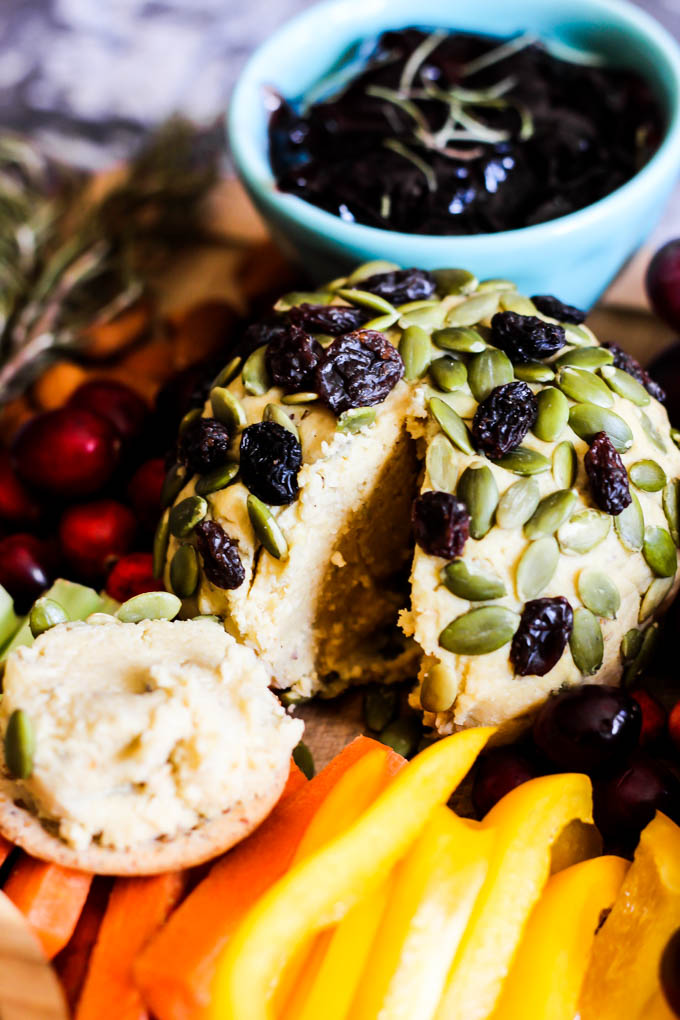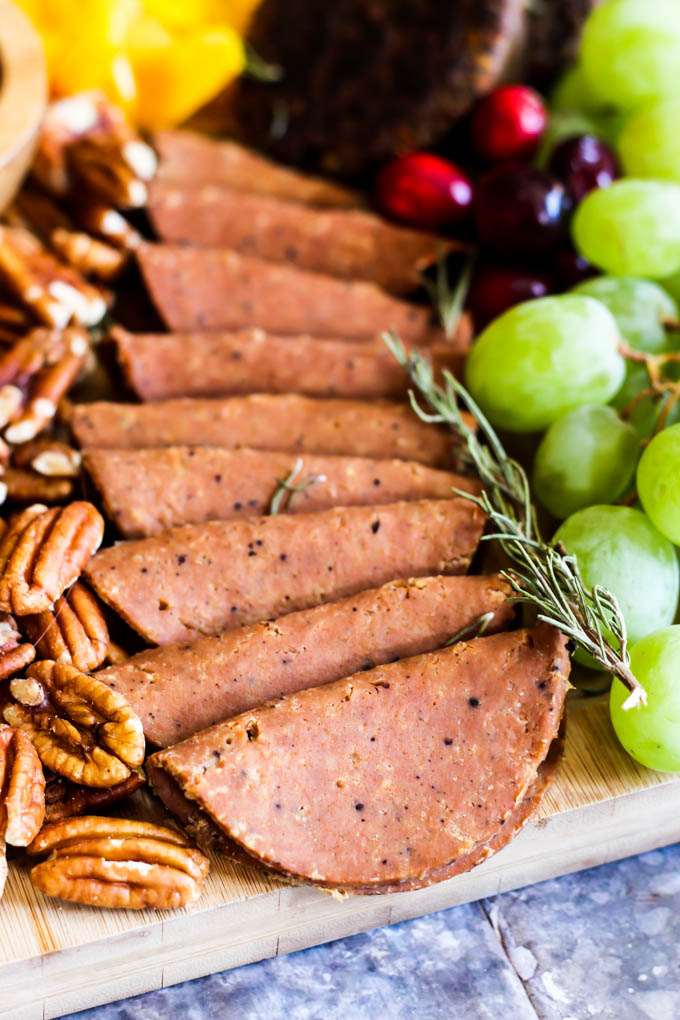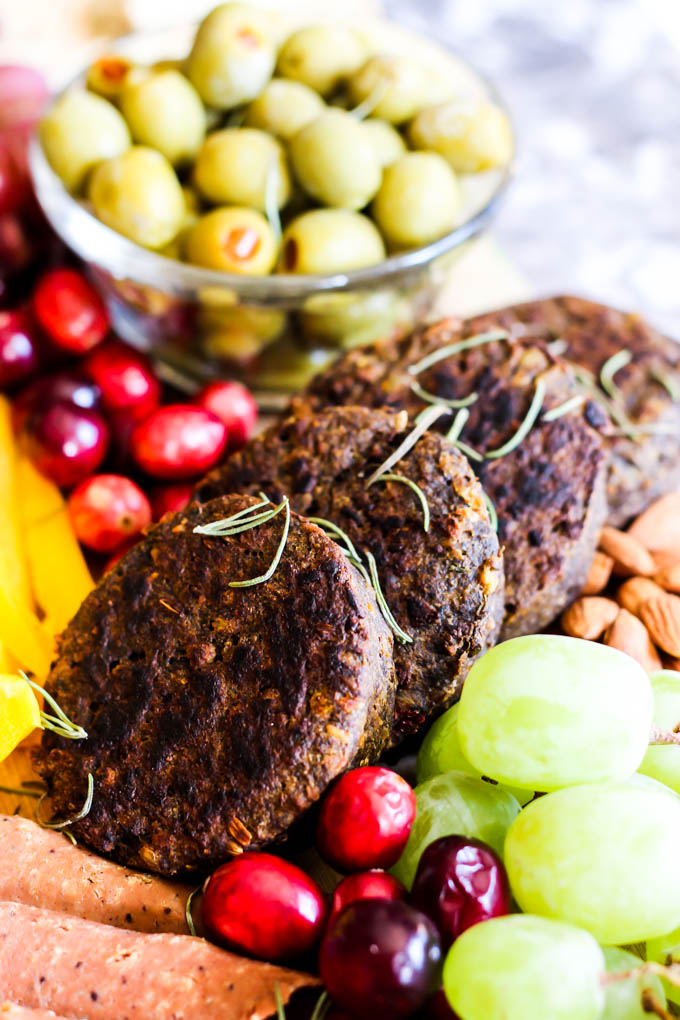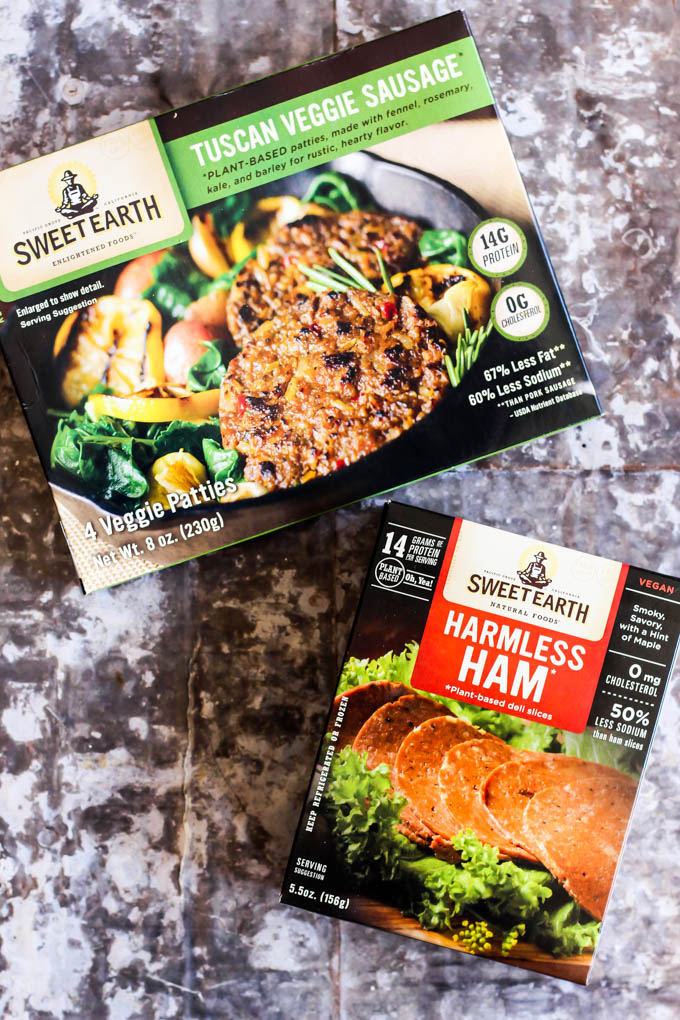 Wouldn't this be perfect for holiday and New Year's parties? Everyone loves a good pre-dinner snack, so give the people what they want. 🙌🏼 I promise everyone will thank you for this pretty platter!
If you arrange your own vegan charcuterie board, PLEASE send me pictures because I want to see the beauty you create! HAVE FUN WITH IT! 🎉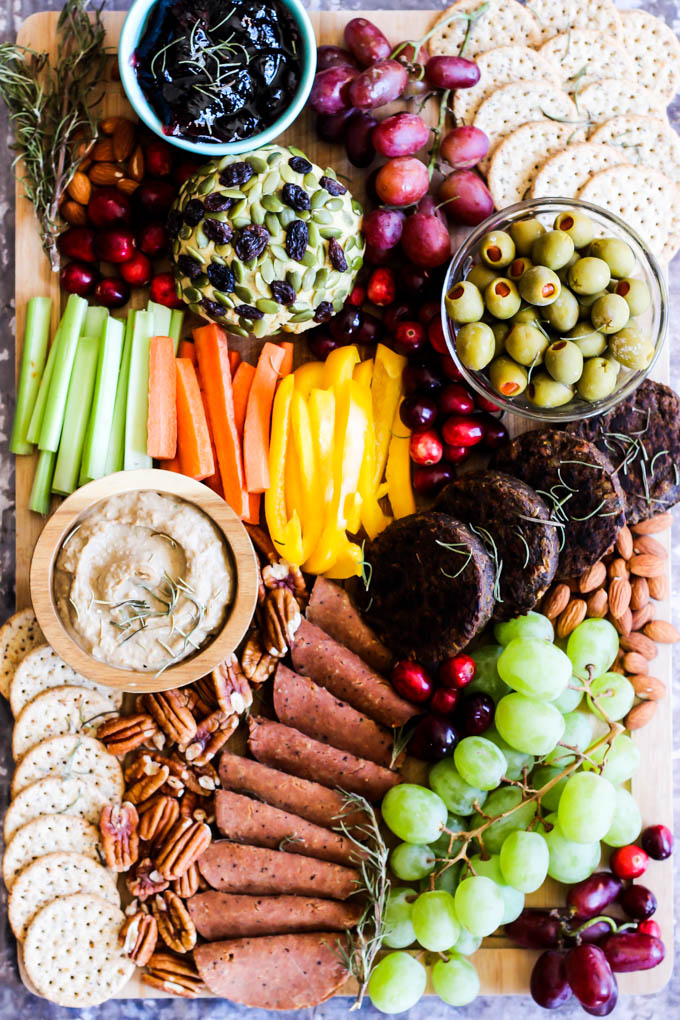 Print
How to make:
Epic Vegan Charcuterie Board
Serve this epic Vegan Charcuterie Board at your next party as a fun appetizer! Loaded with veggie meats, dairy-free cheese, fruit and vegetables.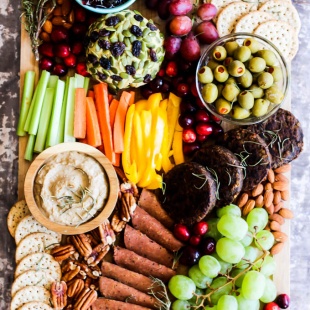 Ingredients
Veggie meats:

1

package Sweet Earth Foods Tuscan Veggie Sausages

1

package Sweet Earth Foods Harmless Ham
Dips:
Homemade or store-bought vegan cheese

1/2 cup

hummus

1/2 cup

jam or jelly
Fruits:

1

pound green or purple grapes

1 cup

fresh cranberries

1/2 cup

olives of choice (stuffed, Kalamata, black)
Vegetables:

2

medium carrots, sliced and chopped into sticks

2

celery stalks, sliced and chopped into sticks

1

bell pepper, sliced
Other:

1

box whole grain crackers

1/2 cup

pecan halves (or nut of choice)

1/2 cup

almonds (or nut of choice)
Fresh rosemary, for garnish
Instructions
Cook veggie sausages according to package directions. Place sausages and veggie ham slices on a large serving tray.
Place vegan cheese, hummus and jam into separate small bowls. Place on serving tray.
Arrange fruit, vegetables, crackers, nuts and rosemary on the serving tray.
Notes
This board is totally customizable! For fruits and vegetables, you can use apples, berries, orange slices, pomegranate, cucumbers, raw cauliflower, etc.
Thanks to Sweet Earth Enlightened Foods for sponsoring this post! I love working with brands whose products I really love and would honestly recommend. Thank you for supporting this blog that I love oh-so-much!