What's better than a warm piece of sweet homemade bread fresh out the oven? Nothing…except maybe a piece of leftover bread drizzled with maple syrup at midnight watching Amy Schumer stand-up.
I wouldn't know though because that's totally not what I'm doing right now or anything.
It's almost finals week 'round here, but the only productive things I've done are clean my apartment and bake bread. I consider that a success. I'll just study the night before, right?
I'm not sure when exactly I'll be studying, but I know I'll definitely be munching on this bread.
I actually had no clue what recipe to post today. So, of course, I turned to the almighty and knowledgable Mom to help. She suggested citrus since those fruits are in season. And then it hit me: cranberry. orange. IN BREAD.
Then I was Googling around and realized cranberry orange bread was a thing. So, not the most original idea, but I made a vegan version that's whole wheat too!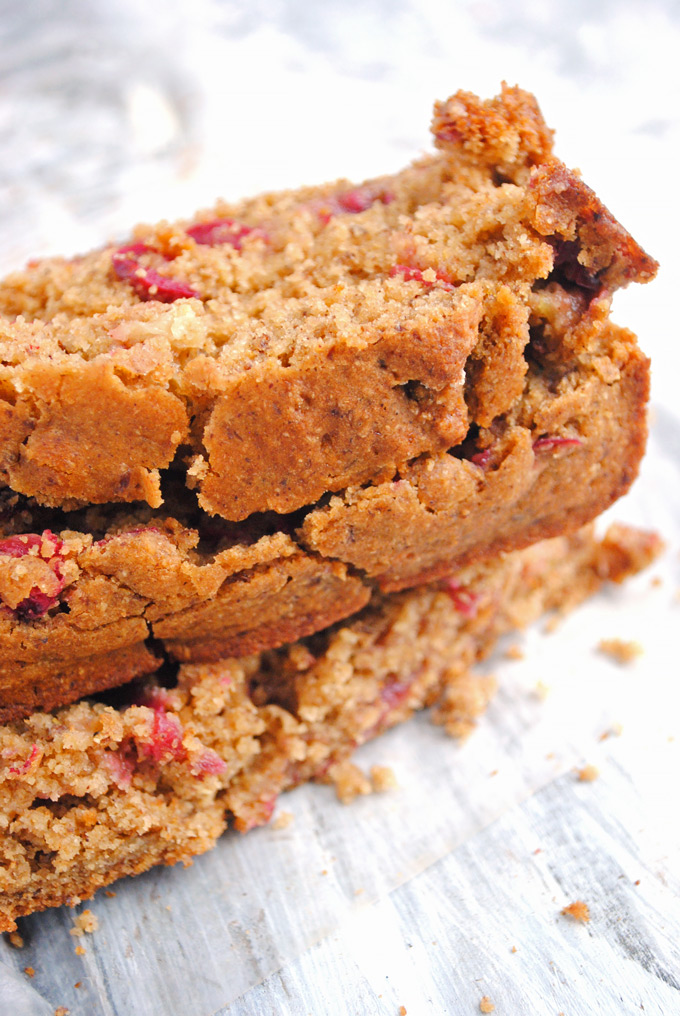 I love eating fruits and vegetables in season because, first of all, the flavors are so much better, and it also supports your local farmers and the health of the environment! I've never really been into cranberries, but since they're in season and perfect for holiday recipes (and because they were $2 at Trader Joe's??), I had to start cookin' up something!
I used fresh cranberries instead of dried because I don't like all the added sugar in dried cranberries. Blech. Maybe I just love tart, sour fruit more than everyone else–what does everyone have against fresh cranberries?? Gosh darnit, just let them be.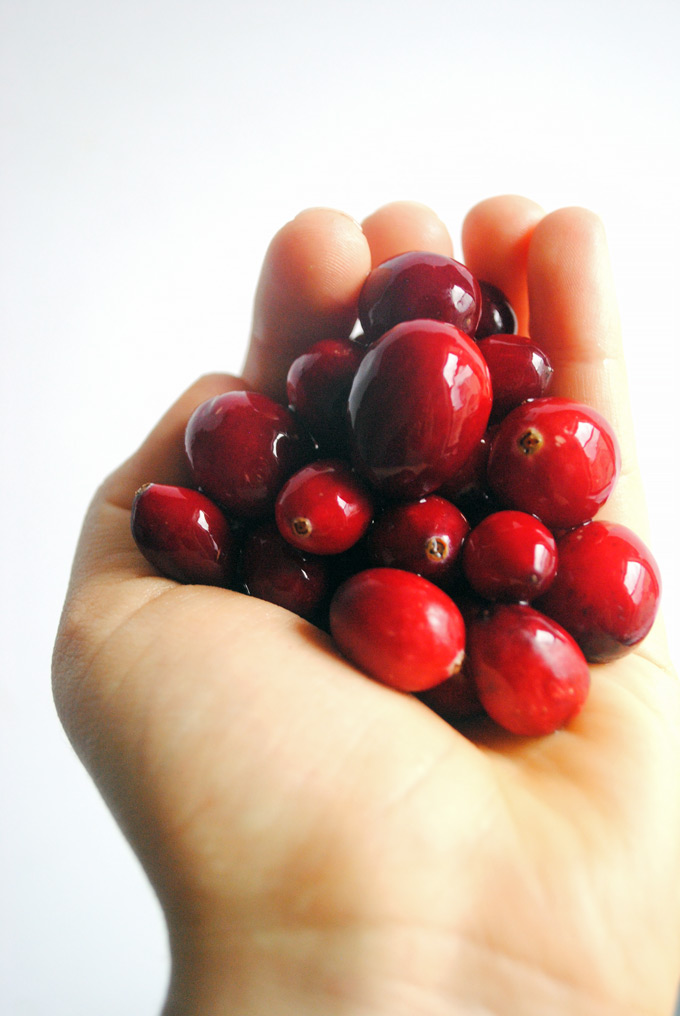 This bread is easy to make with just a few simple ingredients that you probably already have: white whole wheat flour, coconut sugar, cranberries, orange juice (fresh-squeezed is best!?), coconut oil, applesauce, and almond milk. I think walnuts would be great in here too! Add a few spices and you're on your way to carbolicious bread heaven.
Of course the best way to enjoy a piece (or two or three or…who's counting?) is straight out the oven, but the bread really sets well in the refrigerator overnight. If it even makes its way to the refrigerator, that is.
This vegan cranberry orange bread has so many seasonal flavors that are perfect for the holidays. I think it would be great for breakfast **french toast, anyone??!** or an after-dinner treat. Make a loaf for your Christmas dinner table or just make a loaf for yourself to enjoy at midnight with some Amy Schumer hilariousness :)))
Let me know in the comments or on Instagram if you try it! Have a great weekend, you lovelies?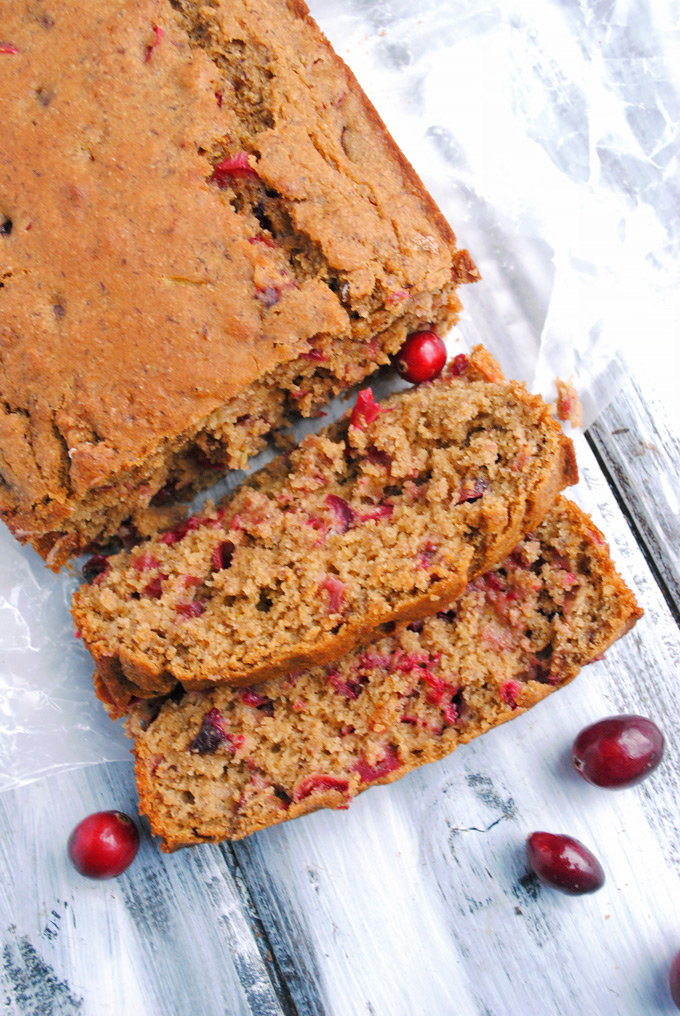 Print
How to make:
Whole Wheat Vegan Cranberry Orange Bread
Fresh cranberries and hand-squeezed orange juice come together to make this Whole Wheat Vegan Cranberry Orange Bread that's perfect for the holiday season!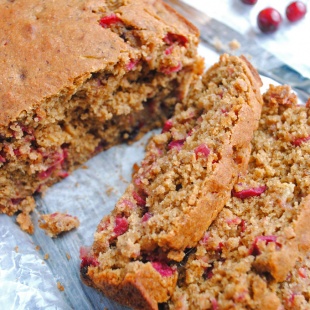 Ingredients
2 tablespoons

flax meal +

5 tablespoons

water

2 cups

white whole wheat or spelt flour

2 teaspoons

baking powder

1 teaspoon

cinnamon

3/4 teaspoon

baking soda

3/4 teaspoon

salt

1 cup

fresh-squeezed orange juice (about

3

large oranges)

1/2 cup

coconut sugar

1/4 cup

coconut oil, melted

2 tablespoons

applesauce

2 tablespoons

almond milk, or other non-dairy milk

1 tablespoon

orange zest, grated

1 1/2 teaspoon

vanilla extract

1 1/2 cup

chopped cranberries

1/2 cup

walnuts (optional)
Instructions
Preheat oven to 400°F. Lightly grease a loaf pan.
In a medium bowl, add flax meal and water. Let sit in the refrigerator for 10 minutes.
In a large bowl, place flour, baking powder, cinnamon, baking soda, and salt. Stir until combined.
When the flax eggs are done, add juice, sugar, oil, applesauce, milk, zest, and vanilla. Whisk to combine.
Pour the wet ingredients into the large bowl of dry ingredients. Mix until just combined. Do not overmix. Fold in cranberries and walnuts (if using). Pour batter into loaf pan.
Bake for 30 minutes at 400°F. Remove pan; reduce heat to 350°F. Cover pan with foil; bake for 15-20 minutes, until a toothpick inserted in the center of the loaf comes out clean.
Remove from the oven; let it cool in the pan for 10-15 minutes before removing.
Serve warm with cranberry sauce or maple syrup, if desired.
Notes
Storage:
Store in an airtight container in the refrigerator for up to 5 days.