This Vegan Baked Ziti is your new favorite comfort food dinner! Pasta, cashew cheese, and meatless grounds are the perfect combination. Gluten-free option!
When Emily (the Emilie Eats operations manager) came to visit me in January, we developed and photographed about 11 blog recipes in 2 days. WHEW. I survived on those leftovers for at least 3 weeks. Anyways, you've seen some of these recipes already: these 5 energy ball recipes, enchilada casserole, and peanut butter chocolate chip edible cookie dough. Today, I've got another one for you: vegan baked ziti.
THIS baked ziti recipe was the fan favorite of all the 11 recipes we photographed that weekend. 🏆 So I'm extra excited to share it with you today!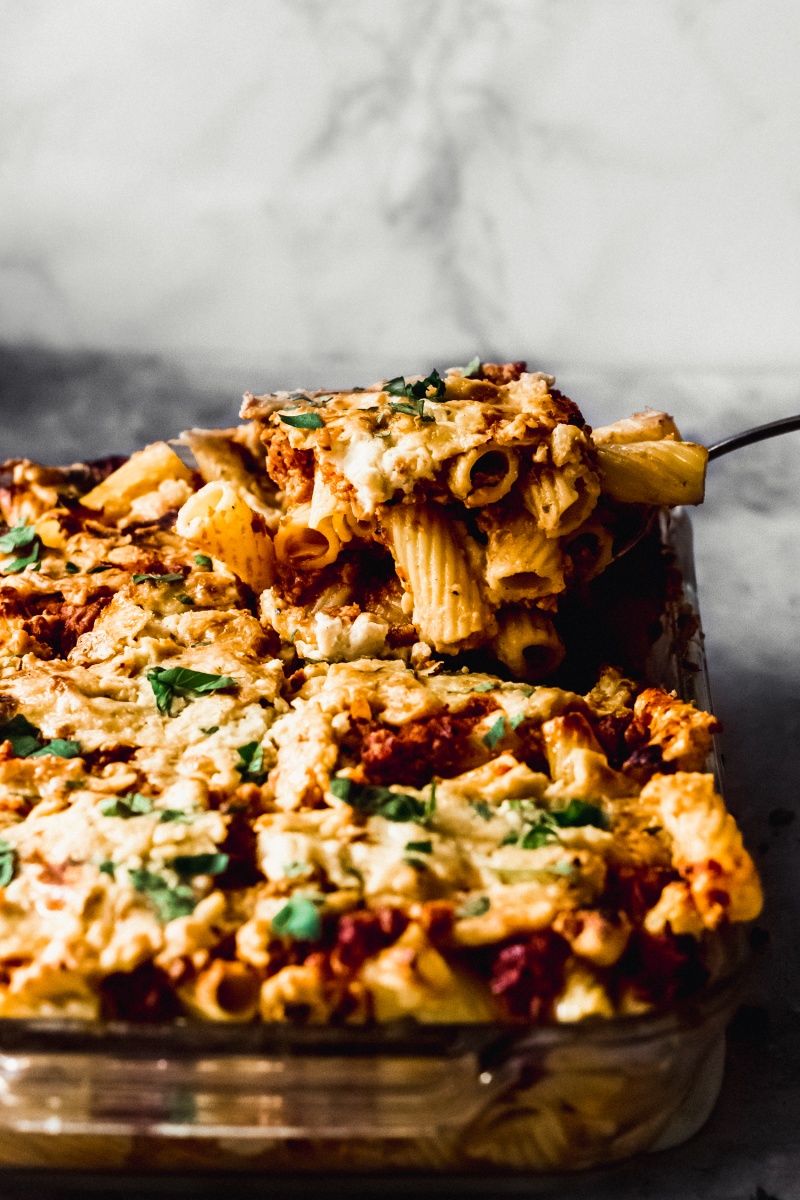 How to Make Baked Ziti
To be honest, I don't think I've ever had baked ziti! But Emily is a master of Italian dishes, so she played a huge role in helping me figure out how to make this traditional baked pasta dish vegan.
First, the pasta. Obviously ziti noodles are the ideal choice, but rigatoni, penne, or even rotini would work here. Any pasta is good pasta in my book!
Next, the sauce. We're making a fairly traditional red sauce for this pasta bake, but we're using canned diced tomatoes as a shortcut. I added vegan beef crumbles to the sauce (I love the Gardein meatless ground), but you could also use crumbled tempeh.
Finally, the cheese! Arguably the best component. For this baked ziti recipe, I'm using my go-to gooey cheese method. It's a standard cashew cheese sauce, but the addition of tapioca starch makes the cheese thick and stretchy when you cook it in a pan. Make sure to stir, stir, STIR the whole time the cheese is cooking!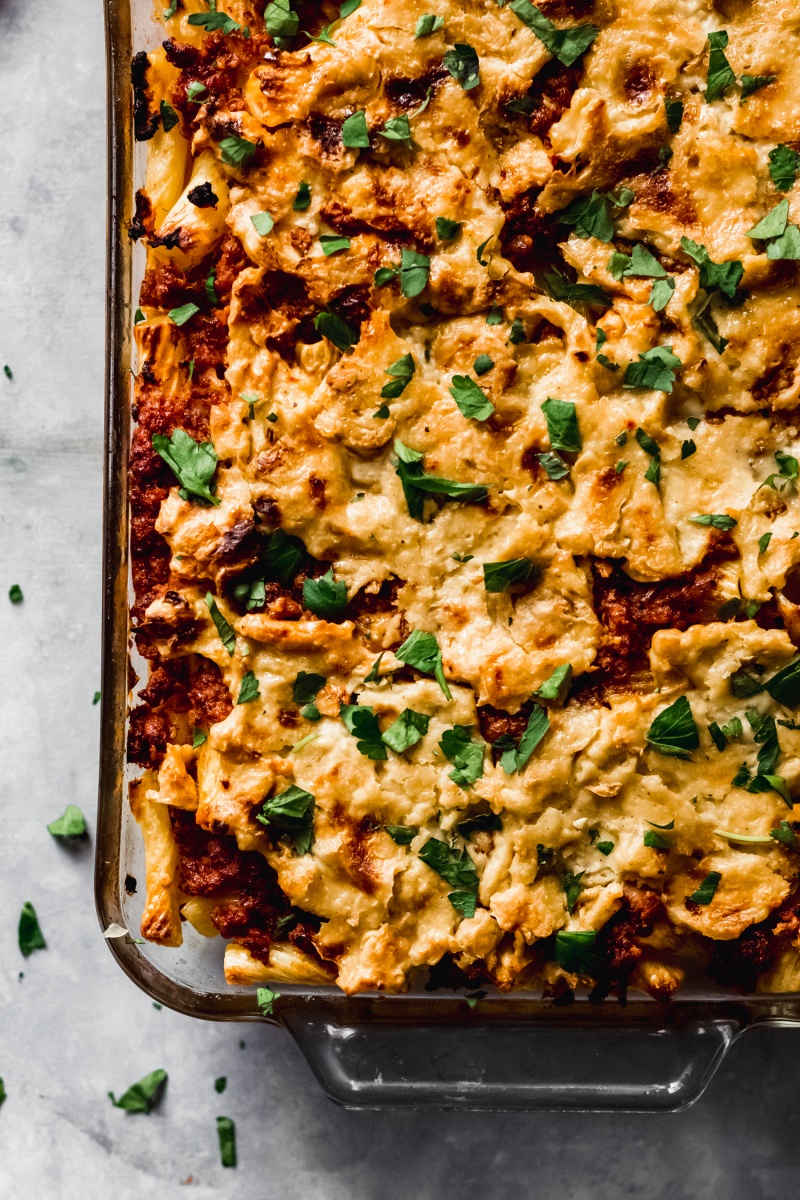 Once you have all of the individual components done, it's time to assemble! I like to toss the pasta with the sauce to get it all nice and mixed together, then top with globs of the most delicious cashew cheese.
The cheese in this baked ziti is similar to mozzarella – I love using this recipe for pizza, too. (PS: did you know you could make an oat flour pizza crust?)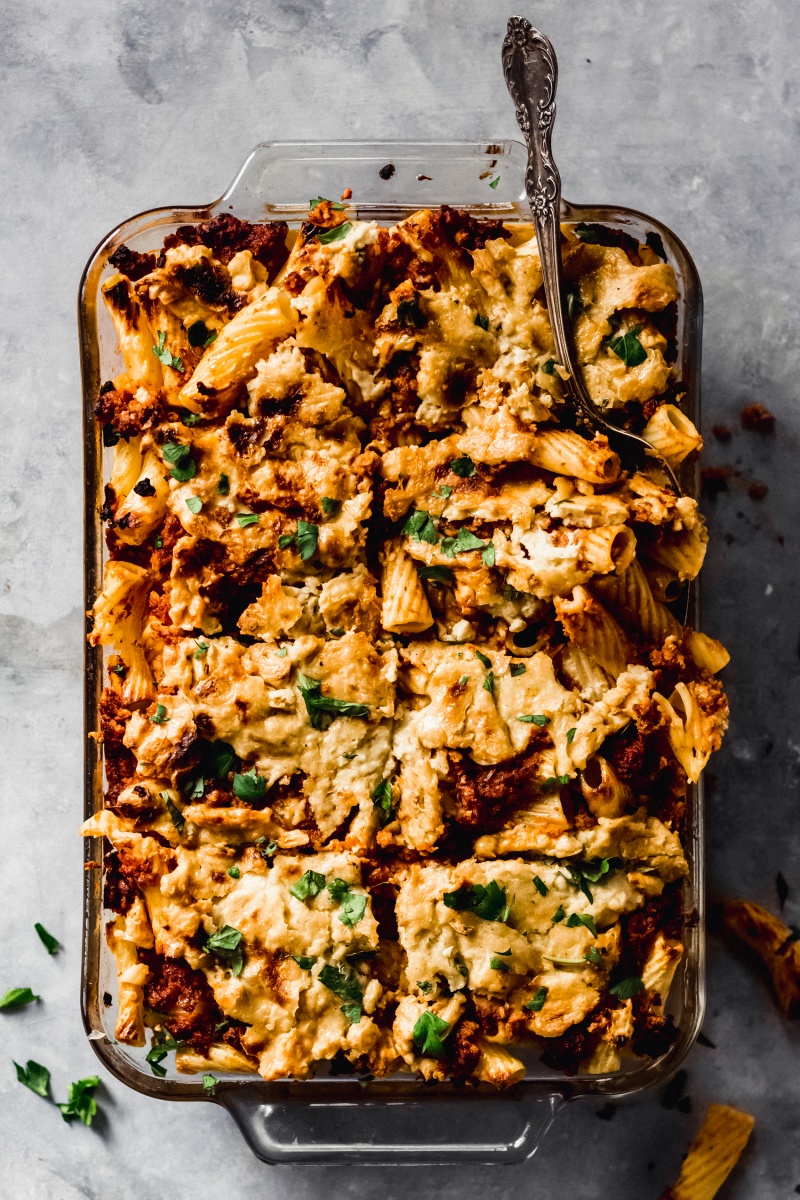 I am 10000% confident that this vegan baked ziti is your new favorite plant-based comfort food dish. It's probably one of the best recipes I've ever created – and I've developed 100+ recipes during my blogging career!
How to Freeze Baked Ziti
If you want to freeze a few pieces of this baked ziti for easy meals later, go ahead. I would suggest freezing them individually so that the pieces don't stick together. These are my favorite meal prep containers for freezing leftovers.
When you're ready to eat, thaw in the microwave or place in the oven at 350ºF until heated through.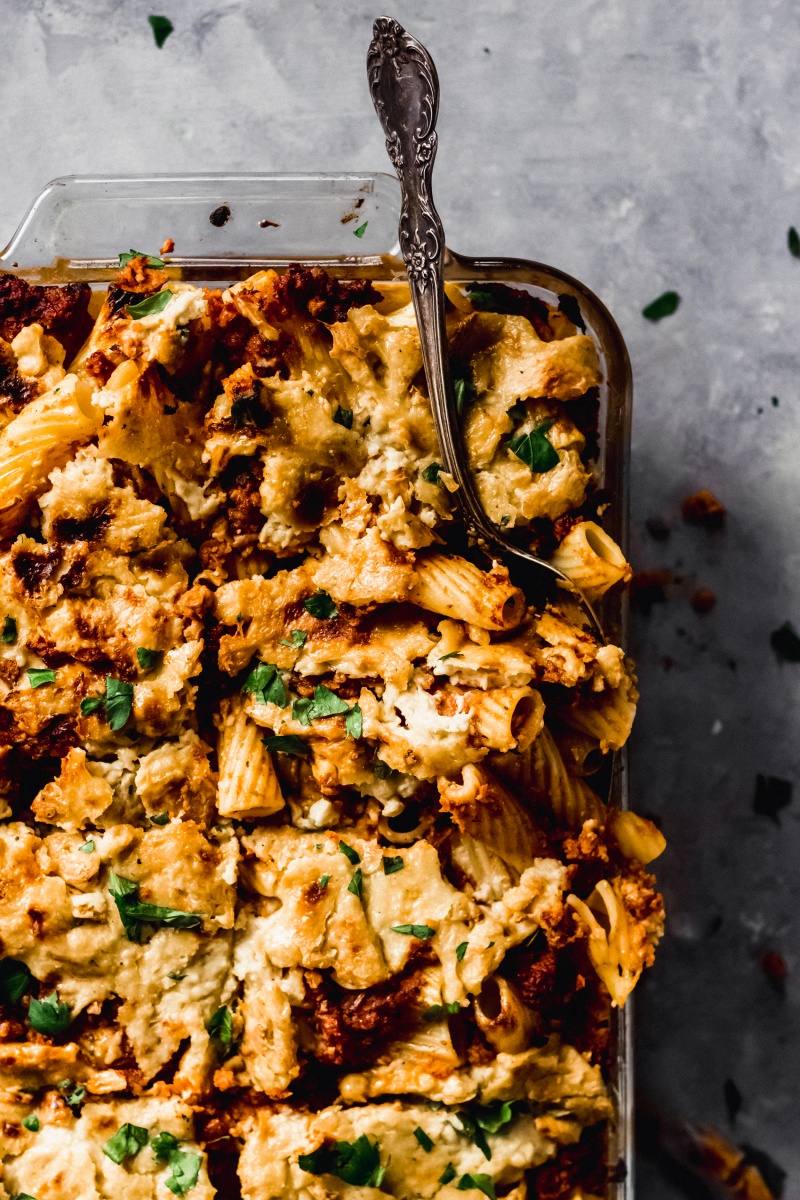 Print
How to make:
Vegan Baked Ziti
This Vegan Baked Ziti is your new favorite comfort food dinner! Pasta, cashew cheese, and meatless grounds are the perfect combination. Gluten-free option!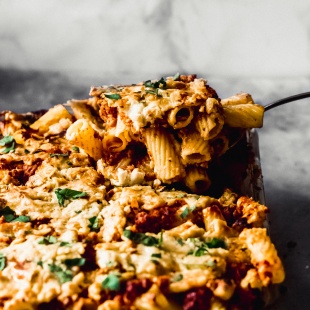 Ingredients
1

pound (16 ounces) ziti*
For the sauce:
1 tablespoon

olive oil

1

medium yellow onion, diced

3

cloves garlic, minced

2 cups

vegan beef crumbles or crumbled tempeh

2

14.5-ounce cans diced tomatoes, no salt added

2 teaspoons

granulated sugar

1 teaspoon

dried oregano

1 teaspoon

dried basil

1/2 teaspoon

ground thyme
Salt and pepper, to taste

1 cup

water
For the cheese:
1 cup

raw cashews, soaked overnight and drained*

1 cup

unsweetened non-dairy milk

3 tablespoons

nutritional yeast

2 tablespoons

tapioca starch

1 teaspoon

miso

1 teaspoon

lemon juice

1/2 teaspoon

garlic powder

1/2 teaspoon

onion powder

1/2 teaspoon

salt
Optional toppings:
Chopped parsley
Vegan parmesan
Red pepper flakes
Instructions
Preheat oven to 350ºF.
Cook ziti according to package directions. Drain.
In a large saucepan over medium heat, add oil. When hot, add onion. Cook for 5-7 minutes, stirring, until lightly browned. Add garlic; cook for 1-2 minutes, stirring. Add vegan beef crumbles; cook, stirring, until thawed (if frozen) and heated through. Add diced tomatoes, sugar, oregano, basil, thyme, salt, pepper, and water. Stir. Bring to a boil, then reduce heat to low. Cover and cook for 15 minutes. Remove from heat. Add cooked pasta; stir to combine.
Meanwhile, make the cheese. To a blender, add all cheese ingredients. Blend until completely smooth. Add cheese sauce to a medium saucepan over medium-low heat. Cook, stirring consistently, for 5-7 minutes. The sauce will transform into a thick, gooey cheese. Remove from heat.
To a 9×13 baking dish, add half of ziti and red sauce mixture. Top with dollops of half the cheese mixture. Repeat.
Cover lightly with foil. Bake for 30 minutes, then remove foil and bake for 15 minutes. Broil on high for 1-2 minutes until cheese is lightly browned.
If desired, top with chopped parsley, vegan parmesan, and red pepper flakes.
Notes
*Use gluten-free pasta if necessary.
**If you forget to soak them overnight, boil cashews for 10 minutes, then drain.
Nutrition
Serving Size:

1 slice

Calories:

396.7

Sugar:

6.5

Sodium:

350.4

Fat:

11.3

Saturated Fat:

1.8

Unsaturated Fat:

7.5

Trans Fat:

0

Carbohydrates:

56.7

Fiber:

6.5

Protein:

19.2

Cholesterol:

0